Let's see, something about me. Well, my name is NaughtyHiker. That's actually my trailname, so if you see me out there in the woods, just call me NaughtyHiker and we'll take it from there. The Scribe claims I'm disobedient, hence the name, and yeah, I do hike in the nude, except for my Doggles on sunny days and my backpack when the Scribe needs help carrying the gear.
By occupation I am a professional hunter. Always have been, always will be. I hunt pretty much anything that moves, but my specialty is treeing operations. Big game doesn't scare me, not one bit, but all in all I like the regular run-of-the-mill grey and brown and furry kind. I'll always get those, absolutely no doubt, doesn't matter whether they climb up, burrow down or run long and wide. I always get them. I always find them, anyway. Never have been successful with supplementing my diet with them.
I was born in North Idaho on August 15 at a place outside Post Falls. Spent my whole life here in Idaho, born, raised, and the whole works. I don't live in Post Falls anymore though. For the last few years I've been the latest — and most adored — member of the Scribe's pack. That's worked out fairly well for all of us, I dare say. Before that, I'd been moving around a bit. To be honest, I pretty much lived on the streets and alleys. That's where I learned to hunt. It's all self-taught, you see. Never went to school one day. Got picked up by the law one day and spent some time in the slammer until the Scribe and his pack bailed me out. It's been Easy Street ever since. The Scribe's pups can't resist me. Never could, from the moment they laid eyes on me.
As far as my physical description, I'm of medium height, medium build, lean and trim and all that. Age-wise I'm in the prime of my life. Breed? Not any particular one, I'd say. A ittle bit of this and a little bit of that, a sprinkling from every continent, and it all adds up to perfection. My hair color is mostly black, with a few tan spots and streaks, most prominently—and I admit to being quite vain about that—my tan eyebrows. My eyes are brown like chestnuts.
Alright, let's move on. My favorite color? I hate to disappoint, but I'm completely colorblind. Doesn't really matter, because the Good Lord gave me five senses, my hearing beats yours any time of day, and I can smell you coming from miles away. Favorite meal? Honestly, I can't think of a meal I didn't like, but when push comes to shove I'll go with salmon. Nothing beats salmon. And peanut butter. Maybe salmon slathered with peanut butter. Now we're talking. Hobbies? I do what I like to do. Hunting. Hiking and hunting, and hiking and hunting, and more of that. That pretty much sums it up. Have I mentioned eating? Can I count that as a hobby? Did someone say peanut butter?
Anyway, I live in Idaho, preferably out in the woods doing what I do best. To help you find all the great trails out there, I decided to catalog them in this blog. Only one problem: don't know how to read nor write. That's where the Scribe comes in. I take him along on my excursions and show him all the delicious hunting spots and he writes up the trip reports and trail details and all that for you. And he even records all the trip stats on his GPS, so you can download our tracks. That's the deal we have.
See you on the trail!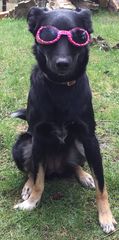 NaughtyHiker
© 2016 NaughtyHiker. All Rights Reserved. No duplication without permission.