The Mount Spokane Perimeter Loop follows the outermost trails of the Mount Spokane Nordic Ski Area in a counterclockwise fashion. The tour extends just over 16 miles and includes 1,300 feet of elevation gain on trails groomed for tracked or skate skiing.
Location
Selkirk Mountains
Rating
3.2 out of 5
Difficulty
More Difficult (some segments are categorized as difficult by the Mount Spokane Ski Park)
Distance
16.2 miles
Duration
3:54 hours moving time (cross-country skiing)
Elevation Gain
1,295 feet
High Point
4,796 feet (Nova Hut)
Low Point
3,680 feet (Junction of Upper and Lower Outer Limits)
Trail Type
Loop
Trailbed
Groomed for skate and track skiing
Water
Only at Selkirk Lodge
Status
State Park
Administration
Washington Parks and Recreation
Conditions
Grooming is typically excellent
Permits
Snow Park and Special Groomed permits
Camping
There are campgrounds in the state park. There are also two warming huts along the trail, Selkirk Lodge and Nova Hut.
Maps
USGS Mount Spokane
Trailhead
Take I-90 exit #287 and head north on Argonne Road for 8.5 miles (Argonne will turn into Bruce Road). At the roundabout turn right onto WA-206 Mount Spokane Park Drive and follow it to the trailhead (about 16 miles). Alternatively, take the I-90 Sullivan exit and head north via Sullivan, Wellesley, Progress and Forker to WA-206.

Google Directions (47.903554, -117.099842)

Season
Winter
Squirrel Density
Actually saw one! But dogs are not allowed on groomed trails except on skijoring days.
Features
Structure
Distance From

Coeur d'Alene 44.4 miles
Lewiston 135.8 miles
Sandpoint 78.5 miles
Seattle 310.1 miles
Spokane 32.2 miles

Resources
Nearby Hikes
Date
January 7, 2017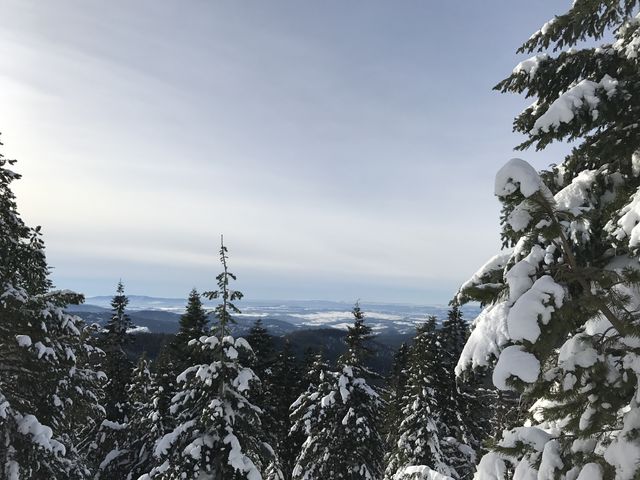 Since this is a counterclockwise perimeter loop, the choice of trail is simply the one to the right. Thus, start out on the Valley View trail above the Selkirk Lodge (that's the one to the right :)). The trail weaves through a forested area with a clearing halfway down and nice views across the Spokane valley. Continue on to Junction #1 and take the Larch trail. This trail moves through dense forest, and many times is covered with needles and small branches, especially following stormy days. It also tends to be more icy than other trails. Towards the end of the trail it swerves sharply left and steeply uphill to Junction #2.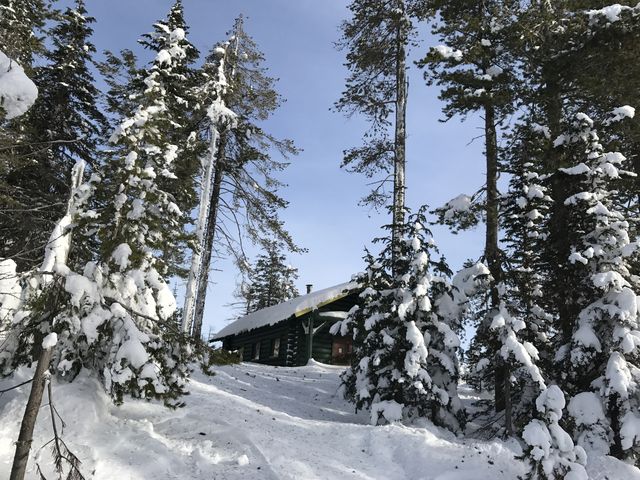 At Junction #2 select the Silver trail, which contours along the mountain, offering occasional filtered views, then curves around and slopes uphill towards Nova Hut. Past Nova Hut, make a sharp right just before the bathroom building onto Quartz Mountain trail.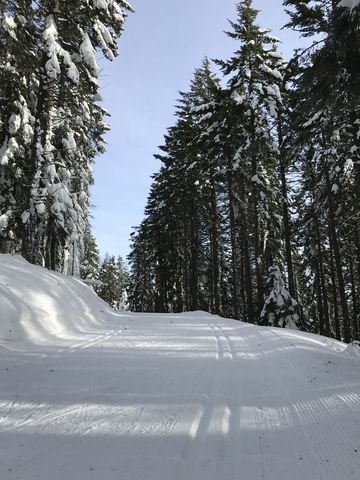 The trail skirts Quartz Mountain and Horse Mountain with decent views. About a third into the trail, a couple of switchbacks lead lower, then the trail flattens out before descending once again. Overall, the descent here isn't quite as nice as Shady Way / Twin Lakes, but nevertheless this is a pleasant portion and it is mostly downhill.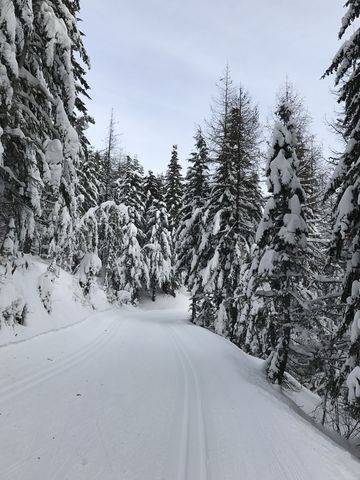 At around the five-mile-mark the trail joins up with Twin Lakes and follows that downhill to Junction #7. Take the Buck Land trail, which opens up the first filtered view towards the east. These are about to get much better, though. Follow Buck Land, which can be tricky as it heads quite steeply downhill in places, all the while curving around quite a bit.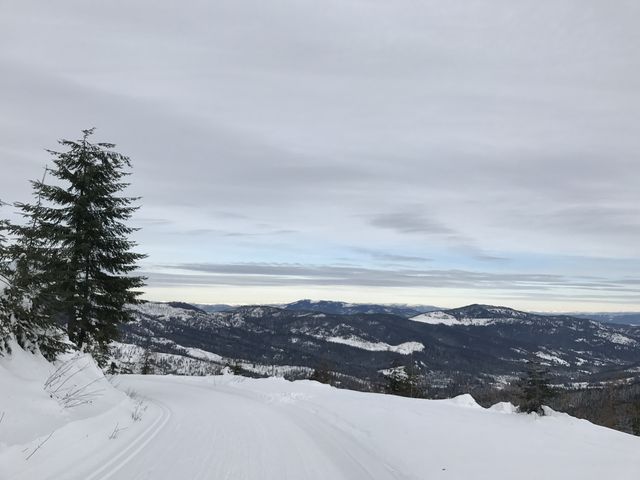 Eventually you emerge onto Mica Road, a nice wide road, which you follow to its terminus at Junction #8. Here you could take Tamarama to shorten the loop (Tamarama leads to Upper Tripp's Loop). To continue, however, head south onto Upper Outer Limits and prepare for great views. These are about to get even more spectacular as the trail curls around the mountain to a large clearing with views to the east and north, with the Selkirk Crest on the horizon.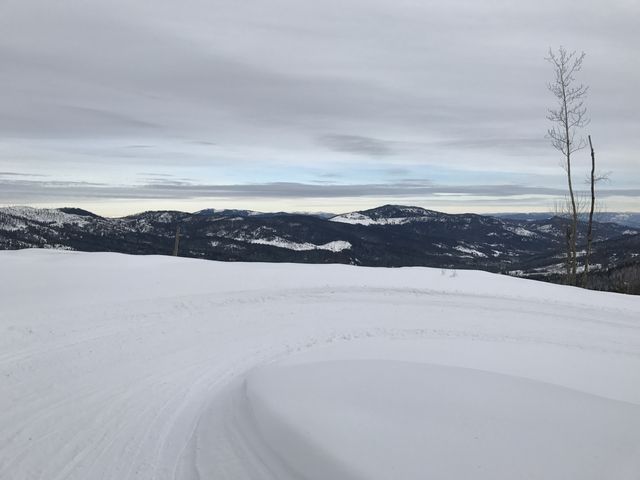 The trail then heads downhill fast, a fun ride, involving several extensive switchbacks. The low point of the entire loop is reached at the bottom, when the trail turns into Lower Outer Limits and meanders in a northwesterly direction along the side of the mountain (mostly flat to slightly up).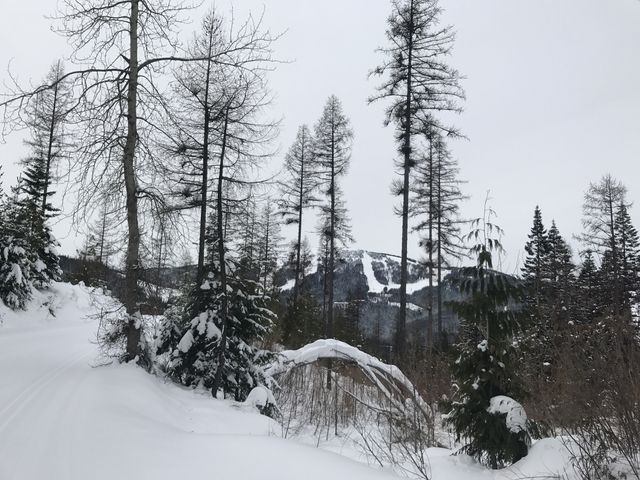 The road eventually rises to meet Junction #11, and here you don't want to go right. To the right is a short spur that dead-ends on Tripp's Knob (it is not always groomed, but was when I was there). So take a left and a short while later you come to another intersection. To make this truly a perimeter loop, take a right onto Lower Tripp's Loop, which leads to Linder Ridge at Junction #6. However, doing so increases the overall mileage somewhat and, as it heads downhill first, increases the ascent. Your choice; I took Upper Tripp's Loop, which winds through the woods at a steady incline, past Junction #10 (Tamarama) back to Mica Road (Junction #9). From that junction it's a short downhill run to Junction #6 where Mica, Lower Tripp's Loop and Linder Ridge meet (as well as Moose Meadow, if you want to take that route).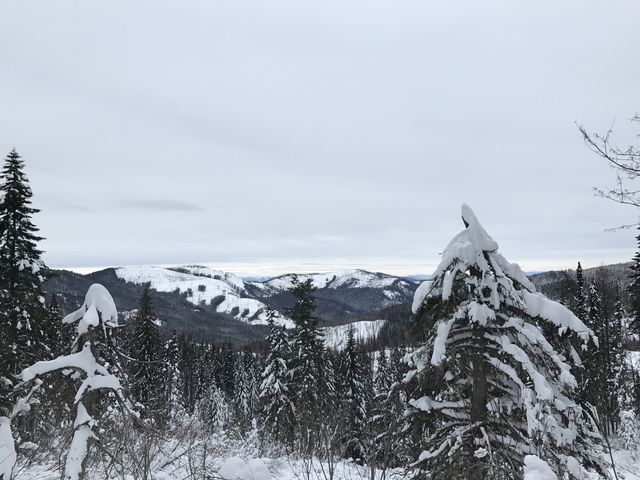 Stay on Linder Ridge, which contours flattish along the mountain for about a mile, then climbs the hill continuously, moves past Junction #1, and emerges on the lower side of Selkirk Lodge.
Enjoy this hike? Let us know in the comments below!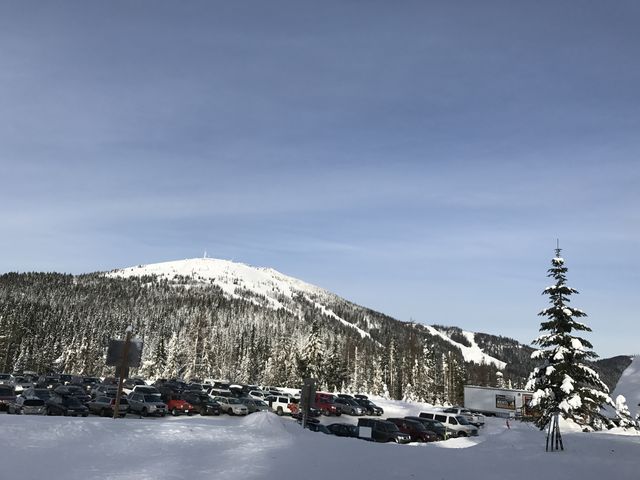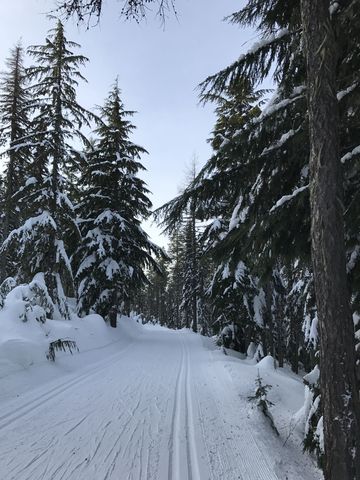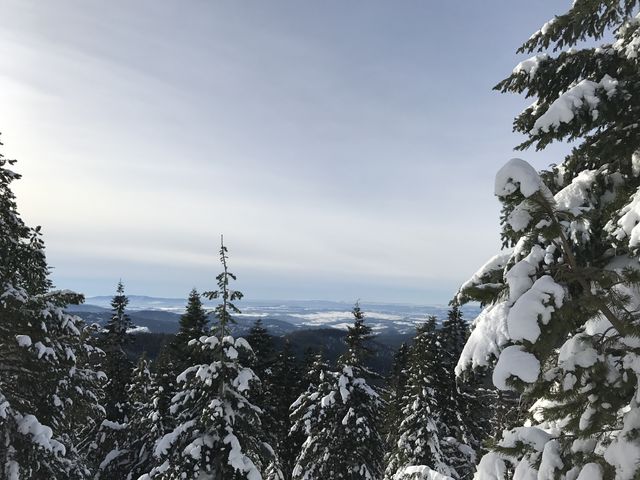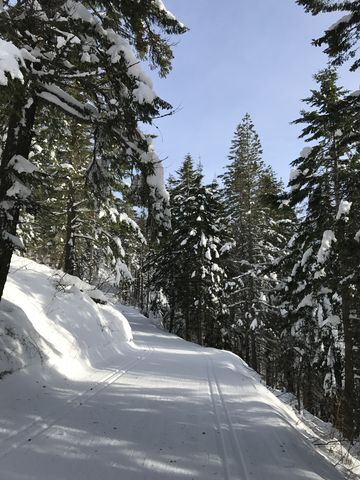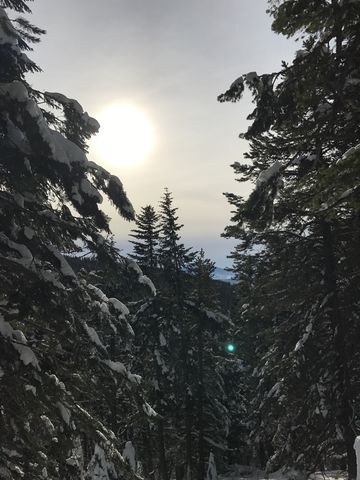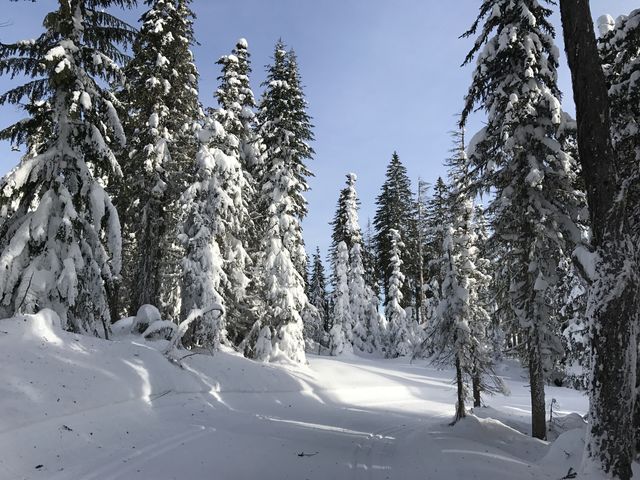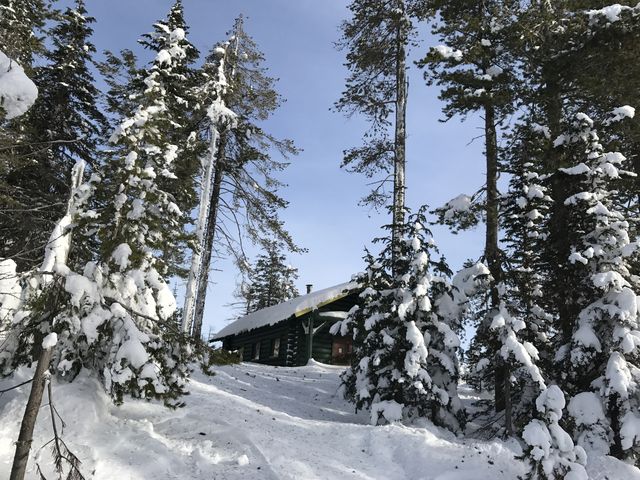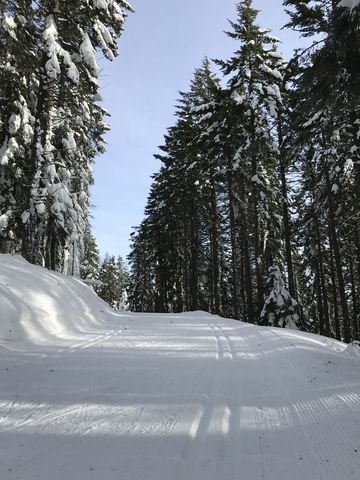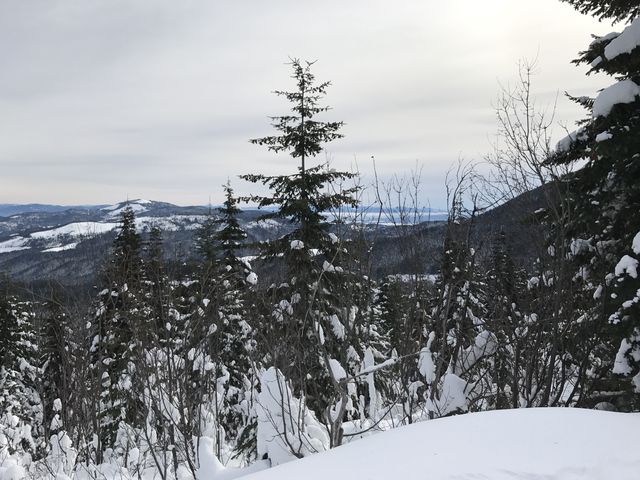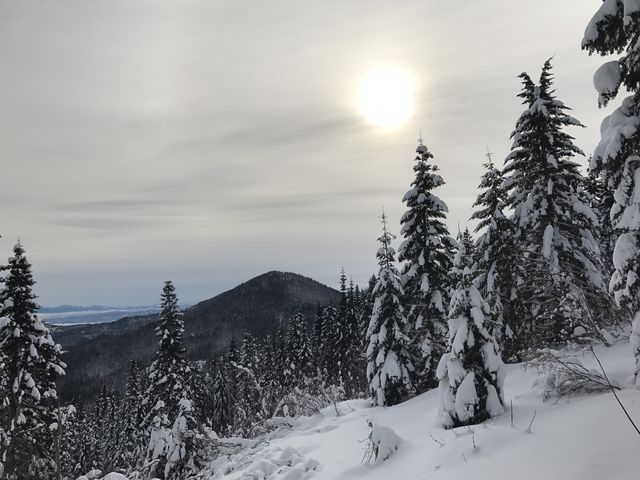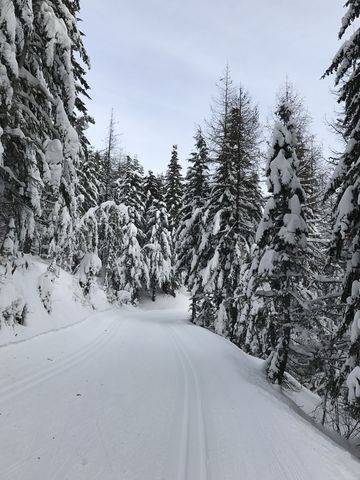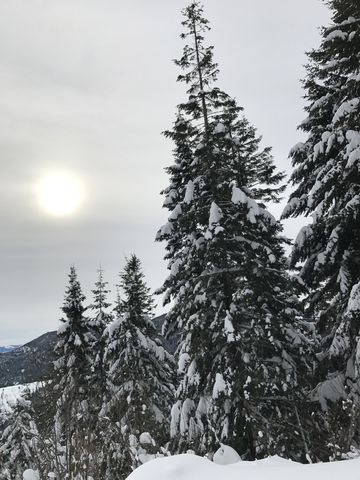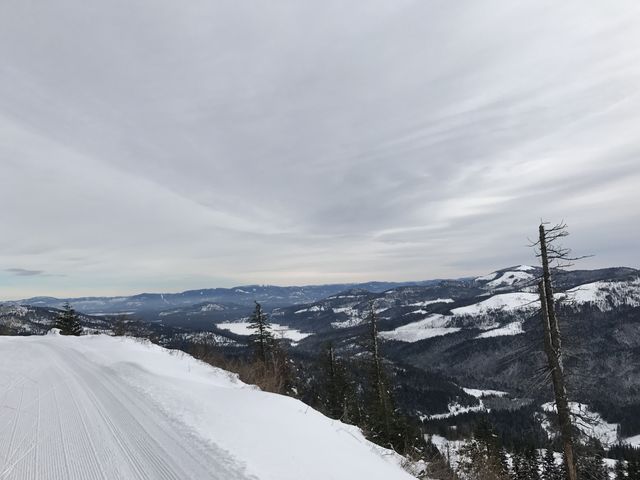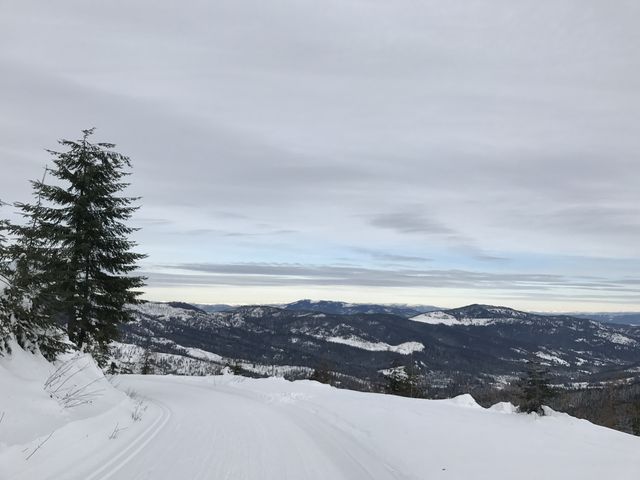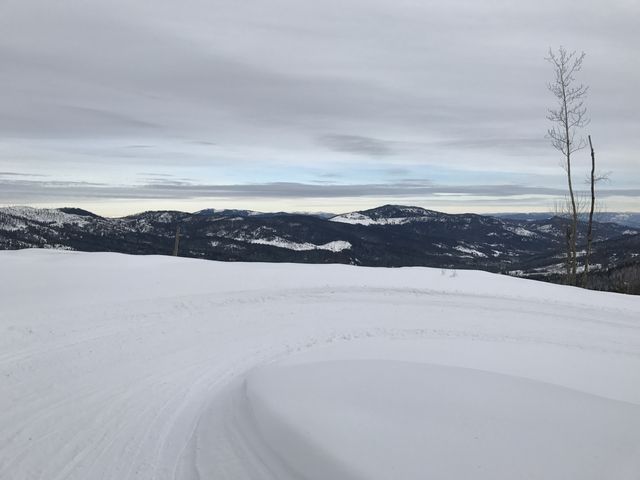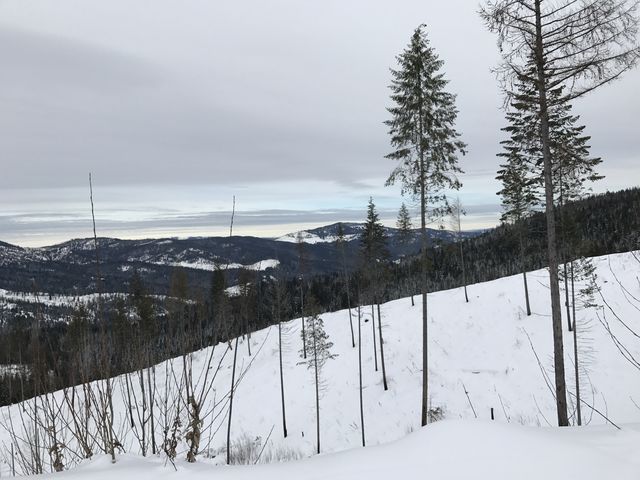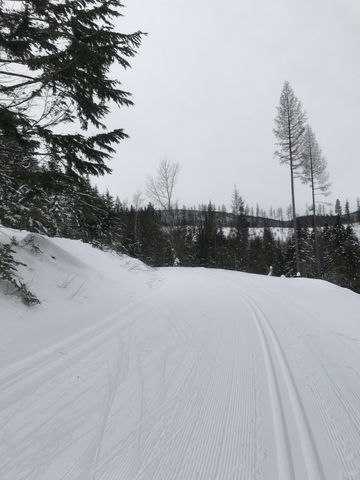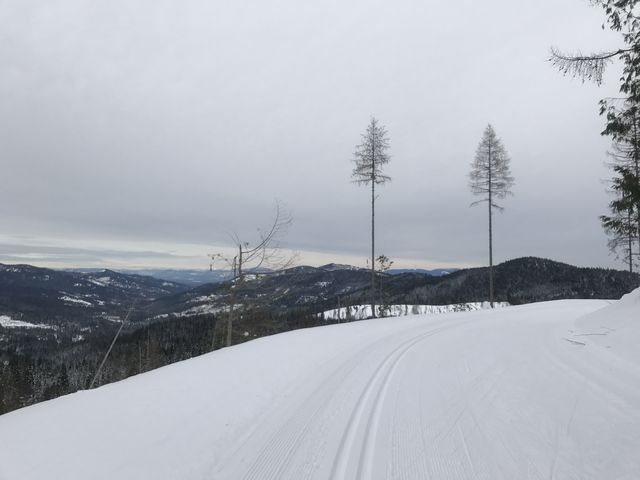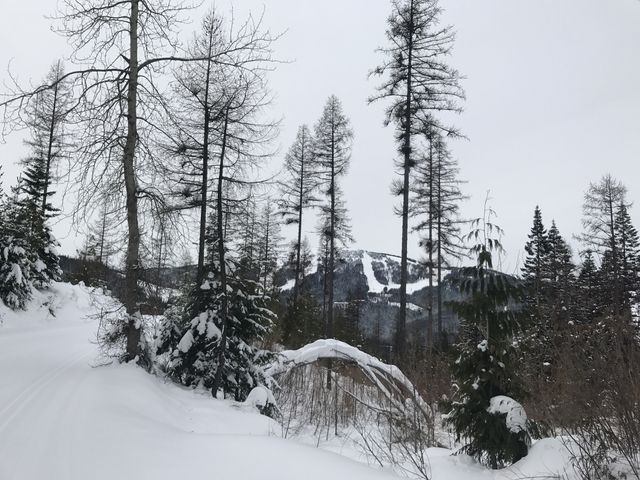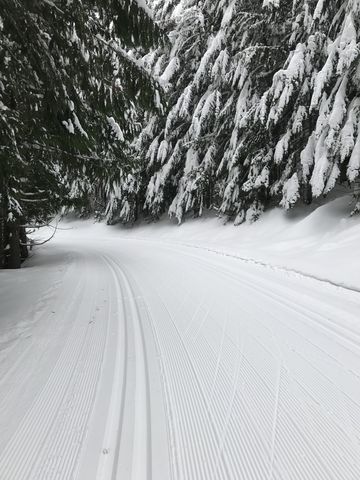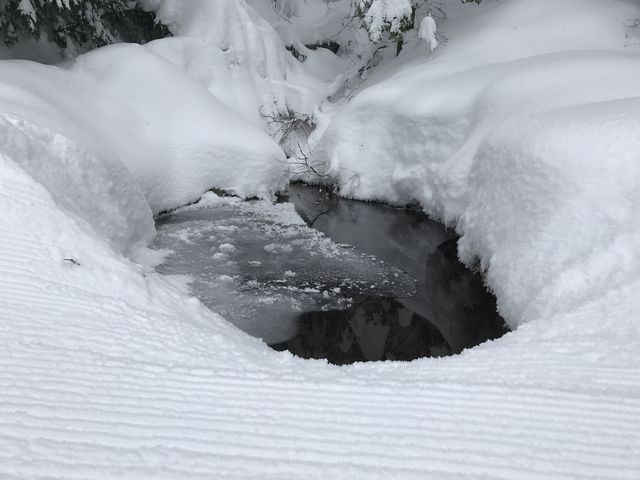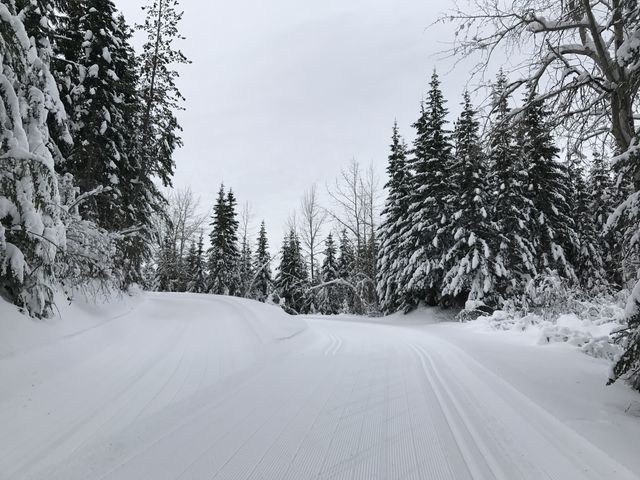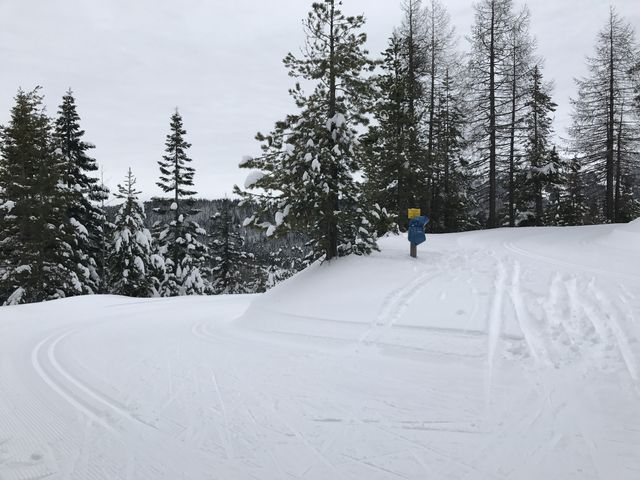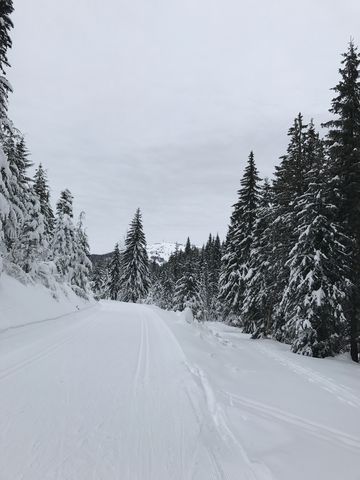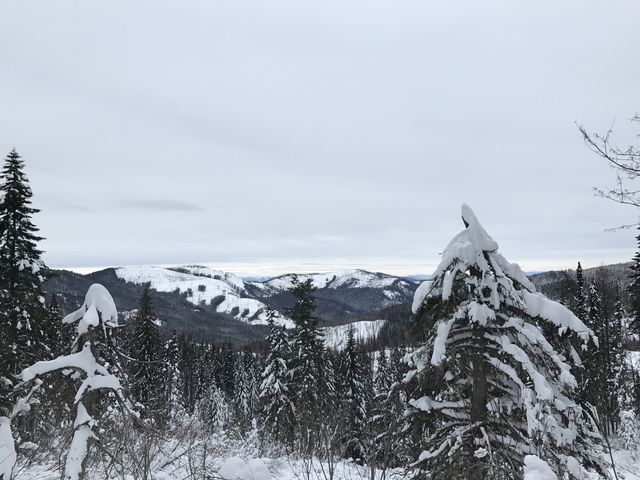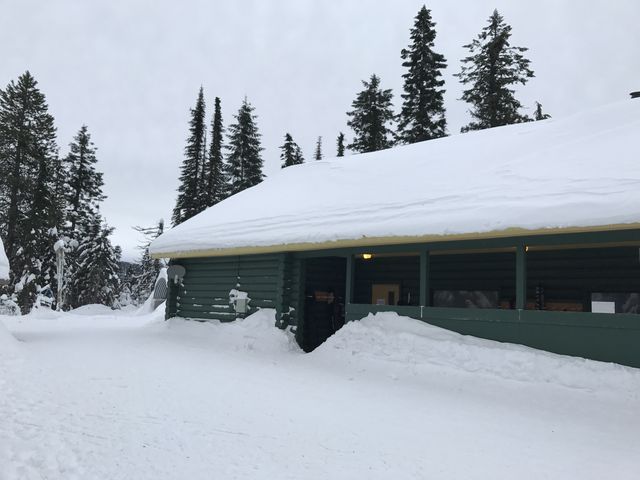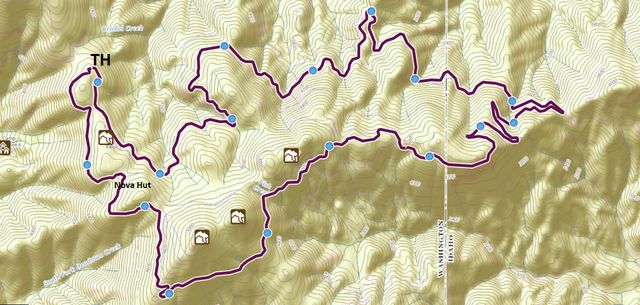 Alternate Routes
To make this truly a perimeter loop take the Lower Tripp's Loop trail instead of Upper Tripp's Loop
Refer to the trail map for alternative routes; there are miles and miles of groomed trails!
© 2016 – 2017 NaughtyHiker. All rights reserved. No duplication without permission.