The highest point in Kootenai County is right on Latour Peak, which means incredible views since the peak is pretty much bare. Steeply below it huddles Mirror Lake in a forest-ringed cirque and to the east are the remains of the Twin Crags lookout tower.
Location
St. Joe Mountains
Rating
3.5 out of 5
Difficulty
Moderate
Distance
8.4 miles
Duration
2:48 hours moving time (hiking)
Elevation Gain
1,549 feet
High Point
6,408 feet (Latour Peak)
Low Point
4,746 feet (trailhead)
Trail Type
Out-and-back
Trailbed
Dirt road, packed dirt, loose gravel
Water
None (except Mirror Lake)
Status
Unprotected
Administration
Bureau of Land Management
Conditions
Don't know; everything was buried in snow…
Permits
None required
Camping
At Mirror Lake
Maps
USGS Rochat Peak, Twin Crags
Trailhead
Take I-90 exit #40 (Cataldo) and head south on Latour Creek Road (it turns into Rochat Road at some point). Continue straight when the road turns into a gravel road. After 9.5 miles (from the freeway) turn left onto Twin Crags Road (it immediately crosses a one-lane bridge across Latour Creek). Continue uphill to the trailhead. There are a lot of confusing logging roads; at first it is fairly obvious which to take (the one in better condition), but about 2.5 miles from the bridge the roads are about the same: take a right. Afterwards, bear left and uphill. At the first switchback swing a sharp left, but at the next one bear right and stay on the south face of the Boise-Latour ridge. I parked my car right there (about 5 miles from the bridge) due to snow, but you could continue on (unless you have a pile of money vested in your car's paint job; the alder is rampant along that stretch) and reduce the hike to far less than a mile one-way (again bear left when in doubt). High-clearance vehicle recommended.
Google Directions (47.44516, -116.419551)
Season
June – October
Squirrel Density
Decent. The ground squirrels were hibernating…
Features
Mountaintop, Lake, Meadow
Distance From

Coeur d'Alene 41.2 miles
Lewiston 158.5 miles
Seattle 351.9 miles
Spokane 74.1 miles

Resources
Nearby Hikes
Date
October 15, 2017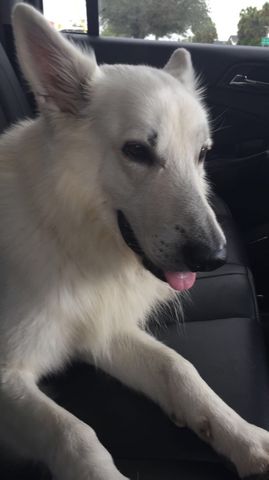 For an entire week I was abandoned, while the Scribe and the rest of the pack enjoyed themselves in sunny Florida. Of course I wanted to go along, but the Scribe scared me with horror stories of pets disappearing in planes, never to be heard of again, unspeakable suffering in 90-degree weather and 90-percent humidity, and the complete absence of mountains. Not even mole hills. It just wasn't a life for a dog. I almost bought it, too, until I saw the photo of my replacement on his phone! That was just too much.
As you can guess, the list of my demands was lengthy: one, I would spend the nights at a neighborhood canine buddy's; two, someone would take me out on a trail run for 2 hours every day (for the record, the Scribe manages just one); and three, upon his return we would immediately set off for 2 mountain hikes in one day! He accepted the deal (there really was no choice) and delivered on all items except the last, which consisted of a quick dash up Latour Peak and a longer hike to Crystal Lake, both in the St. Joe Mountains.
Those of you who've followed this blog for some time are undoubtedly aware of the Scribe's shortcomings in planning. Such planning does not exist, quite frankly, and at any rate does not, I repeat, does not, involve any brain activity whatsoever. In fact, I can only surmise that he concocted the plan while sipping something unsavory and soaking his pale hide in a Sunshine-State pool. What was wrong you ask? That white fluffy stuff we discovered high up on the hillsides as we pulled into the Rose Lake area. If you're headed for the tallest mountain in the county you're only bound to see more of that.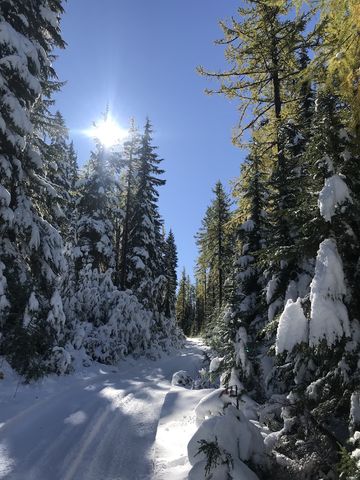 And we did, even below 5000 feet. Plus, there was a myriad of logging roads on the way to the trailhead, none of which appeared on his 20-year-old USGS maps. He ended up parking the truck eight miles from the "planned" trailhead on FR #2309 to let me "jump around a bit" before heading home. Well, I jumped a bit and barked a bit and I may have growled a bit, too. So much so that the Scribe agreed to walk up the forest road for a short distance, even though it was snow-covered and he lacked waterproof shoes (thinking, likely, that we were going to a pool party). He did bring his pack, which was a good thing, but decided to leave the trekking poles in the truck since the snow was flattened by ATV tracks. That came to bite him later.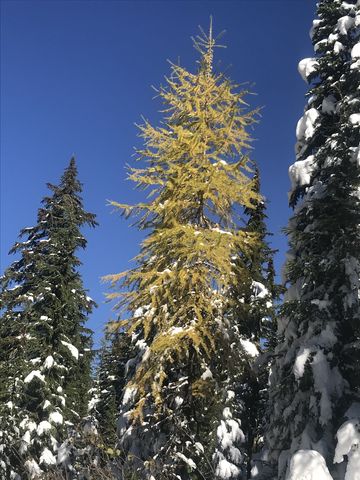 FR 2309 headed eastwards and slightly uphilll, with nice views across the Latour Canyon towards snow-covered Crystal Lake, which, I realized now, we were not going to visit this year. But I insisted on bagging Latour Peak, no matter the Scribe's protests. The incline soon picked up, as the trail moved into the forested south face of Boise Peak. The alder pushed hard into the road from both sides, but the going was easy, following the ATV tracks. Soon the road emerged onto a clearing with more views across the canyon and up towards the ridge between Latour Peak and Boise Peak. This area also was blessed with larches in bright orange fall garments.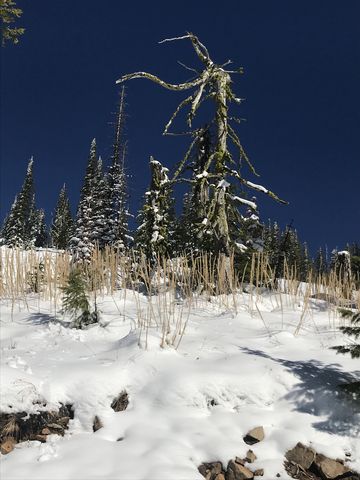 The road continued to move in and out of forested areas, but the ATV tracks ceased about four miles in, at an intersection. To the right a road led downhill and going straight led in a roundabout way to Twin Crags. If you're not battling snow, that would be the way to go, but since we were making our own tracks, I decided to head straight up (north), following the spine of the ridge to Latour Creek.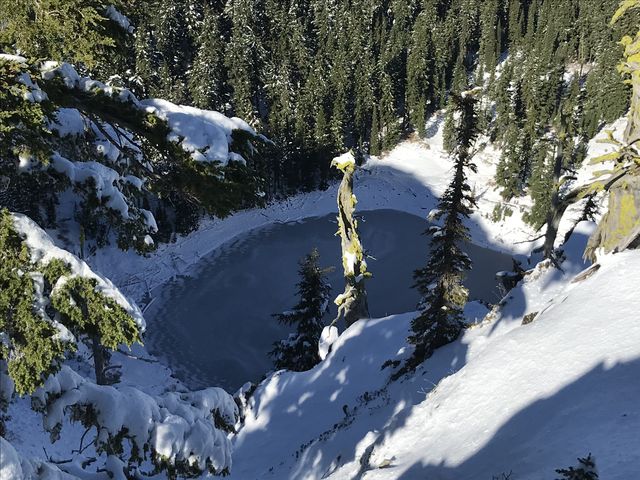 The snow was a bit over a foot deep, but this presented no problem, as I simply fell in line behind the Scribe and let him do the heavy lifting (actually, the heavy sinking). He sorely missed his poles. At first this "trail" led across rock outcroppings, then through a rather dense thicket, but afterwards we had an unobstructed view of Latour Peak and followed an old ATV trail uphill (ATVs are no longer allowed). The vista from the top was just phenomenal all around, including the view of Mirror Lake in its cirque below the peak. The Scribe found a geocache in the snow, but had to pass on a second one, not wanting to dig through the snow. We wandered around for a bit, took a good look at the remnants of a lookout tower on Twin Crags, and I raced up and down the cornices on Latour Peak, something I hadn't done since climbing Moose Mountain on the Fourth of July. Then we returned to the car, using a shortcut across what turned out to be a snow-blanketed boulder-and-talus field. "Where are those poles?" the Scribe screamed, as he slammed his shin into a solid slab of granite. Payday. Don't mess with me…
Enjoy this hike? Let us know in the comments below!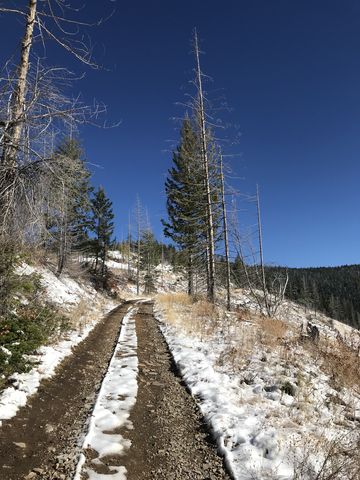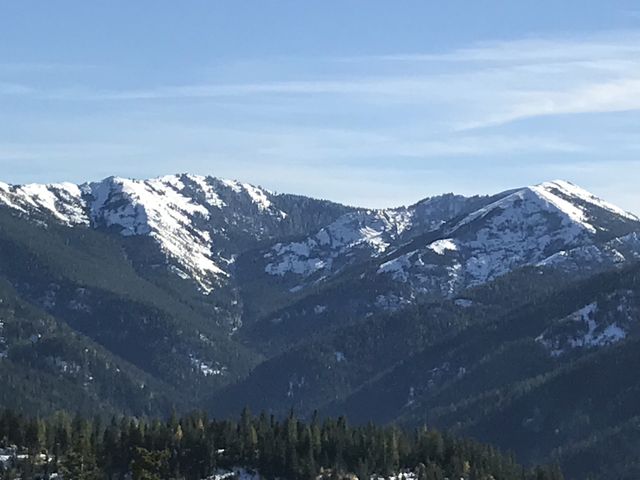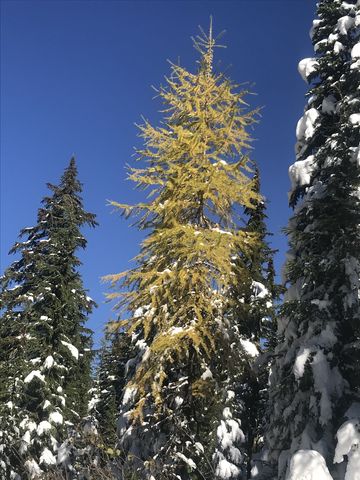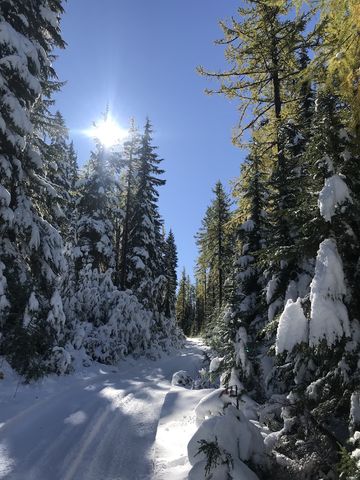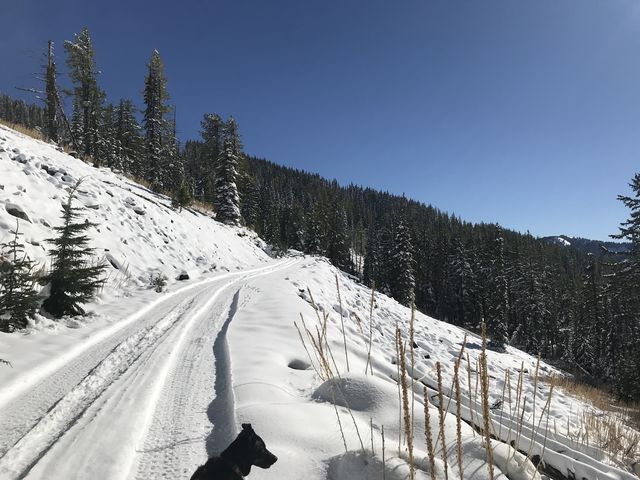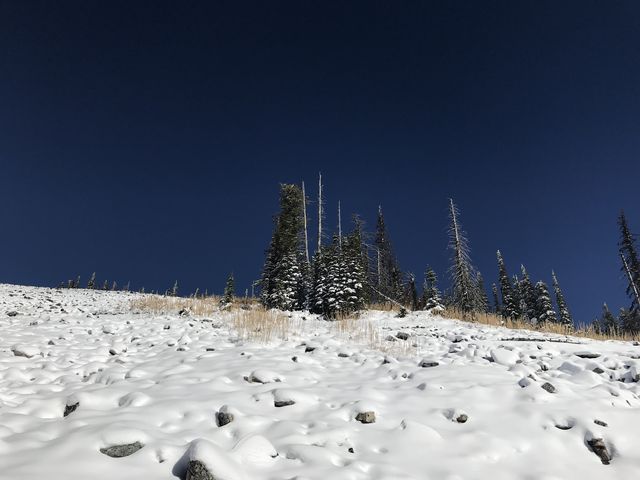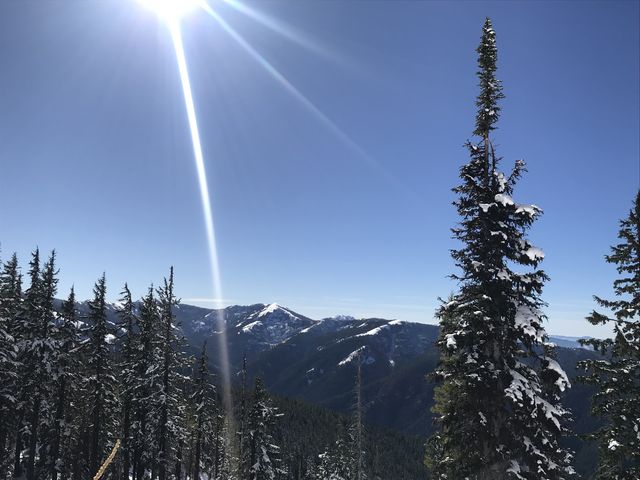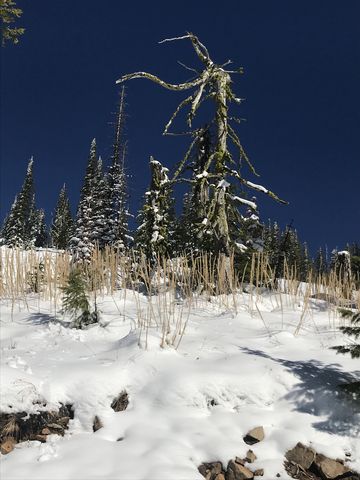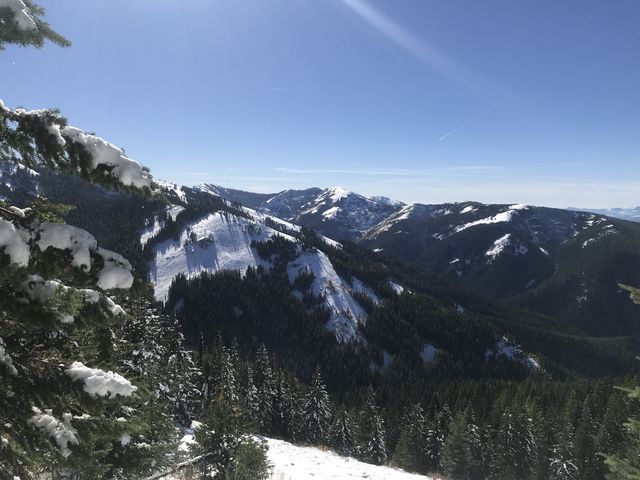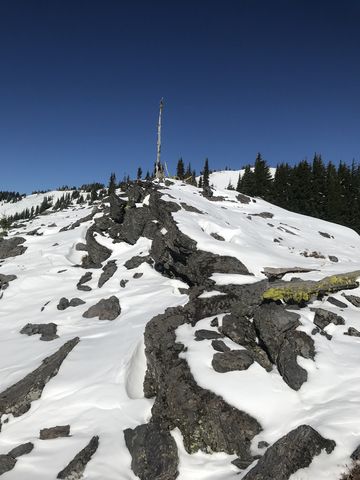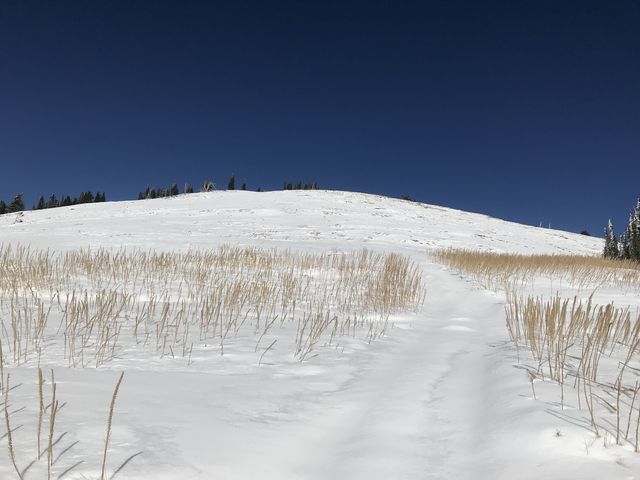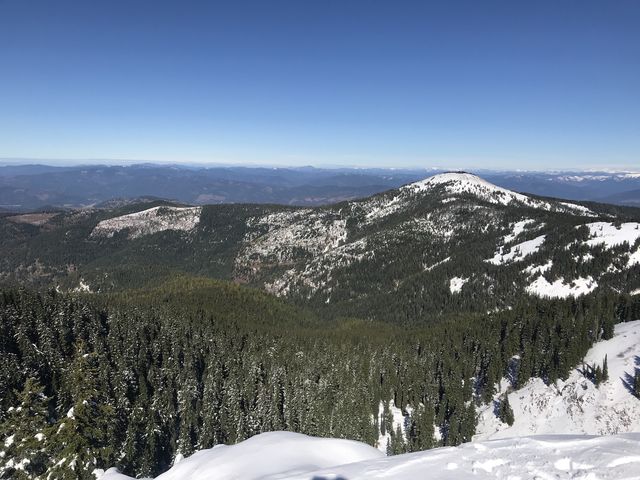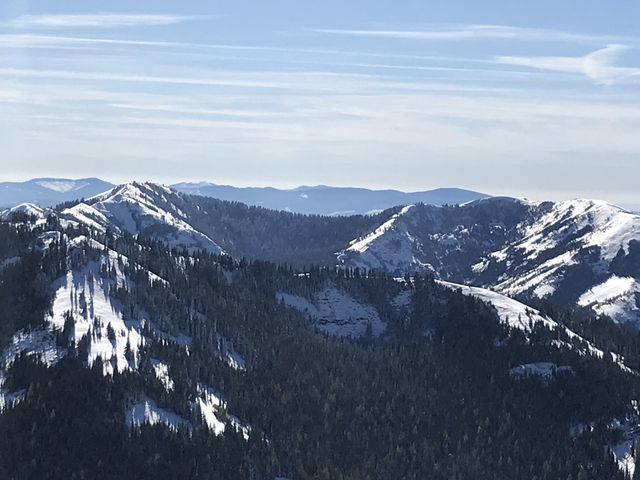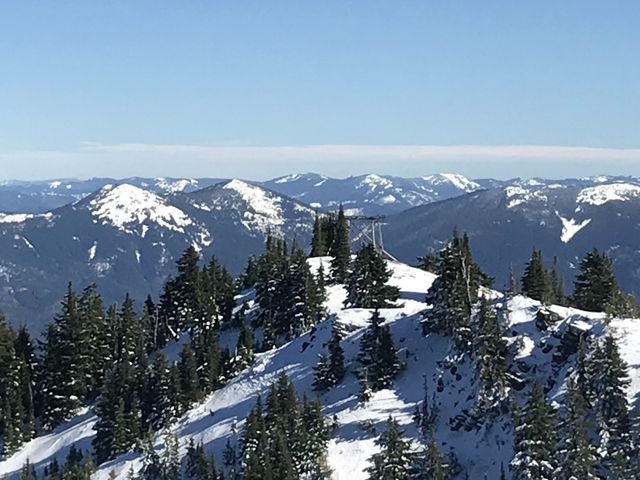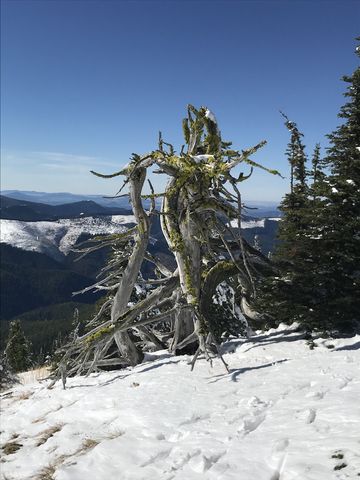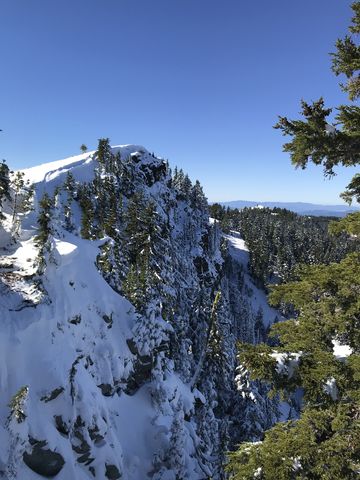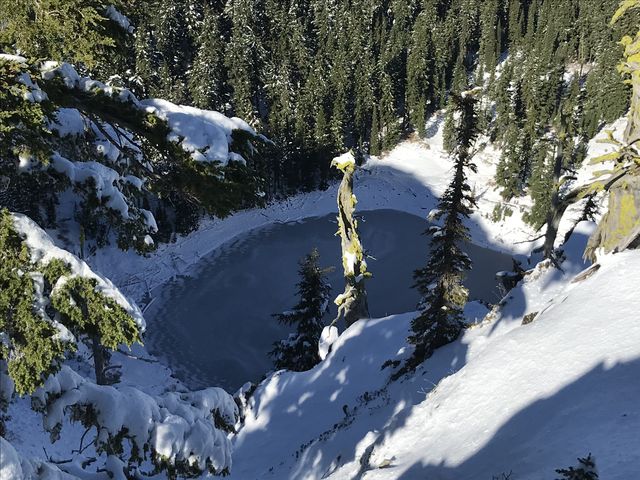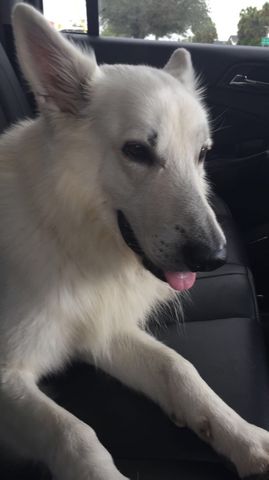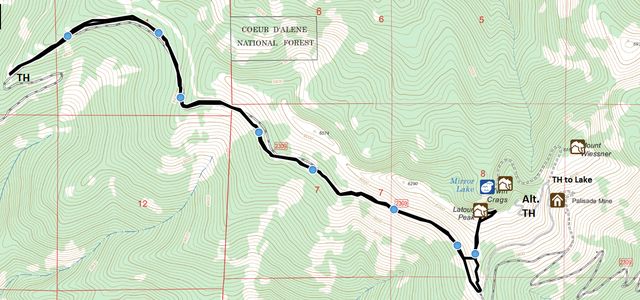 © 2016 – 2018 NaughtyHiker. All rights reserved. No duplication without permission.
​