Running the full length of Upper Priest Lake's western shore, the Navigation trail connects Beaver Creek Campground with FR-1013 (Gold Creek Road), which in turn connects the trail to either #302, following the eastern lakeshore to Lionhead Campground, or #308, paralleling the Upper Priest River to the Canadian border. Near the trailhead, you could also connect to the Lakeshore Trail, which hugs Lower Priest Lake's western shore.
Location
Selkirk Mountains
Rating
3.4 out of 5
Difficulty
Easy
Distance
17.9 miles
Duration
5:11 hours moving time (hiking)
Elevation Gain
1,221 feet
High Point
2,725 feet
Low Point
2,420 feet
Trail Type
Out-and-back
Trailbed
Packed dirt, old forest road
Trail#
291
Water
Priest Lake (but beware of potential mining residue) and a few trickles along the way. Also Hughes Fork and Boulder Creek and potable water at Beaver Creek Campground
Status
National Scenic Trail
Administration
Kaniksu National Forest
Conditions
Very good. Just 4 or 5 logs to climb over
Permits
None required
Camping
Beaver Creek Campground, Plowboy Campground, Navigation Campground. Beaver Creek and Plowboy have toilets.
Maps
USGS Upper Priest Lake, Priest Lake NE, Caribou Creek
Trailhead
From Priest River, head north on ID-57 for 36.5 miles. Take a right onto Reeder Bay Road and follow it for 12 miles (it eventually turns into NF-2512). As you approach Beaver Creek Campground, take a left for just a short distance, then immediately right (if you end up on a gravel road you've gone too far). Stay left as you drive past the campground. The road crosses Beaver Creek and winds up the hill a bit to a parking lot.

Google Directions (48.739334, -116.863111)

Season
Year-around
Squirrel Density
Oh yeah!
Features
Lake, Structure, Grove
Distance From

Coeur d'Alene 93.1 miles
Lewiston 209.3 miles
Sandpoint 71.3 miles
Seattle 383.4 miles
Spokane 101.8 miles

Resources
Nearby Hikes
Date
November 11, 2018
Our plan for this beautiful day actually was to hike the Upper Priest River trail to the Canadian border, but the access road beyond Nordam is unmaintained and driving 20 miles on frozen, packed snow with nearly bald tires was not terribly appealing. Hence, we looked for an alternative in the limited area for which we had downloaded maps. While we had hiked about half of the Navigation trail last summer, doing the Plowboy Mountain loop, checking out the other half seemed in order.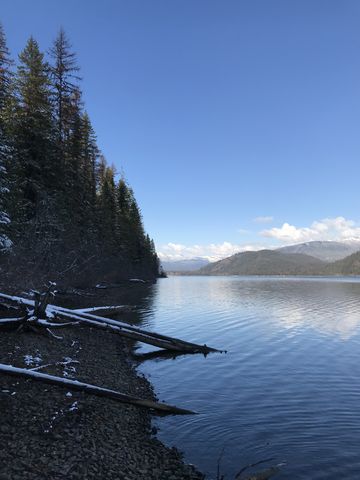 The first 3 miles are on a wide singletrack, meandering pleasantly through the woods, passing a beaver pond at Armstrong Meadows and a caved-in dilapidated log cabin just before the descent to Upper Priest Lake and the turn-off to Plowboy Campground. Despite the cold, the campground was inhabited by a troop of Boy Scouts who had canoed in. There are several sites, as well as pit toilets, bear boxes, and a view to kill for. The entire shoreline of Upper Priest is in public hands, either state or federal, and is designated the Priest Lake Scenic Area. The trail hugs the lakeshore closely to the next campground, Navigation Campground, at the 5-mile mark near the north end of the lake. This one also features a number of camping spots, each with its own bear box, as well as a large gravelly beach, which may not be there in spring when the water level is higher. Continuing on, and ignoring the Plowboy Mountain trail that heads west and uphill, the trail veers away from the lake, dives deeper into the woods, and commences a steady climb. Near the 6.5-mile mark it spills out on a disused forest road, where the fresh snow was littered with the prints of a wolf pack. The tracks led down another old road, even less used, in the direction of the lake. We followed whence they came, Naughty unable to contain her excitement, and ended up stepping in the wolf tracks for a good half mile to the point where they (the prints) emerged from the woods. And since they were no longer in single file, we were able to count the specimens and came up with 4 or 5 (the prints weaved in and out of the woods, so it was hard to tell).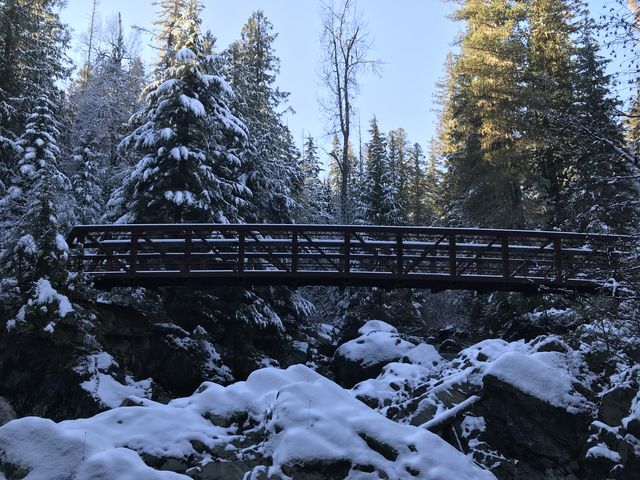 The trail sticks to the old logging road all the way to its terminus and is engulfed by woods of one kind or another the entire stretch. It passes several old logging roads, the first one right ahead of Boulder Creek, but it is overgrown and clearly no longer in use. Boulder Creek is crossed on a convenient bridge. A half mile later is another Y, and the wider road heads off to the left (west), but you want to take the slightly narrower one leading downhill to Hughes Fork. There is a rather fancy bridge across that creek, which carries a fair bit of water. The trail ends shortly after the bridge at a forest road that is open to motorized traffic (the Navigation trail is not, even the sections on old forest roads). The road winds uphill for about a half mile to meet up with FR-1013.
Enjoy this hike? Let us know in the comments below!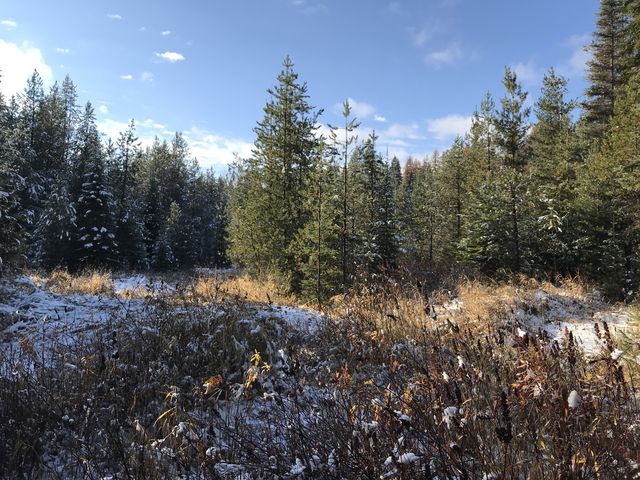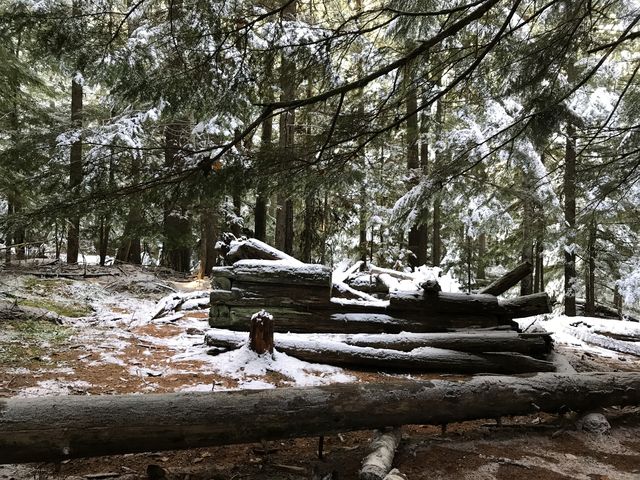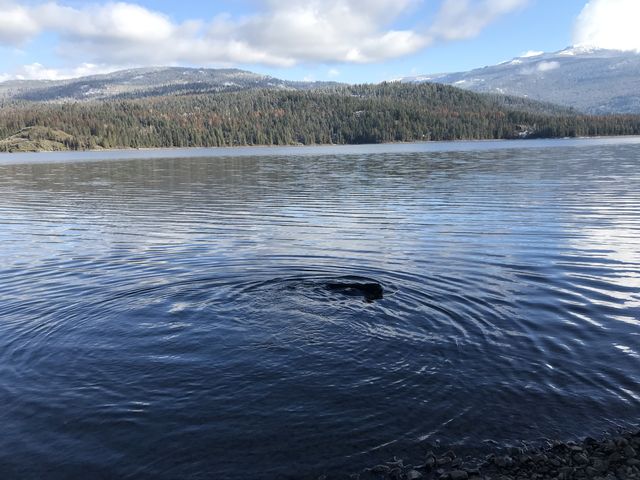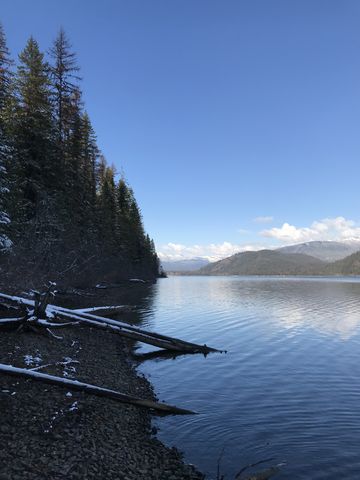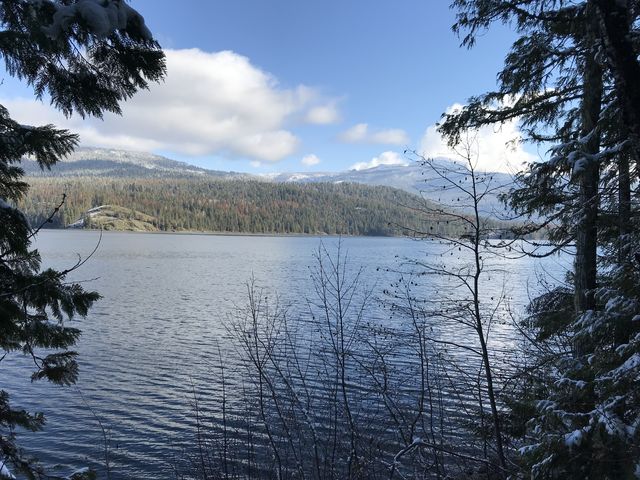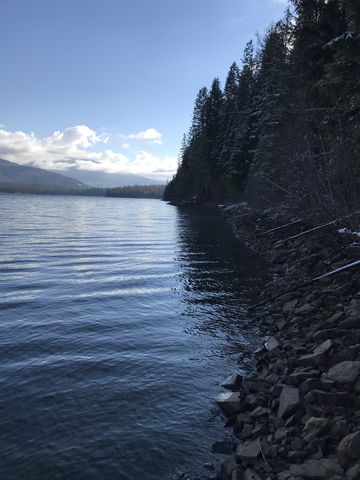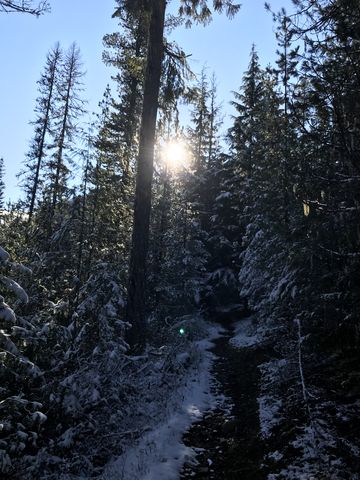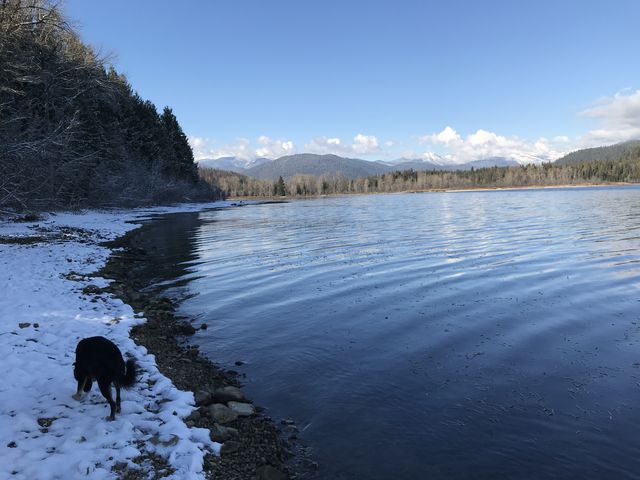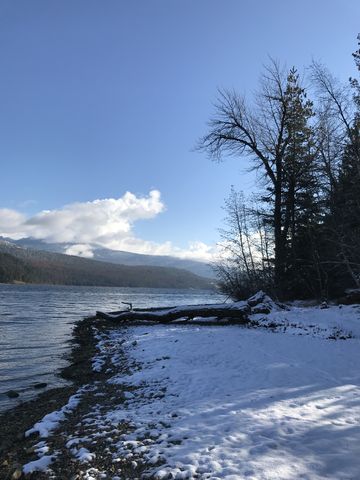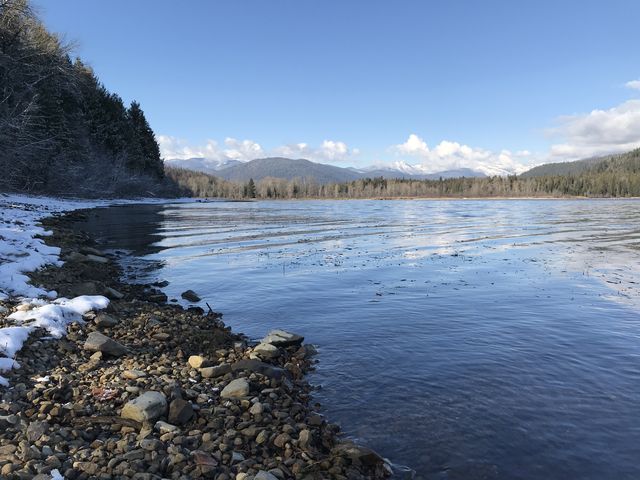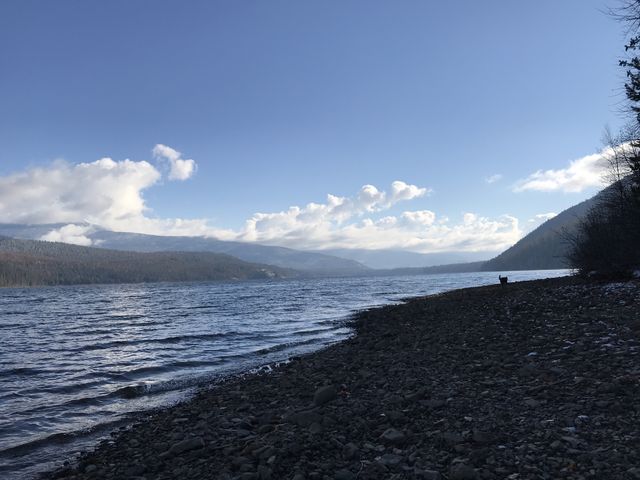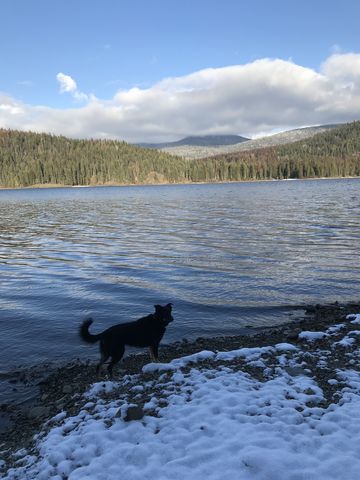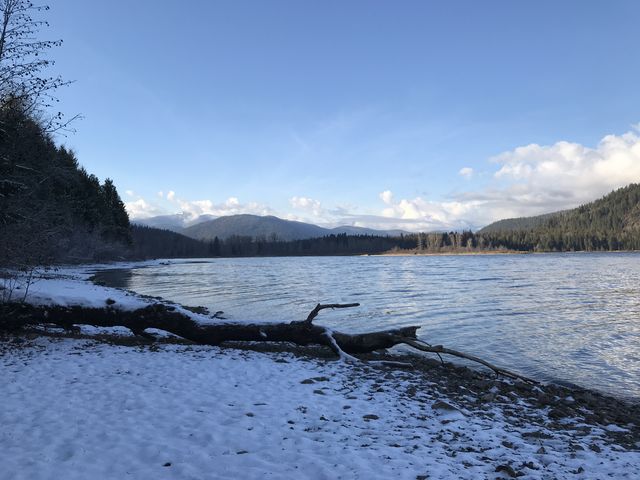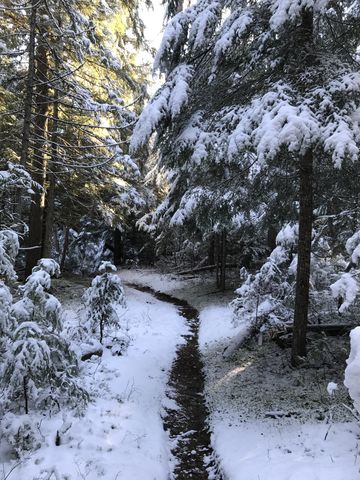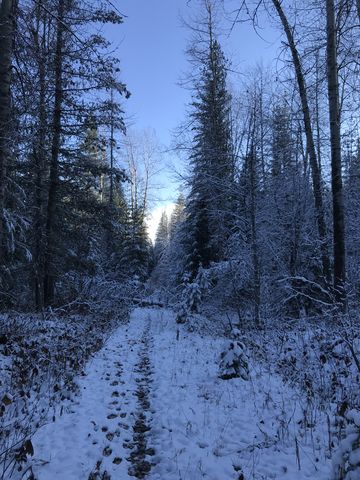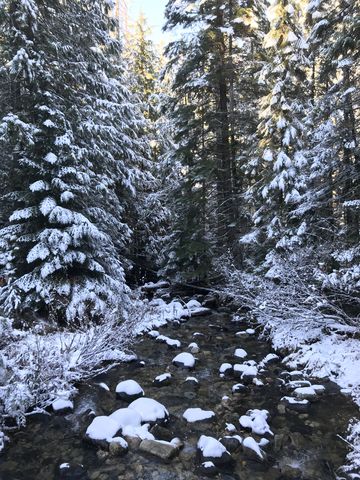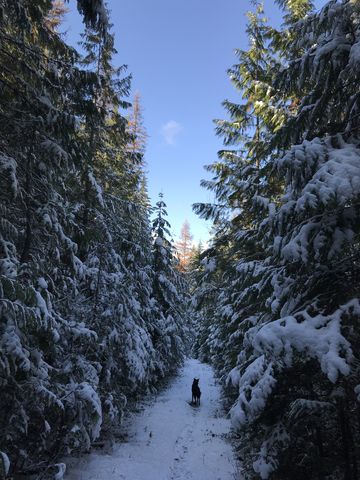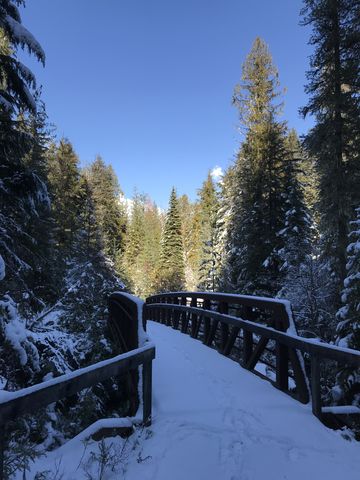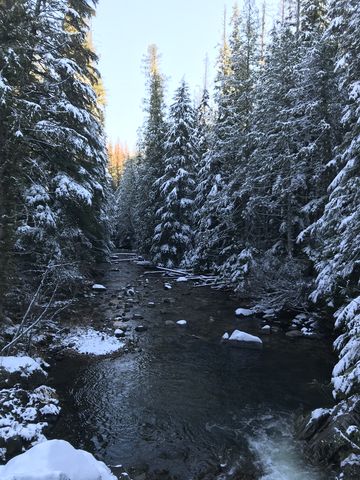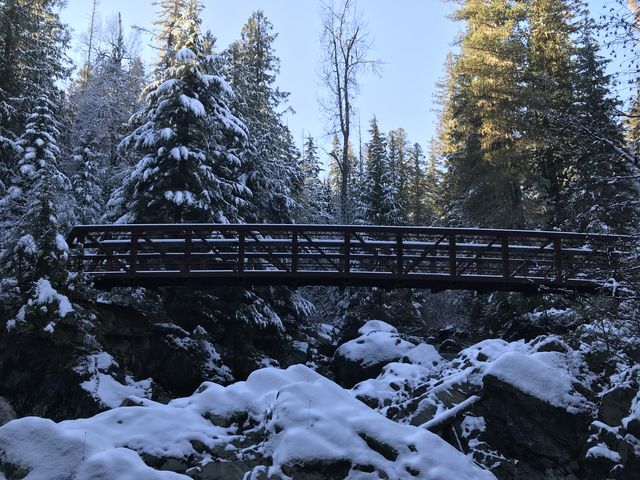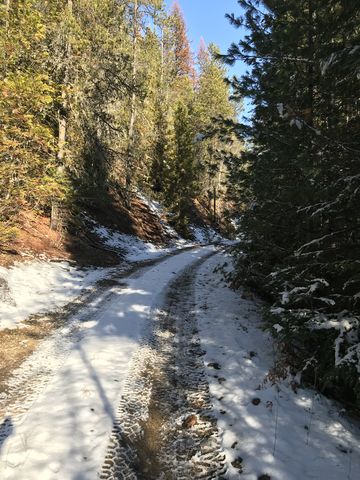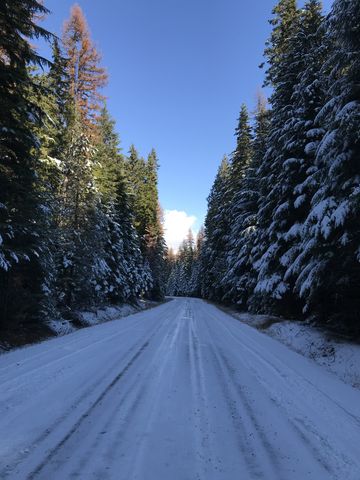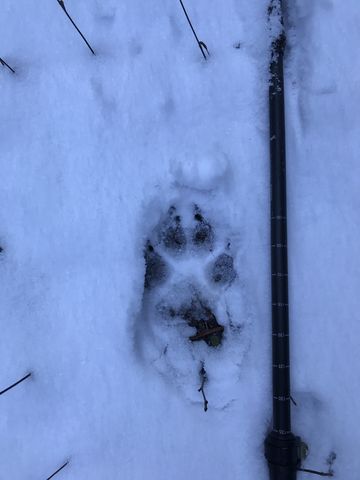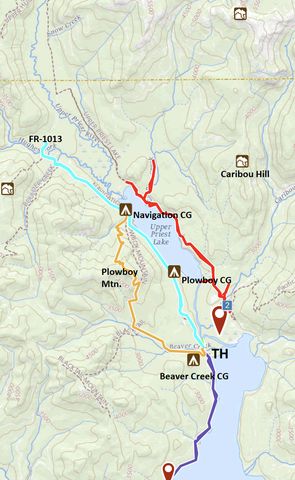 Alternate Routes
Park a shuttle car at FR-1013 to turn this into a 5-mile one-way hike. Or, continue east on FR-1013 for about a mile to hook up with trail #302, which traces Upper Priest's eastern shore southwards. Or, stay on FR-1013 for another 4 miles and you'll arrive at the trailhead of #308, Upper Priest River. That is the trail we wanted to hike to start with…
The USGS National map shows a couple trails heading uphill near the northern end of the Navigation Trail. One leads to Gold Peak and the other parallels Boulder Creek. Despite thoroughly looking for both, we found neither. Let us know if you have more luck!
© 2016 – 2018 NaughtyHiker. All rights reserved. No duplication without permission.