Towering more than 2,000 feet above Chelan, WA, Chelan Butte serves up sweeping views of Lake Chelan, a patchwork of apple orchards rimming the lakeshore, and the Columbia river on the eastern side. Lacking somewhat in taller vegetation, the mostly bald hill is artificially ornamented with a studding of sky-reaching antennas.
Location
Elsewhere
Rating
2.9 out of 5
Difficulty
Moderate
Distance
7.8 miles
Duration
3:44 hours moving time (hiking)
Elevation Gain
2,585 feet
High Point
3,825 feet (Chelan Butte)
Low Point
1,172 feet (Trailhead)
Trail Type
Out-and-back
Trailbed
Packed dirt, loose rocks
Water
None
Status
Unprotected
Administration
Chelan Butte State Wildlife Area
Conditions
Excellent
Permits
None required
Camping
None
Maps
USGS Chelan
Trailhead
From Chelan, cross the lake on Webster Ave, then turn left onto Farnham St. Farnham will eventually turn into Sanders St. Turn left onto Iowa St after half a mile, then you'll see the trailhead on your left after a quarter mile.

Google Directions (47.83085, -120.009562)

Season
Year-around
Squirrel Density
Excellent
Features
Mountaintop, Meadow
Distance From

Coeur d'Alene 185.4 miles
Lewiston 243.6 miles
Sandpoint 224.4 miles

Resources
Date
September 18, 2017
This is an ideal hike for a bird's eye view of lake Chelan and its namesake city. Bear in mind that there is very little forestation and the hike up, under a broiling sun, may get you sweating. That said, a nice breeze picks up once you gain the ridge.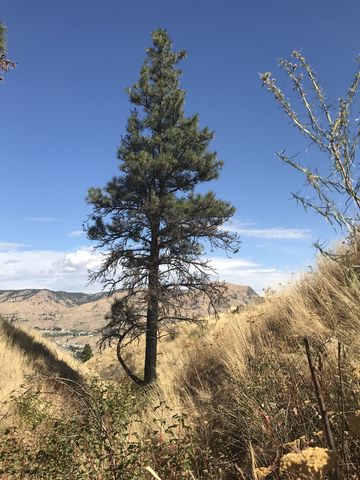 From the trailhead, which is actually the trailhead for a hiking/biking trail along the Chelan River, cross the road (Iowa) and head straight uphill along the double-track. You'll come to an arrow fairly soon, at which point a single-track veers off to the right (signed for hiking). You could go straight up the mountain, but it is pretty steep. Anyway, we chose the hiking path, which moves westwards and keeps climbing, eased somewhat by a few switchbacks. The first switchback is actually a fork, and it is signed well; you'll take a left. The terrain is very open, with very few trees and mostly just tall grasses. As the trail climbs, it crosses a gully and then levels off and heads east and gains the ridge around the 2-mile mark.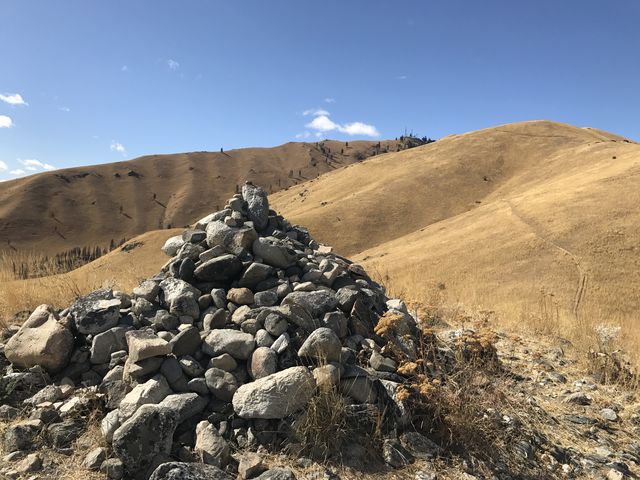 Here you have the option to continue east and climb the little hump known as Elephant Head. It offers nice views all around and across the Columbia gorge and the plateau beyond. The Chelan Butte trail, however, turns southwest and continues up the ridge, in places quite steeply, while serving up views that just get better and better.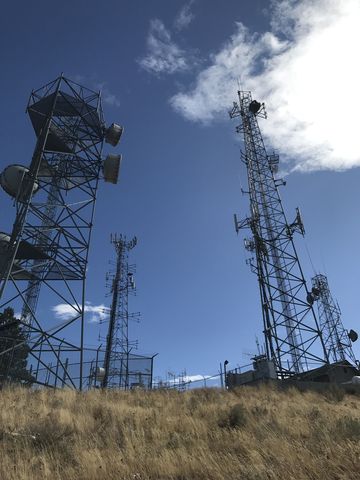 You'll reach the top just around the 4-mile marker, that being a bit of a disappointment, since there is an access road and many antennas mounted on the top. During our visit, in fact, a truck from a wireless company pulled up to do some maintenance on a tower. The views are extravagant, however, all around, but the view of Lake Chelan appears to be a bit better from just below the peak.
Enjoy this hike? Let us know in the comments below!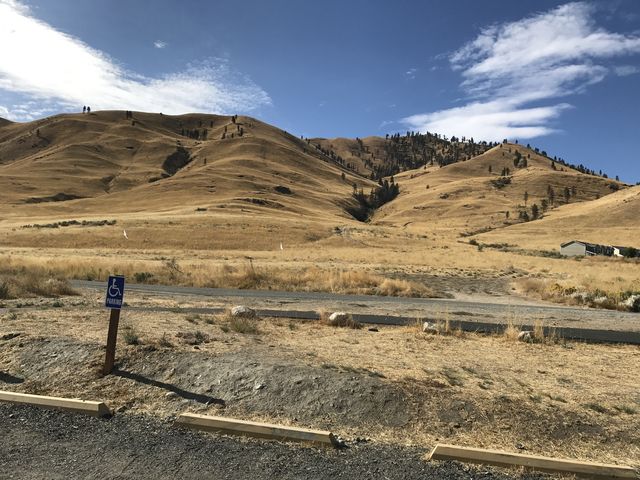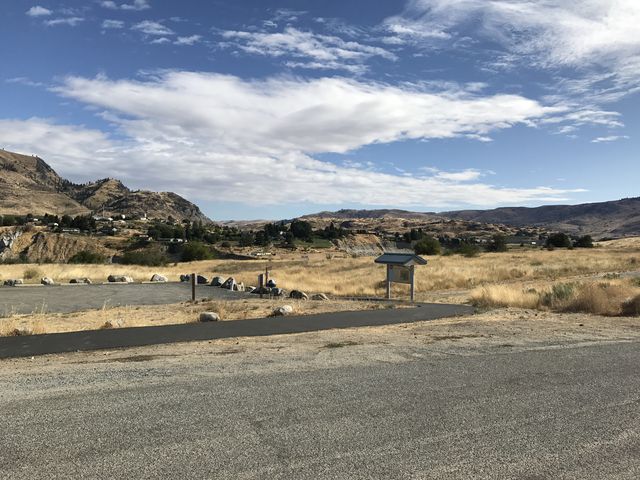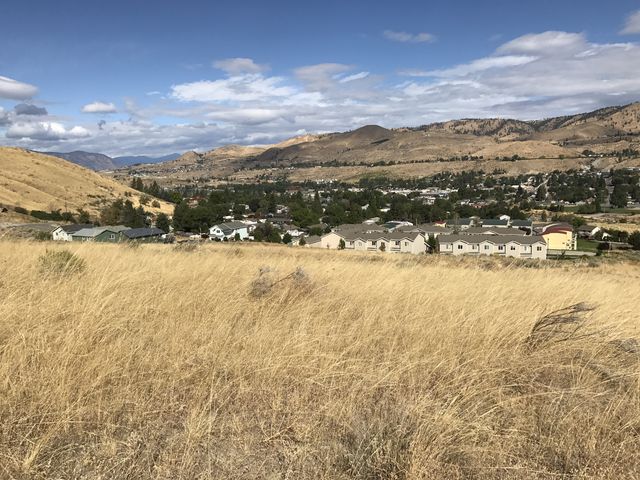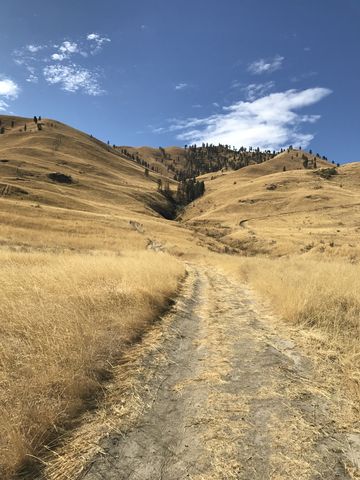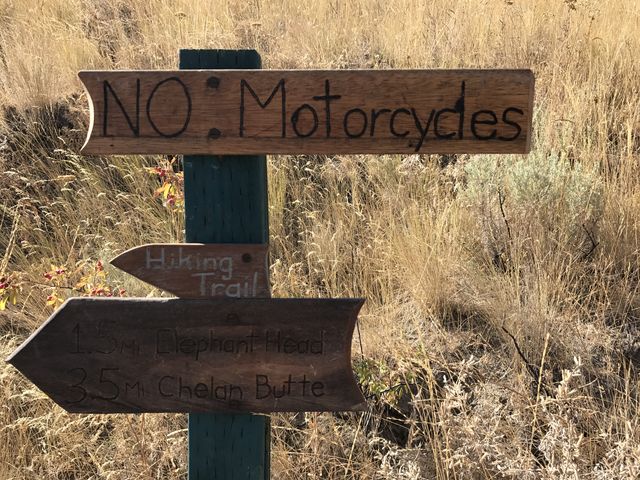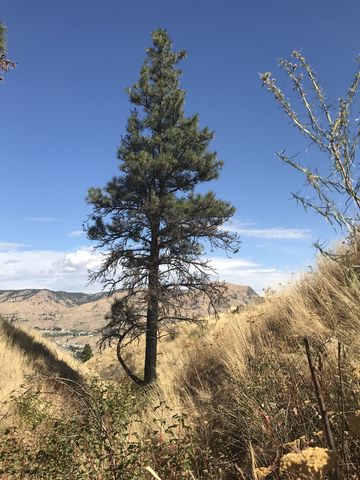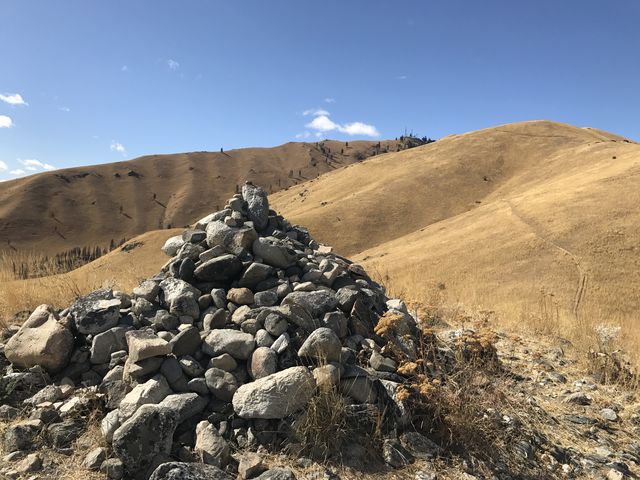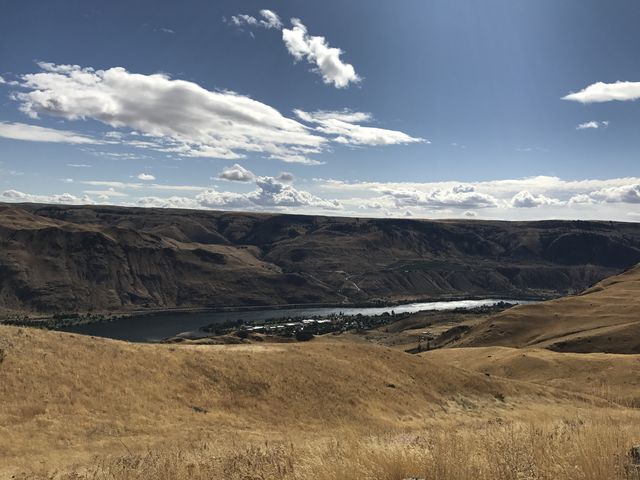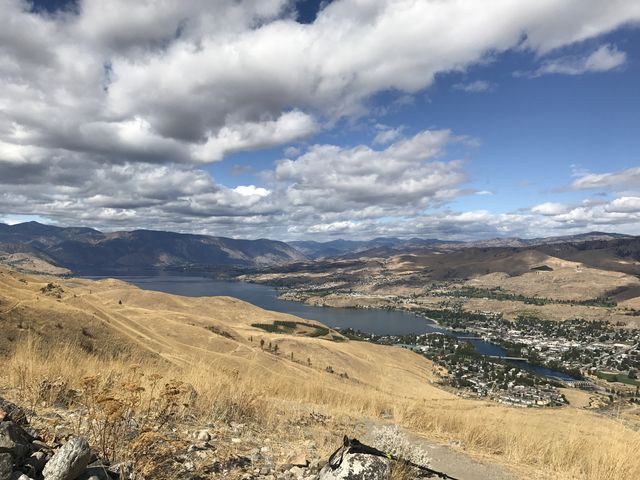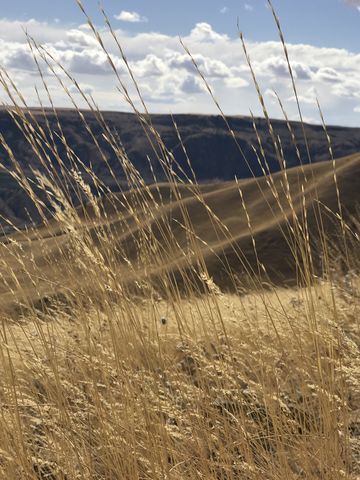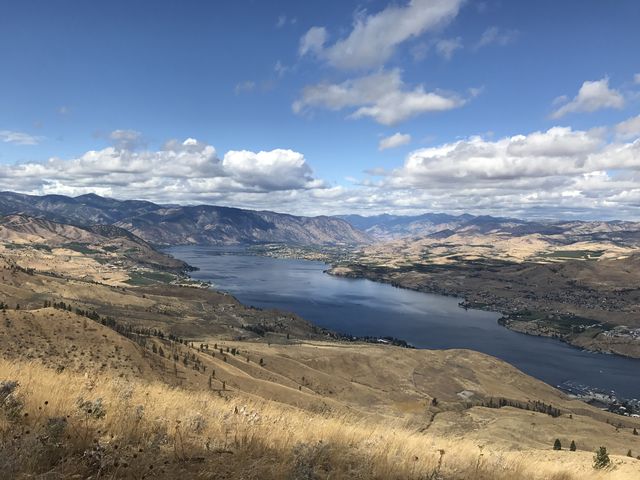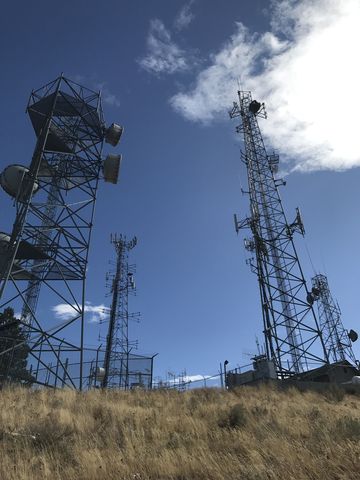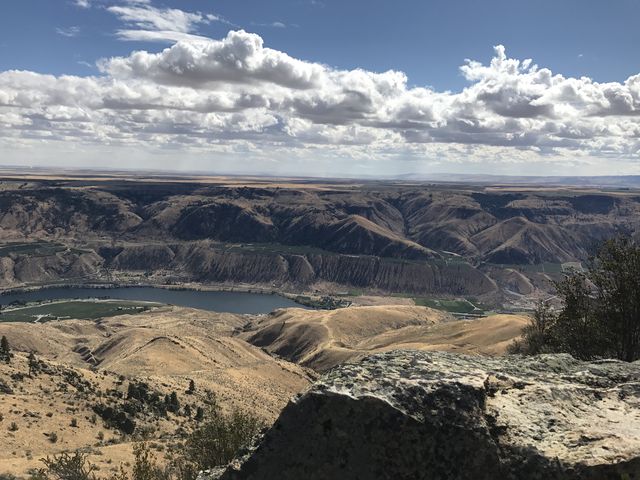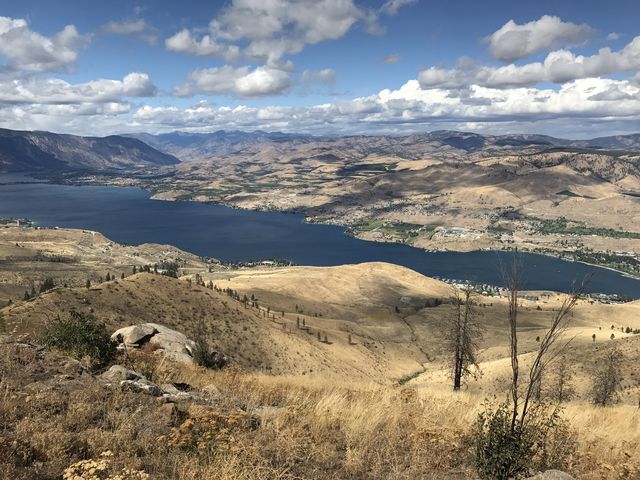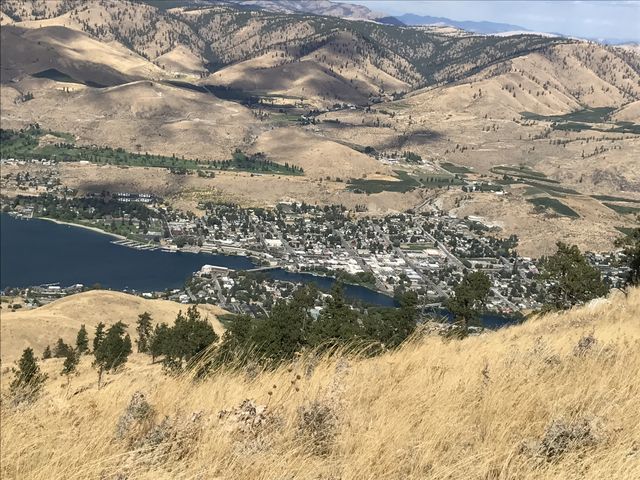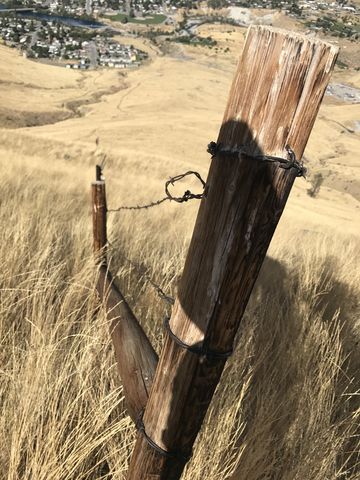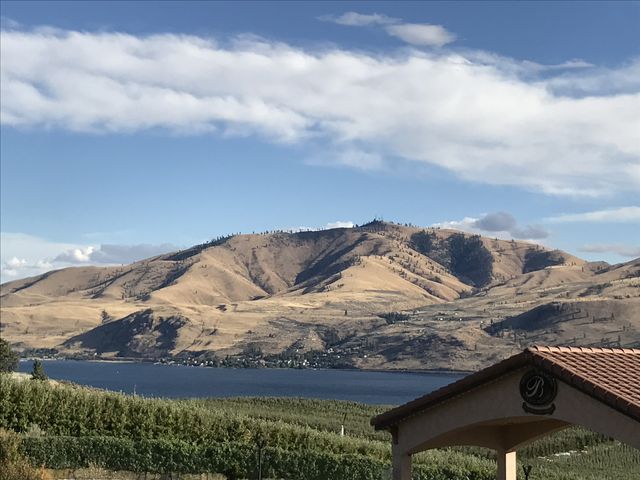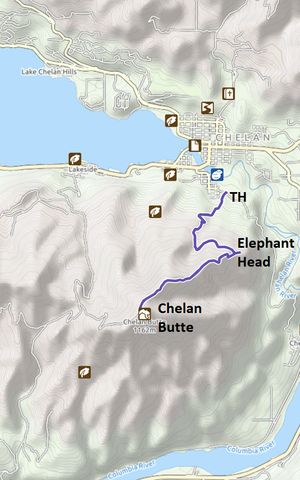 © 2016 – 2017 NaughtyHiker. All rights reserved. No duplication without permission.