The 530-acre Dishman Hills Natural Area consists of a fir-studded rise dotted with ponds, granite rock formations, and several deep parallel ravines. It is almost entirely surrounded by residential housing and accessible from three sides. There are many loops, ranging from a short quarter-mile stroll to this 7-mile loop encompassing both the inner and outer trails. 
Location
Selkirk Mountains
Rating
2.7 out of 5
Difficulty
Moderate (some uphill hiking)
Distance
7.1 miles
Duration
2:18 hours moving time (hiking)
Elevation Gain
928 feet
High Point
2,429 feet (Eagle Peak)
Low Point
1,993 feet (Trailhead)
Trail Type
Loop
Trailbed
Packed dirt, gravel
Water
At the lodge and there are a few ponds
Status
Conservation Area
Administration
Dishman Hills Conservancy
Conditions
Excellent, but there is a web of trails and it can be difficult to make out the right one. GPS usage recommended
Permits
None required
Camping
Not permitted. Bathroom at Camp Caro (open during summer)
Maps
USGS Spokane SE
Trailhead
From I-90, take exit 287 (Argonne Road) and head south for 1.2 miles. Turn right onto Sprague and continue for .3 miles. Turn left onto S Sargent Road and continue across Appleway. The winter parking lot will be to your right (during the summer you can continue on Sargent to the summer parking lot near Camp Caro).

Google Directions (47.654407, -117.289656)

Season
Year-around
Squirrel Density
Dogs must be leashed. Mountain bikes not allowed
Features
Lake, Structure
Distance From

Coeur d'Alene 27.6 miles
Lewiston 110.9 miles
Sandpoint 66.1 miles
Seattle 285.0 miles
Spokane 7.1 miles

Resources
Nearby Hikes
Date
February 10, 2018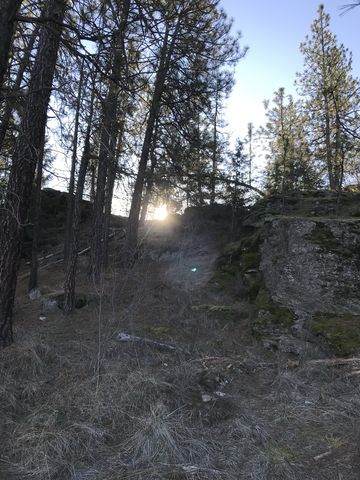 The Dishman Hills area features several short loops that are combined into an inner and outer loop combo in this iteration. Start at the winter parking lot on Sargent Road and head west towards the alternate 8th Ave access point. Beware that there is a web of trails, besides the official trails, that makes navigation difficult. In fact, we ended up on a side trail too close to the edge of the property and had to "bushwhack" to the main trail using GPS directions (it wasn't so much of a bushwhack as taking other sidetrails).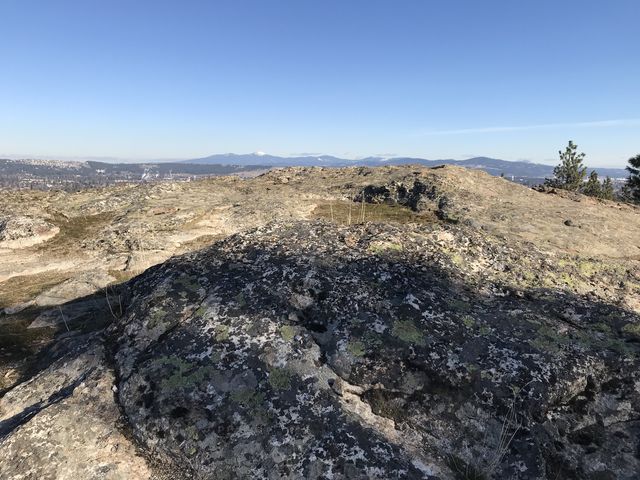 The Pond Loop trail is a wide gravel-packed doubletrack almost all the way to the fork to the 8th Ave trailhead about a mile in. Bear left and continue on the Pond Loop trail as it winds south through imposing rock outcroppings and soon dishes out fantastic views of Spokane. Eventually the trail will fork and, bearing right, turns into the Nimbus Knob Loop. This trail continues through thin fir forest and several small ponds to the Eagle Peak Loop.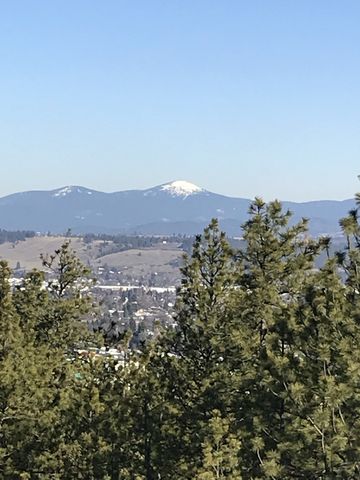 Continue south on the Eagle Peak Loop, leaving Eagle Peak on your left. The forest opens up and enables views across Spokane and the Glenrose Cliffs. This area burnt in 2008 and charred logs still predominate. Continue along the loop, which drops lower, heading east, then loops around again and ascends northwards. As it intersects with the Eagle Peak Cutoff Loop, head west again on the cutoff for a quick visit to Eagle Peak, the highest point of the Natural Area. The views in all directions are impressive, including those of snow-capped Mount Spokane.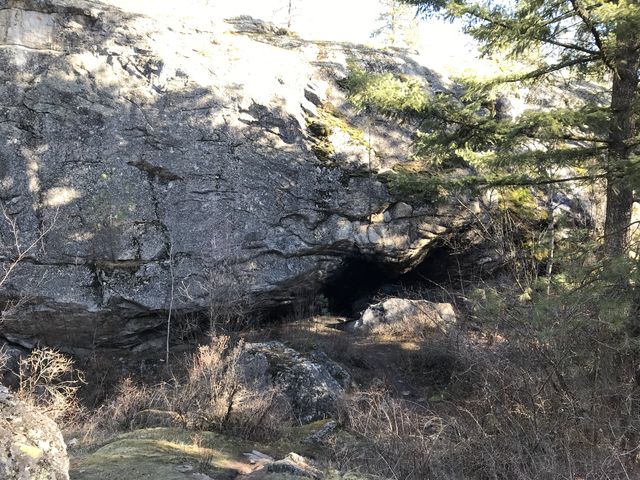 Backtrack a bit, then continue north on the Eagle Peak Loop to the intersection with the Goldback Loop trail. Swinging a right, you'll drop lower along the edge of the preserve, but eventually head north again towards the alternate trailhead on Siesta Drive. The Goldback Loop will fork and turning right you'll enter the Deep Ravine Loop and its sheer rock walls. This loop brings you to the northern end of the property, where a small cave awaits. Then it's uphill and westwards to Camp Caro, a former Girl Scout lodge.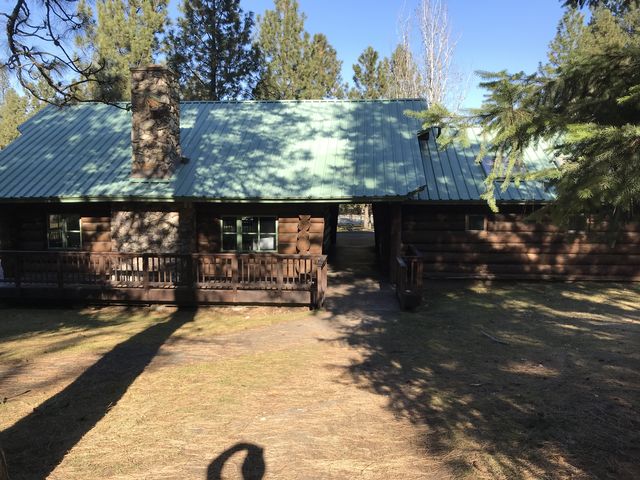 The quick way back to the parking lot is through the lodge and northwards; instead, head south and uphill on a wide trail (Pinecliff Loop) past the trailmap kiosk. This trail leads to Caro Cliffs, where a graffiti-covered bench invites to rest, then turns right (westwards) and enters Enchanted Ravine. Climbing out of the ravine, the trail turns north and through light forest and a myriad of rock formations returns to the parking lot. 
Enjoy this hike? Let us know in the comments below!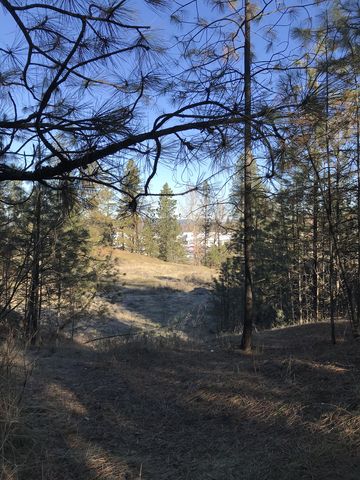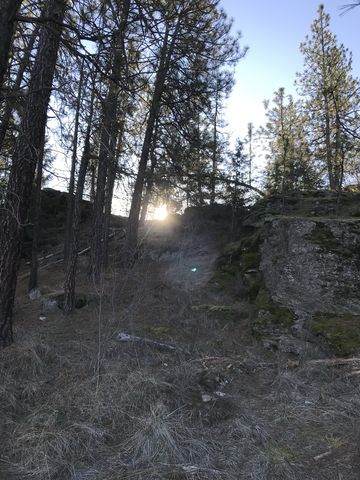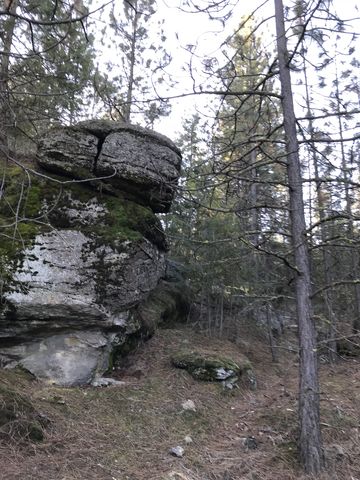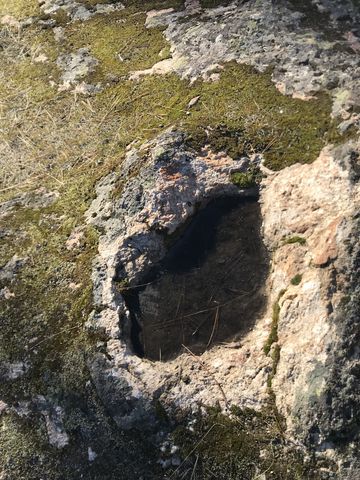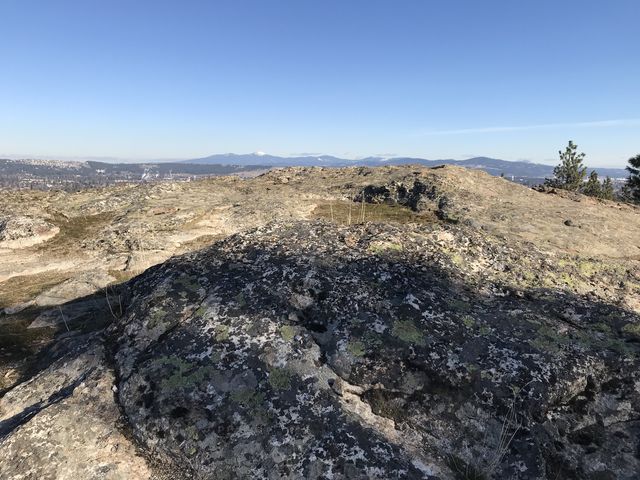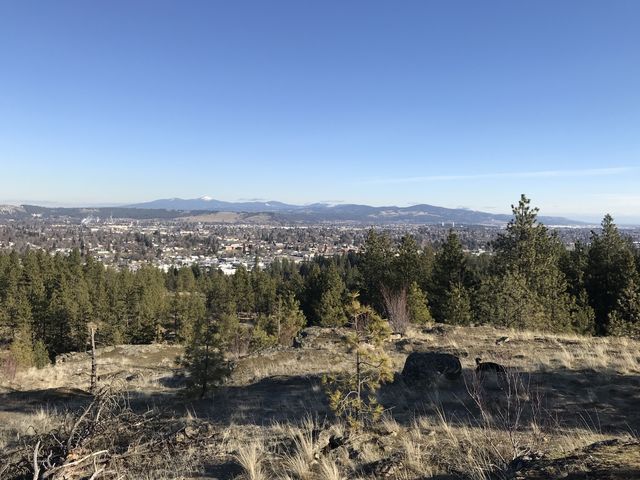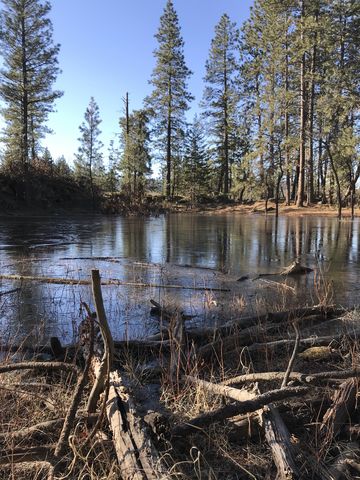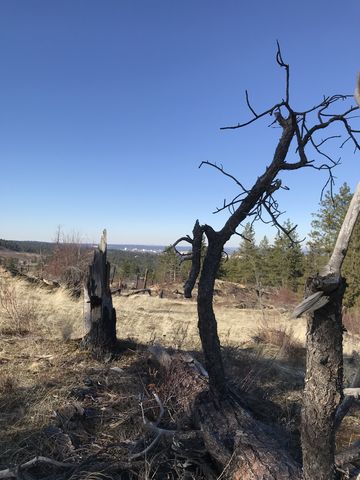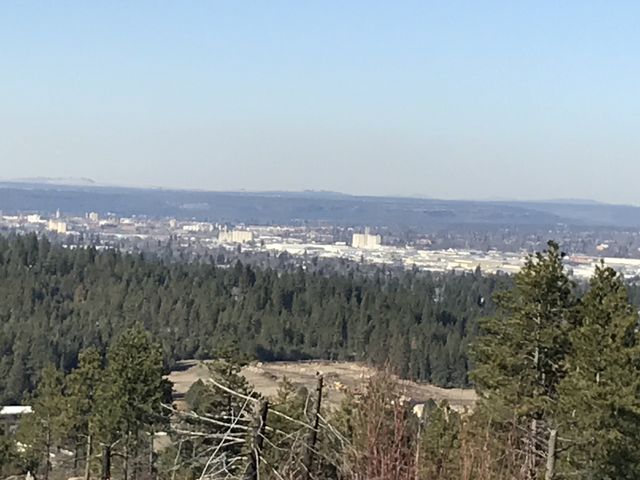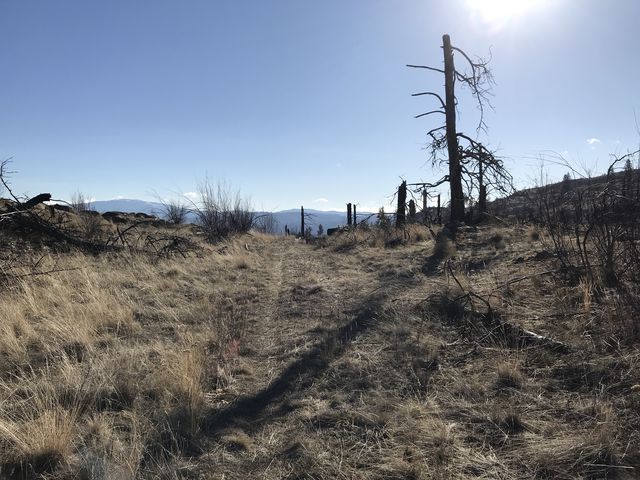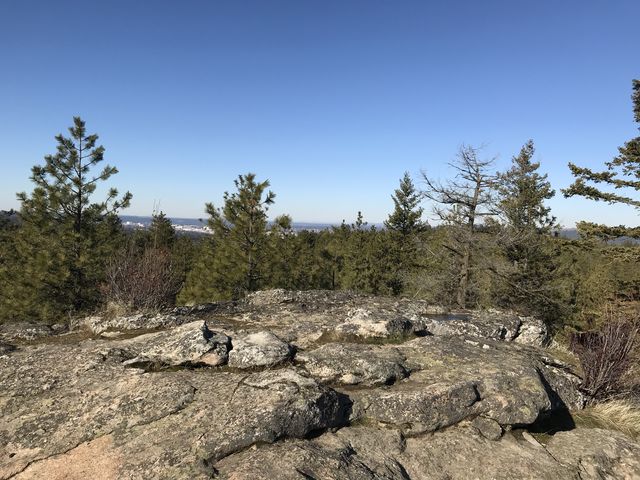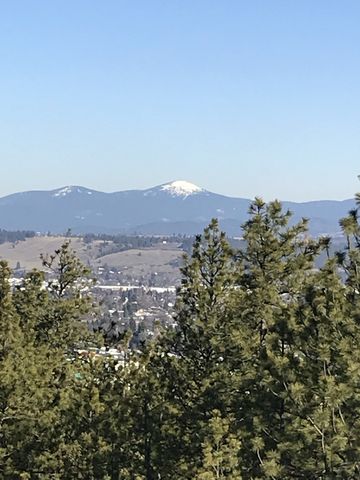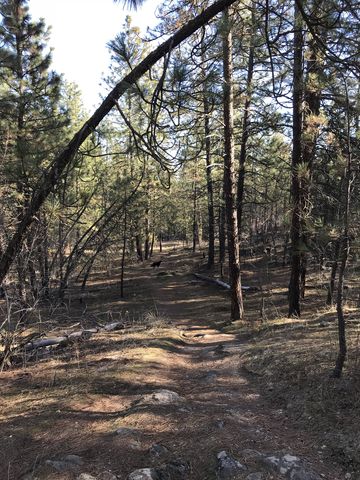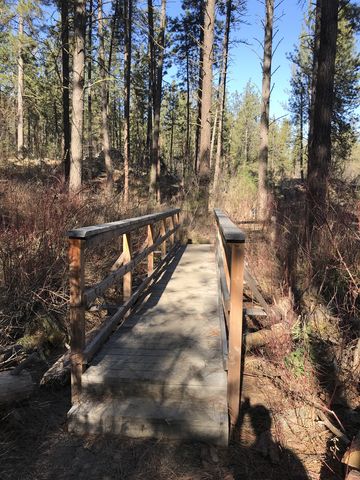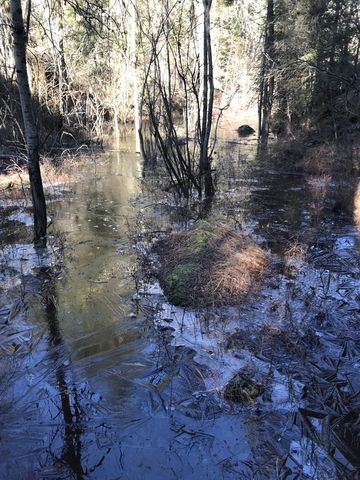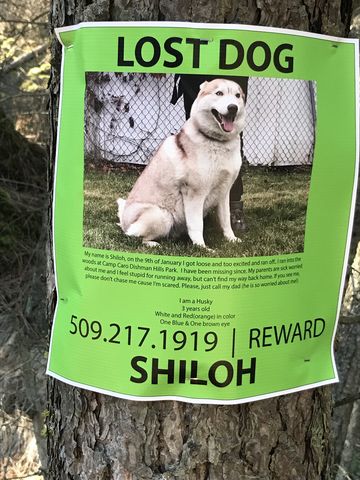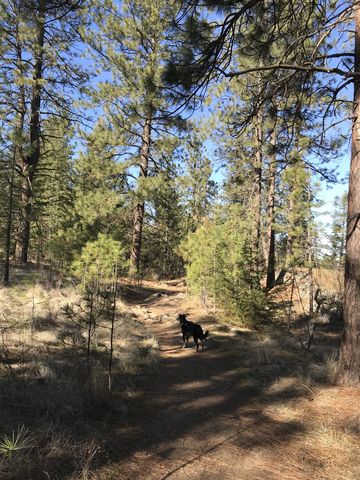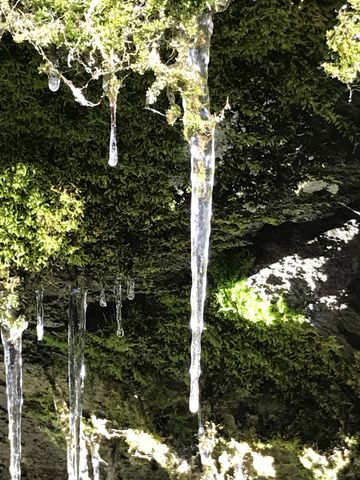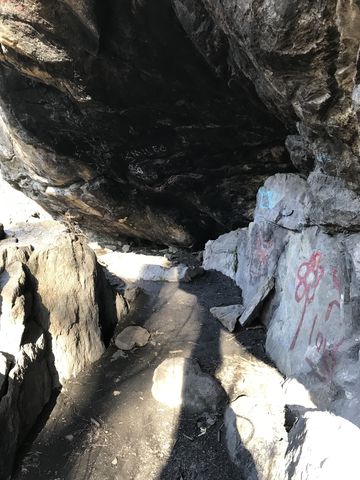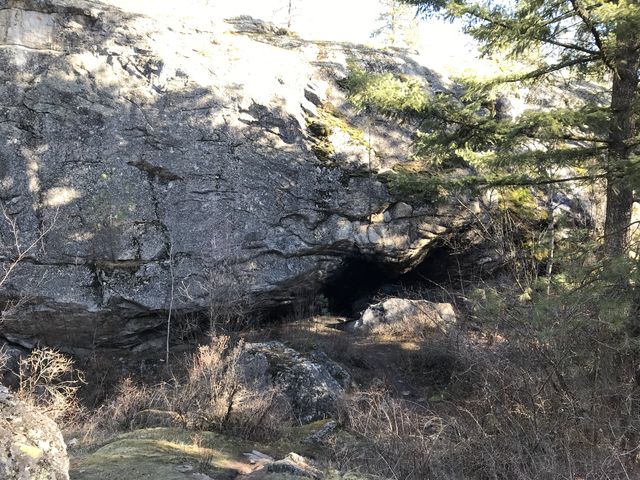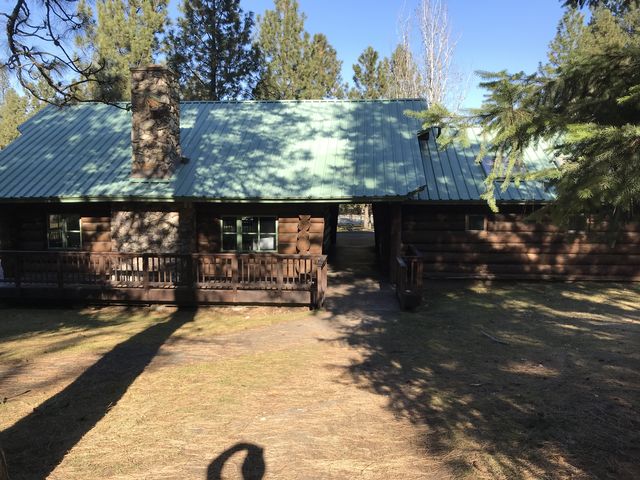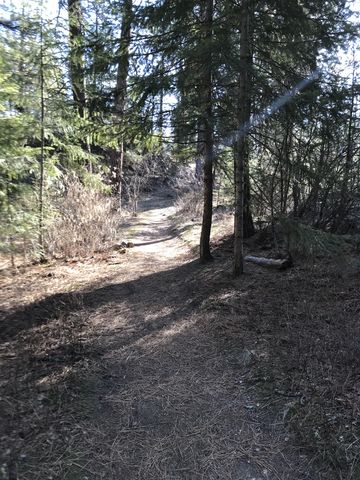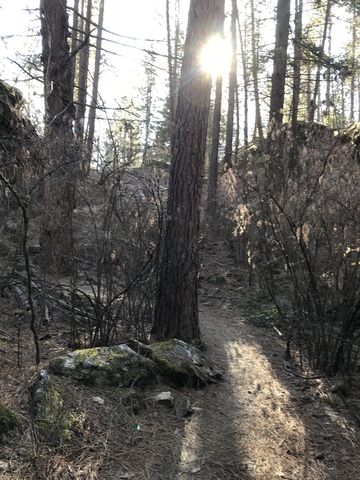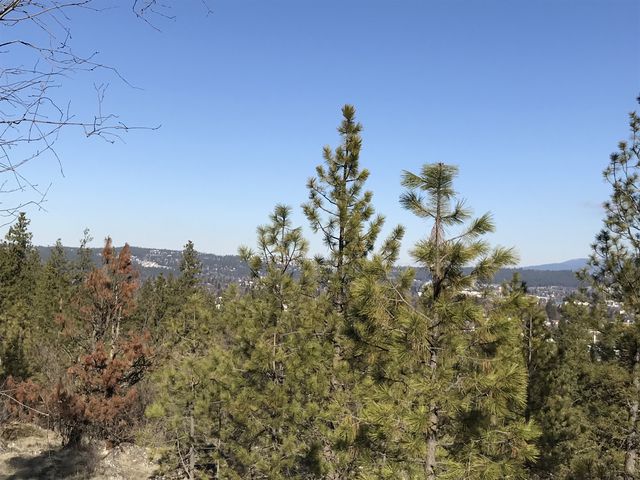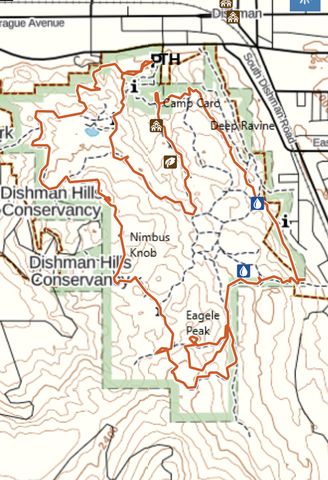 © 2016 – 2018 NaughtyHiker. All rights reserved. No duplication without permission.