Once covered by huge stands of white pine, the Big Creek drainage was targeted by miners and loggers in the late 19th century. The 1910 Great Burn wreaked havoc, however, downing precious stands of giant pines and burning what was left, including more than two dozen firefighters who were temporarily interred on Cemetery Ridge. Today, much of the drainage is covered by brush, which attracts elk and wolves, though the pine and fir stands are improving. Much of the trail system is National Recreation Trail.
Location
St. Joe Mountains
Rating
3.5 out of 5
Difficulty
Moderate (fordings may be difficult during snow melt)
Distance
30.3 miles
Duration
10:06 hours moving time (hiking)
Elevation Gain
4,305 feet
High Point
5,396 feet (FR 1907)
Low Point
2,229 feet (trailhead)
Trail Type
Loop
Trailbed
Packed dirt, forest road
Trail#
44, 56, 155, 226, 570
Water
Fairly plentiful except on the ridges: East Fork Big Creek, Ames Creek, Middle Fork Big Creek, Bronson Meadows
Status
National Recreation Trail
Administration
St. Joe National Forest
Conditions
Good except for Ames Ridge, which was very brushy. Had to climb over a few logs here and there. All trails were sawed out the year before.
Permits
None required
Camping
Trailhead, Bronson Meadows, Big Creek Cabin, along East Fork Big Creek, and on Dam Ridge. There's lots of dispersed car camping along Big Creek Road; it's very popular!
Maps
USGS Marble Creek, Polaris Peak, Calder
Trailhead
From I-90, take exit #34 (Rose Lake) and head south on ID-3 (White Pine Scenic Route) for 32 miles. Turn left onto St. Joe River Road and continue for 24 miles. Turn left towards Calder and cross the St. Joe River. Immediately after the crossing turn right onto a gravel road (Google and Apple maps want you to take N Side Road, but that is much slower and more cumbersome). Follow the gravel road (I think it's an old railroad grade) paralleling the river for about 5 miles. You'll pass some kind of campground, then turn left, continue until you hit North Side Road, turn right and then immediately turn left onto Big Creek Road. Big Creek Road indulges you with a few potholes, but nothing too terrible. The CCC camp is a couple miles up; the trailhead is at the north end. There's plenty of parking.

Google Directions (47.287345, -116.123827)

Season
May – October
Squirrel Density
Absolutely! And beavers and bears too!
Features
Mountaintop, Structure, Meadow
Distance From

Coeur d'Alene 82.9 miles
Lewiston 129.2 miles
Sandpoint 128.2 miles
Seattle 371.3 miles
Spokane 93.5 miles

Resources
Date
May 27, 2018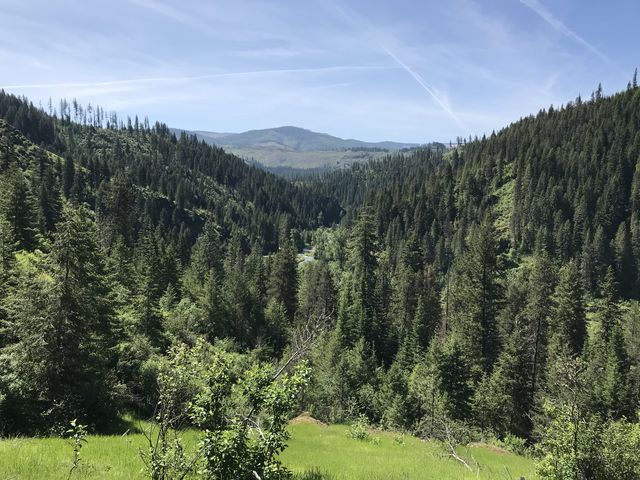 National Recreation Trail #44 starts on the northern side of Big Creek Road and immediately ascends an unnamed wooded hill in a few switchbacks providing good views down the Big Creek valley to the checkerboard of clearcuts in the Clearwater Mountains. About a mile uphill, the trail spills out onto an ATV trail, which it follows at a more gradual ascent for a half mile to an unsigned fork. The ATV trail continues atop the ridge, while trail 44 drops down the other (eastern) side at a slight decline past huge rock outcroppings. The trail is a nicely shaded singletrack, but provides few water sources until you hit on East Fork Big Creek at the 3-mile mark.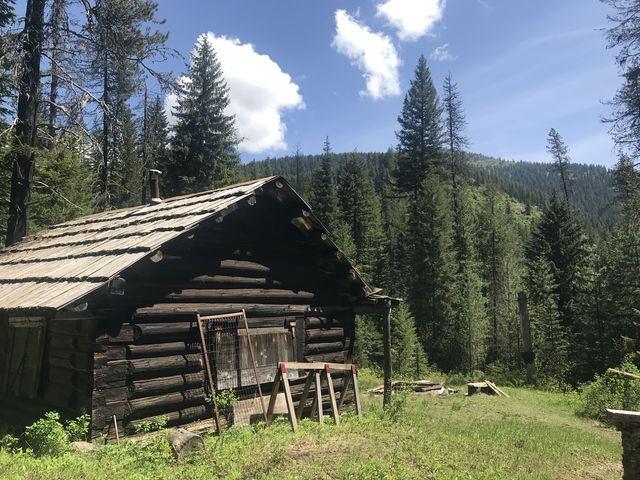 The East Fork is crossed by fording, which later in the year is likely an easy rock-hop, but with snowmelt still in full force, the water was about mid-thigh deep and the current strong enough to pull Naughty away (she was, of course, harnessed and leashed). Following the crossing, the trail parallels the river and is now much more open. You'll likely see lots of bear scat and many remnants of the 1910 fire (that is, burned and hollowed out giant tree stomps). You'll also pass a campsite in a meadow near the creek at the four-mile mark (watch out for ticks if you stay there) and at the 6-mile mark reach Big Creek Cabin, an old miner's cabin that is now available on a first-come-first-served basis. Just ahead of the cabin you'll cross Hall Creek on a decrepit rotten log, but we managed with dry feet. The log cabin is fairly basic inside, a single room with a few well-stocked cupboards (emergency supplies, cooking supplies, some food, but I'm afraid I have to report that something got into the peanuts), a stove (the pipe is disconnected), and a sleeping bag (no bunks though). If you're expecting bird and rodent-proof accommodations, you might want to keep looking. There are quarter-inch-sized gaps in the logs and the birds built a nest atop one of the cupboards. Outside, you'll find tie bars for horses, a corral, and a firepit. Naughty found the scrap lumber piled up next to the firepit fascinating–she chewed up half the stuff in pursuit of vermin.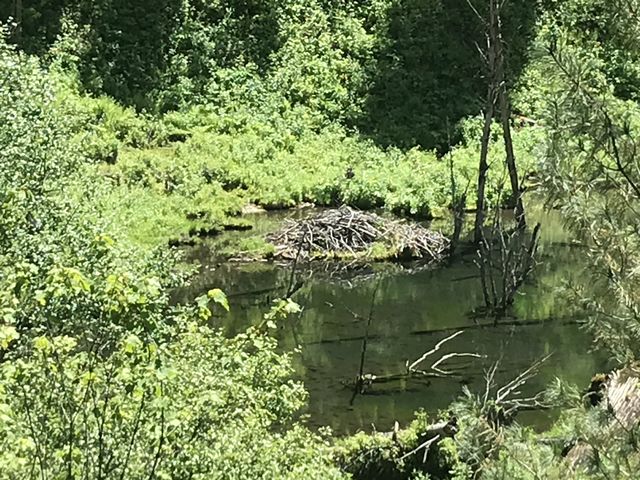 Leaving the cabin behind, the trail moves east and crosses Donaldson Creek on a set of sturdy flat-topped logs, then forks, with trail #44 continuing uphill and trail #56 following the East Fork. We did the latter and came up close to a lot of engineering work beavers did at the creek. After paralleling the creek for a bit, the trail shifts higher, climbing the lower flank of Cemetery Ridge and gives you a good view of the creek's flow and the beaver lodge. For nearly six miles the trail then follows the East Fork, climbing higher and higher, but occasionally declining back to the water level. The second half of these miles is through open shrubbery full of mountain ash, ninebark, and sarvis berry. The sun is merciless. The last source of water, before reaching the ridge, is the crossing of the East Fork, which, high up, is barely a rock hop.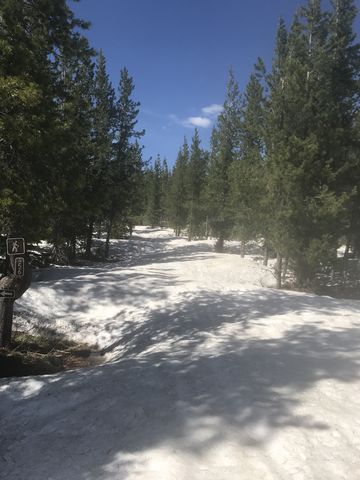 Following that crossing, the trail shifts southward, keeps climbing and reaches FR 1907 at the 12-mile mark. We ran into some serious snow above 5,000 feet, and FR 1907 was buried beneath 2 to 3 feet. It was packed hard, though, with only the top half inch melted. We continued on FR 1907 for about 2 miles, with the south-facing portions luckily being almost snow-free. The views from this road are excellent, be it back to where we'd hiked or eastwards into the Slate Creek drainage. And needless to say, given the snow, there was zero traffic.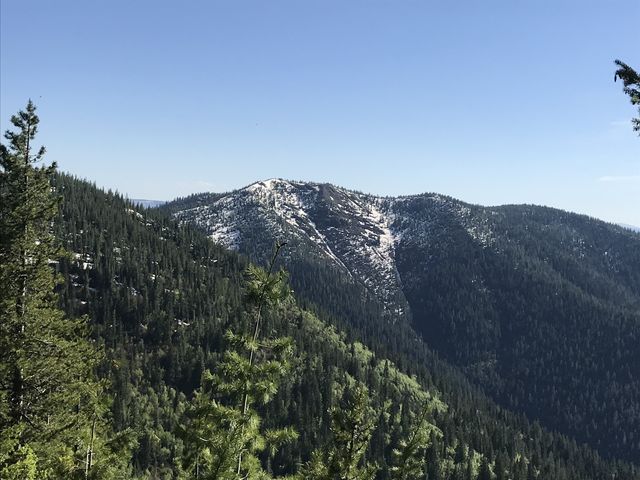 At the 14-mile mark we left the forest road (this is well-signed) and hopped onto Dam Divide Trail #226, a fairly wide twin track whose general direction we were able to make out despite the snowcover. The hike on Dam Divide is relatively short (1 mile) with expansive views, particularly of Cemetery Ridge. The last bit of the trail climbs steeply up a scree-covered hill, then Ames Ridge trail takes off to the left and commences the 3-mile descent riding a brushy ridge. Up high you get excellent views of the Big Creek drainages, Bronson Meadows, and Cemetery Ridge. As you get lower the brush gets thicker (it was cleared last year, but you couldn't tell) and in many places was six-feet tall, closed in from both sides, and showers you with ticks as you try to pass through. Towards the end of the ridge is a series of switchbacks, which seem to sprout a new trail in the elbow of each switchbacks. At one of these switchbacks we made the wrong call and ended up on a nice singletrack leading us downhill to Ames Creek, but further and further away from Bronson Meadows. Ames Creek we had to eventually ford and then the singletrack reversed on the southside, leading us westwards and merging with trail 44 near Bronson Meadows.
This detour cost us 2 extra miles and caused a dilemma. It was 6.30pm, sunset was forecast for 8.30pm, which meant daylight until about 9pm. Our original plan was to take the Daugherty Hill trail (252), but seeing as that would take us once again above 5,000 feet (meaning snow), we changed our plans and decided to hike out the Bronson Meadows trail (155) and follow Big Creek Road down to the CCC camp. This would add a couple of miles, but the going was surely easier.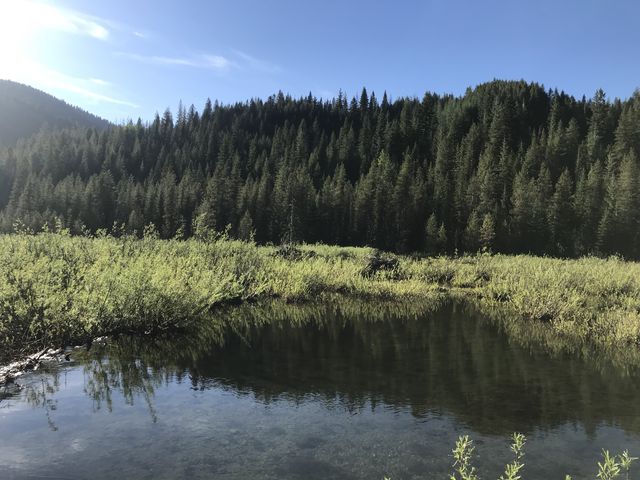 Thus we forded Dent Creek, peered across Bronson Meadows for a glimpse of an abandoned miner's cabin near Ames Creek, but saw only two beaver lodges. Bronson Meadows, in fact, seemed more of a swamp than a meadow, and trail 570, where it was supposed to meet 44, was a creek in itself.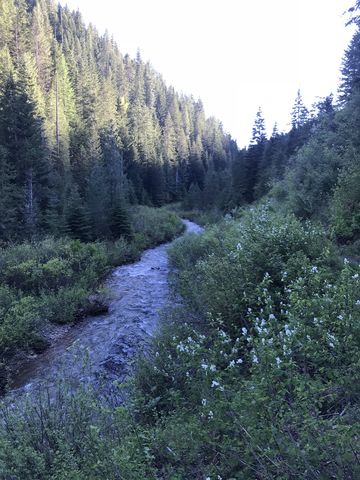 At the southern end of Bronson Meadows we crossed the Middle Fork Big Creek, which also was about mid-thigh deep. On the far side, the trail uses the bed of an old railroad once used to haul logs out, but all traces of that are long gone except for the occasional dam and raised bed. Trail #155 is rather picturesque, particularly with the shadows getting longer and longer on the valley floor and the upper reaches still brightly lit. The Middle Fork has to be forded four times and the current was fairly strong. After the last fording, near the 23-mile mark, the trail ascends the lower flank of Cameron Hill for a short bit, then contours along the hill, high above the Middle Fork, which you can still hear far below. The trail is relatively flat, in parts nicely shaded (not that we needed that at this point) and in others crossing steep high-mountain meadows. It also gave us good views towards Lemonade Peak, behind which the sun disappeared.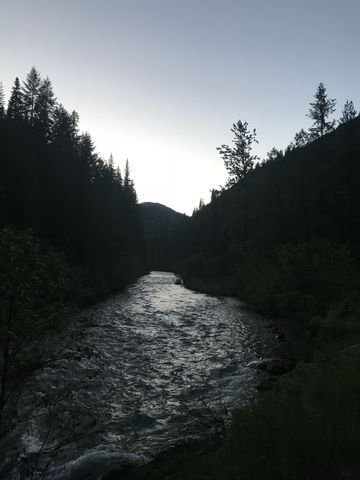 Eventually, the trail declines once again, switchbacks a few times, and at the 25-mile mark widens into Big Creek Road. From that point it's about 5 miles to CCC camp. Despite this being a Memorial Day weekend, we had the road to ourselves, shared only with a myriad of car-campers strung out along the road's length. We made it to the car by 9.20pm, a bit after dark, but thankfully the moon was full and bright!
Enjoy this hike? Let us know in the comments below!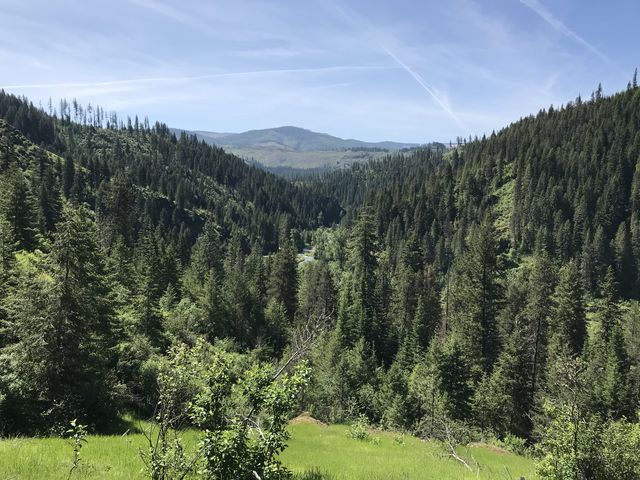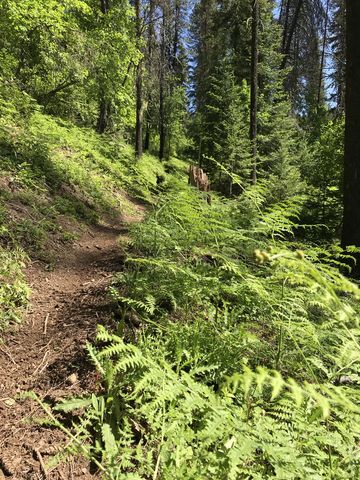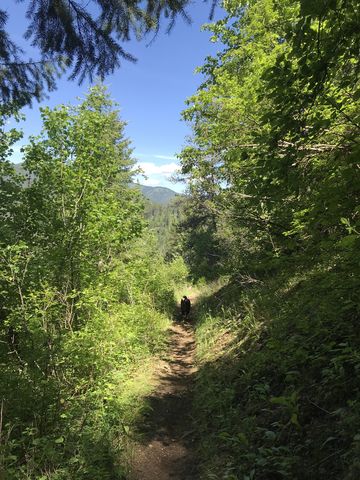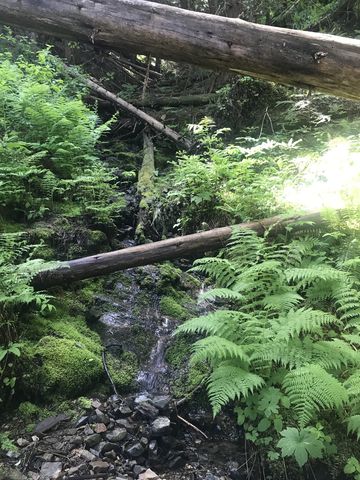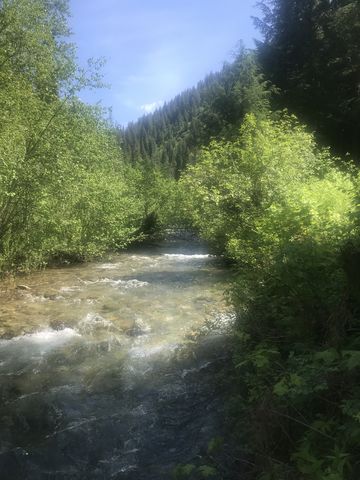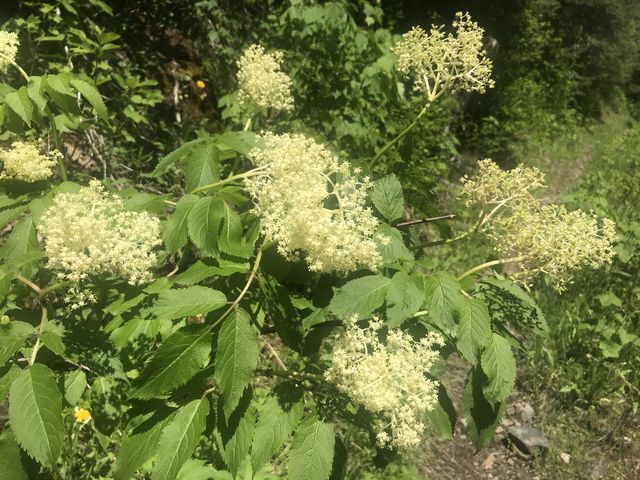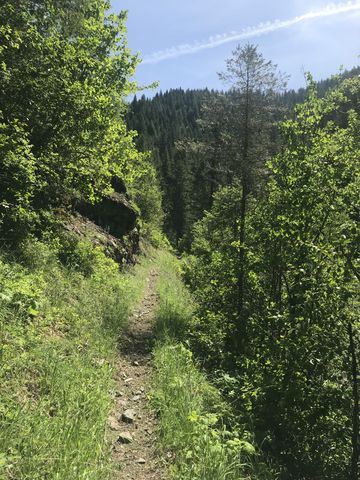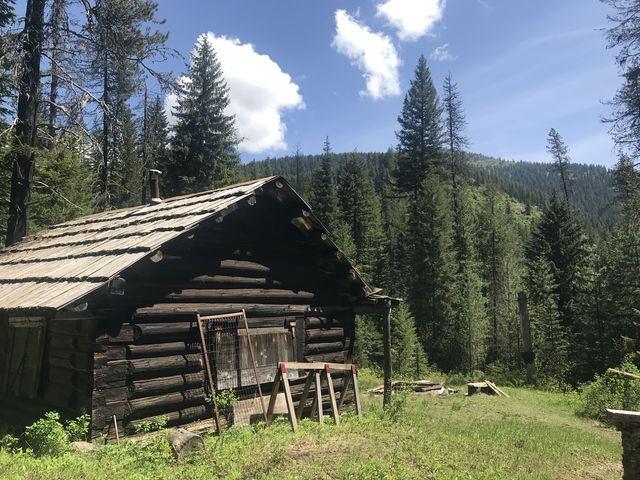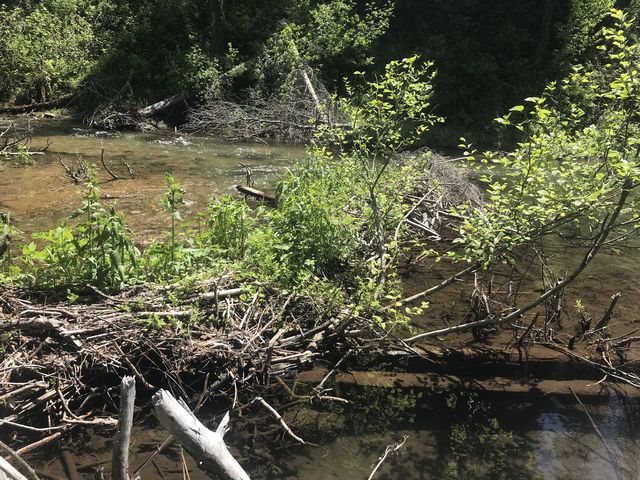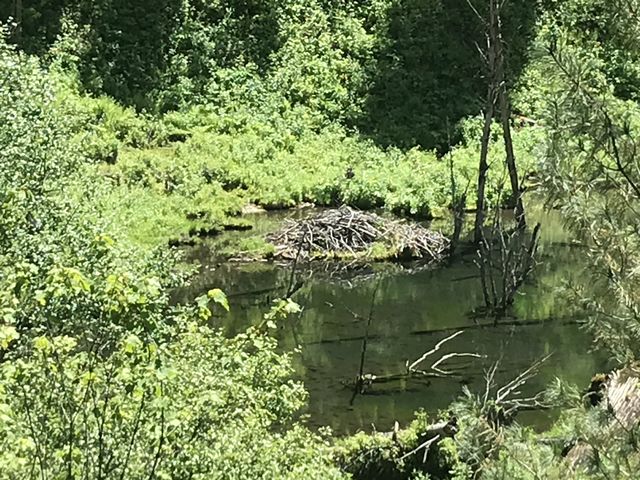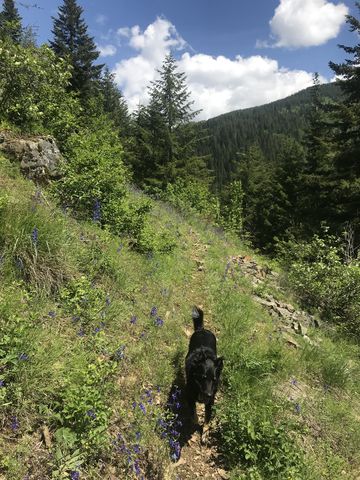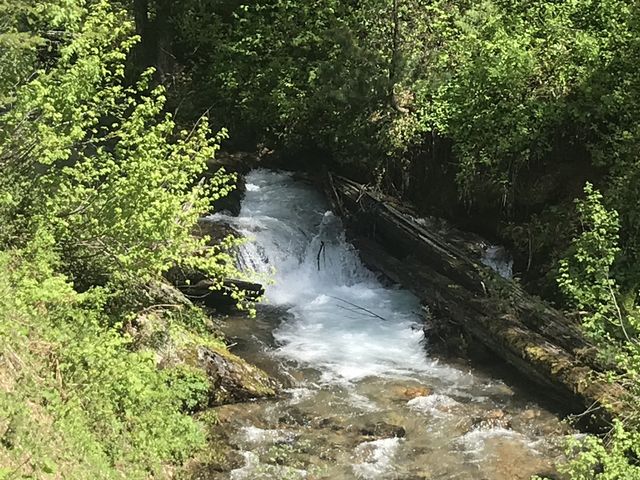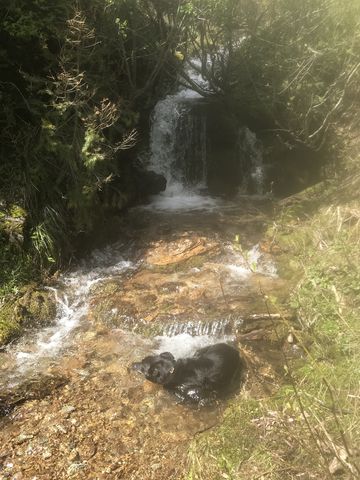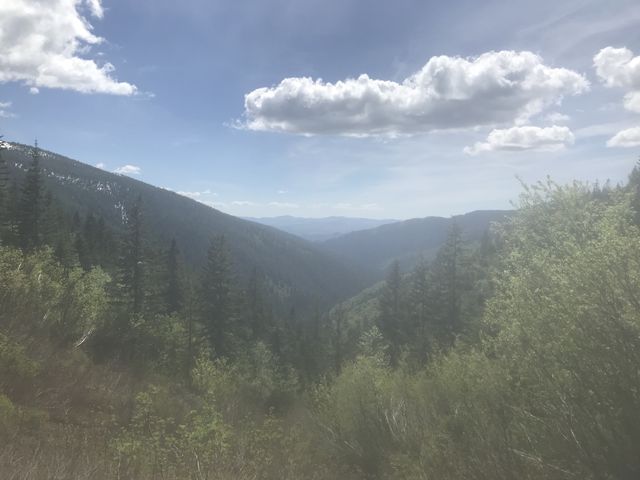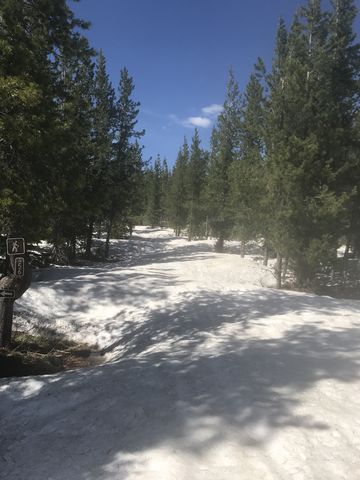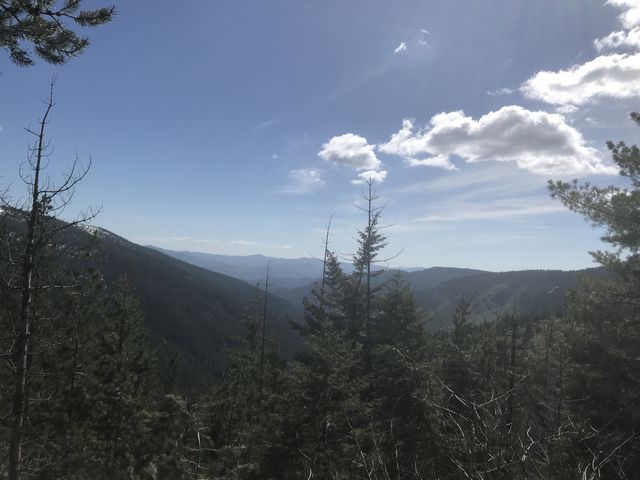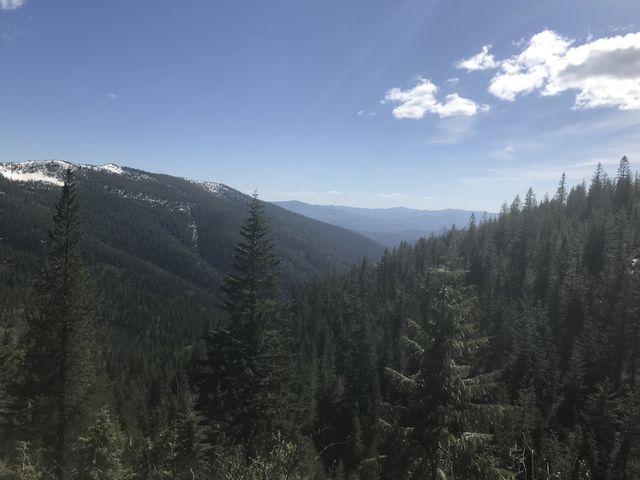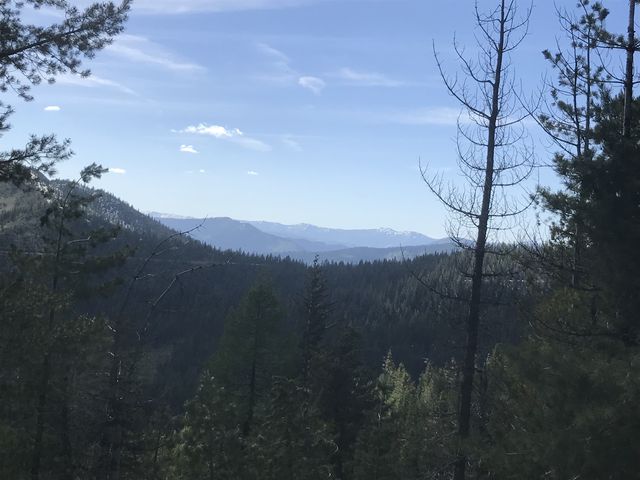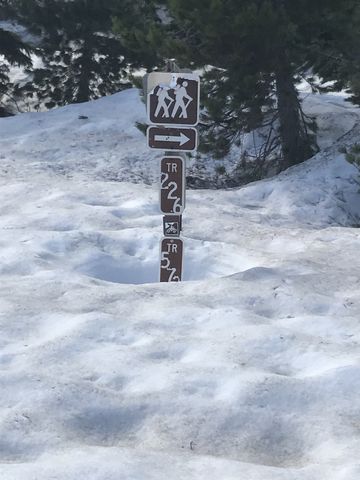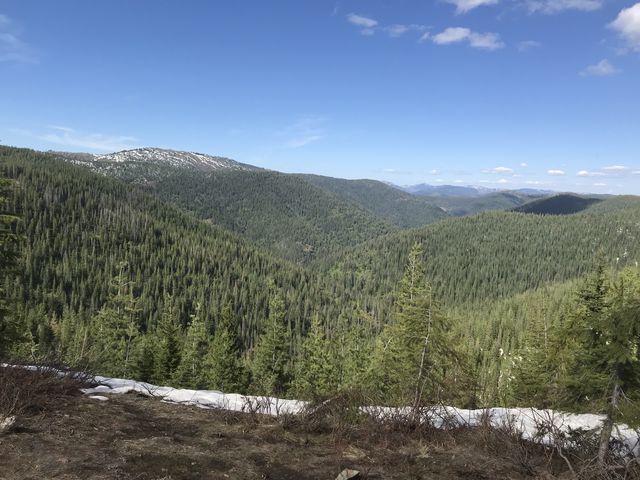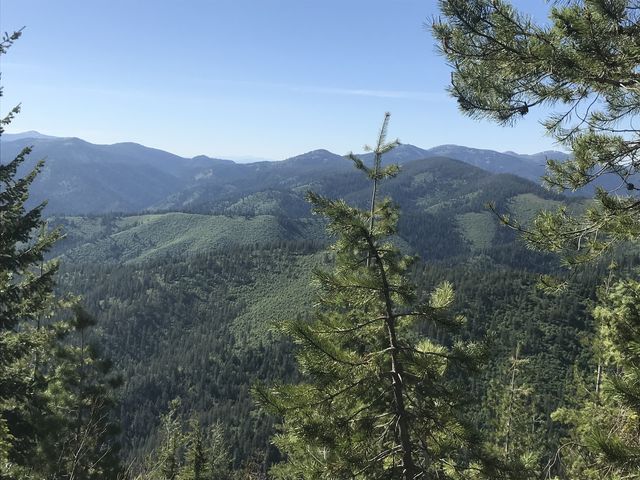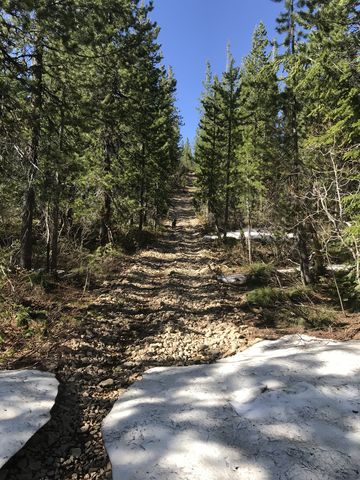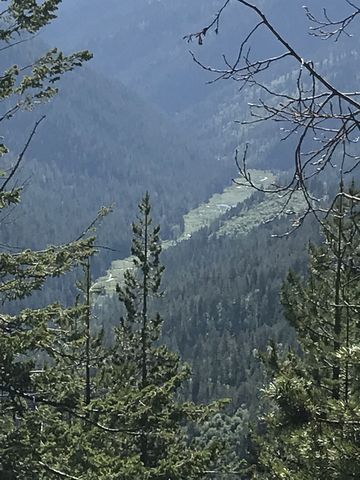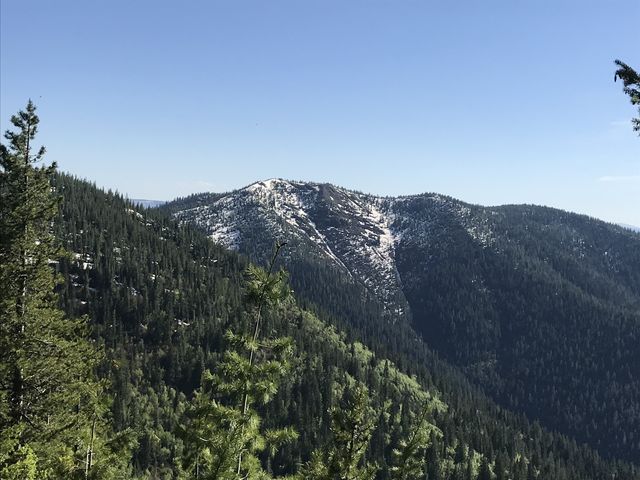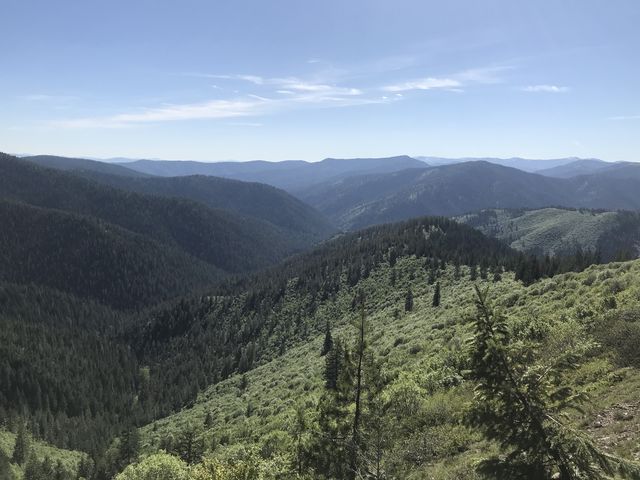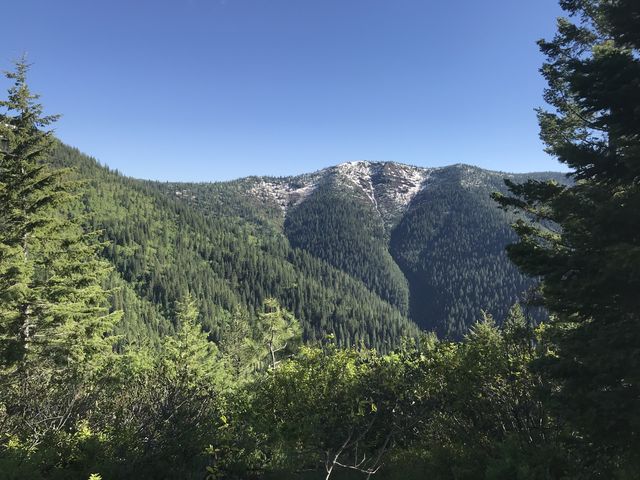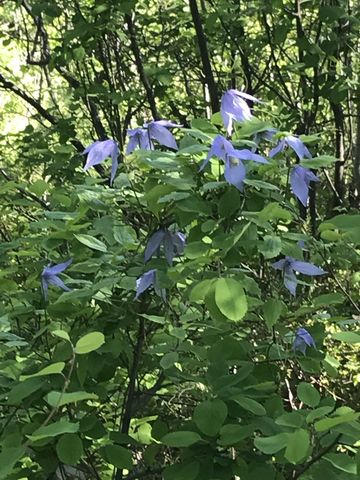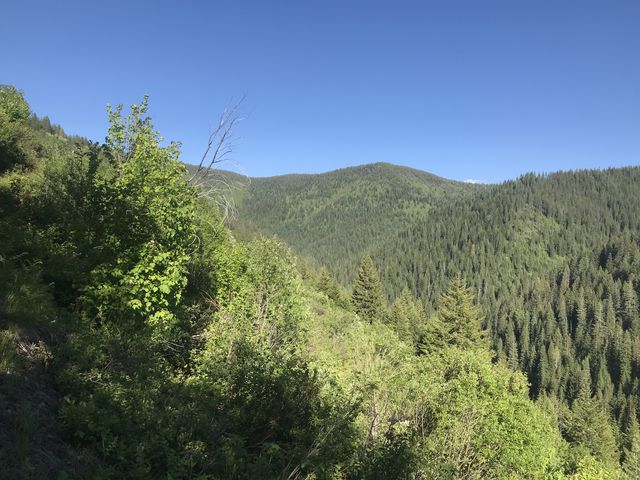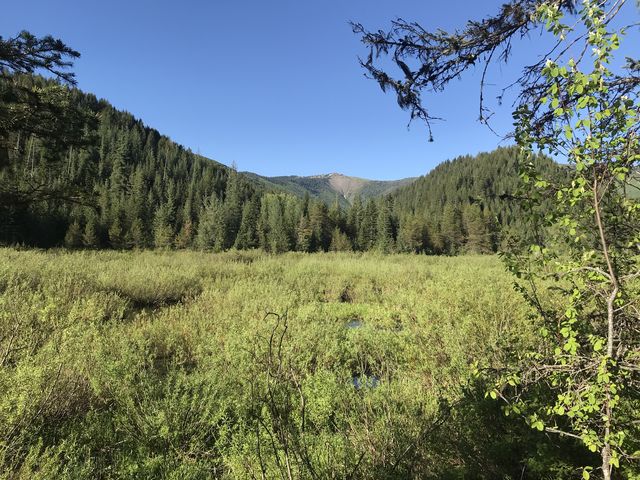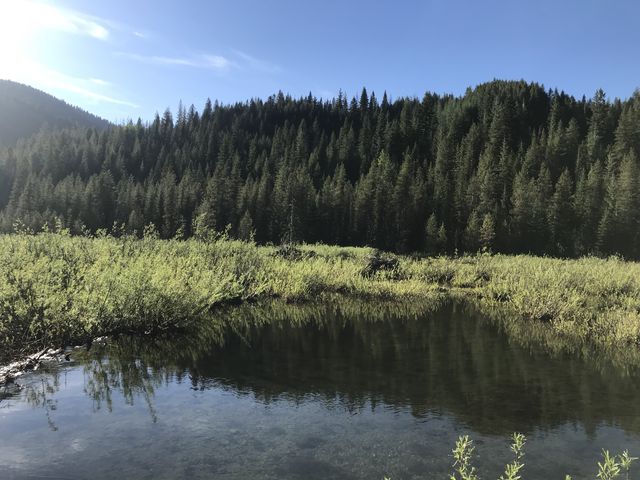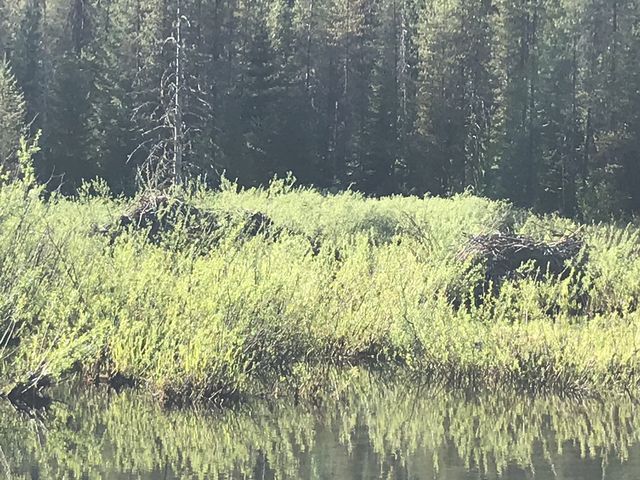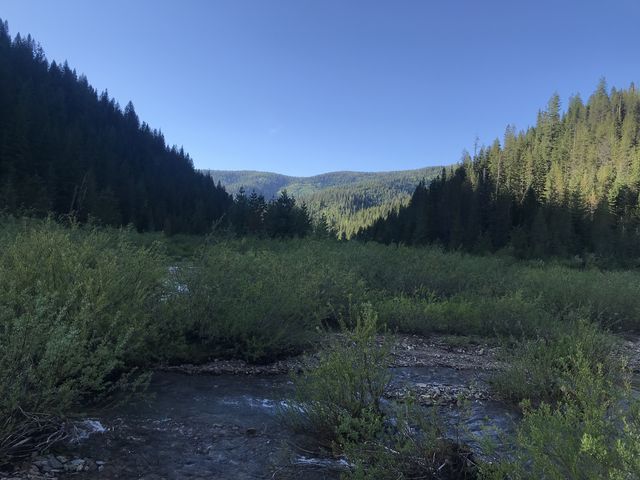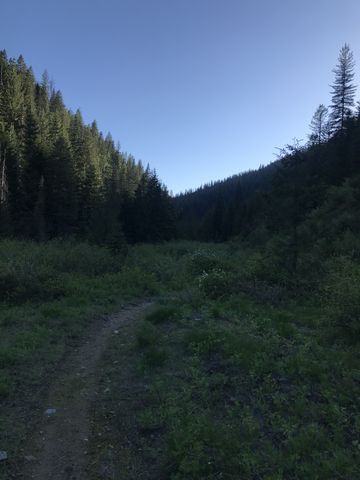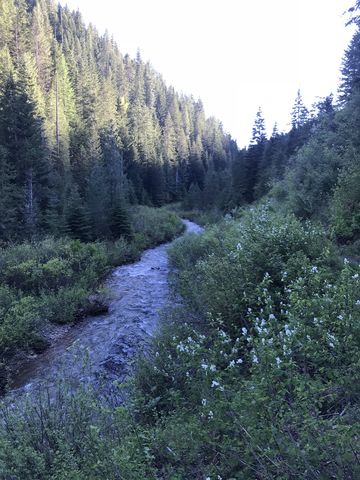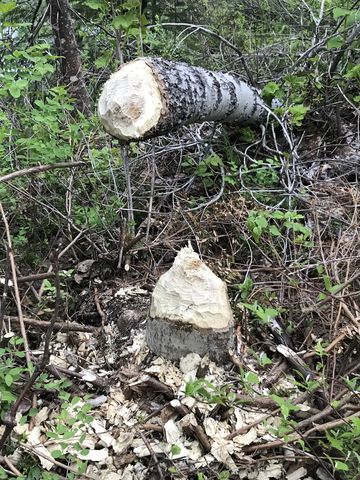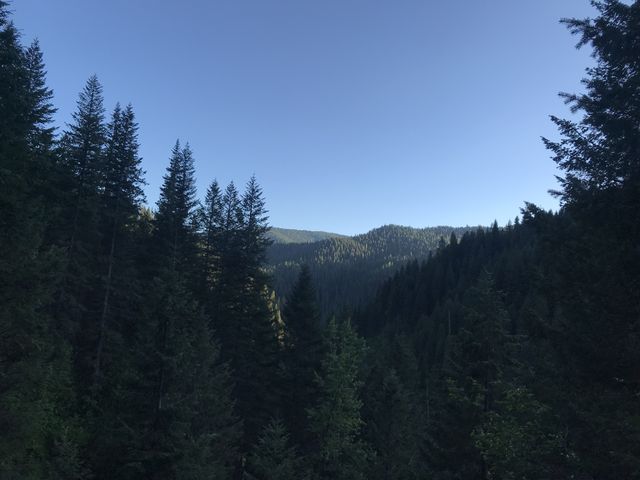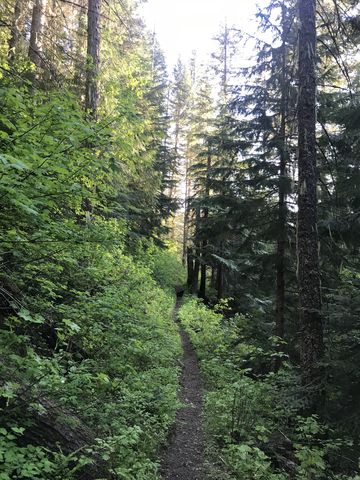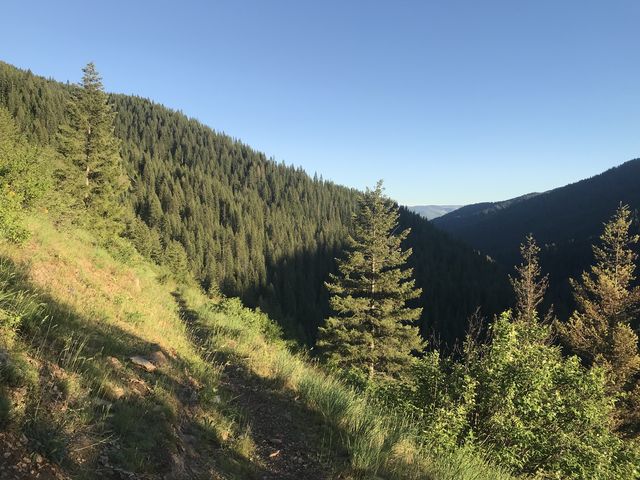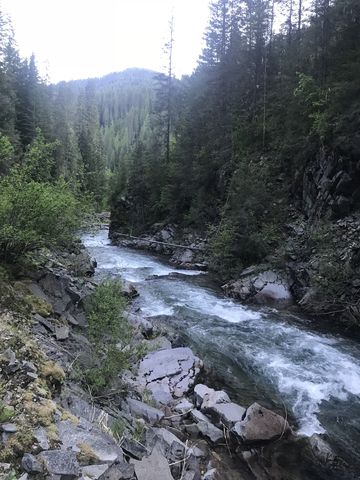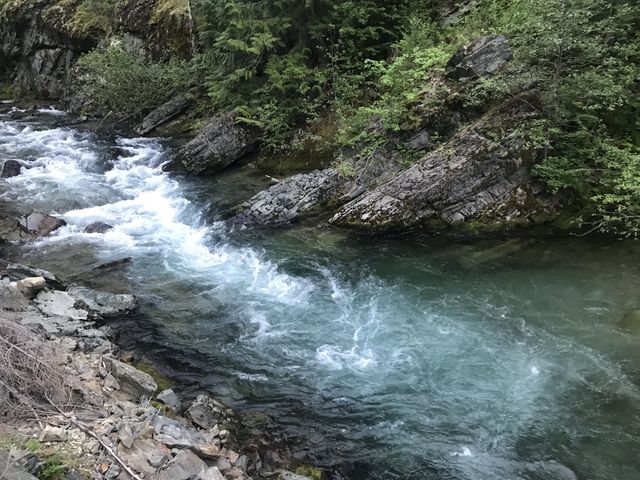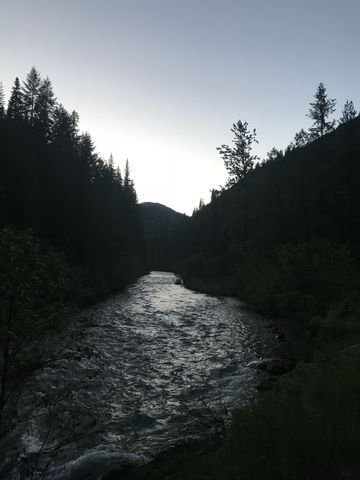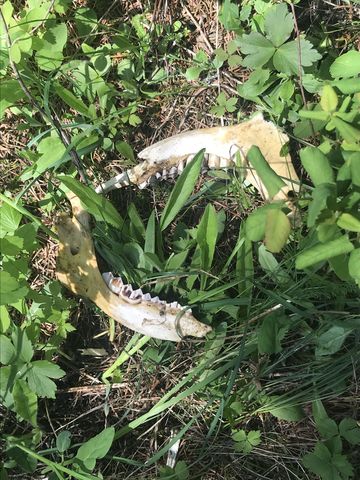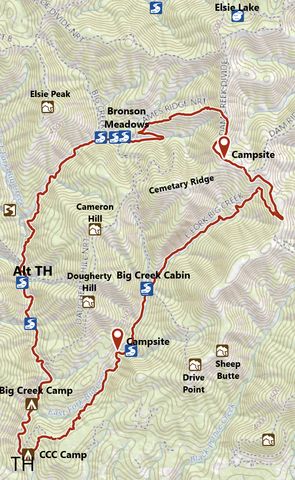 Alternate Routes
Refer to the trailmap for alternate routes. Having a shuttle chips off about 5 miles. If you take 44 instead of 56 to Bronson Meadows you are probably looking at around 20 miles (15 with a shuttle). For a short, pretty hike, drive to the end of Big Creek, then hike trail 155 to Bronson Meadows and back, around 11 miles
Continuing on Dam Ridge trail for another 2 miles or so gets you to the St. Joe Divide trail. You can go east or west, or drop down to Elsie Lake
© 2016 – 2018 NaughtyHiker. All rights reserved. No duplication without permission.