The Scroggie Loop is a 3-mile track on the eastern bank of Fishtrap Lake, meandering through scrub steppe, deep coulees, thin Ponderosa stands, and windswept rock benches. It's best hiked in spring and fall to avoid summer heat and rattlesnakes.
Location
Channeled Scablands
Rating
2.4 out of 5
Difficulty
Easy
Distance
6.4 miles
Duration
1:58 hours moving time (hiking)
Elevation Gain
294 feet
High Point
2,206 feet
Low Point
1,974 feet
Trail Type
Loop
Trailbed
Old farm roads; packed dirt; gravel roads
Water
None
Status
Conservation Area
Administration
Bureau of Land Management
Conditions
Excellent. May be flooded in spring
Permits
None required
Camping
None
Maps
USGS Fishtrap Lake
Trailhead
Take I-90 exit #254 (Fishtrap Lake). Head south on Sprague Highway Road E for 2.5 miles then turn left onto Fishtrap Road. Continue for a bit over a mile to the Fishtrap Lake Resort. Just ahead of the resort turn left onto Scroggie Road and follow it for about 1.5 miles to the trailhead (Scroggie Road is a gravel road)

Google Directions (47.354668, -117.801384)

Season
Year-around (but very hot during summer months)
Squirrel Density
Dogs should be leashed
Features
Meadow
Distance From

Coeur d'Alene 64.6 miles
Lewiston 109.3 miles
Sandpoint 103.6 miles
Seattle 256.8 miles
Spokane 32.1 miles

Resources
Nearby Hikes
Date
December 16, 2017
On this wintry December day, the roads were plowed all the way to the Fishtrap Lake Resort, but Scroggie Road was covered with half a foot of fresh snow with only one set of tire tracks that had already started to fill in again. Gravel roads have a tendency to get worse as you go along and we certainly didn't want to get stuck somewhere up on a lonely country road. Seeing that the resort was closed for the season, and the parking lot empty, we parked the car there. Big mistake!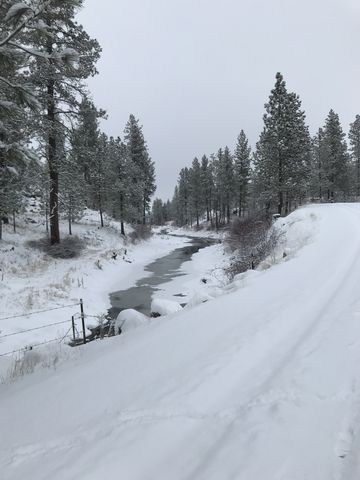 The hike up Scroggie Road was easy, as it crosses Hog Canyon creek, then steadily ascends a shelf framed by enormous rock formations. Along this stretch a tan-colored dog sidled up to Naughty and gave her a good sniffing. He left after a bit to check out other things worth sniffing only to return to us frequently as we made our way uphill to the trailhead. At the trailhead we bid him farewell and closed the gate before he could sneak past us. Evidently well-versed in that predicament, he merely trotted down the road a short distance and squeezed beneath the barbed-wire fence….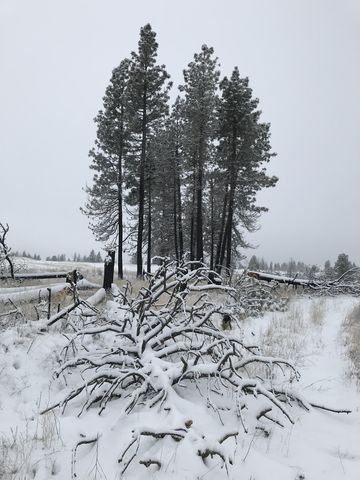 We hiked the Scroggie Loop counterclockwise, at first traversing what in spring is likely a wetland, then rising up on a broad steppe covered with the stalks of last years' flowers, reeds, and grasses, now half-buried beneath a load of snow. A bit over a mile from the trailhead, the path turns east near a lone patch of ponderosas. We left it in favor of an old farmroad that led further south to the edge of the property in hopes of catching a glimpse of the lake. No such luck, however.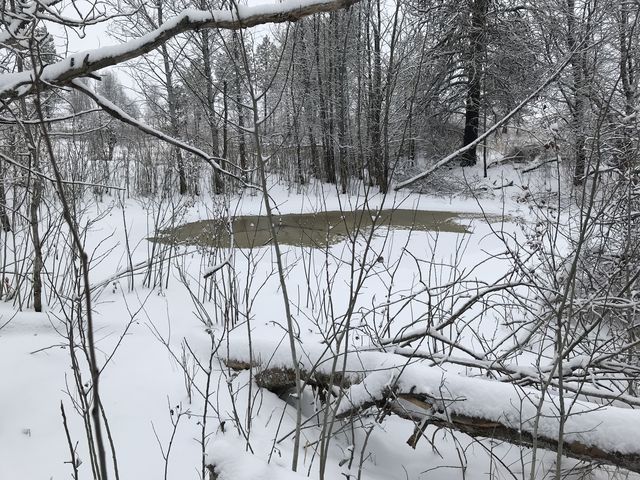 Back on the loop, we headed eastwards crossing coulees and ducking beneath towering rock benches. One such bench we climbed for better views across the grassland, but it was a cloudy day and views were limited to the immediate surroundings. We descended the rock bench on the far side and circled around a duck pond. Then the trail followed a coulee, dropping into a thicker stand of trees, with many of them burnt. Near the coulee's end, we decided to explore the bank above as the map indicated a pool or lake on the other side. There may be water there in spring, but in winter it's just snow. We did spot a trail marker on the far side of this indentation, though, and headed for that. The trail then continued beneath a few scarce snags back to the trailhead.
At the car we were met by the irate owner of the Fishtrap Lake Resort, who was all up in arms over our parking at his place. Of course we profusely apologized, but it appeared to do little to sooth his agitation. He then accused as of "taking" his dog (the tan dog was evidently his) and trespassing by hiking the Scroggie Loop, insisting that all the uphill land was privately owned. He urged us to obtain an updated map.
Now as a fellow dog owner I certainly empathize, but keeping a dog from straying is quite simply the sole responsibility of the owner. Relying on random passers-by for the return of the dog is merely a foolish strategy at the very best. As to the BLM tract on Scroggie Road, it was not part of the original Fishtrap purchase, but by now has been in BLM possession, and open to the public, for way over a decade. The map I used is the very latest one (at the point of this writing), but it really has hardly changed over the years (the location of the gate was moved a bit eastwards some years ago). The BLM parcel is fenced on all sides as far as I can tell, so it's really nearly impossible to wander astray.
Anyway, it is your land, enjoy it, for it makes a nice short loop, preferably in spring (April/May) when the wildflowers and ticks are out in droves; just for heaven's sake be sure to steer clear of the Fishtrap Lake Resort! It's just 3 miles if you start at the Scroggie Road trailhead.
Enjoy this hike? Let us know in the comments below!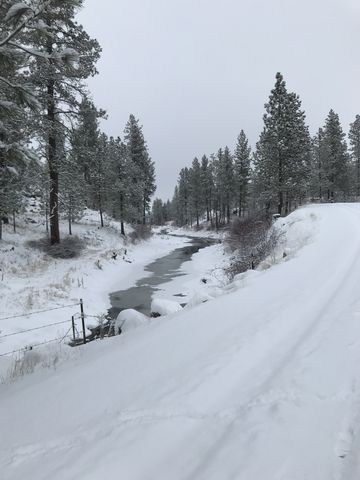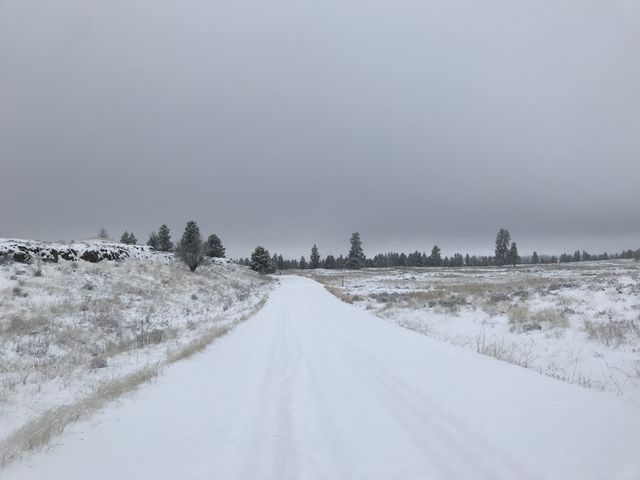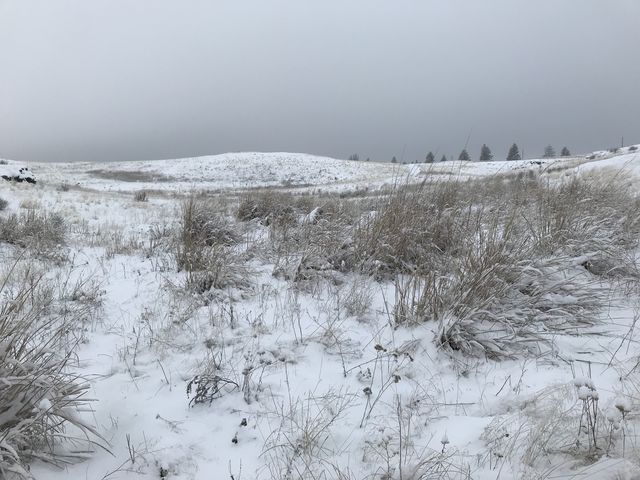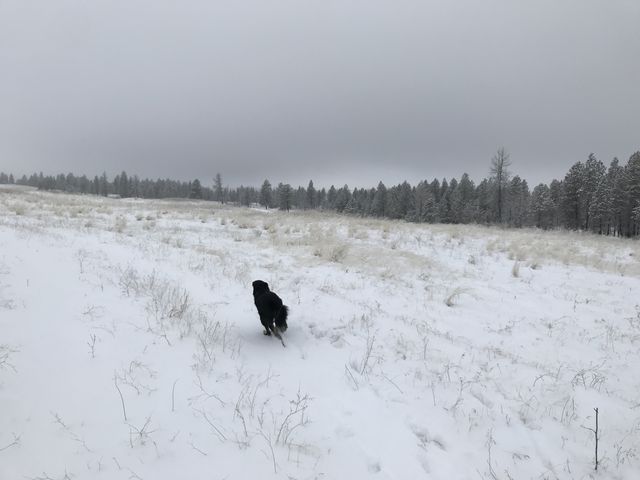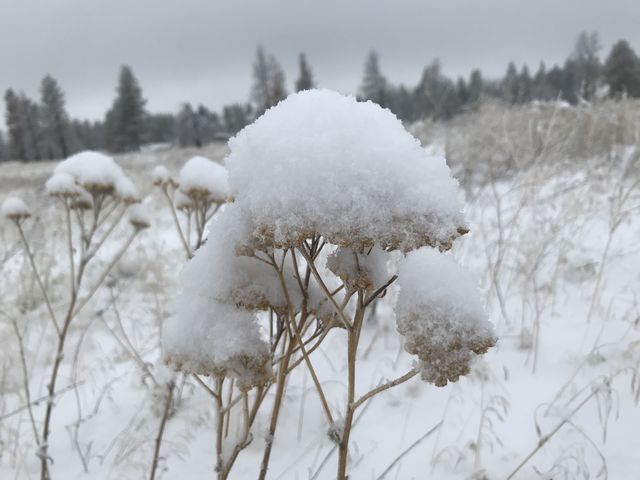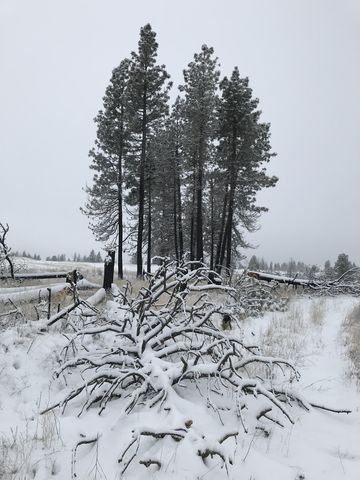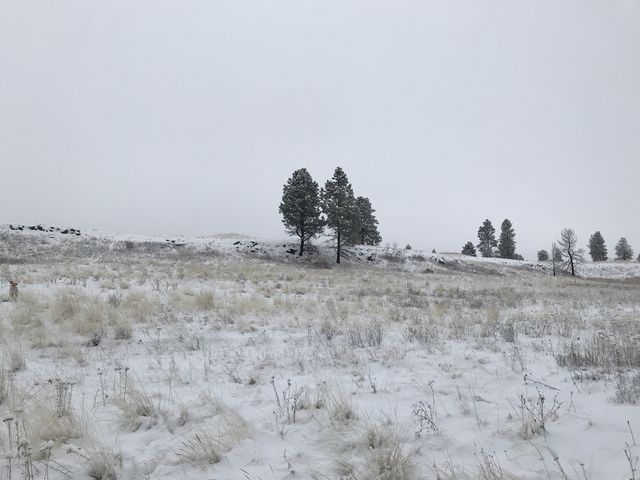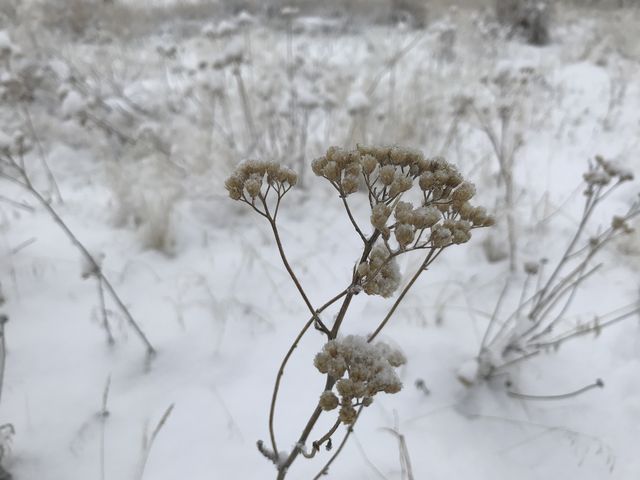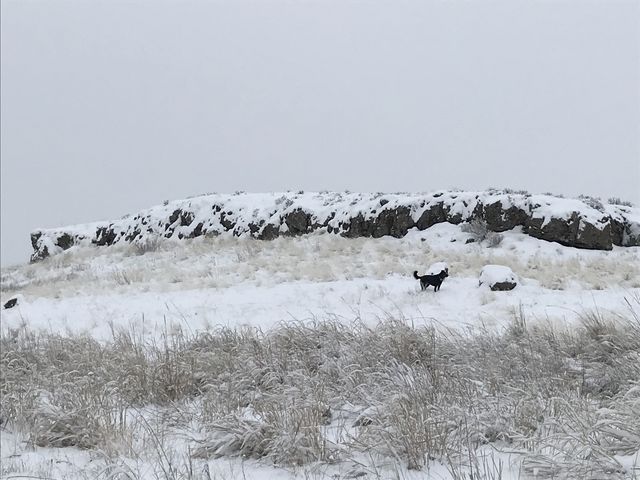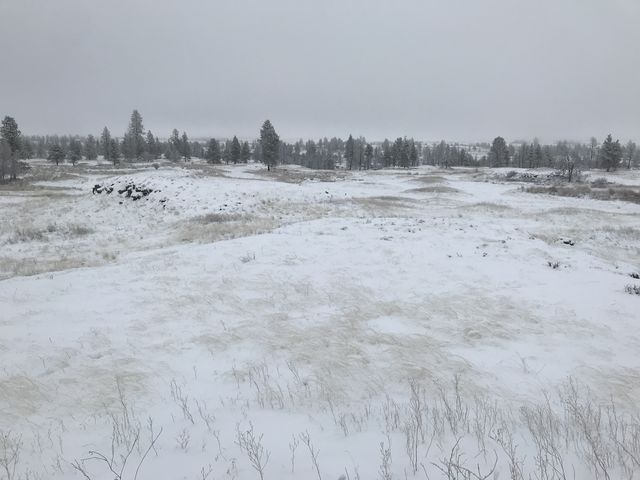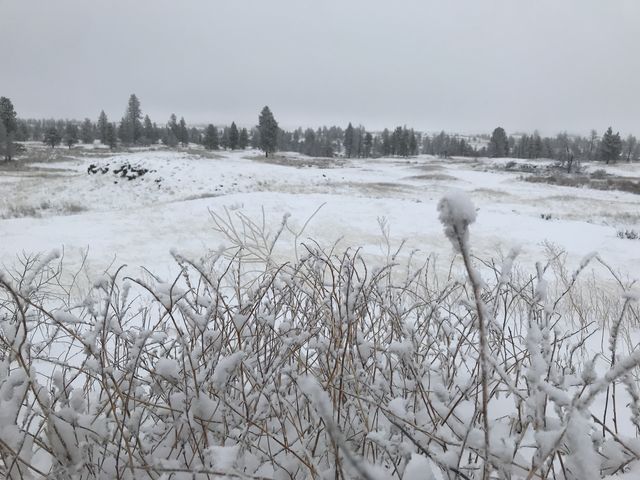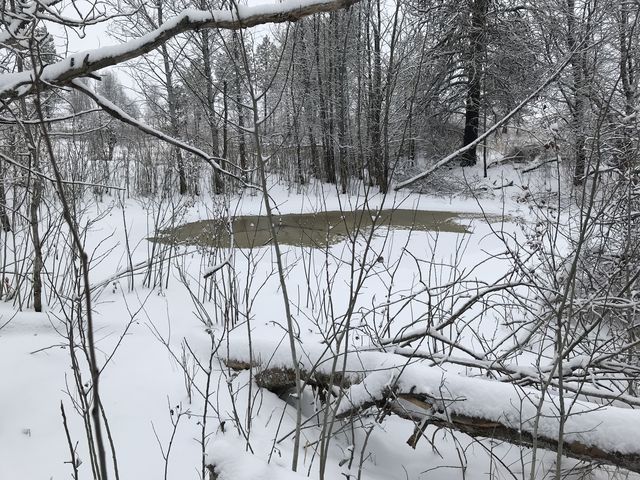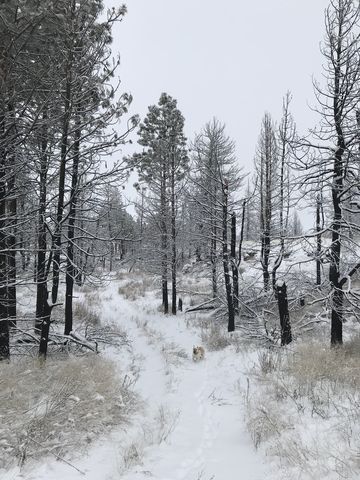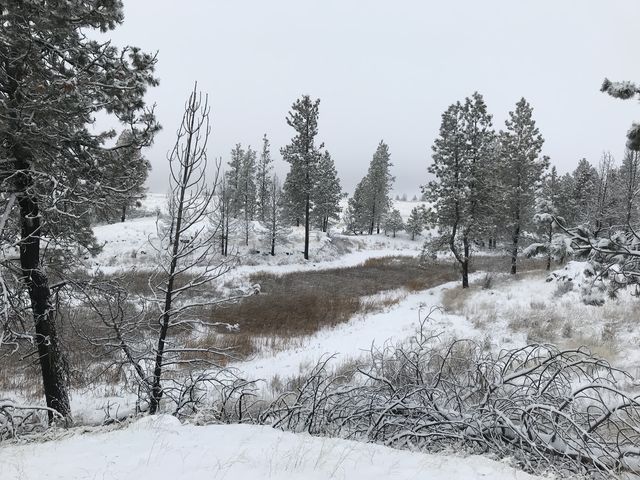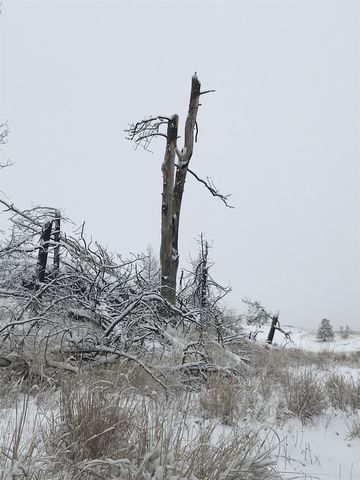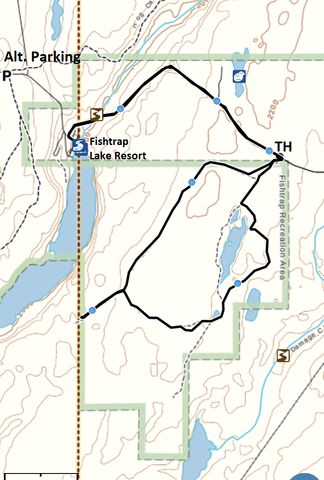 Things to Consider
Steer clear of the Fishtrap Lake Resort. If Scroggie Road seems impassible, park at the trailhead to the west (Folsom Farms); the loop is a bit over 7 miles from there.
© 2016 – 2017 NaughtyHiker. All rights reserved. No duplication without permission.