Not to be confused with its namesake chasm, home to the Snake River, Hells Canyon is a comparatively tame canyon feeding Hayden Creek. The old trail, hugging the creek, is mossy and green and reminded us of Coal Creek on Graham Mountain, while the new, upper trail offers vast views across the canyon and as far as the Selkirks. Nicholas Ridge extends the hike further, with sweeping views of the Coeur d'Alene Mountains.
Location
Coeur d'Alene Mountains
Rating
3.1 out of 5
Difficulty
Moderate (some uphill hiking; one creek fording)
Distance
10.8 miles
Duration
3:49 hours moving time (hiking)
Elevation Gain
1,889 feet
High Point
4,380 feet (Nicholas Ridge)
Low Point
2,653 feet (Trailhead)
Trail Type
Out-and-back
Trailbed
Packed dirt
Trail#
234, 69
Water
Hells Creek and its tributaries (but those tributaries likely are dry by August)
Status
Unprotected
Administration
Coeur d'Alene National Forest
Conditions
Good. Some rutting in the Hells Canyon trail and a few fallen logs along Nicholas Ridge. The lower Hells Canyon trail is not maintained
Permits
None required
Camping
None, but there are opportunities for car-camping near the trailhead or any of the forest roads.
Maps
USGS Hayden Lake
Trailhead
Going north on US-95, turn right onto W Lancaster Road just north of Hayden. Continue on Lancaster for  just shy of 4 miles and the road will turn into Hayden Lake Road. Continue on E Hayden Lake Road for another 3 miles, then continue straight onto Hayden Creek Road. Hayden Creek quickly turns into a gravel road. Follow it for 2.2 miles, then bear left onto Burnt Cabin Road, shortly followed by a right onto FS-437. Continue for 2.3 miles and the parking lot will be on the right (the last half mile is a single-lane gravel/dirt road). Beware that Hayden Creek Road is terribly pot-hole riddled!

Google Directions (47.824545, -116.605566)

Season
May – November
Squirrel Density
Plenty!
Features
Mountaintop, Grove
Distance From

Coeur d'Alene 20.3 miles
Lewiston 133.9 miles
Sandpoint 47.0 miles
Seattle 327.4 miles
Spokane 49.5 miles

Resources
Nearby Hikes
Date
May 12, 2018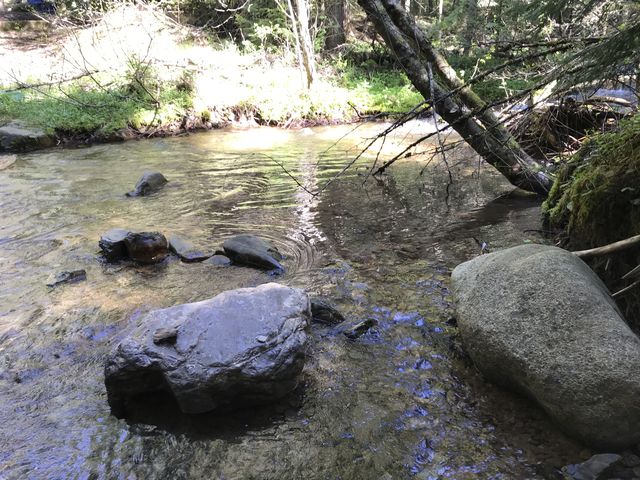 The Hells Canyon trail immediately starts out with a creek crossing, which fortunately is the only one likely to cause wet feet. At this time of spring, Hayden Creek is about calf-deep, so taking off shoes is definitely recommended (unless your paws are all-weather/seasons proof). Since the crossing is so close to the trailhead, it's easiest to walk barefoot to the creek and cross; on the way back you can just walk right through assuming you have dry shoes in your vehicle.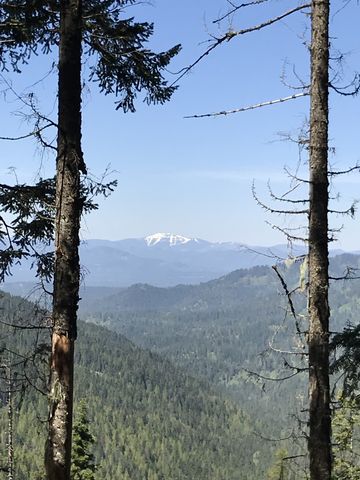 Once across, the trail quickly starts to climb. An older trail moves alongside the creek, but the fork to that trail is hard to find. As you climb higher through a thick canopy of fir you can spot the old trail far below near Hells Creek. About a mile in, you enter a burn area well on its way to recovery. There is thick undergrowth, but the lack of trees really opens up the vista towards Spades Mountain, a former lookout tower site. Instead of straight east, the trails turns northeast and steadily climbs as it contours along the mountain. About 2 miles in, you re-enter the woods and the incline is less steep. For the next 2 miles the trail hugs the mountain, although shifting towards the east, and frequently crosses moss-covered tributaries, many a mere trickle even in spring. Great views to the west can be had nearly 4 miles into the hike, at an elevation of around 4000 feet, shortly before emerging onto forest roads 437/406.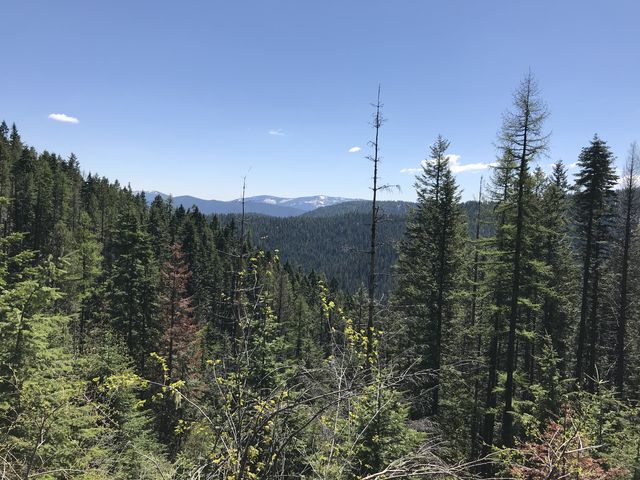 At that intersection you can either turn around and go back as you came or take the abandoned lower Hells Canyon trail. If you're cycling you could also head back on the forest road. To extend the hike a bit further, however, take trail #69 across the forest road, and ascend Badger Mountain for a bit. The trail then splits into #802 (ATVs only) and #69 (hikers and bikers). This trail is referred to as Nicholas Ridge trail, but mostly clings to the southern flank of Badger Mountain, not the ridgetop. It's a nice trail, but not as well-maintained as #234. Shortly before reaching the power lines, which is where we turned around, it merges again with trail #802. At the power lines, a myriad of forest and logging roads converge, providing further options, and the clear-cutting opens the views to east and west. Trail #69 drops downhill from there to the Coeur d'Alene river.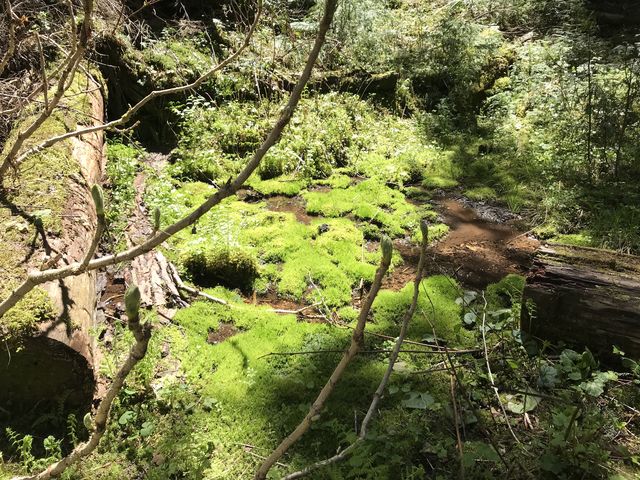 We turned around, though, and back on the Hells Canyon trail chose the lower trail, which is no longer maintained. As a result, you'll have to frequently climb over deadwood, but won't encounter any dirtbikes. The trail switchbacks and drops steeply from the forest road, then closely follows the creek. In fact, the creek is crossed and recrossed a number of times (those crossings were easily accomplished without taking shoes off). It is by far the prettier trail, moving through old-growth cedar patches and amid moss-covered riverbanks and thick stands of fern, but lacks in views. Towards the end of the trail a huge jumble of logs blocks the way and a faint game trail heads uphill to merge with the upper Hells Canyon trail.
Enjoy this hike? Let us know in the comments below!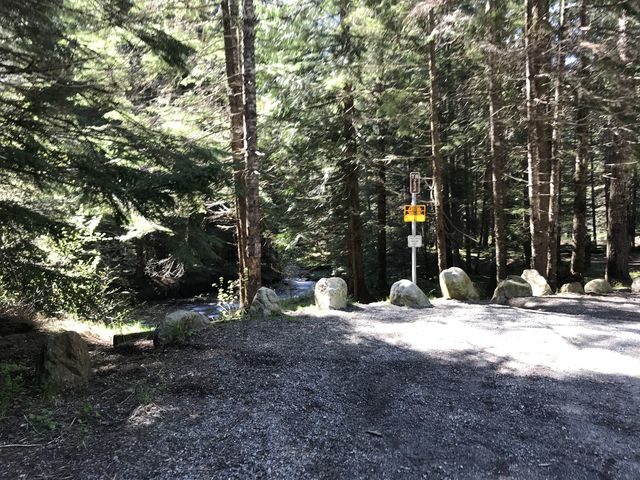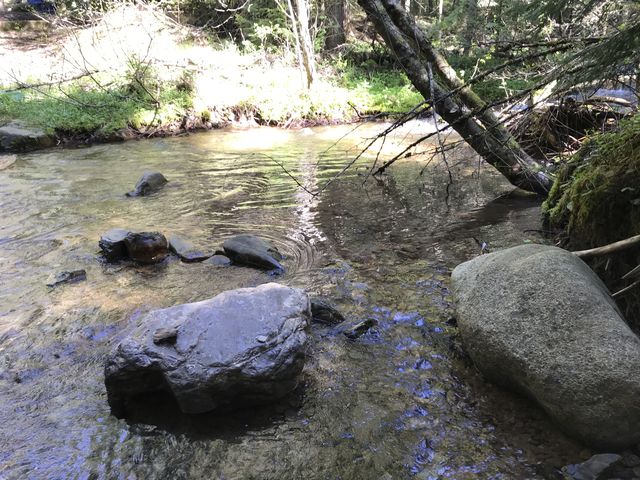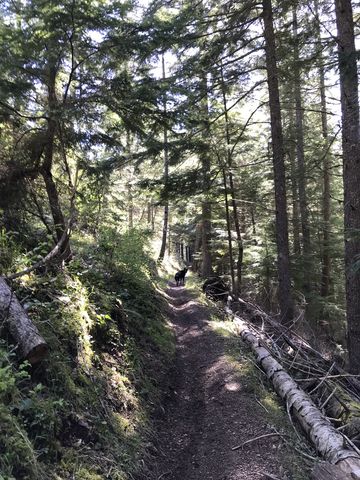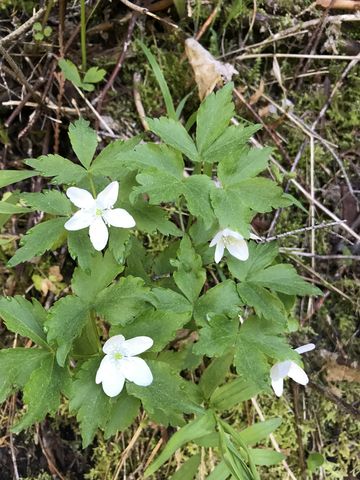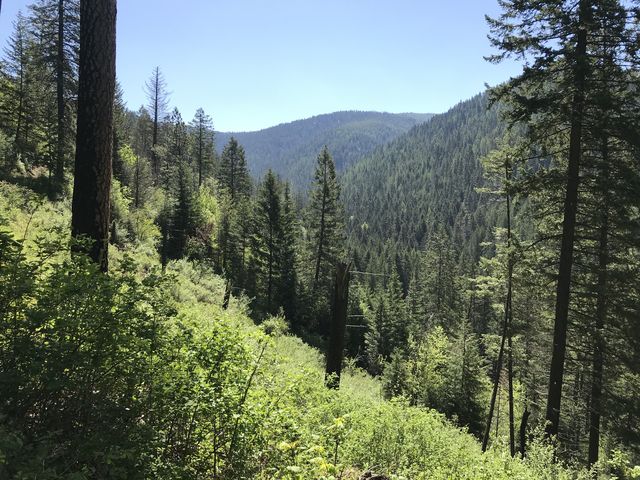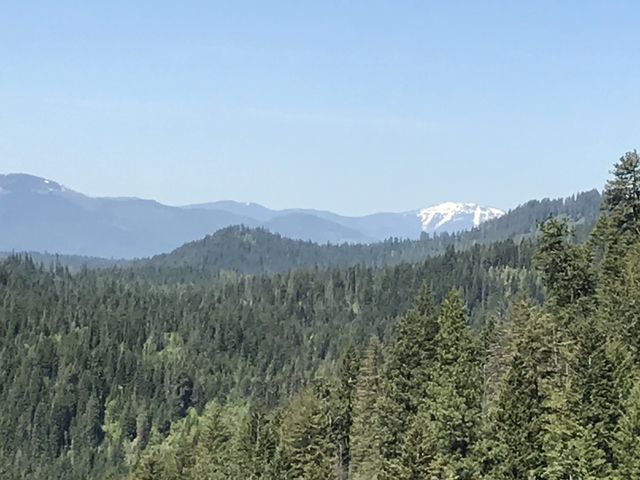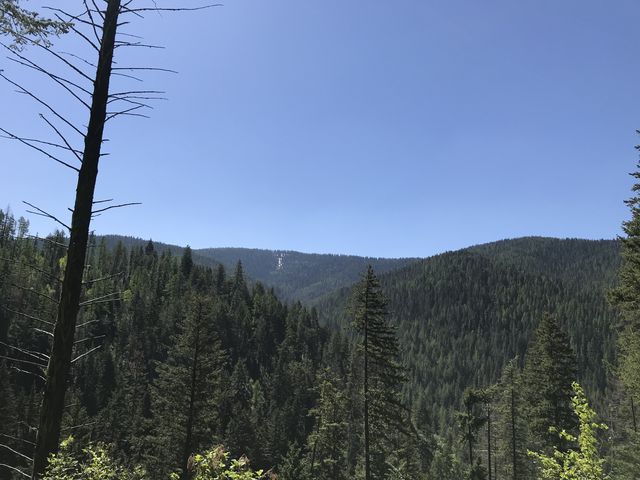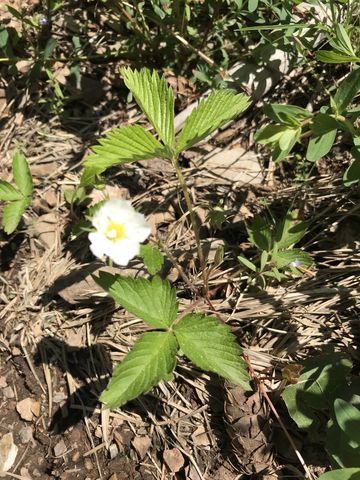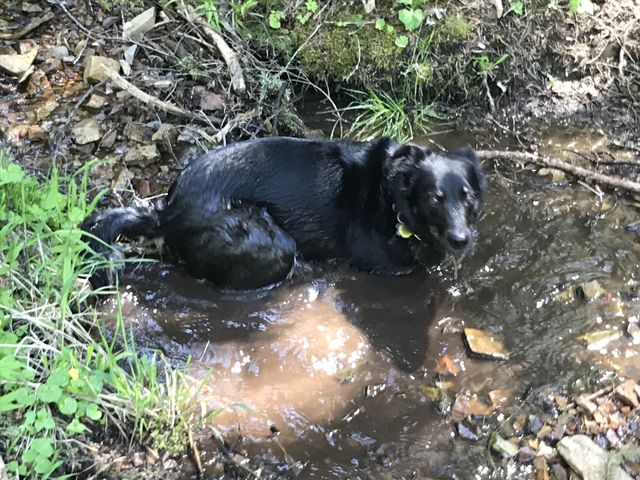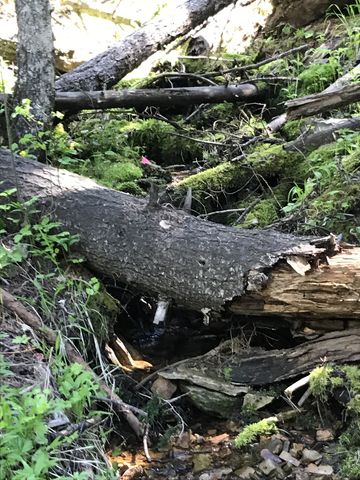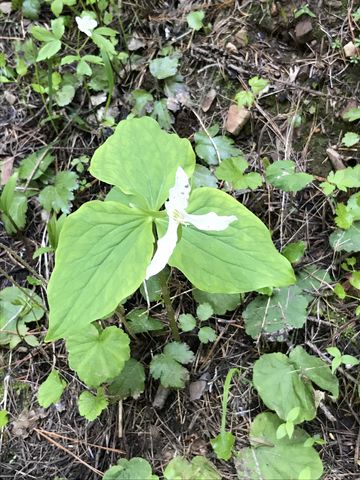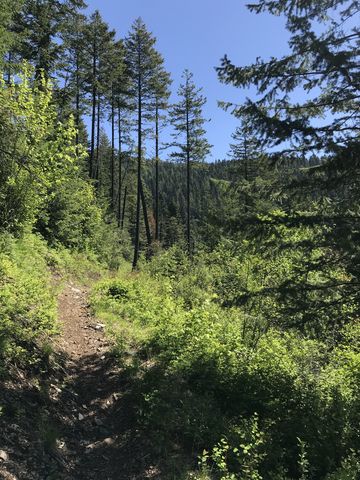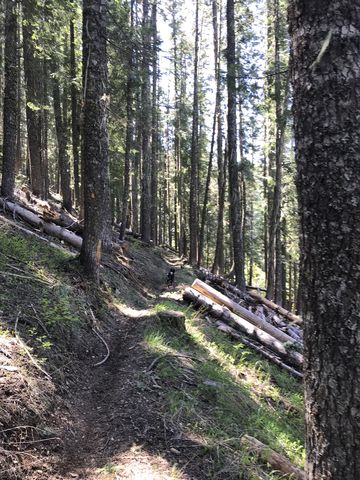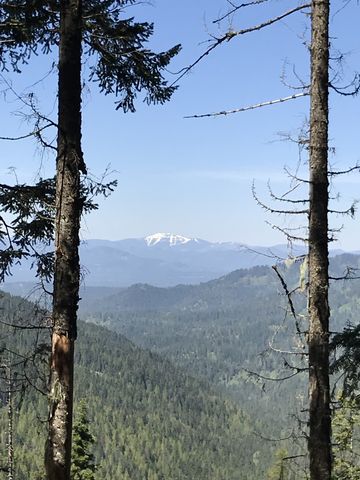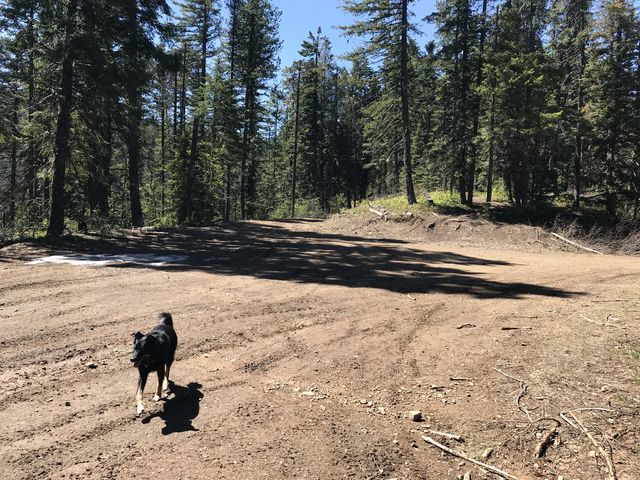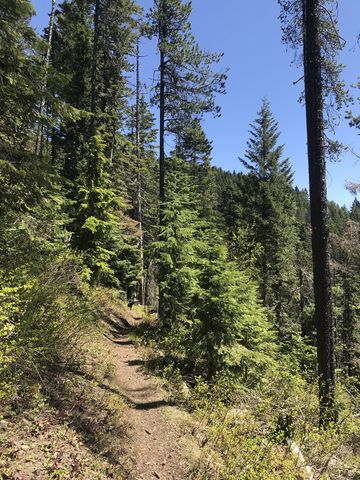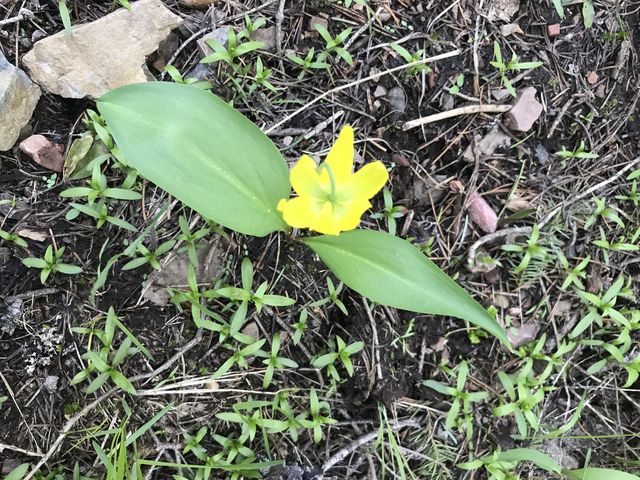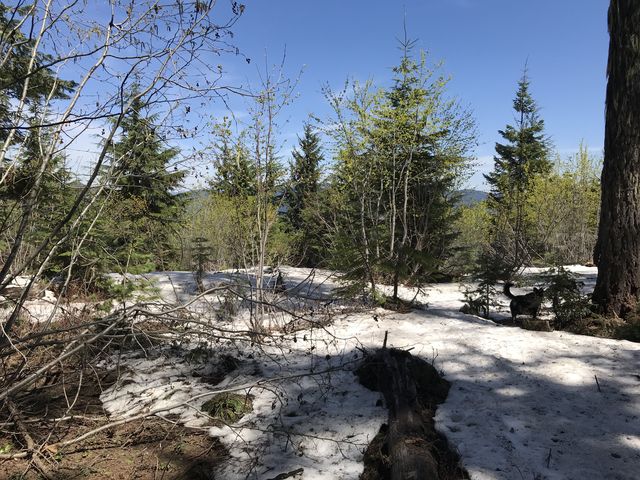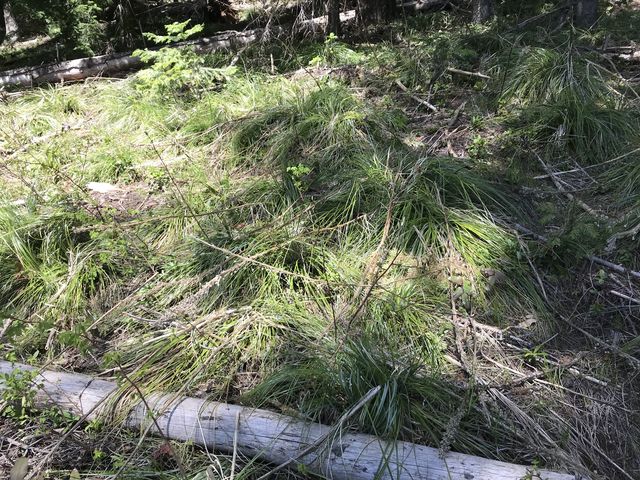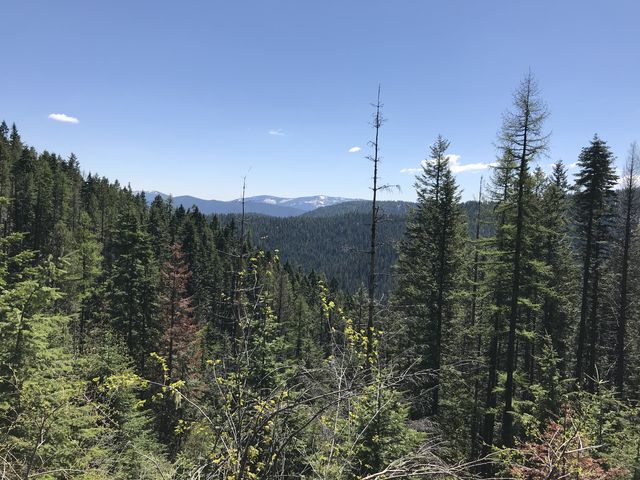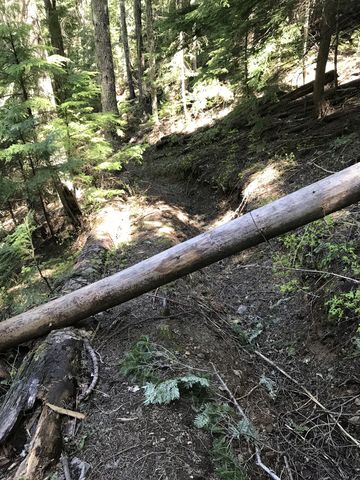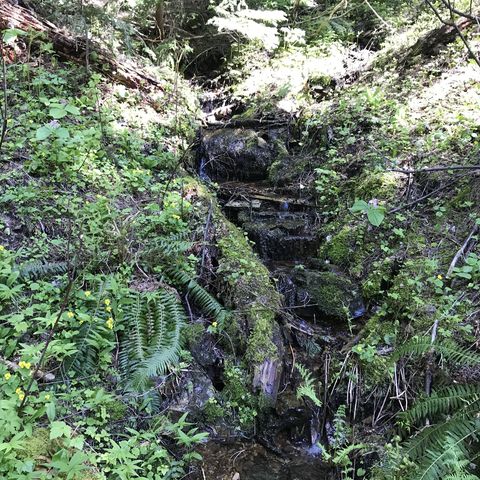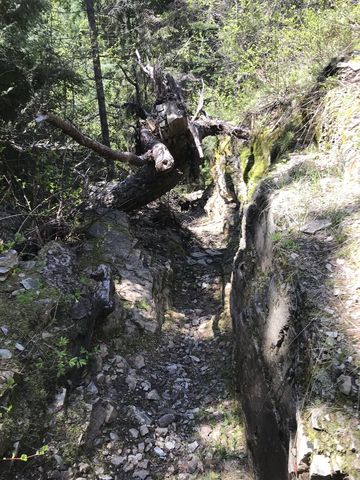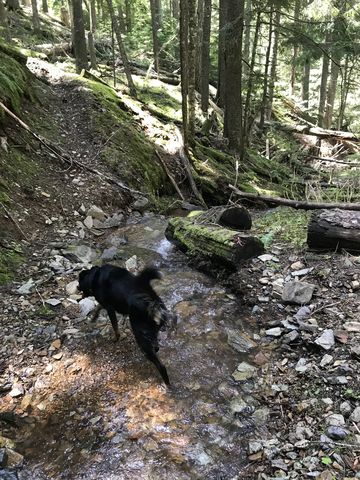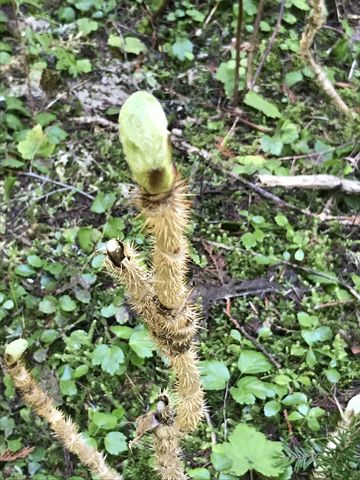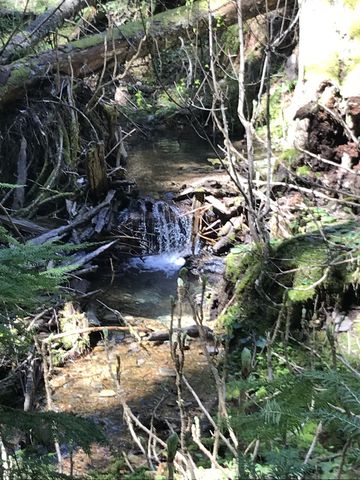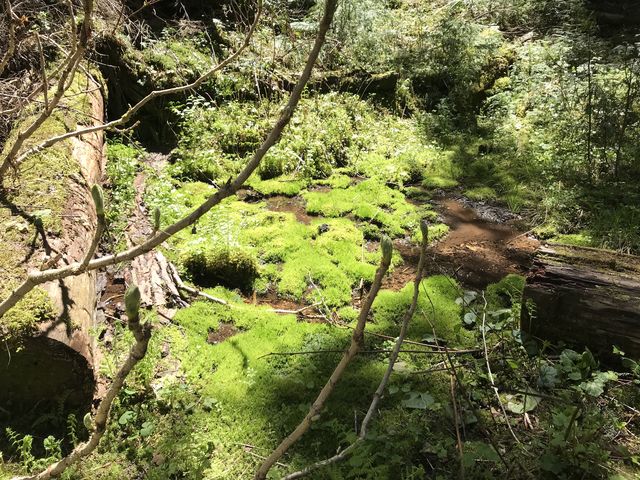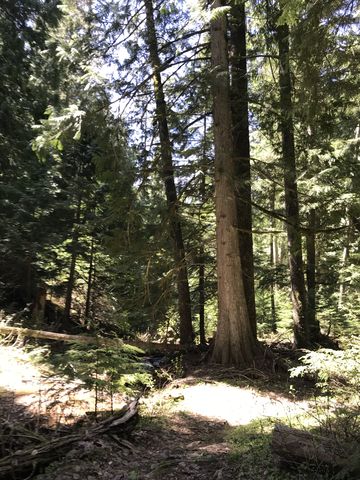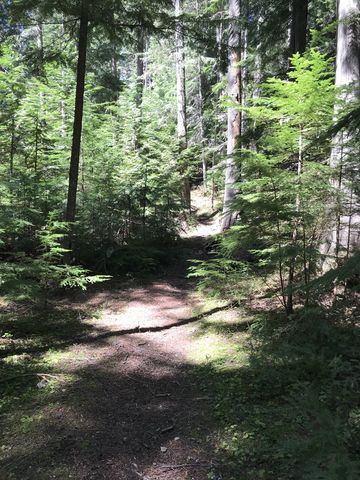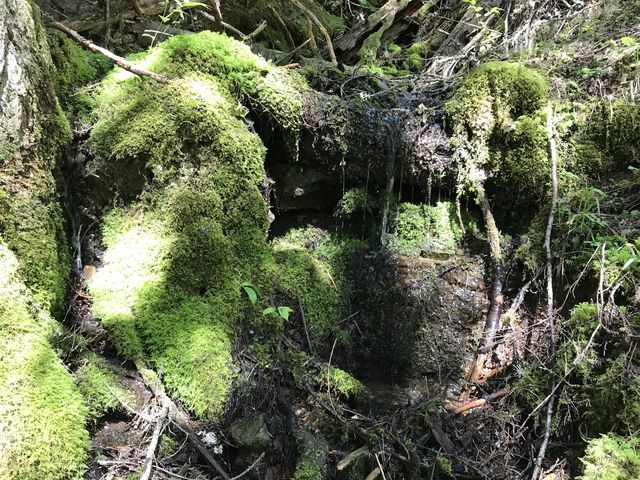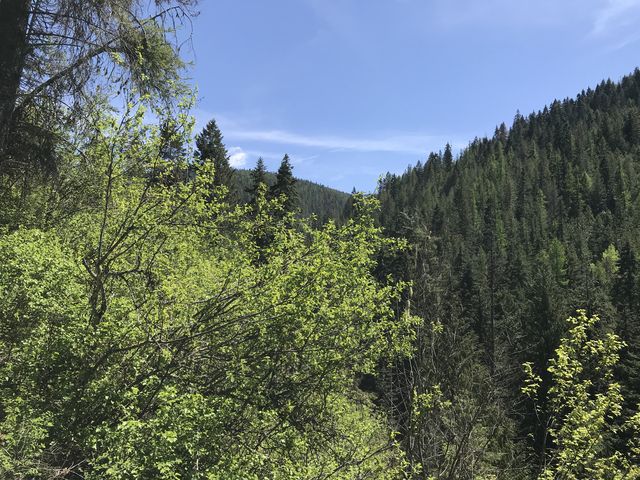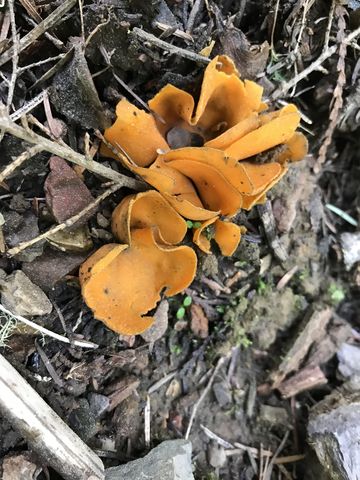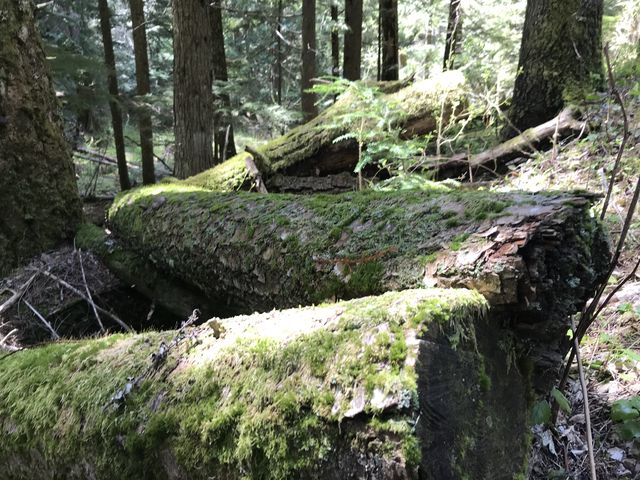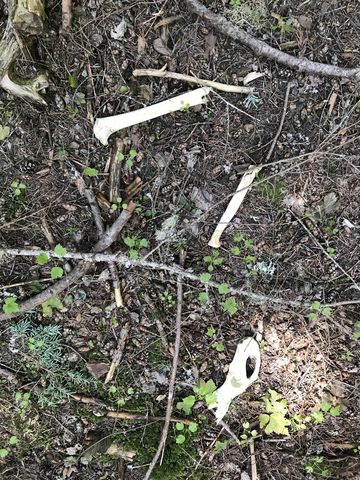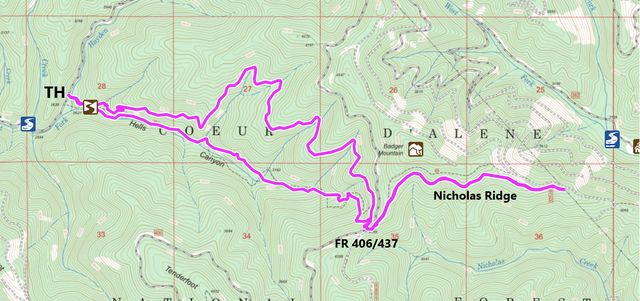 Not so great
The upper Hells Canyon trail sees heavy motorcycle traffic. Expect some rutting.

Alternate Routes
Trail #234 alone is about 8-9 miles roundtrip (the lower trail is a bit shorter)
© 2016 – 2018 NaughtyHiker. All rights reserved. No duplication without permission.