Higgens Point is located at the terminus of the North Idaho Centennial Trail, jutting out into the east end of Lake Coeur d'Alene. While not very long, the hike is nonetheless an ideal leg stretcher if you're just travelling through this area, especially during the colder months (November through February) when bald eagles feast on Kokanee salmon spawn. It's a fun spot during the summer, too, with views across the water, a nearby osprey nest, a gravel-and-sand beach, picnic areas, and moorage.
Location
Coeur d'Alene Mountains
Rating
2.4 out of 5
Difficulty
Easy (the section from the beach to the docks is a bit more difficult, though)
Distance
1.2 miles
Duration
0:38 hours moving time (hiking)
Elevation Gain
85 feet
High Point
2,236 feet (Higgens Point)
Low Point
2,106 feet (Lake Coeur d'Alene)
Trail Type
Loop
Trailbed
Blacktop, gravel, packed dirt
Water
I don't think there is any, but I didn't check. Don't take water from the lake, it's been contaminated by centuries of mining
Status
State Park
Administration
Idaho Parks & Recreation
Conditions
Excellent
Permits
None required
Camping
Not allowed
Maps
USGS Fernan Lake
Trailhead
From I-90, take exit #15 (Sherman Avenue), then head east on Coeur d'Alene Lake Drive. Coming from Spokane, this means going straight at the light; coming from Kellogg this means taking a left onto Sherman, then another left at the next light onto Coeur d'Alene Lake Drive. The road dead-ends after 5.5 miles. There is ample parking at the trailhead.

Google Directions (47.629924, -116.687363)

Season
Year-around
Squirrel Density
Who cares for squirrels when you can wallow in dead fish?
Features
Lake
Distance From

Coeur d'Alene 7.0 miles
Lewiston 124.1 miles
Sandpoint 52.4 miles
Seattle 317.8 miles
Spokane 40.0 miles

Resources
Nearby Hikes
Date
November 24, 2017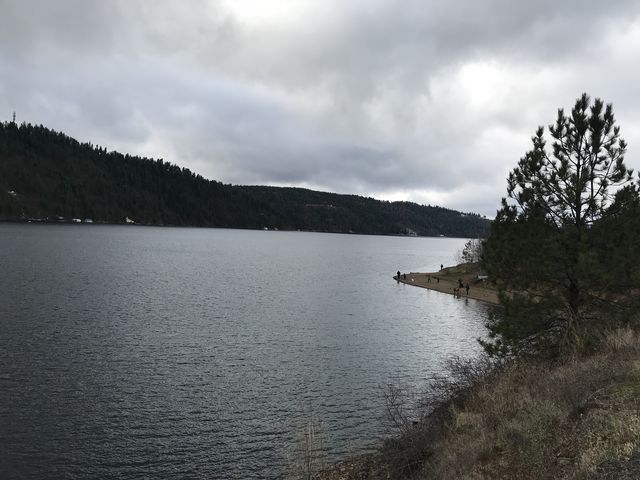 First of all, there's a bit of controversy over the spelling of this knoll, with some referring to it as Higgins Point and others Higgens Point. What we consider the utmost naming authority, the US Geological Survey, is silent on the topic. The second up ought probably be Google, by sheer volume of map usage. Google calls the peninsula Higgens Point and the nearby boat launch Higgins Point Boat Launch. Seeing as this gets us nowhere, we revert to the owner of the property, which is you, administered by Idaho Parks & Rec (it's part of the Coeur d'Alene Parkway State Park). Parks & Rec calls it Higgens Point on their website and the newly-installed signage along Coeur d'Alene Lake Drive does as well. Thus, Higgens Point it is.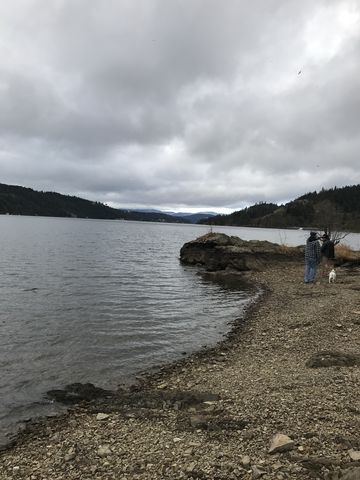 From the huge parking lot (mostly for boat trailers), take the paved trail that parallels the freeway eastwards. It leads past information kiosks, then a couple of binoculars and a statue of a photographer called Leopold on the right and an osprey's nest across the freeway on the left. At the top of Higgens Point, you'll find a group shelter, rest rooms, a large lawn, and horseshoe pits. Take the gravel single-track that drops down the east side to the beach (there is a geocache hidden nearby), then make your way along the beach towards Coeur d'Alene. The trail gets narrower and rockier, climbing or circumventing rock outcroppings depending on season and water level and deposits you at another gravel beach complete with a couple of docks and a bunch of dead fish (during the winter only). Here the trail widens and heads back up to the blacktopped trail.
Watch out for eagles; it's not unusual to see half a dozen or more near Higgens Point.
Enjoy this hike? Let us know in the comments below!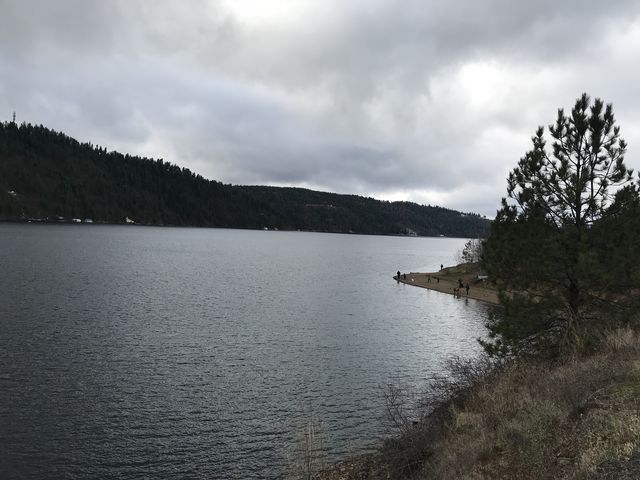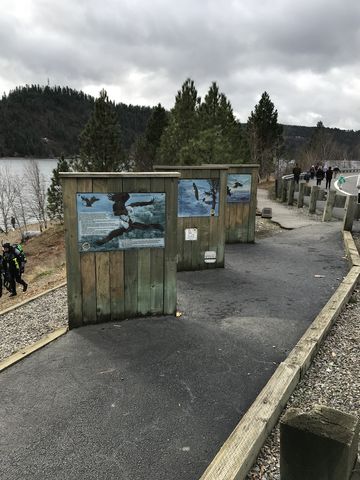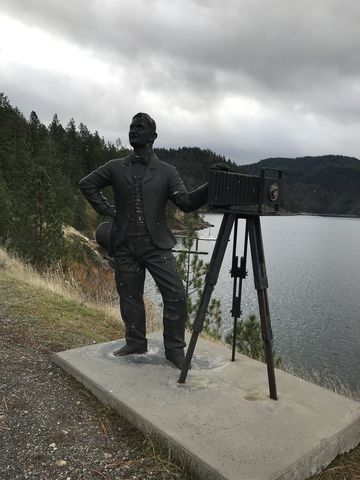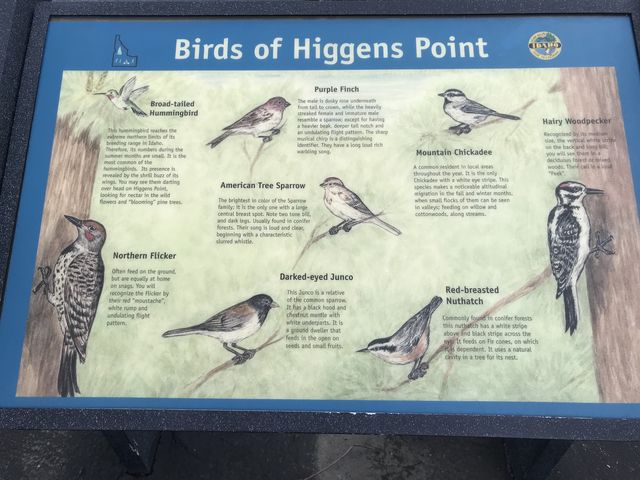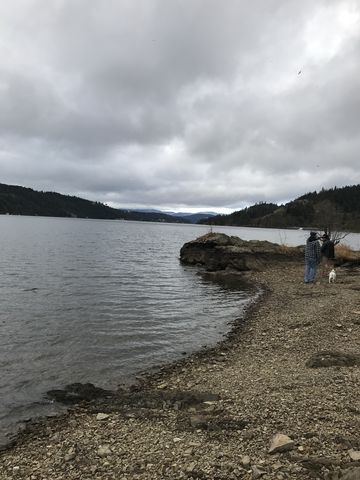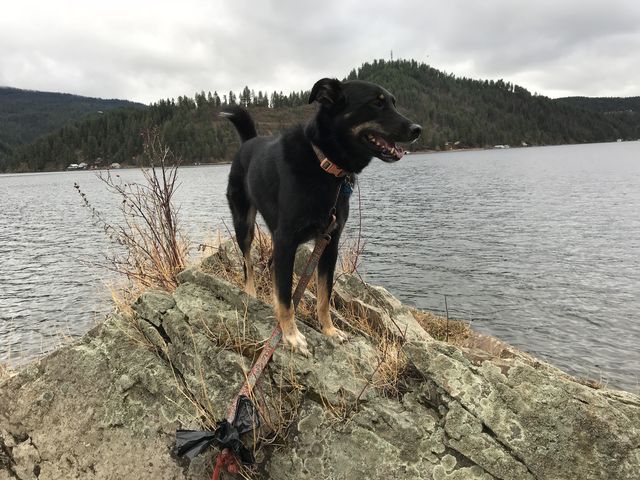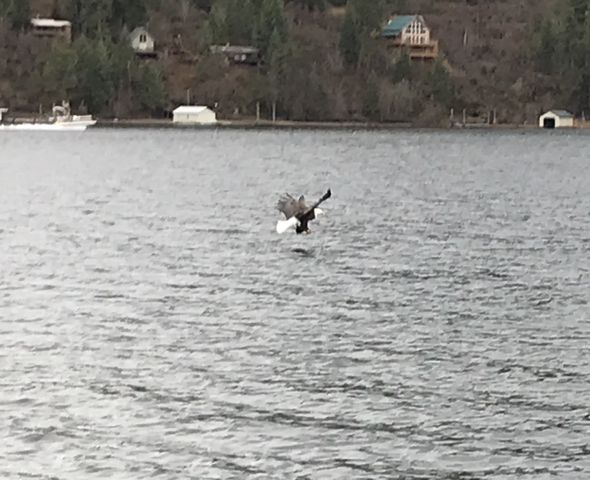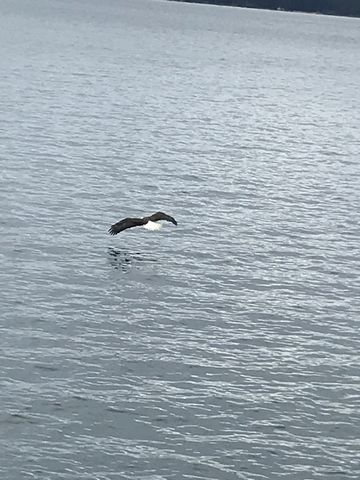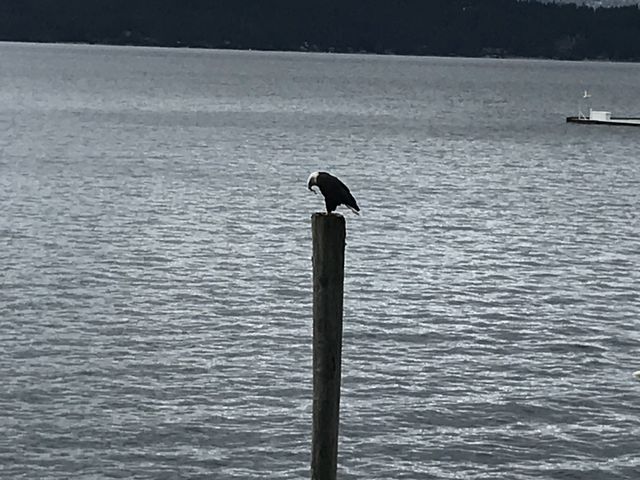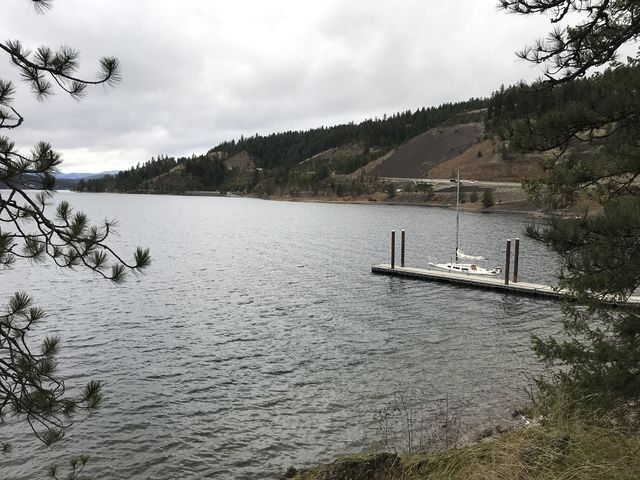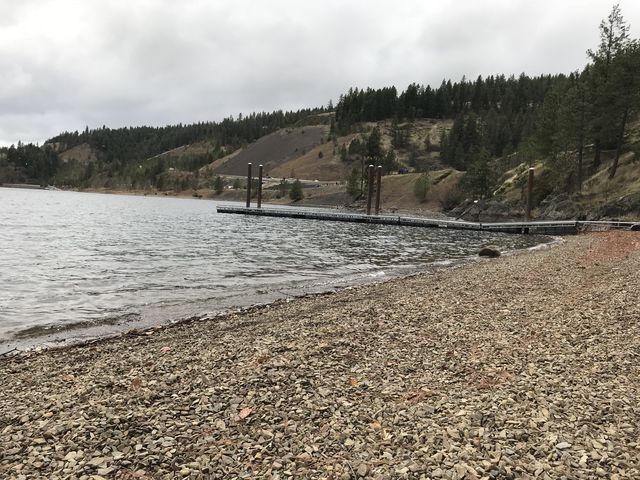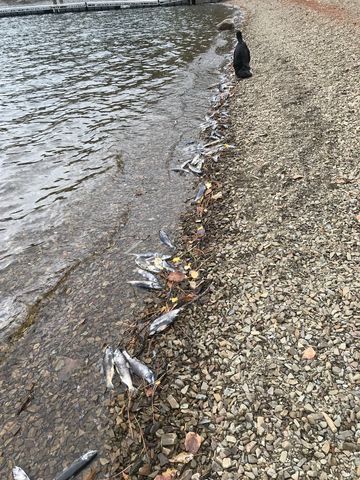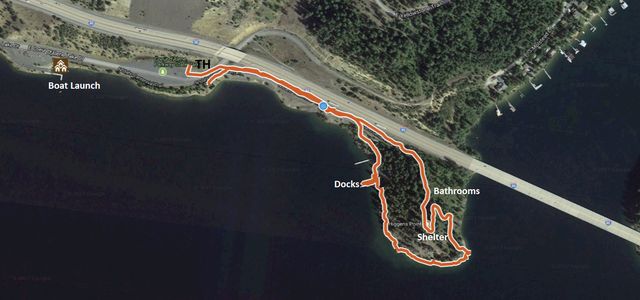 Alternate Routes
The North Idaho Centennial Trail continues for 24 miles to the Idaho-Washington state line and continues from there another 37 miles even past Spokane (Spokane River Centennial Trail)
© 2016 – 2017 NaughtyHiker. All rights reserved. No duplication without permission.