Hoodoo Lake is a quick but uphill 1.5-mile hike to one of many superb alpine lakes in the Bitterroot Mountains. The water is refreshing, there's camping, there's fish, and you'll likely have the place to yourself. We sure did!
​
Location
Bitterroot Mountains
Rating
3.2 out of 5
Difficulty
Moderate (uphill hiking)
Distance
3.1 miles
Duration
1:24 hours moving time (hiking)
Elevation Gain
756 feet
High Point
5,934 feet (Hoodoo Lake)
Low Point
5,027 feet (Trailhead)
Trail Type
Out-and-back
Trailbed
Packed dirt
Trail#
111
Water
Hoodoo Lake
Status
Proposed Wilderness
Administration
Lolo National Forest
Conditions
Good
Permits
None required
Camping
At the lake
Maps
USGS Hoodoo Pass
Trailhead
From I-90, take exit #47 in Superior, MT and head east on Diamond Road. After 6 miles the road turns to gravel and is renamed FR-250. Continue for another 16 miles to the trailhead, which is at a bend in the road. A pullout has enough room for several cars. The trailhead is signed.
Google Directions (46.997184, -114.999591)
Season
June – October
Squirrel Density
Oh yeah!
Features
Lake, Meadow
Distance From

Coeur d'Alene 128.8 miles
Lewiston 147.1 miles
Sandpoint 174.1 miles
Seattle 439.6 miles
Spokane 161.7 miles

Resources
Date
August 9, 2018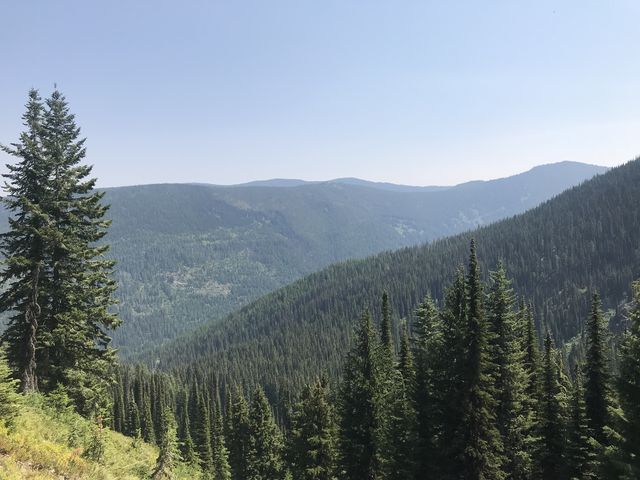 The trail starts out in a bend of the road and climbs a forested ridge towards the stateline crest. Much of the trail makes use of an old logging road, now overgrown and reduced to a singletrack, frequently bordered by huckleberry bushes. About a mile up the ridge, the trail forks, with the main trail (right fork) continuing up to the crest where it meets Stateline trail #738 near Hoodoo Pass. Instead, swing a left and drop lower a bit, then cross a steep alpine meadow with good views of the surrounding hillsides. On the other side, following a quick traverse of a talus slope, forest once again swallows the trail. There is a small clearing where a creek, now dry, meanders through a wildflower-strewn meadow in early summer. Then it's open forest once again until you arrive at the lake at the 1.5-mile mark.
​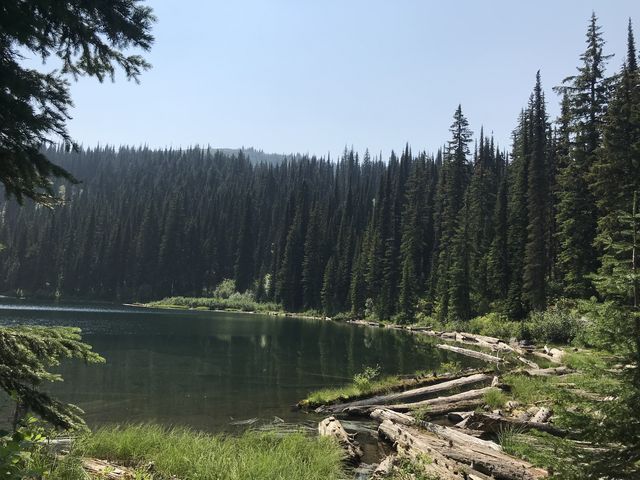 It's possible to circumnavigate the lake, but be prepared for a bit of bushwhacking. There is a campsite and pretty good swimming near the outlet, where the trail meets the lake. That swimming spot is assisted by a large boulder and convenient logs, but the lake is a bit shallow at that location. Nonetheless, the water is refreshing and cold!
​
Enjoy this hike? Let us know in the comments below!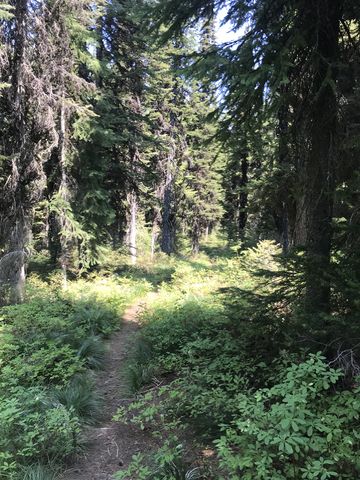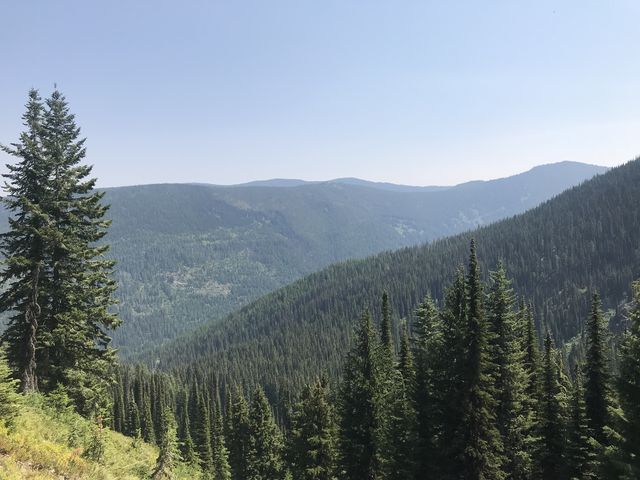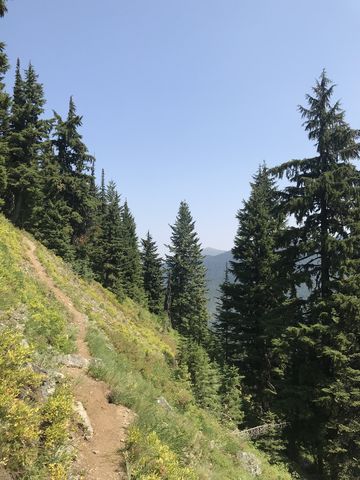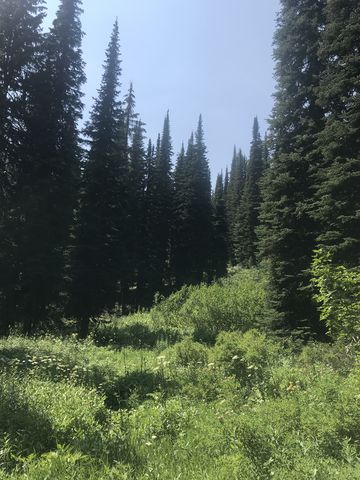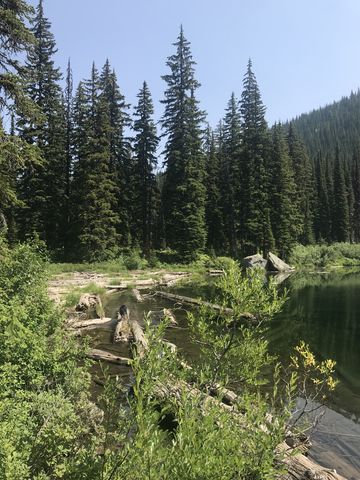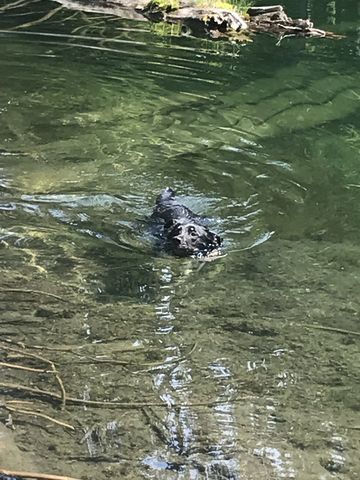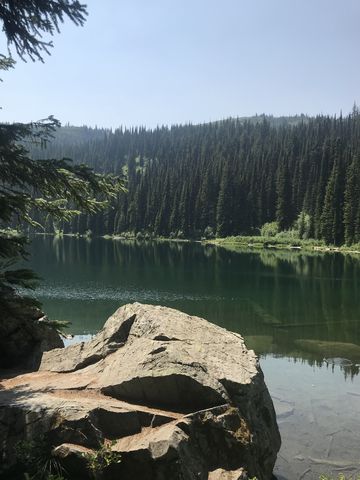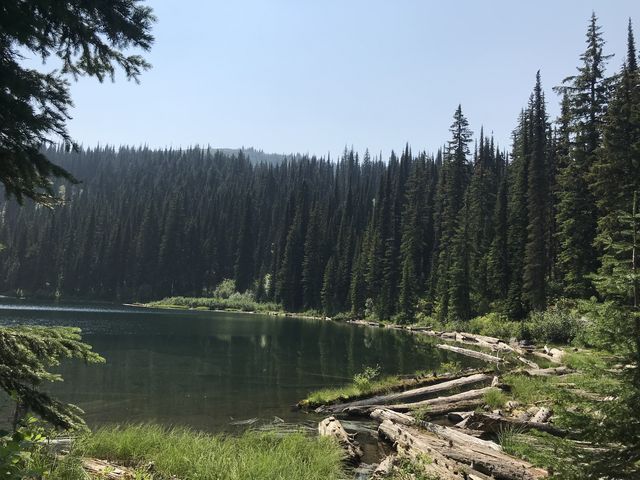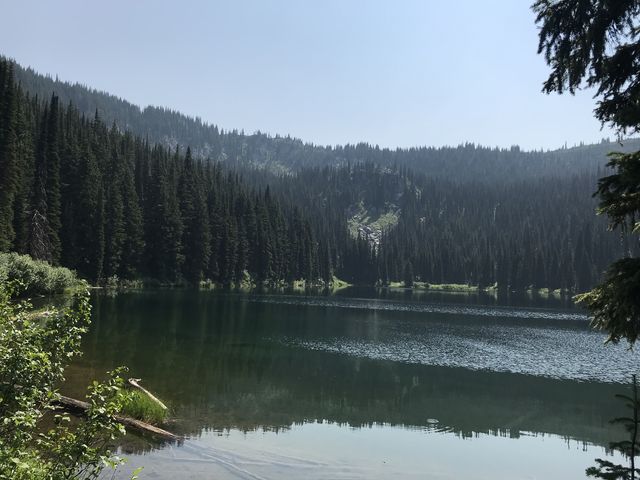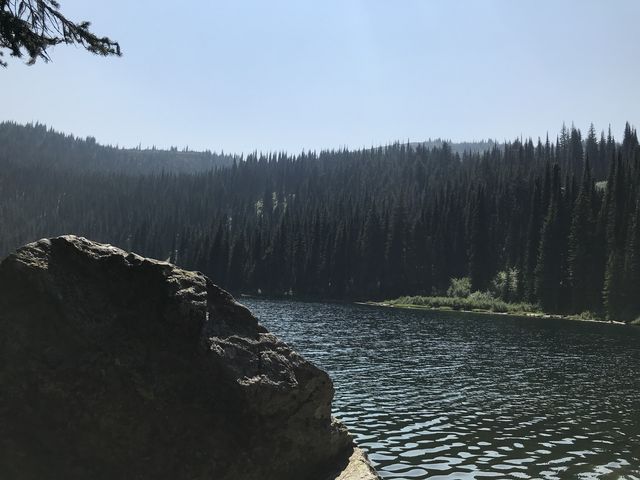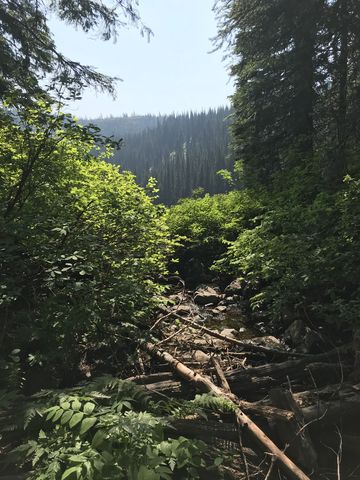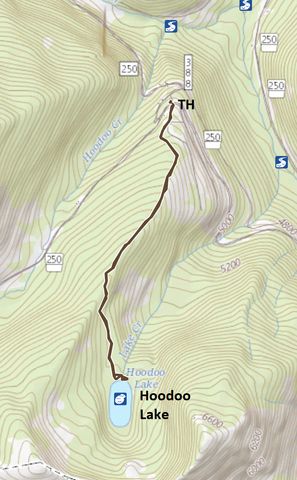 Alternate Routes
Trail #111 continues up to the crest and connects with Stateline trail #738
You could also park at Hoodoo Pass and take trails 738 and 111 down to the lake, or start at Hoodoo Pass and end on FR-250 if you have a shuttle car or bike
© 2016 – 2018 NaughtyHiker. All rights reserved. No duplication without permission.
​