This loop combines two of the most popular lake hikes in the American Selkirks, Harrison Lake and Beehive Lakes, via a phenomenal off-trail ridge hike above Little Harrison Lake. Expect some of the best hiking in this region, spectacular views from the top of the world, and picture-perfect alpine lakes, but be prepared to test your route and trail finding skills in rough terrain.
Difficulty
Moderate (uphill hiking)
Duration
2:57 hours moving time (Hiking)
High Point
6,230 feet (Harrison Lake)
Low Point
4,840 feet (Trailhead)
Trailbed
Packed dirt, granite slabs, loose rocks
Water
There are a few brooks along the ascent, perhaps seasonal, but some were quite substantial, and Harrison Lake.
Camping
At trailhead and at Harrison Lake. There is a bearbox near the outlet.
Conditions
Excellent. Crawled under just one downed tree.
Administration
Kaniksu National Forest
Status
Proposed Wilderness
Maps
USGS
The Wigwams
Roman Nose
Open To
Hikers
Dogs
Horses
Mountain Bikers
(
)
Directions
From U.S. Highway 95 in Bonners Ferry, drive west on Riverside Road (aka Country Road 18A) past the Kootenai National Wildlife Refuge to the Refuge's headquarters. Take West Side Road (blacktopped) north for 1.5 miles, then turn left onto FR #633 (Myrtle Creek). Follow this road for about 14 miles (it is a gravel road in good condition). Turn right onto FR #2409 and follow that another 1.5 miles to the trailhead. A high-clearance vehicle is recommended but not absolutely necessary for the portion on #2409. There is ample parking at the trailhead.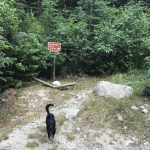 At the trailhead you are greeted by a sign announcing a 4.5-mile hike to the lake. The good news, it's probably a  bit less. We did the roundtrip in just over 8 miles and that included circumnavigating the lake, which is at least half a mile. Anyway, for the first mile or so trail #6 follows an old, overgrown logging road to Myrtle Creek, where you'll find a neat bridge and a handy boardwalk keeps your feet dry as you traverse the swampy area beyond the creek. Shortly afterwards, the path veers off to the left, a true single-track now, and ascends the hillside at a steady incline. At first heavily forested, the trees start to recede a bit and once you get to the first switchbacks the views of the Myrtle Creek valley are quite good.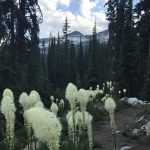 There are a fair number of switchbacks, but the trail is really quite easy to walk on, the steeper walls lined with boulders like landscaping blocks. After three miles you'll emerge onto a basin beneath Harrison Peak and the trail heads westwards, mostly flattish or even a bit downhill, for another mile. Tree-cover is light here, and you get a few unfiltered views of the Seven Sisters and Twin Peaks to the left and Harrison Peak to the right.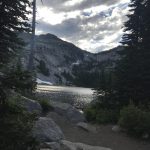 A few hundred yards below Harrison Lake you'll meet up with trail #217 coming from the Pack River Road (it is signed). Head uphill and cross the many granite slabs that are holding Harrison Lake in place (many are marked with cairns). The view of the lake, as you rise up over the lip of the cirque, is truly magnificent!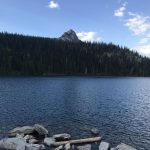 There is a trail all around the lake. It is in better shape along the southern and eastern shores, where most of the campsites are. The northern side is pretty much a bushwhack. The western end is hemmed in by a large boulder field, covered by a still large (in July) snowfield. It's worth rock-hopping, though, because you'll get a marvelous view of Harrison Peak rising up behind a forested ridge. And if you're less interested in the view you can chase the hoary marmots whistling a challenge from across the snow and rocks.
No carcass (the grizzlies are thorough), and only Naughty was up for a swim (it was cold). 
Alternate Routes
A shorter but steeper route to Harrison Lake ascends from Pack River Road #231. Trail #217 is only 5 miles roundtrip.
Things to Consider
This route has less traffic than the Pack River trail, but get ready to meet a swarm of campers at the lake!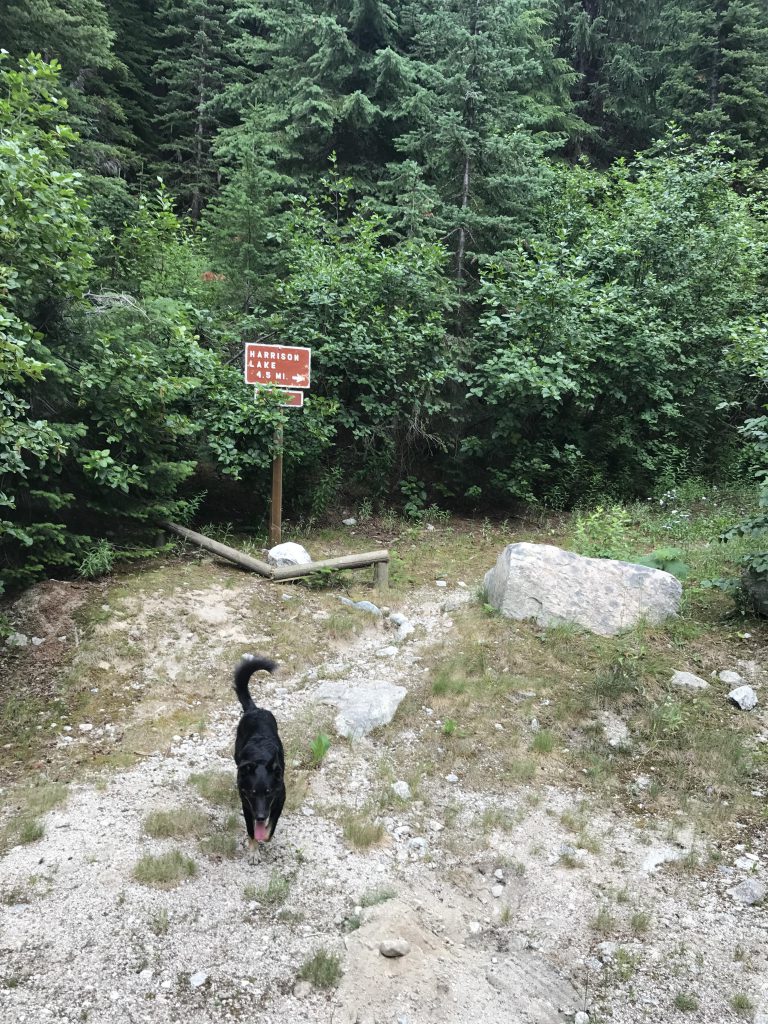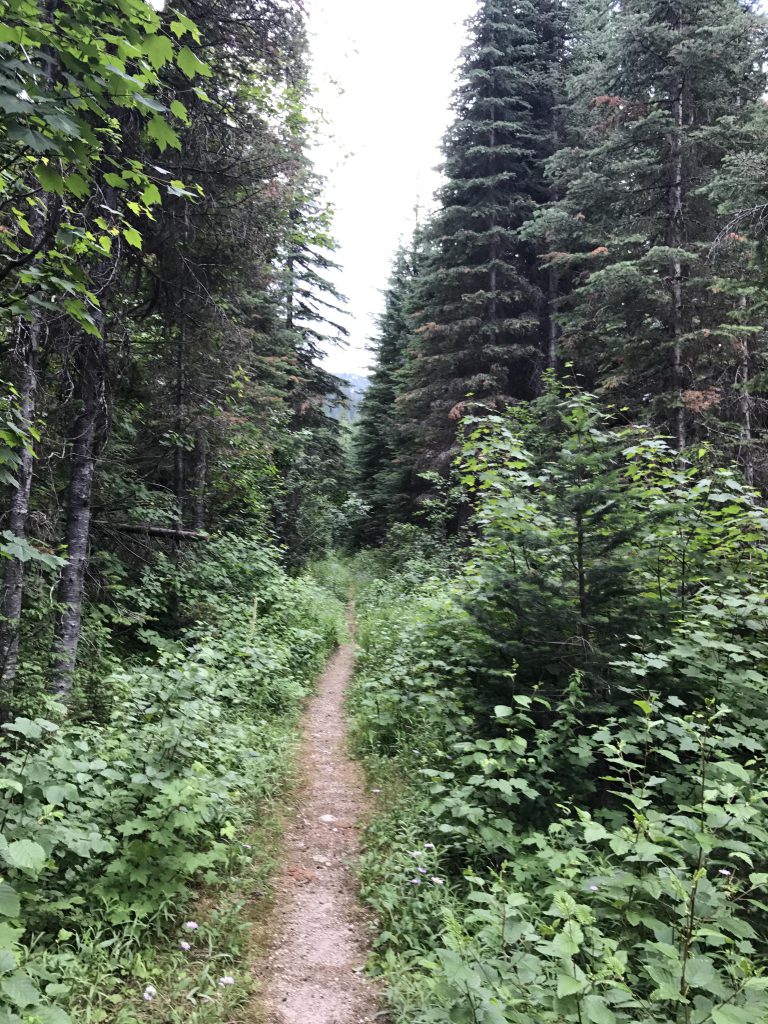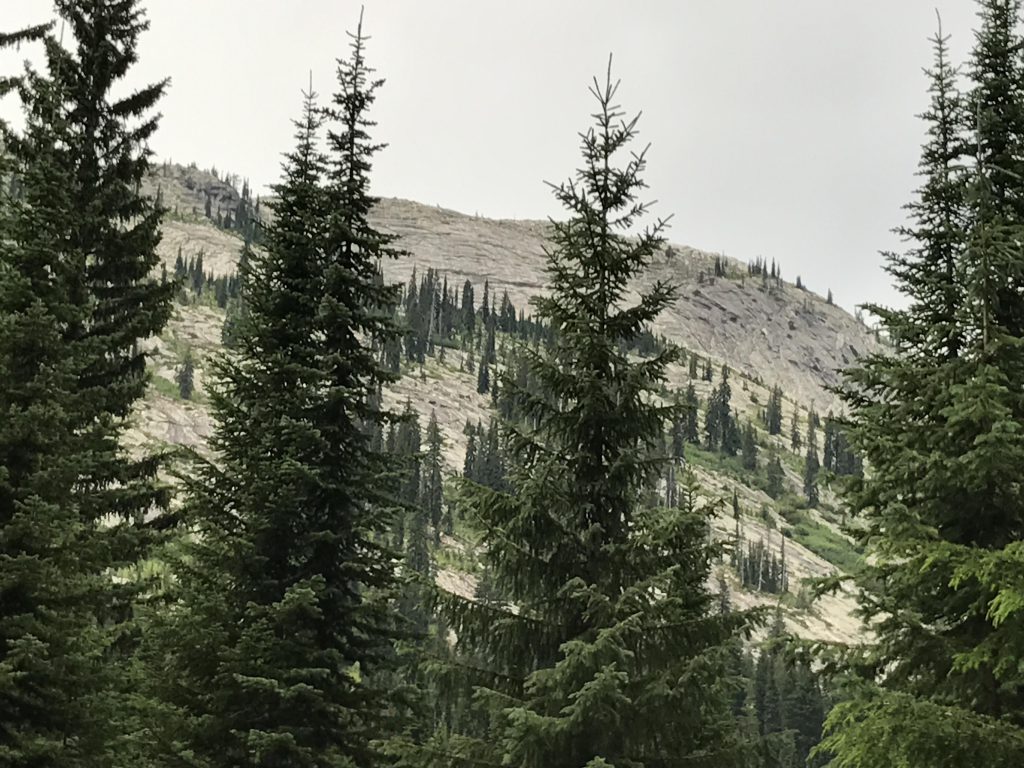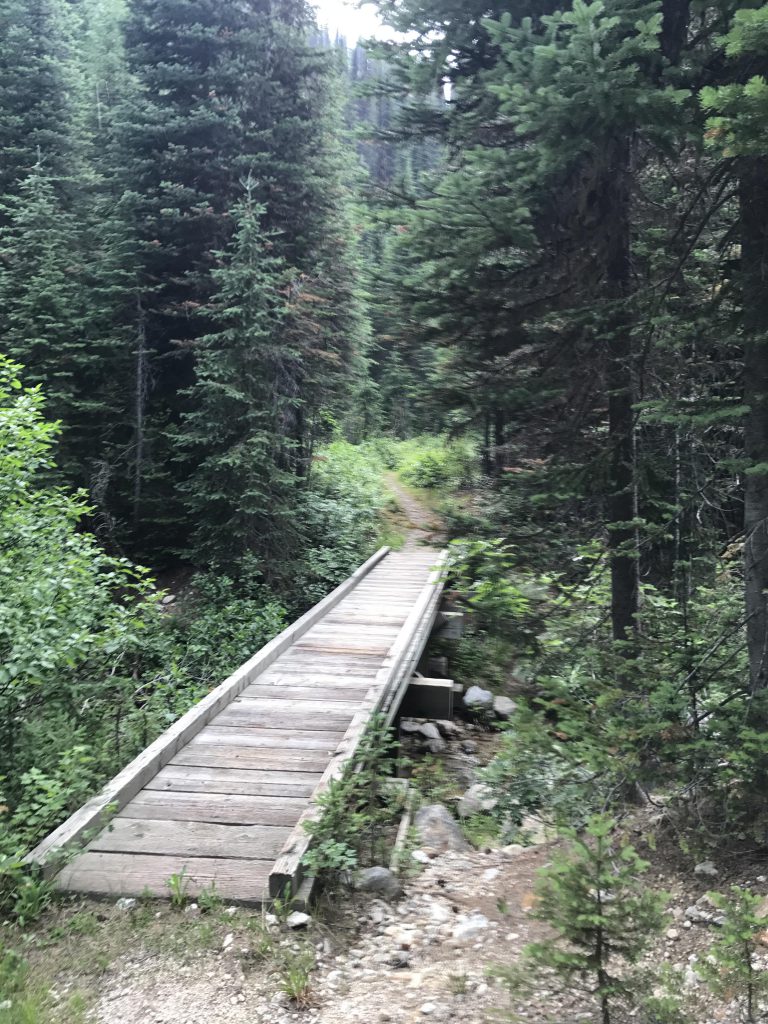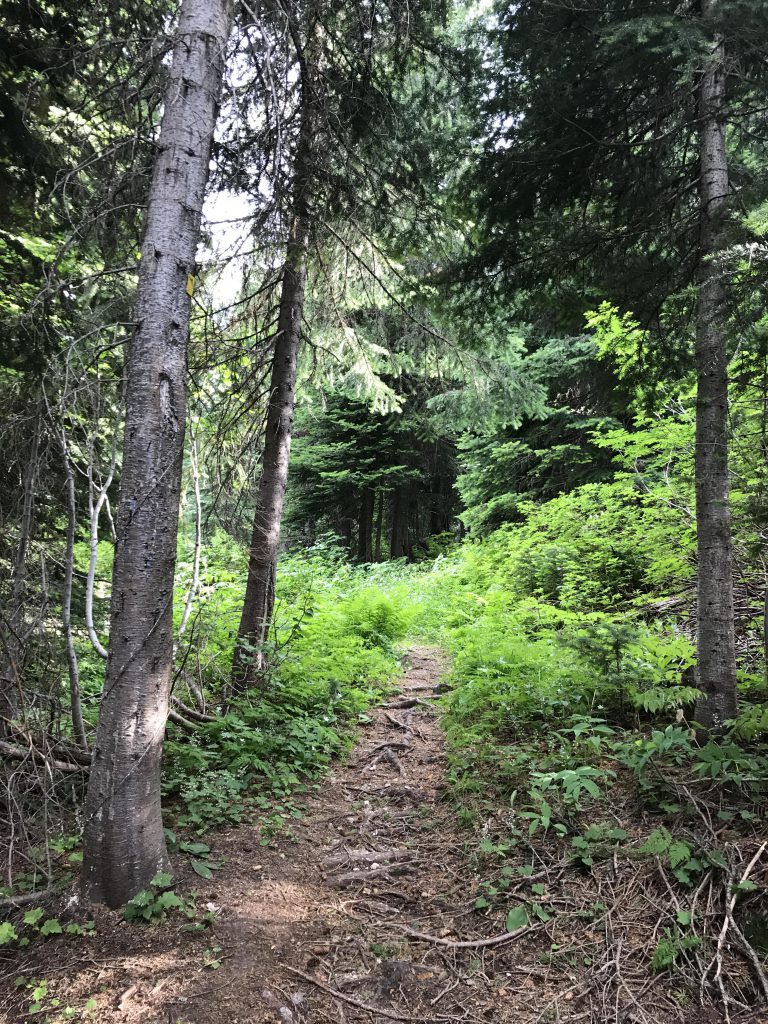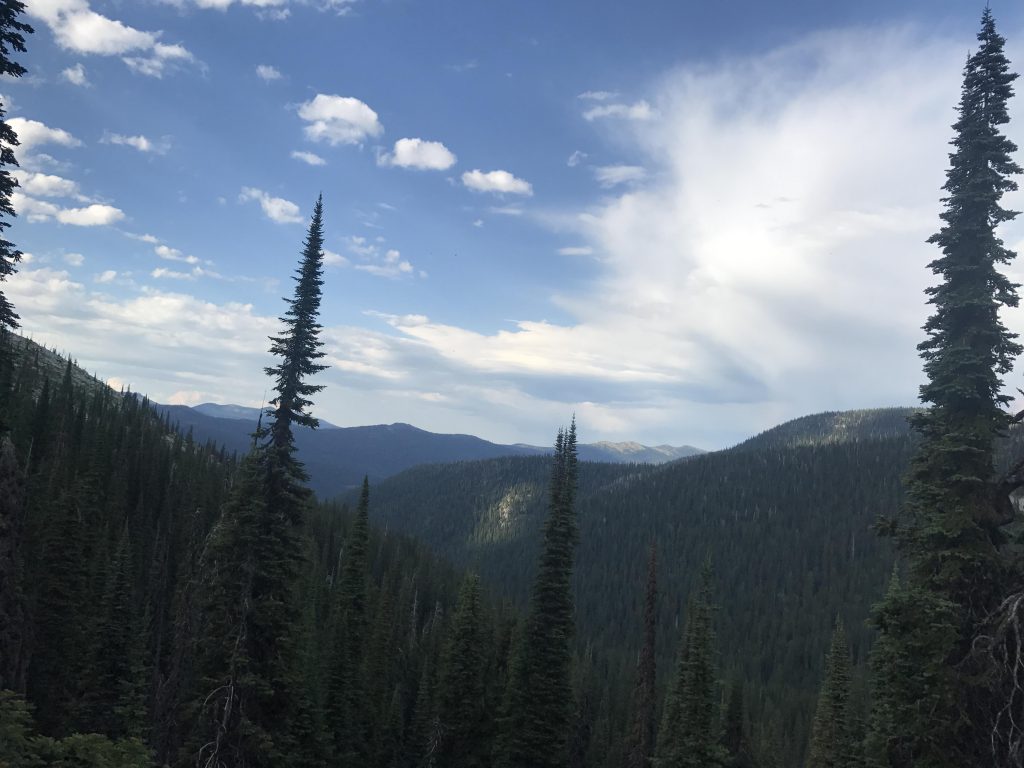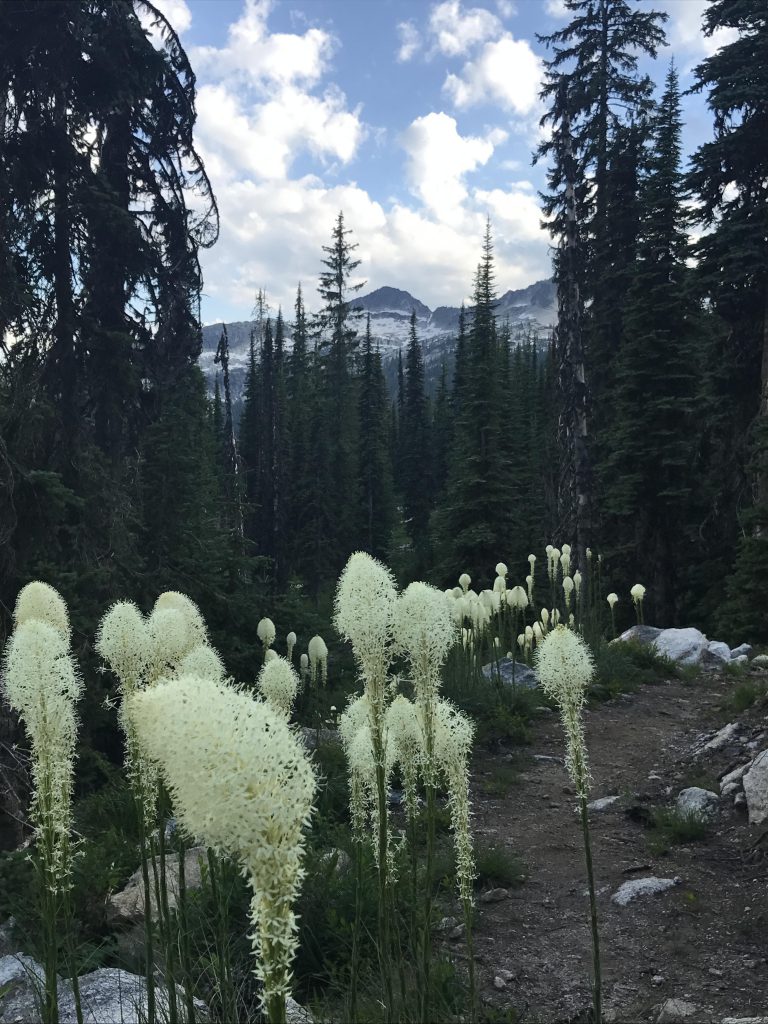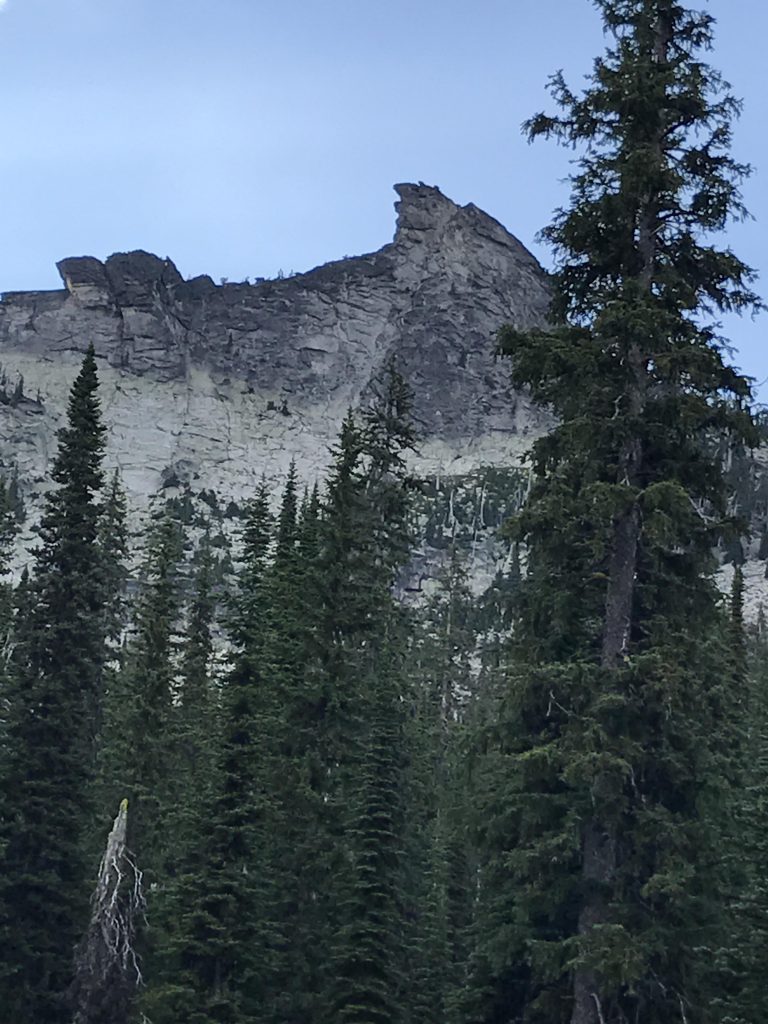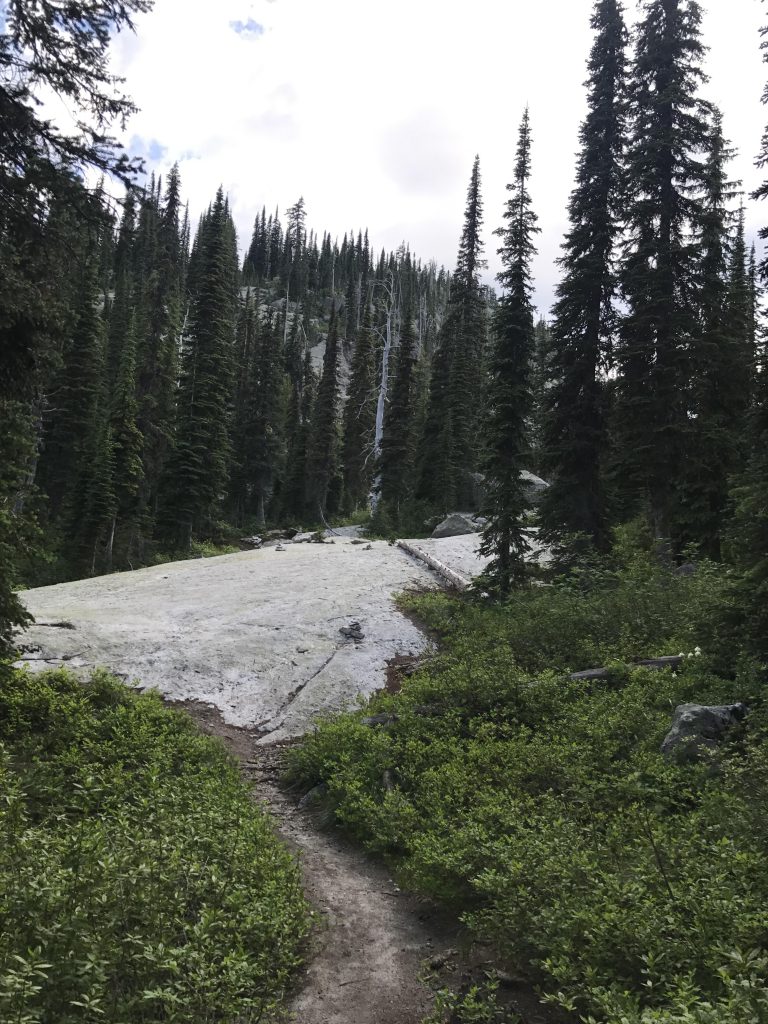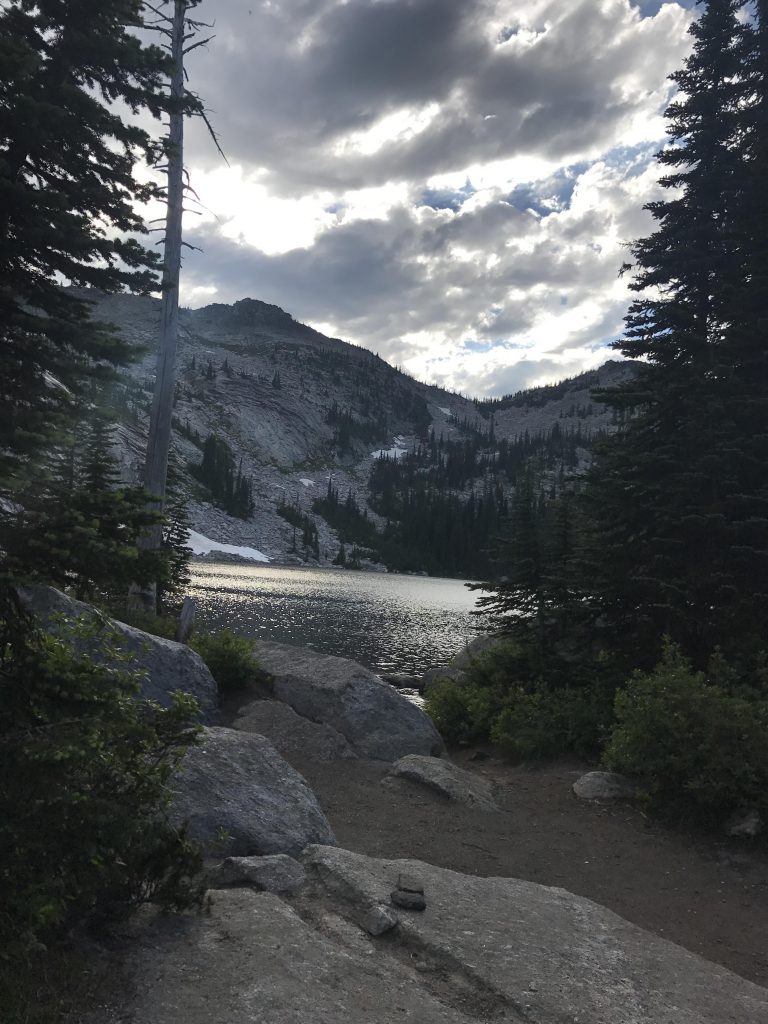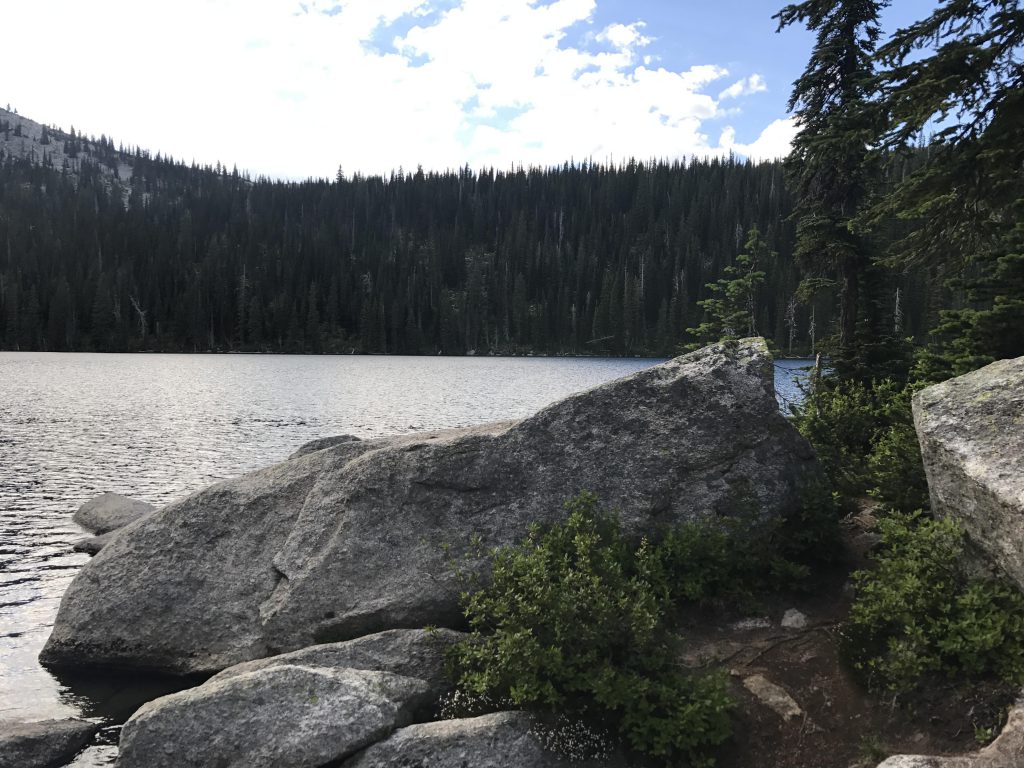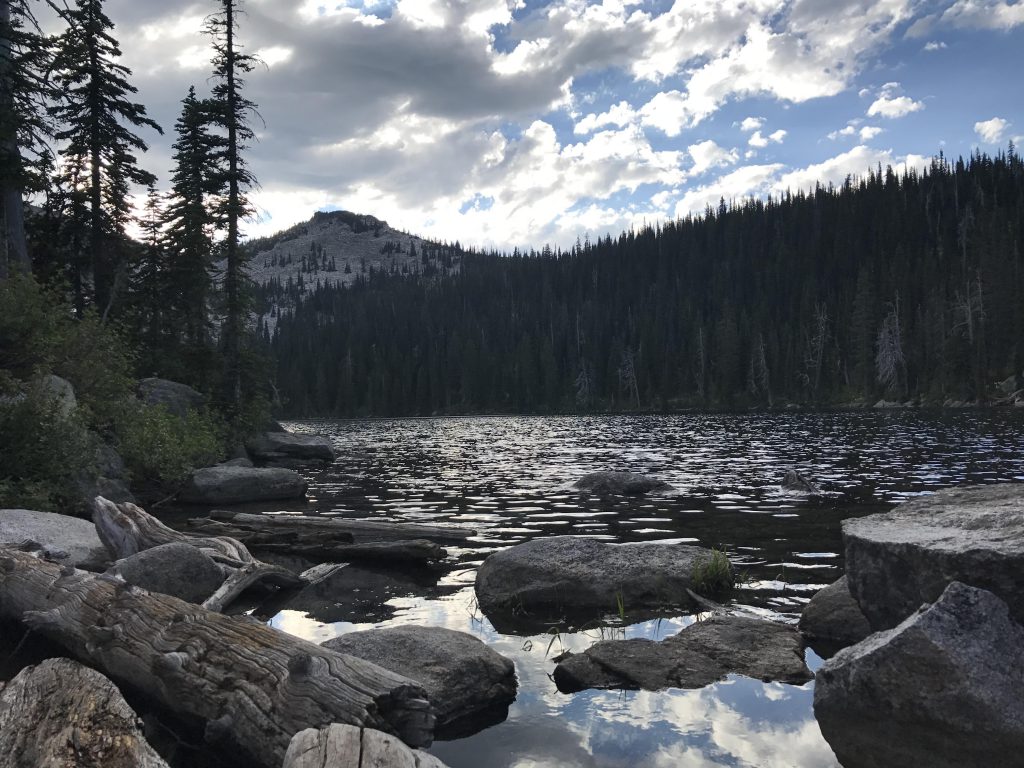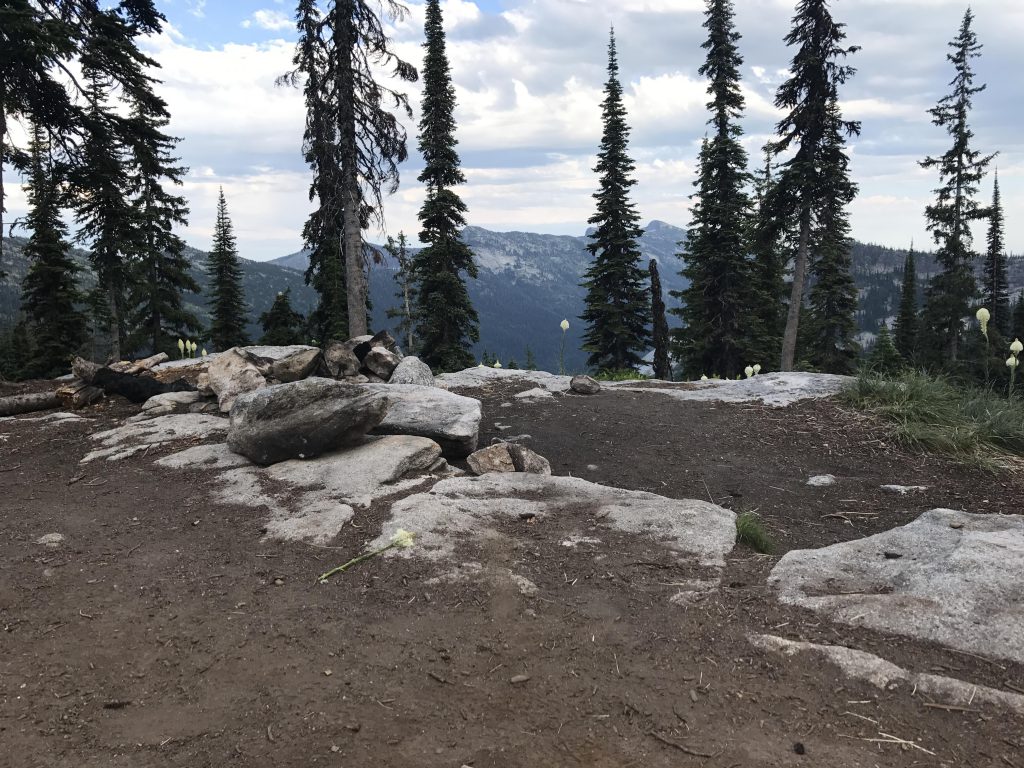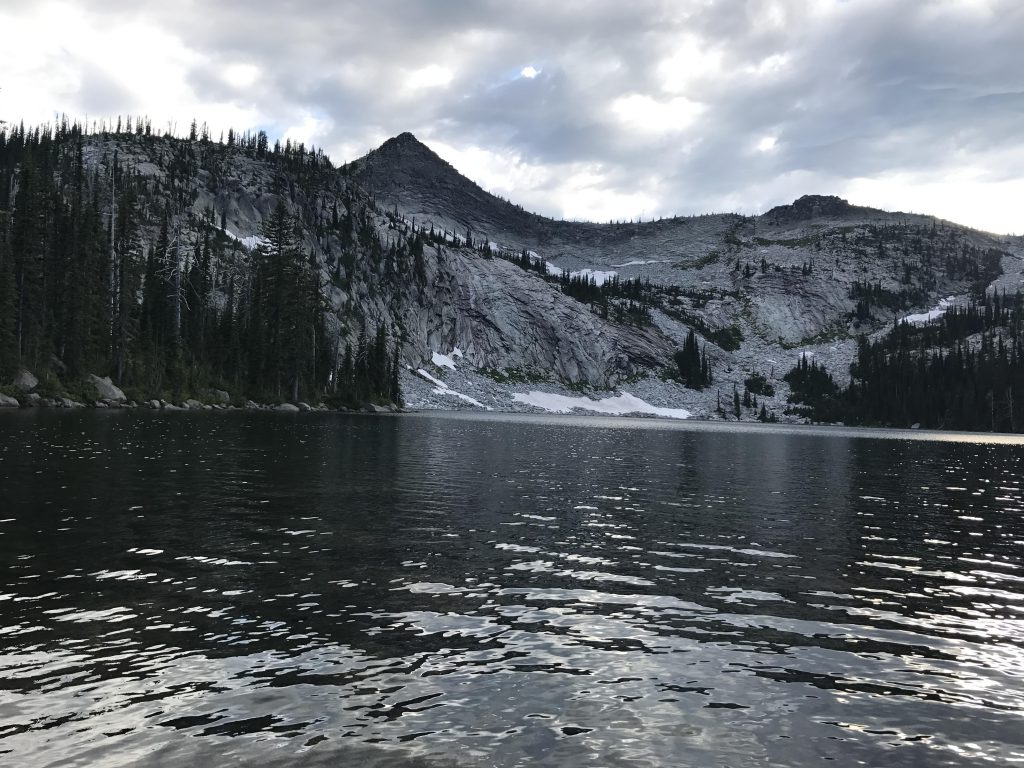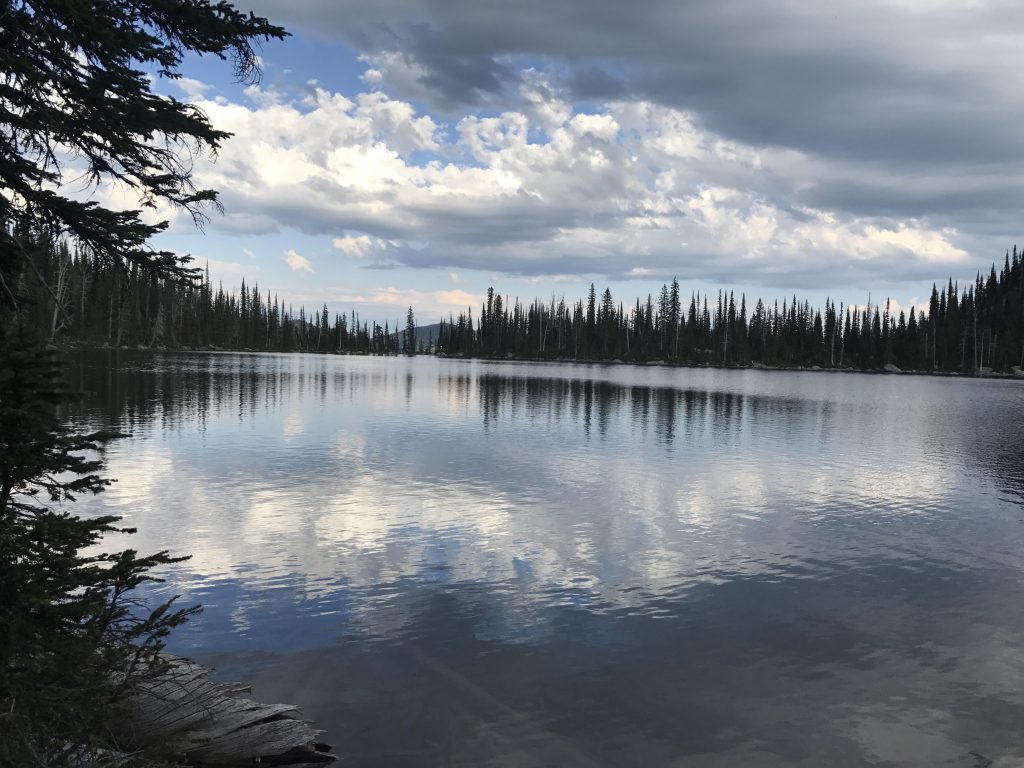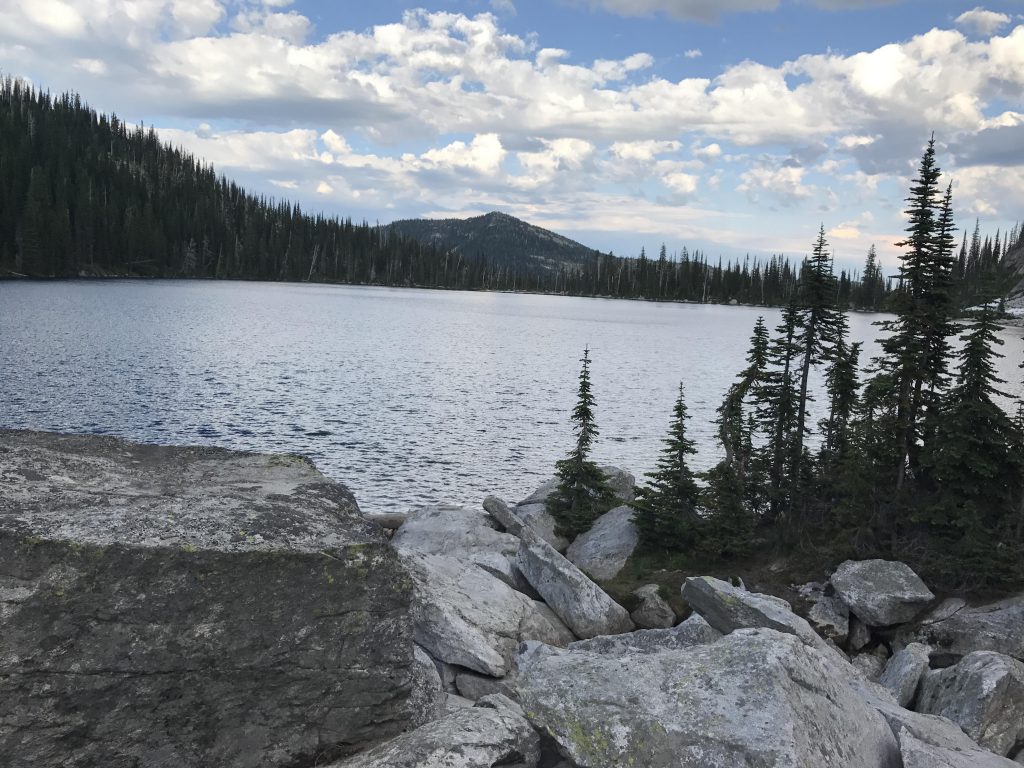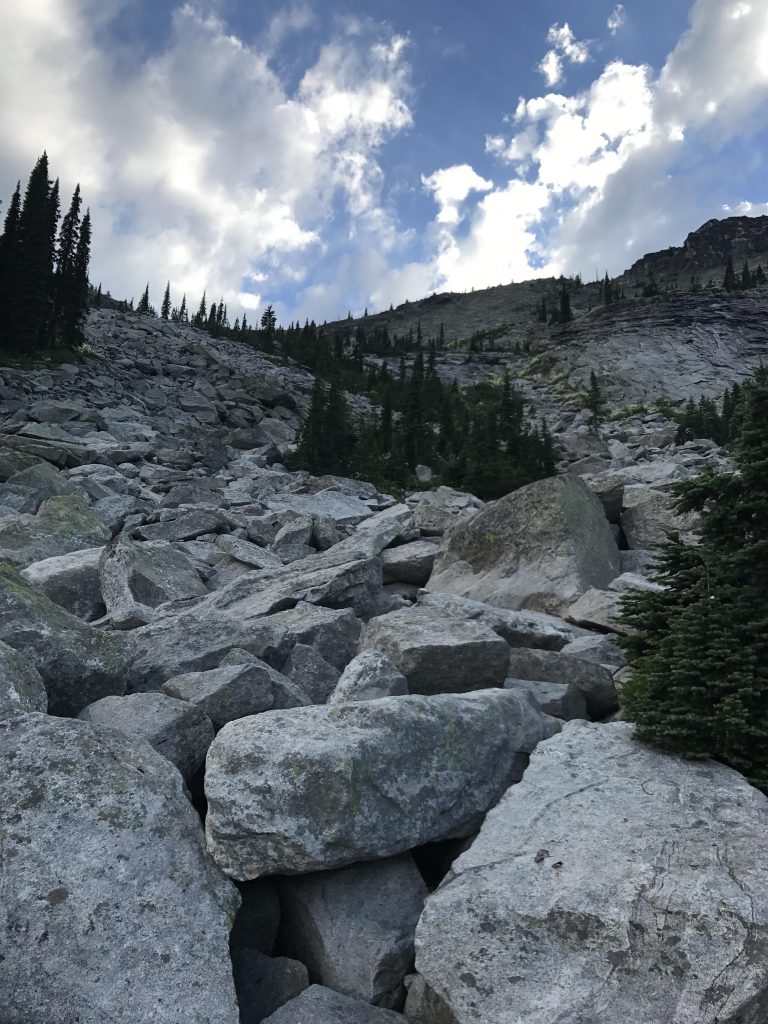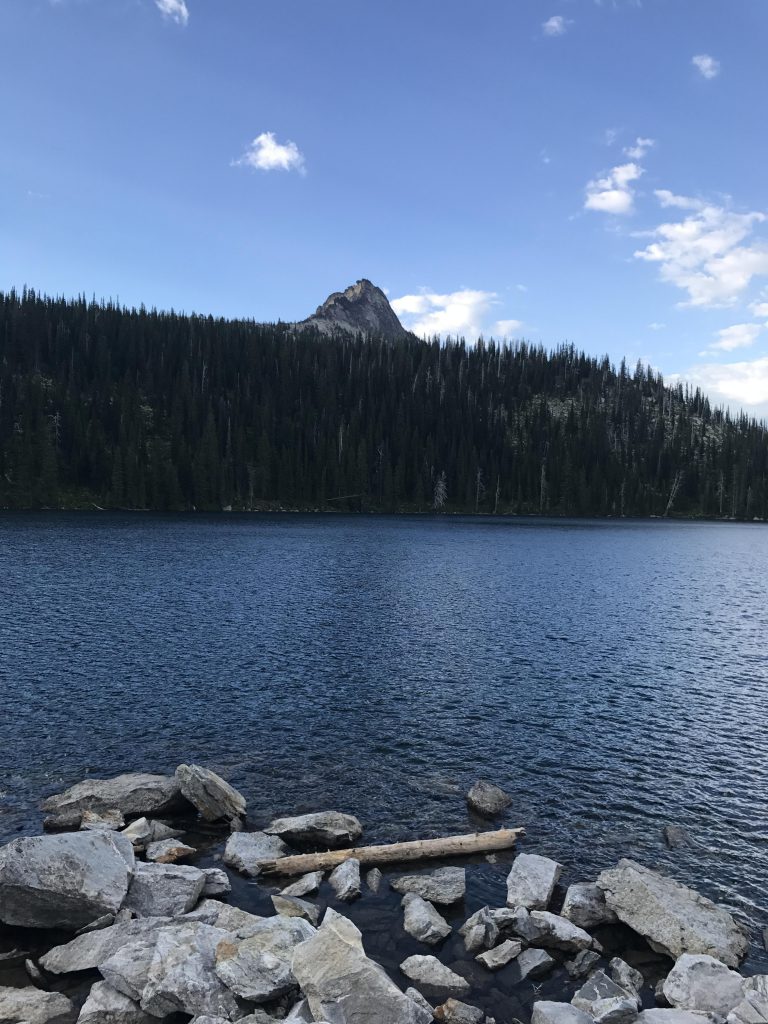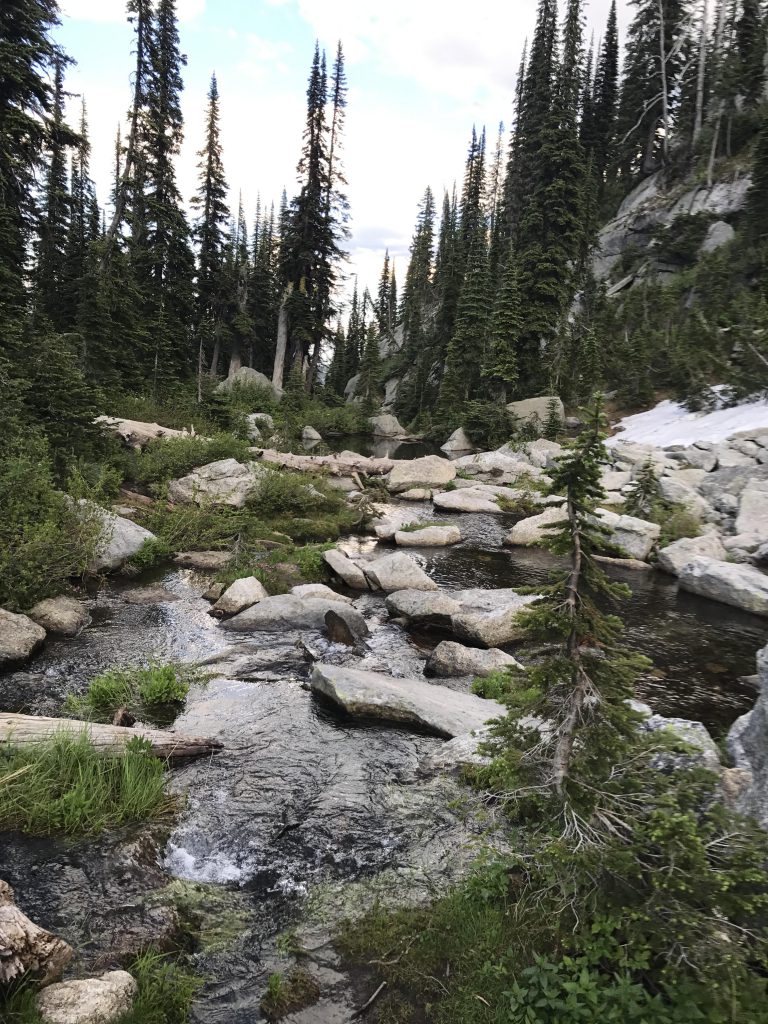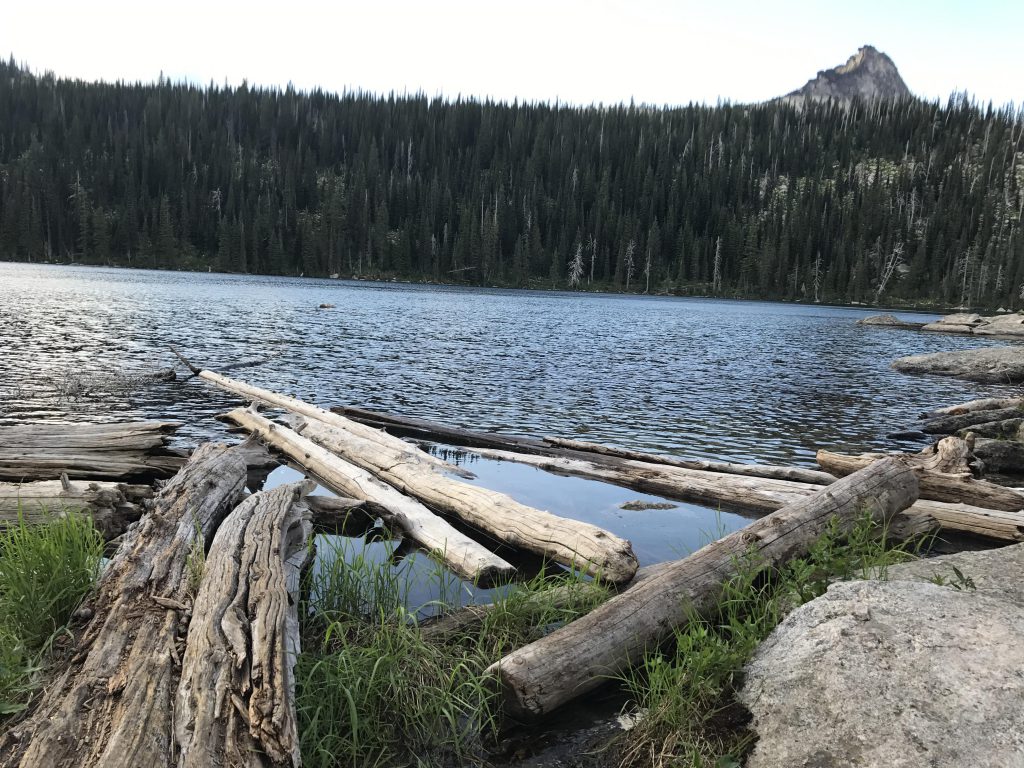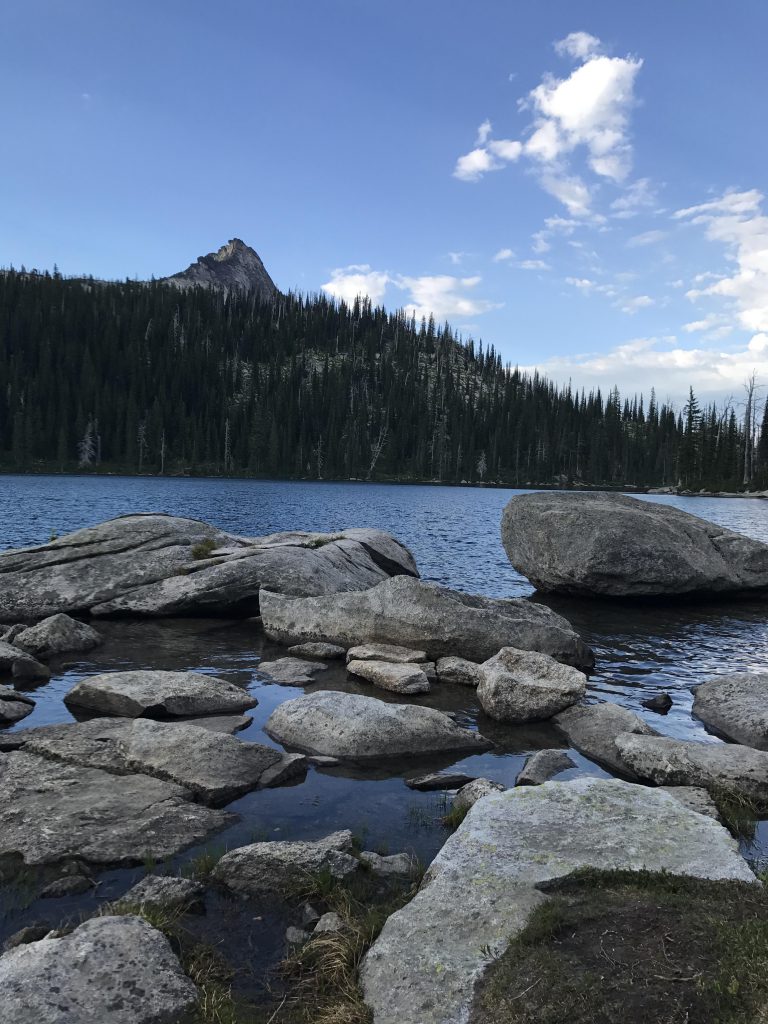 © 2016 – 2023 NaughtyHiker. All rights reserved. No duplication without permission.