Virtually constant access to water, lots of shade, a phenomenal flora, and a comparatively easy climb make this a pretty summer hike, despite its low elevation. The lake is perfect for a quick dip, if you can take the ice-cold chill!
Location
Cabinet Mountains
Rating
3.2 out of 5
Difficulty
Moderate (some uphill hiking)
Distance
8.7 miles
Duration
3:21 hours moving time (hiking)
Elevation Gain
1,720 feet
High Point
4,781 feet (St. Paul Lake)
Low Point
3,069 feet (trailhead)
Trail Type
Out-and-back
Trailbed
Packed dirt, loose rocks
Trail#
646
Water
Almost throughout the hike (East Fork Bull River and its tributaries; St. Paul Lake)
Status
Wilderness Area
Administration
Kaniksu National Forest
Conditions
Excellent. We hiked this just after a trail maintenance crew had gone up. Thanks guys!!
Permits
None required
Camping
At trailhead and at south shore of St. Paul Lake. An additional site sits ahead of the lake just before you get over the lip. There is a pit toilet at the trailhead
Maps
USGS Elephant Peak
Trailhead
From MT-200, about 5 miles north of Noxon, take MT-56 north for 8 miles. Turn right onto FS-407 and follow it to the trailhead (6 miles). There are a few forks in the road, all signed (look for signs to trail #646).
​
Google Directions (48.122045, -115.700383)
Season
June – October
Squirrel Density
Lots, especially at the lake. Horses are allowed to use the trail but can't be at the lake
Features
Lake, Grove
Distance From

Coeur d'Alene 104.2 miles
Lewiston 217.8 miles
Sandpoint 58.4 miles
Seattle 408.2 miles
Spokane 130.3 miles

Resources
Nearby Hikes
Date
July 15, 2018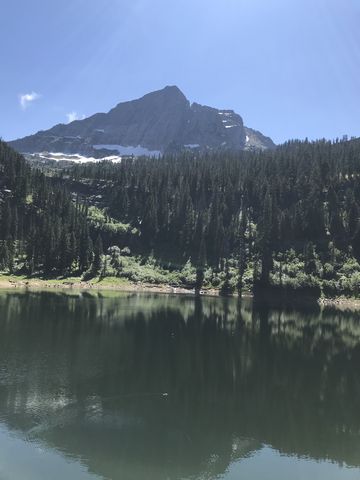 The St. Paul Lake Trail almost immediately enters the Cabinet Wilderness Area, as it winds through dense cedar-and-hemlock forest along the East Fork Bull River. The forest floor is lush and green with mosses and ferns and devil's club. At a gradual climb, the trail at first moves away from the creek, only to re-approach it at the half-mile mark. Then it moves away once again, crossing a few tributaries (easy rock hops) and passes a small pond with a natural spring and the clearest water. Isabella Creek is crossed on a handy log (though you could probably manage a rock hop as well) and soon after you reach Placer Creek, which would be difficult to cross were it not for the heavy-duty bridge making life easy. Afterwards the incline picks up a bit, but the trail remains nicely forested as it climbs through old-growth cedar groves. There is one more major crossing, accomplished on a lengthy log (you actually have the choice of 2 or 3). About a half mile before ahead of the lake, the trail crosses a basin thick with alder and thimbleberries where you'll get a first glance of St. Paul Peak, then switchbacks up to the lip of the lake. The lake, incidentially, is very steep-sided, with the best approach from the southeast side, where it's relatively flat. The best campsite also is on that side of the lake.
​
Enjoy this hike? Let us know in the comments below!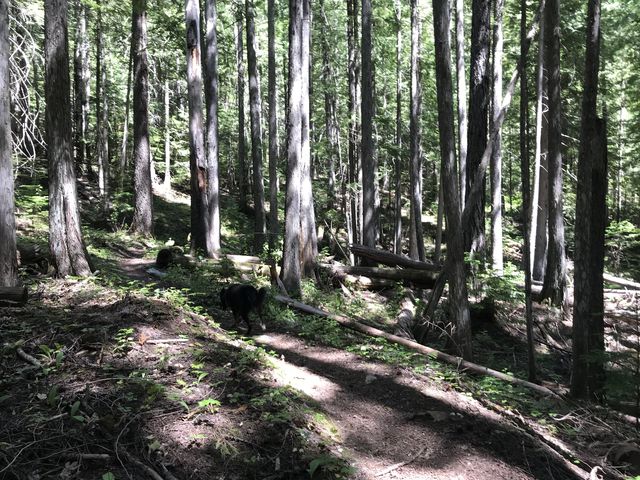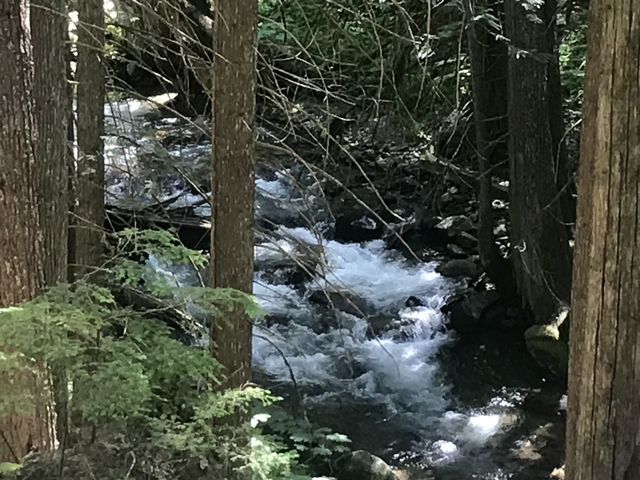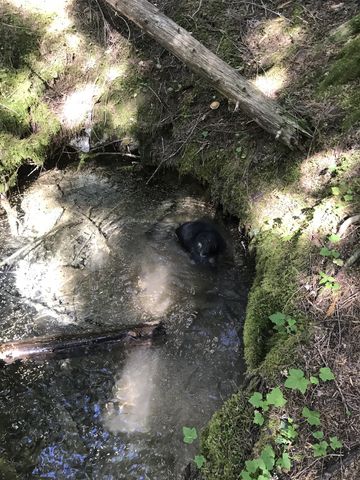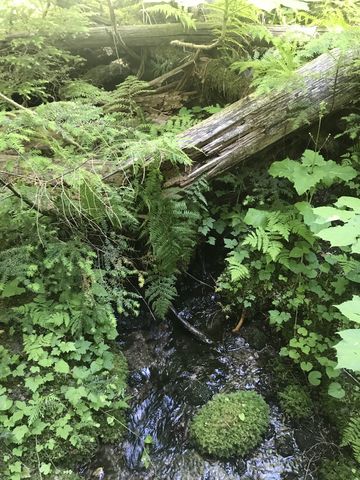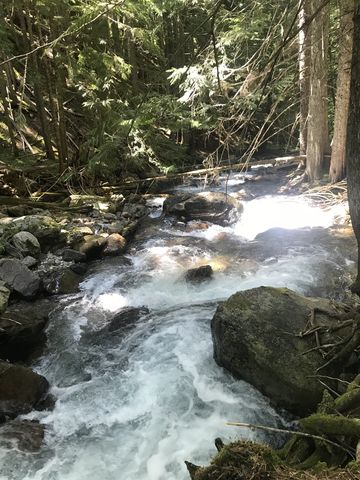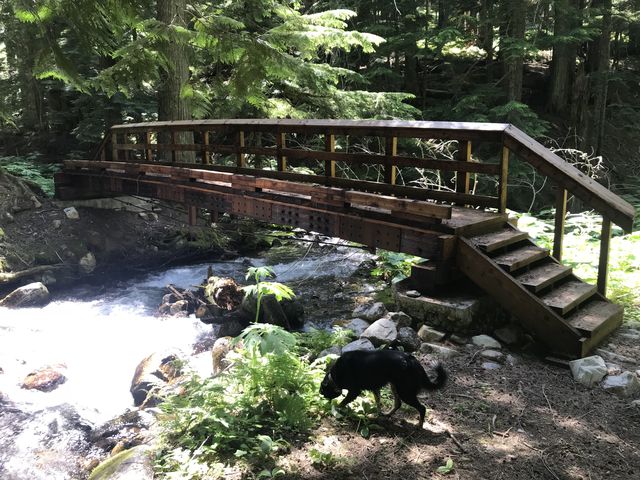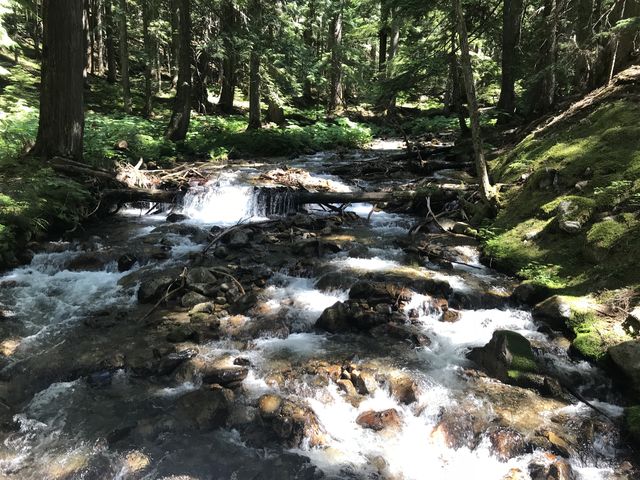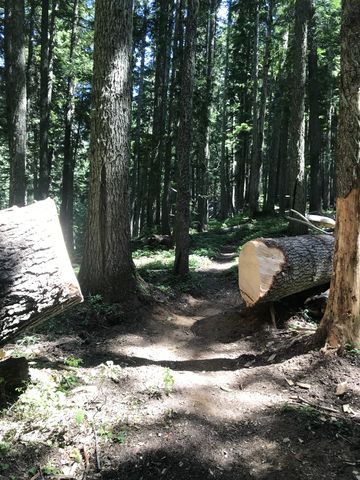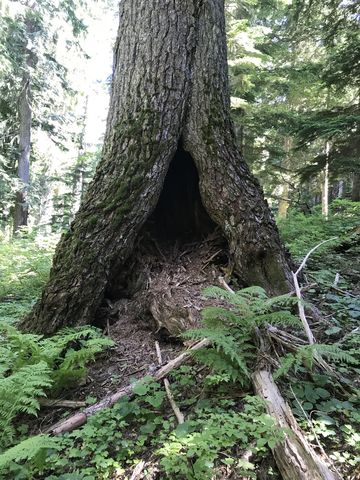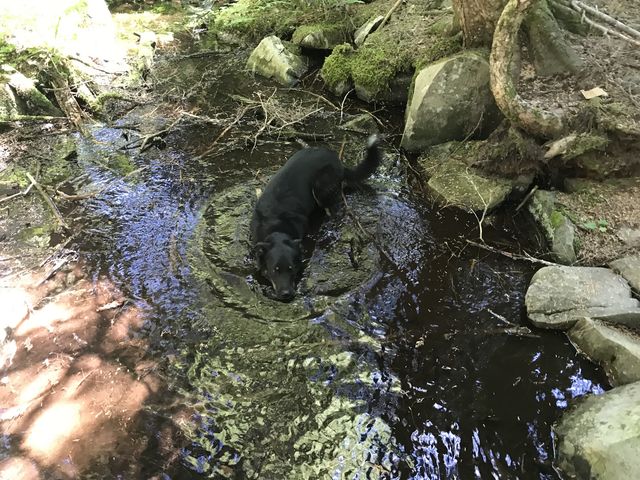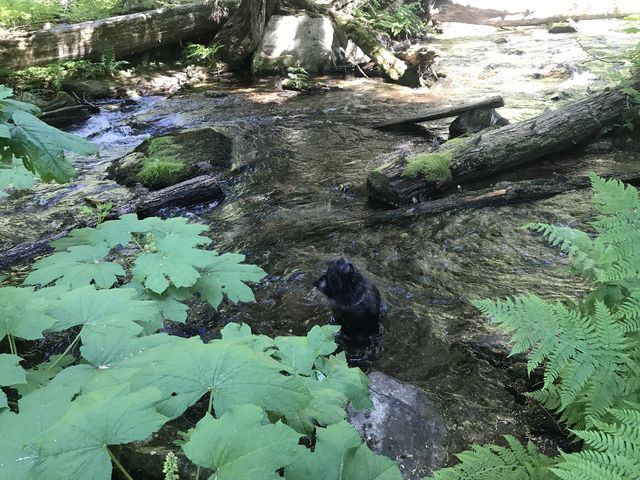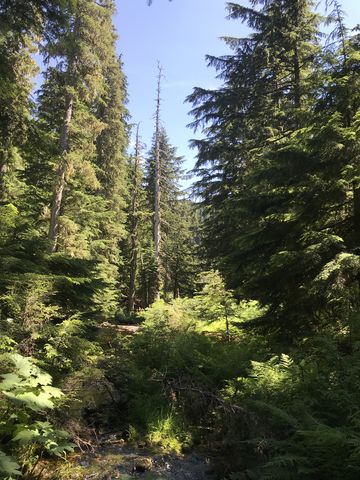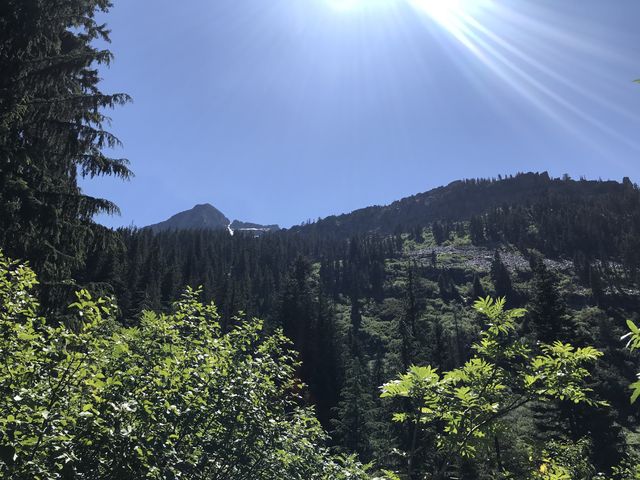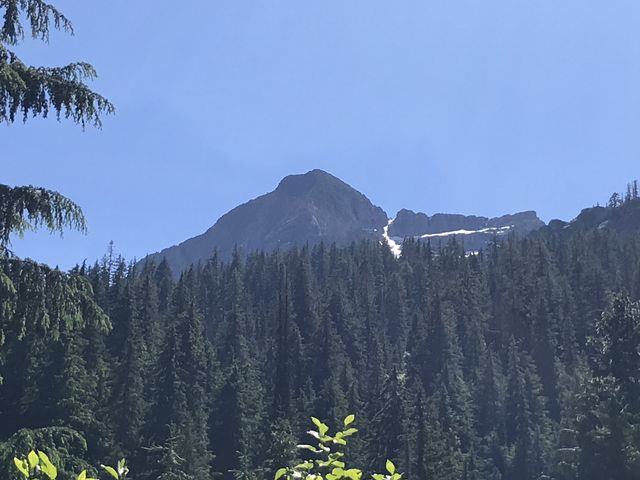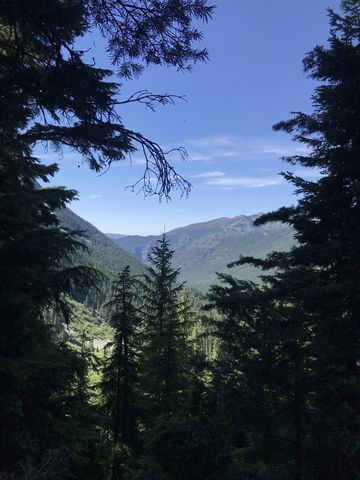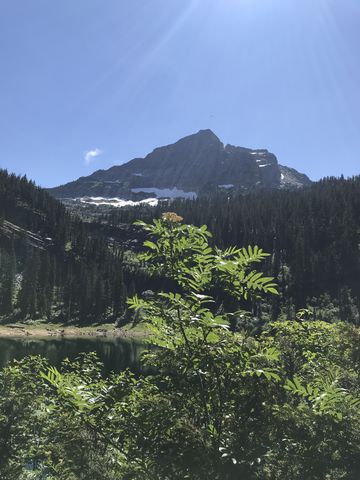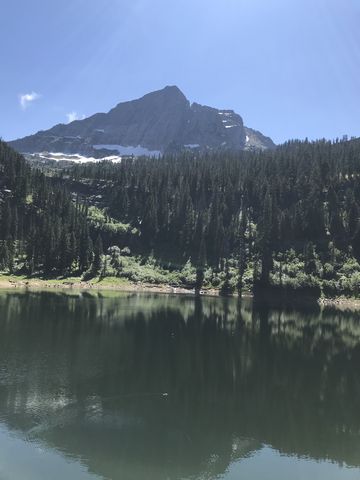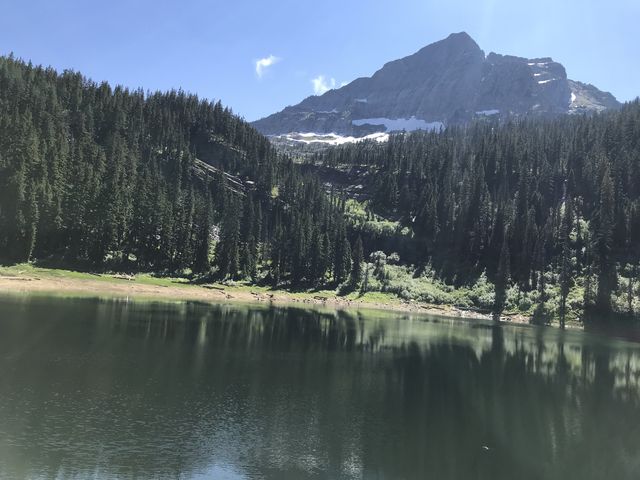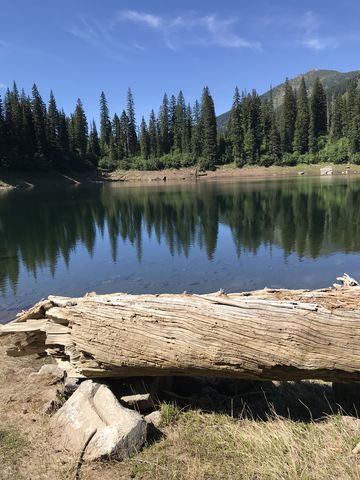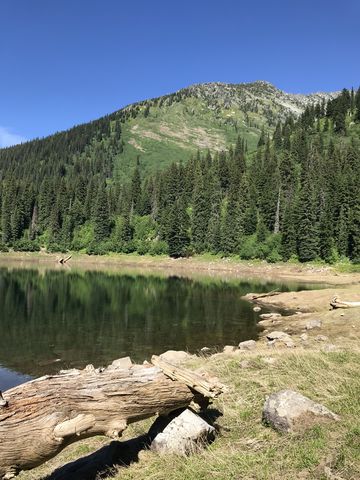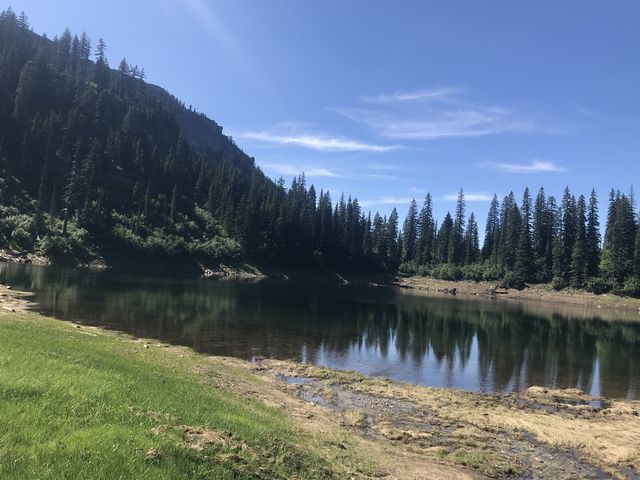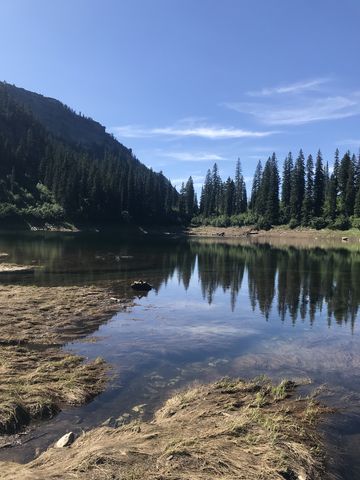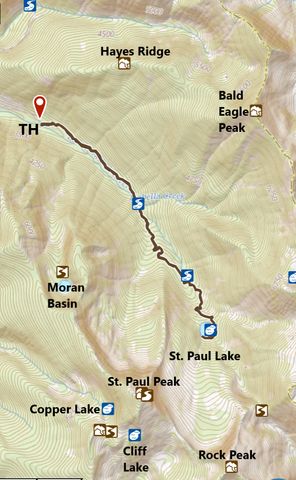 Alternate Routes
You could climb to St Paul Pass and cross over to Rock Lake. There is no maintained trail, however.
© 2016 – 2018 NaughtyHiker. All rights reserved. No duplication without permission.
​