Sweeping views, endless strings of alpine lakes and vast meadows are the hallmarks of the proposed Great Burn Wilderness. This loop explores an old mining settlement, visits many of the lakes, and climbs to the top of Schley Mountain for grandiose views into the canyons and ridges traversed earlier.
Difficulty
Moderate (uphill hiking; trail 110 is strenuous due to trail conditions)
Duration
19:21 hours moving time (Hiking)
High Point
7,320 feet (Schley Mountain)
Low Point
3,330 feet (Trailhead)
Features
Grove
Lake
Meadow
Mountain
Structure
Waterfall
Trailbed
Packed dirt, loose rocks, talus, old forest road
Water
Fish Creek
numerous lakes on the stateline divide (but many of these are difficult to get to)
Goose Lake
Fish Lake
Mud Lake
Kid Lake
Camping
Clearwater Crossing (car campground; 3 sites)
Greenwood Cabins
Fletcher Gulch
Goose Lake
There are numerous suitable sites on the stateline ridge, but all are dry
Upper Siamese Lake
Tarn a mile or so ahead of Fish Lake
Fish Lake (ATV campground)
Unnamed lake below Admiral Peak
Mud Lake
Kid Lake
Junction trail 110 and FR-7734 (car-camping)
Junction trails 110/101
Pit toilets are located at Clearwater Crossing, Greenwood Cabins, Fish Lake (2), and junction of trail 110/FR-7734
Conditions
For the most part fairly good
Trail 110, below FR-7734, was in deplorable conditions. Across Schley Mountain it was brushy
Administration
Lolo National Forest
Clearwater National Forest
Status
Proposed Wilderness
Maps
USGS
Bruin Hill
Saint Patrick Peak
Schley Mountain
Straight Peak
Directions
From I-90, take exit 66 (perhaps 40 miles west of Missoula) and turn south onto Fish Creek Road. After a mile or two, at the Y, bear left (Upper Fish Creek Road). The road will eventually turn to gravel and soon after merges with Lower Fish Creek Road. About 9 miles from the freeway, turn right to stay on Fish Creek Road. Continue for another 7 miles past Hole-in-the-Wall Ranch to Clearwater Crossing. I did not see trailhead signage (there is signage, but it is only for trail 101). Trail 103 moves along the north side of the Forest Service's equine paddocks. It is quite heavily used and hard to miss.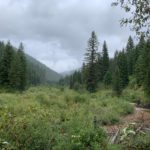 The plan for this year's backpacking trip was a grand loop through the Eagle Cap Wilderness in Oregon. With wildfire smoke blowing in that general direction, an executive decision somewhere 3 to 4 feet above me triggered a change of plan and the car headed east instead of west, the steady pitter-patter of rain on the windshield notwithstanding. Being fairly waterproof, this didn't disturb me much and I settled in for a three-hour nap. By the time we reached the trailhead, the rain had stopped, but the landscape was thoroughly soaked, including the campsites, corrals, and unoccupied ranger station at Clearwater Crossing. There is signage for a trailhead, but it merely leads to the starting point of trail 101. Trail 103, North Fork Fish Creek, was not signed (or we simply didn't see it) and so we wandered across the Forest Service's horse paddock, finding the trail in good condition on its north side. You ought to see the trail by starting to the right of the old log cabin behind the ranger station, staying north (right) of the paddocks.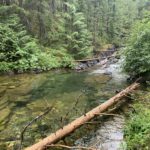 While the trail was in good condition, the shrubbery on both sides of it was dripping wet and all too eager to unload its moisture on any passersby. Needless to say, the Scribe's shoes, socks, and pants were soaked in minutes. Not much of a problem for me, as a good shaking typically takes care of it. The incline on #103 is relatively modest as it progresses through an old burn (2015) north of Fish Creek to the junction with trail #99 about a mile from Clearwater Crossing. Bear right to stay on #103 and leave the old burn behind. The trail is nicely wooded, but you'll still have frequent opportunities to look up and down the creek valley, which is U-shaped. In our case, though, low-hanging clouds obscured the views. The trail always stays to the north of N Fish Creek, for the most part hugging the hillside slightly above the creek, but it does descend to the creek every so often if you're in need of a refreshing dip in one of its many inviting pools. Water is generally easy to come by, as the trail crosses a slew of tributaries. There is no official trail to Crater Lake, but about 4 miles from the trailhead is a fork, with the left prong a fading trail leading down to N Fish Creek and presumably up the other side to Crater Lake (we did not check it out). Shortly ahead of Greenwood Cabins, N Fish Creek sports a nice waterfall.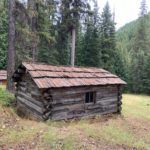 Greenwood Cabins is an abandoned mining hamlet, where 20 Chinese miners tried their luck to no avail. Most of the original structures are in various stages of decay, but 2 cabins were restored, with one accessible to the public. Although the cabins are by no means air, water, or rodent-proof, this location clearly is a popular campsite, perhaps due to the privy hidden in the woods. Greendwood Cabins is also the end point of trail #176 from Quartz Creek. Within less than a mile of the Greenwood Creek crossing follows French Creek and a trail up to beautiful French Lake (see separate report).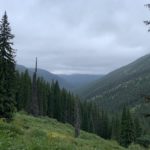 Beyond French Creek, the trail continues to parallel N Fish Creek through woods made up increasingly of cedar and hemlock. About a mile after French Creek is an open meadow and a campsite in the woods. This may be a turnaround point for trail riders starting out at Hole-in-the-Wall Ranch because the trail clearly is less used beyond (but still in good condition). Near Fletcher Gulch, the trail enters a true old-growth cedar forest that, judging by the size of the trees, even survived the 1910 Great Burn. An outstanding campsite awaits at Fletcher Gulch Creek, nestled between giant cedars. After crossing that creek (it actually is the outlet of Dalton Lake, with Fletcher Gulch a tributary), the trail starts to climb in earnest, soon leaving the forest behind and exchanging it for vast hillsides covered in shrubs. The eight or nine miles to Fletcher Creek entail somewhere around 1,000 feet of elevation, while the next 3-4 miles promise nearly three times as much. The nice thing about the openness is that views of Crater Peak and the N Fish Creek valley are phenomenal. Or would have been, had it not been for the low clouds obscuring the peaks and slinking across Stateline ridge. The trail moves uphill in sweeping switchbacks, crossing and recrossing the same shrub-covered meadow over and over, occasionally creeping in and out of forlorn-looking remnants of forest.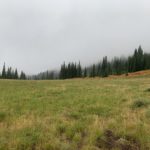 About a half mile from the ridge is an unmarked intersection to Trio Lakes. Originally, we'd wanted to camp there, but the Scribe looked quite miserable in his soaking-wet pants. We'd basically not stopped at all thus far, because he started shivering every time we did stop, and hypothermia, though remote, became a concern. Goose Lake, we decided, would be the better bet for the night and an easier bug-out location should tomorrow bring no improvement.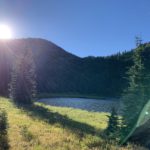 Goose Lake lies just across the ridge in Idaho, at the edge of a broad meadow, and is likely bug-prone during warmer days. This clearly was not going to be a problem. Moose are common, but we didn't encounter any. There are 2 campsites, both obviously frequented by equestrians, one near the outlet in a small forest (we picked this one), and the other further east, near the inlet. I investigated the meadow, while the Scribe set up the tent, cooked dinner, and boiled tea. His plan was to quickly get into the sleeping bag–never mind that it was still daylight–to warm up. As a black bear made an appearance on the far end of the meadow, however, he decided that a small fire would be more appropriate. It wasn't a huge fire, comprised mostly of the dry sticks growing near the bottoms of fir trees (everything else was wet), but it was enough to transform his pants and socks from dripping wet to somewhere between moist and wet. At eight he called it quits, crawled into his sleeping bag, stuffed me into one of his long-sleeved shirts, donned his balaclava, and slept for 12 hours straight.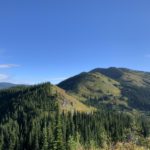 The next day brought zero clouds and bright sunshine! I was out and about as soon as the Scribe unzipped the tent, checking on the sun, signs of bear, a delicious–albeit picked clean–abandoned shin bone, and a heron fishing the lake. The Scribe took down the tent, ate breakfast in his still moist pants, and hoped he wouldn't get wet anymore. By nine we were moving again, now on trail 738, climbing along the west side of the lake through open forest that was as wet as it had been the day before. So much for drying pants! By the time we made it to the ridge (about a mile), shoes, socks, and pants were saturated through and through. But the ridgeline was a much more conducive environment: we were mostly in full (warming) sun, enjoyed grand views, benefited from a steady pant-drying breeze, and the shrubbery consisted primarily of low-growing heather that was all but dry. Things looked better indeed!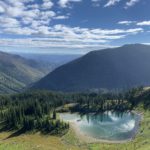 From the ridge you get excellent views up the bare hills on the Stateline ridge towards where Dalton Lake and the Trio Lakes are located, while to the east the N Fish Creek valley unfurls in its entirety. For the next 10 miles the trail follows the stateline closely, a roller-coaster taking you across multiple unnamed peaks, though thankfully bypassing the highest ones, and offering incredible views primarily of the Montana side. Numerous alpine lakes dot the landscape, of which most are not trail accessible. The Scribe, easily mesmerized by mountain lakes, would insist on sitting on the edge of the ridge above each and every one of them and watch the wind blow ripples across the lake's surface or the shadows of the clouds glide ghostly over the water and effortlessly climb the open hillsides. Me? I showed a mule-deer doe the way to Steep Lakes, played hide-and-seek with a couple whitetails and put the chipmunk population in top shape.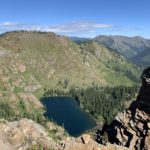 The most prominent lakes along this stretch are the Steep Lakes, on the Idaho side, and as their name implies they are essentially inaccessible. The Straight Lakes on the Montana side are doable, but it's quite a bit of downhill hiking, off-trail. Upper Siamese Lake (also on the Montana side) is an excellent candidate, as it is trail accessible (see separate report). In addition, there are several unnamed tarns, the first shortly after reaching the Stateline ridge (you shouldn't need any water at this point as it is only a mile from Goose Lake). The second is a small tarn (it is shown on the map as a tiny dot on the Montana side when you are between the Steep Lakes) that is very close to the trail. Two more are within a couple of miles of Fish Lake. The further one is too much work, so take the one closer to Fish Lake; it even has its own spur trail!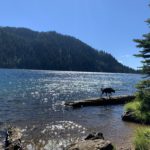 Shortly before leaving the ridge is the fork with trail #101; going right leads down a quarter mile to the ATV campground on Fish Lake and its 2 privies. Follow the lake on the ATV trail to its eastern end and here trail 738 heads back up to the stateline. Before reaching stateline, however, is the fork to the trail leading across Bruin Hill to Kelly Creek. Turn left instead and climb steadily to stateline (there is no sign of trail #428 as shown on older maps), then cross it and before dropping down to an unnamed lake step out on a rocky ledge for a good look at said lake, Admiral Peak in the distance, and the burnt hillside across which the trail traverses en route to the lake below. Then continue on the trail through said burn for a bit over half a mile, steeply downhill, to the lake. There is a spacious campsite in the woods near the outlet. The lake is the last reliable water source before reaching Mud Lake, which is still a few steep miles away.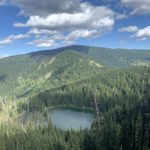 The trail immediately climbs again, but not too steeply, and regains the Stateline quite quickly. It then bypasses an unnamed peak by dipping into Idaho (that is, contouring along the side of that peak) to a saddle that once was the junction with trail #493, N Fork Kelly Creek. There was no sign of that trail; it probably is discontinued. Views of the N Kelly Creek valley are wonderful, however! Thereafter, the trail gets steeper (brutally so, the two-legged members of our party insist, but I don't recall any such thing) as it ascends Admiral Peak, but once again the trail diverts into Idaho, all the while ascending. Side note: Admiral Peak is at more than 7,200 feet, but no cell phone signal.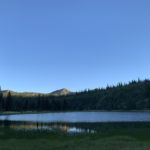 Past Admiral Peak, the trail drops, with good views into both Montana and Idaho. It's a bit over a mile to Mud Lake, and you can spot it from above while it's still quite a bits (half a mile) away. The lake is rather shallow and sits on a grassy shelf. The best campsite is at the northern end, heavily used by horsemen. It was difficult to scoop water out of the lake because it was so shallow; your best bet is tiptoeing out on a submerged log. I did not encounter much wildlife there, though I looked thoroughly. No fire this time, which was just as well because it was dark by the time the Scribe put away our dishes.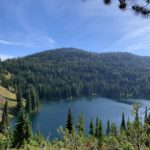 The next day came quicker, the Scribe not having to fight off a near-hypothermia coma. We were on the trail by 7, once again climbing up towards Stateline. You are supposed to see the Cedar Log Lakes below along this stretch, but we did not find an opportune spot. No matter, we'd spot it later from Schley Mountain. The Stateline trail climbs to 6900 feet, then drops into a broad basin on the Idaho side. The basin is rather rocky with little forest and great views. Within half a mile, Kid Lake comes into view, and dropping further you're at its outlet in no time. The lake is far nicer than Mud (though Mud was nice in its own way too). Near the outlet is the junction to Kelly Creek trail 567, but instead cross the outlet and climb on an old logging road uphill.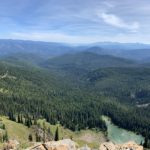 As this trail climbs and crosses a number of talus slopes and alpine meadows, you catch good views into the Kid Lake Creek valley. About a mile from the lake, the trail moves back into Montana. Remnants of the Stateline trail heading southeast remain (an old twintrack), but it is not signed and I believe discontinued. Declining into Montana is trail 110 (though it appears that this section is renamed 738) on an old logging road. Shortly, there is a fork, with the left prong leading to an old mine. Continue straight and momentarily you'll be at the gated trailhead (FR-7734). Continue on FR-7734 for perhaps 500 feet to a switchback and a brook. Trail #110 resumes here, climbing up to the right whereas the brook comes down from the left. Trail 110 is quite brushy (alder) as it ascends for 2 miles to Schley Mountain. It actually bypasses the mountain, so make sure to take the obvious spur trail to the right when you are below the peak; the trail curls around the mountain (very brushy!) and emerges on a talus top with all-around views and a cellphone signal (Verizon).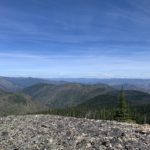 From Schley Mountain the trail drops down to FR-7734 at Schley Saddle (campsites and privy). It continues on the far side of that road in deceptively good condition. The first 2 miles are excellent, following an old logging road through nicely shading woods and when that logging road gets too steep, the trail drops off to the right and switchbacks easily above Surveyor Lake (that lake is off trail and invisible). The trail then contours for a bit, crosses the ridge and the old logging road, then steadily descends on the western side of this northern finger of Schley Mountain. Soon, the trail enters an old burn and this is where the trouble starts. Increasingly, the tread gets harder to find and becomes more littered with logs. Quickly, the trail, or what is left of it, gets swallowed by waist-high rhododendrons. It goes on like that for two arduous miles. When you think it just cannot get worse, the rhododendrons get reinforcement from head-high spruce trees. Not pretty. There are a few islands of forest remaining where the going is easier, if you're still on the right trail. Which we were, not so much due to GPS but due to the superb trail scouting skills of yours truly. This middle section of trail has clearly not received any care in years, but it's still signed and shown on the trailmaps. You may want to rethink the route. Alternatives are 104 and 121, but who knows what condition they are in?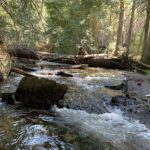 The last 2 miles on 110 are fairly good, with limited brush and still a few logs scattered here and there. This area was not burnt in 2015. Shortly before merging with trail 101, the trail enters a fabulous cedar forest and parallels Cedar Log Creek for a bit. The junction of 101 and 110 is an incredible location, with a bridge across West Fork Fish Creek. The bridge straddles a single cedar log. Great picnic area.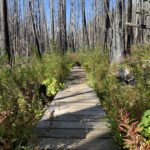 The last few miles along 101 were severely impacted by the 2015 fire. Most of the forest is burned, with an ocean of bleached snags left standing. You never know when they will fall. We heard (but didn't see) two of them crashing while we walked the section. It makes you walk a bit faster. As devastating as it was, it is also neat to see the shrubbery come back (the trail is in fact quite brushy) and some lodgepole pines already four feet tall. And, believe it or not, I even scared up a few squirrels in that tree cemetery! There once was a hanging bridge across W Fish Creek at Clearwater Crossing, but it must have fallen victim to the fire. Wading it is for the Scribe, swimming for me, and there is still quite a bit of current, even in September!
Alternate Routes
Potential side trips include French Lake #143 (see separate report) and Trio Lakes (#338)
Trail #176 provides alternative access to Greenwood Cabins from Quartz Creek
Stateline trail #738 extends north all the way to Mullan, Idaho
Upper Siamese Lake is trail-accessible from the Stateline Ridge. See separate report
From the ridge north of Fish Lake take #101 for the return trip
From just beyond Fish Lake, trail #490 extends to Bruin Hill and eventually Kelly Creek
From Mud Lake, return via trails 121 or 104, coupled with #101
From Mud Lake a spur trail leads to Upper Cedar Log Lake (#116)
From Kid Lake, trail 567 extends to Kelly Creek
You can make a shorter, "inner" loop by going up Straight Creek (#99), across Chilcoot Pass to Lower Siamese Lake, then return via #114/101. This is about 20 miles. Or, take #510 across Cedar Peak, an old lookout tower site
From the #738/#110 junction, the Stateline trail continues south, but this is no longer signed and no longer maintained. It leads to Leo Lake and Shale Mountain and potentially beyond (I did not check it out)
I did not find any evidence of trails #493 and #428, which are shown on the old USGS maps. I assume these have been replaced with 567 and 490 respectively
FR-7734 provides an alternative access point if you want to organize a shuttle. This avoids the mess on #110
Things to Consider
The fish in these waters are primarily bull trout and west-slope cutthroat trout
Bull trout is catch-and-release only
Cutthroat limit is 3 per person, under 10″. Over 10″ catch-and-release
No live bait or PowerBait allowed in lower Fish Creek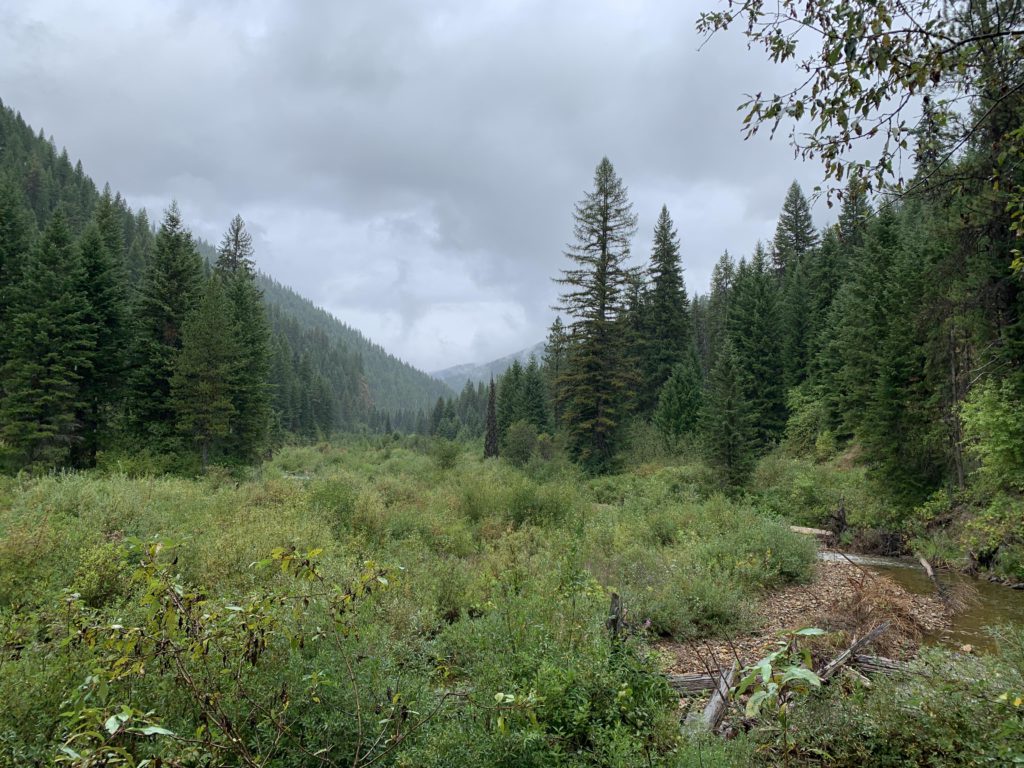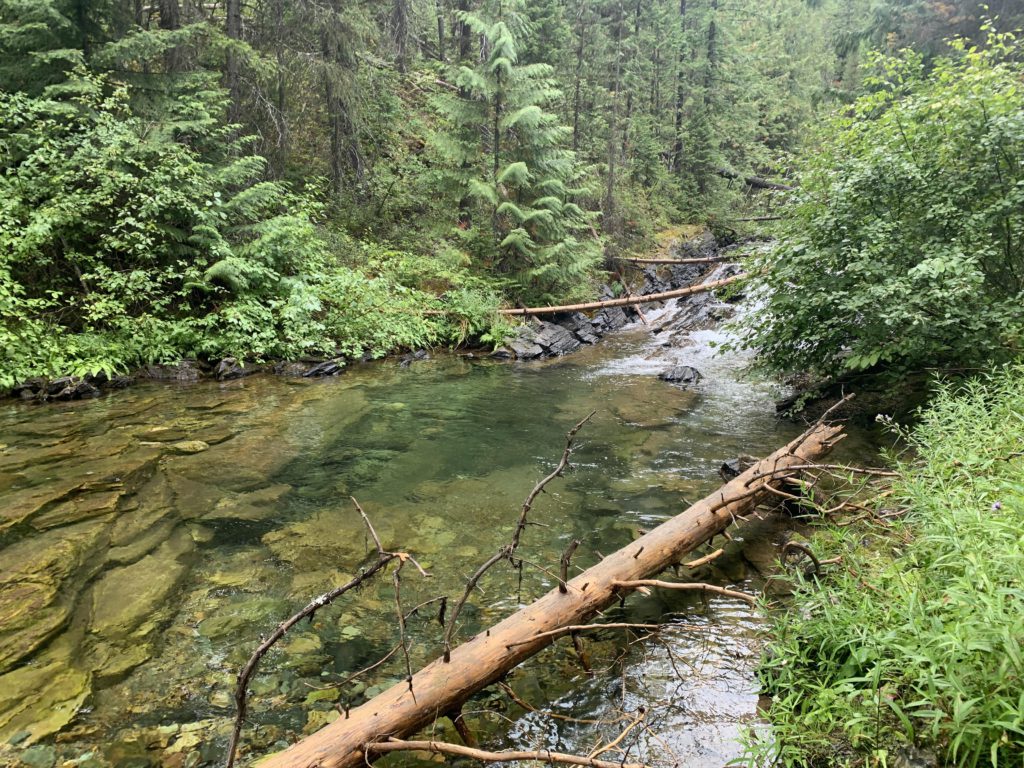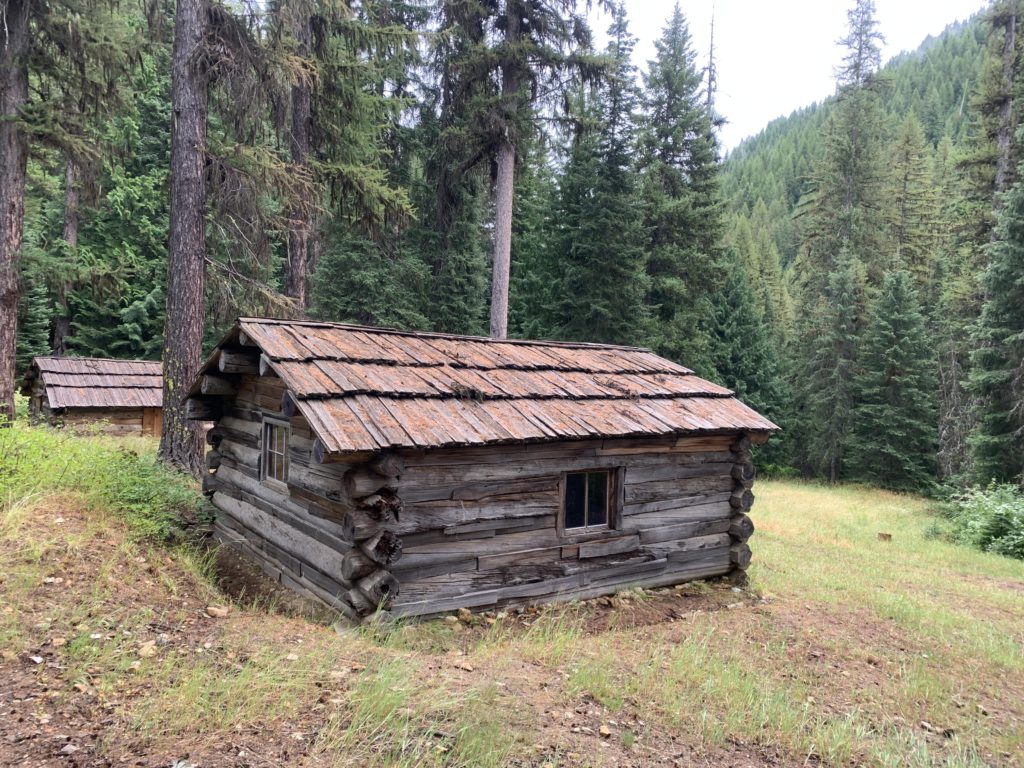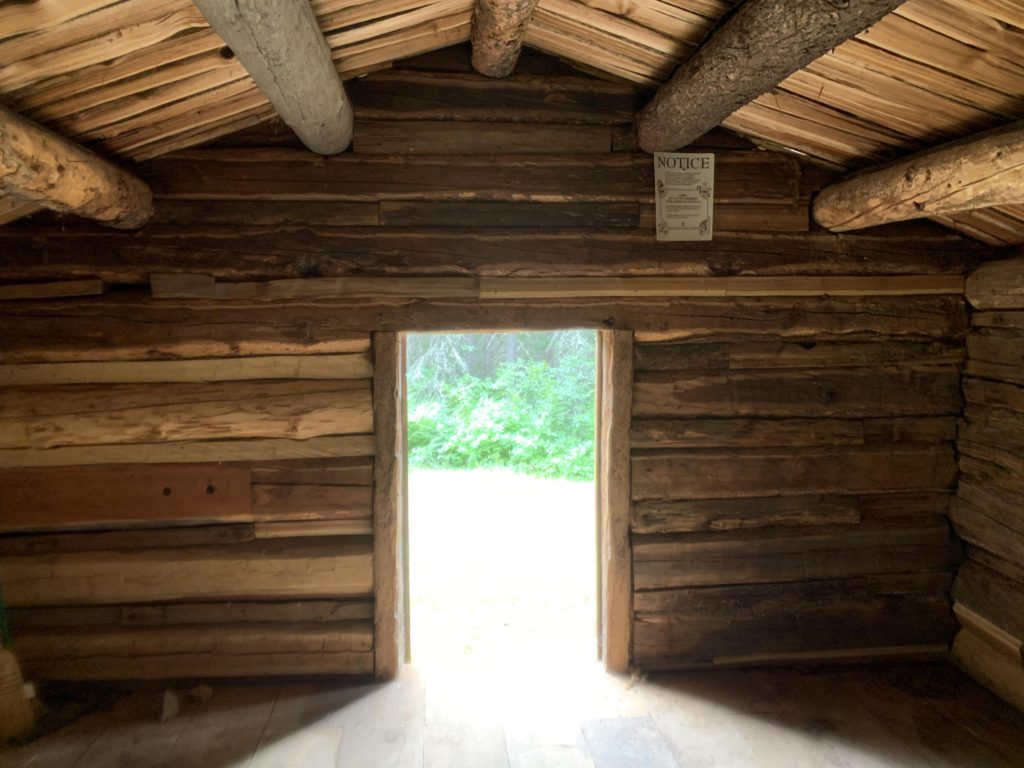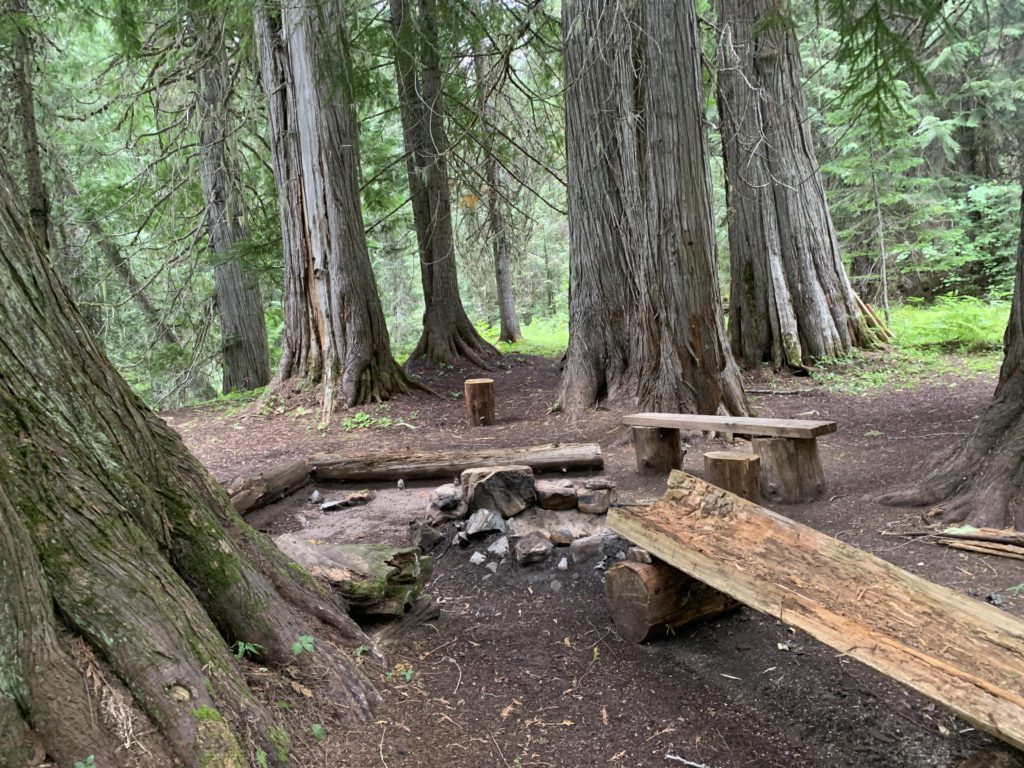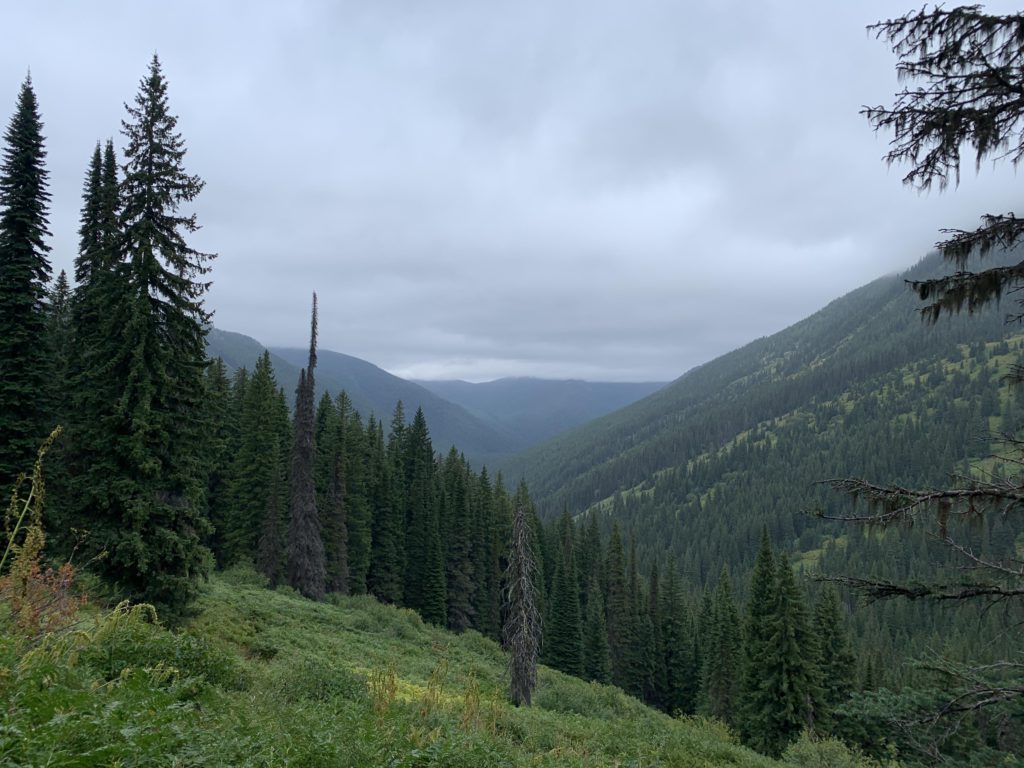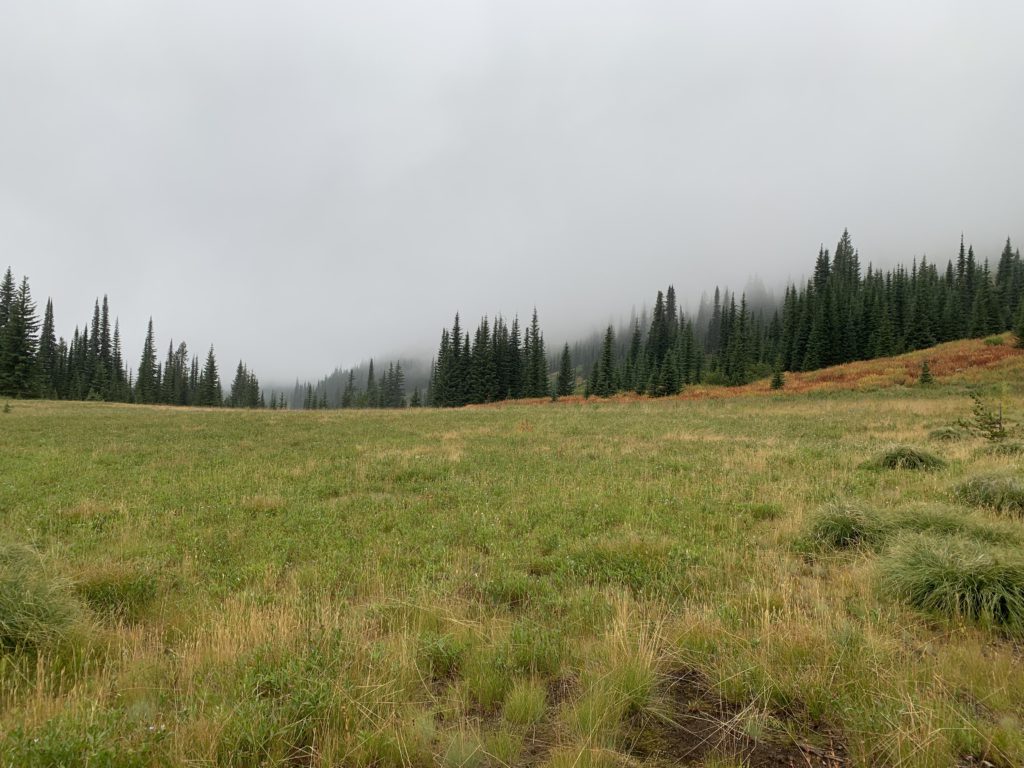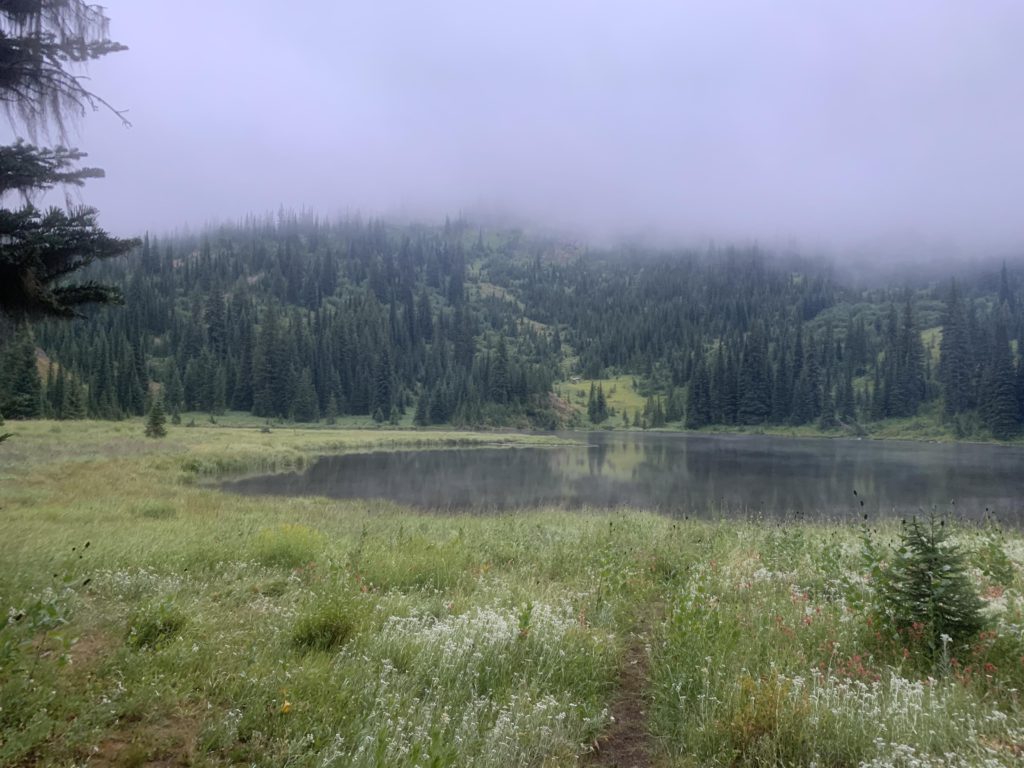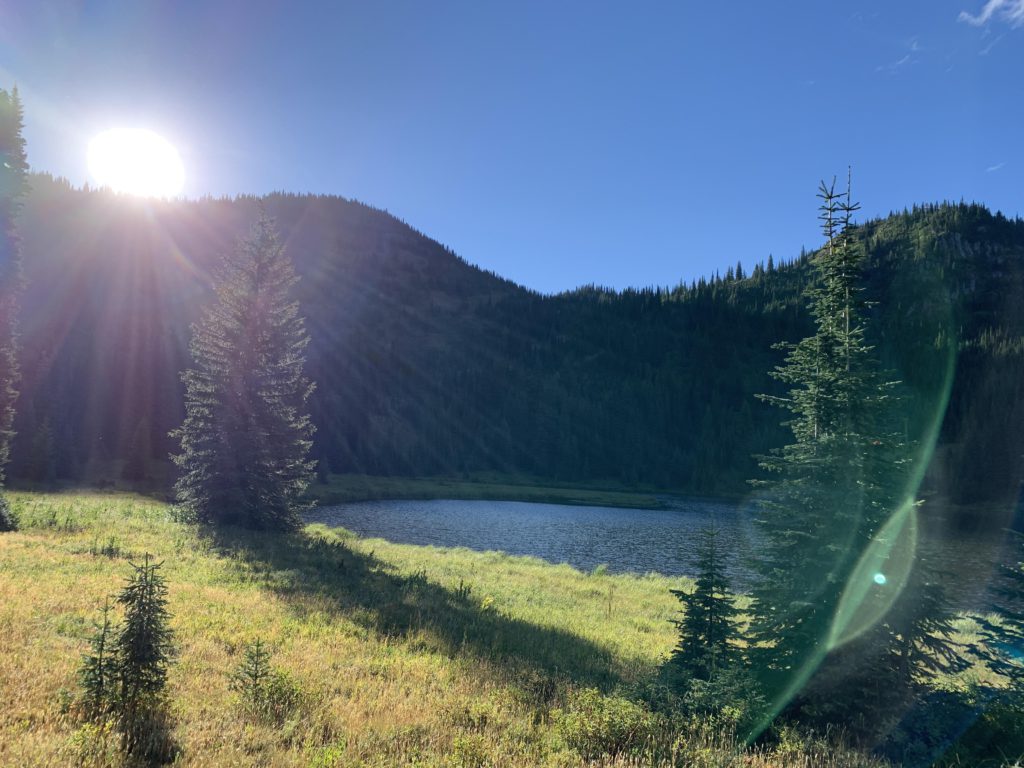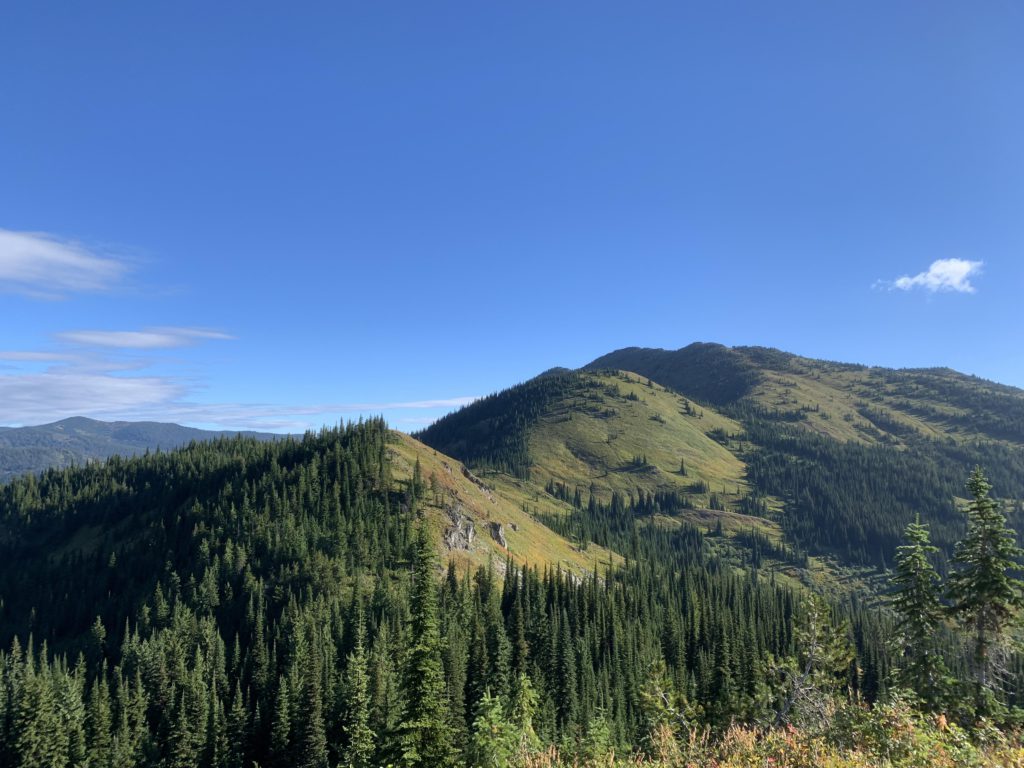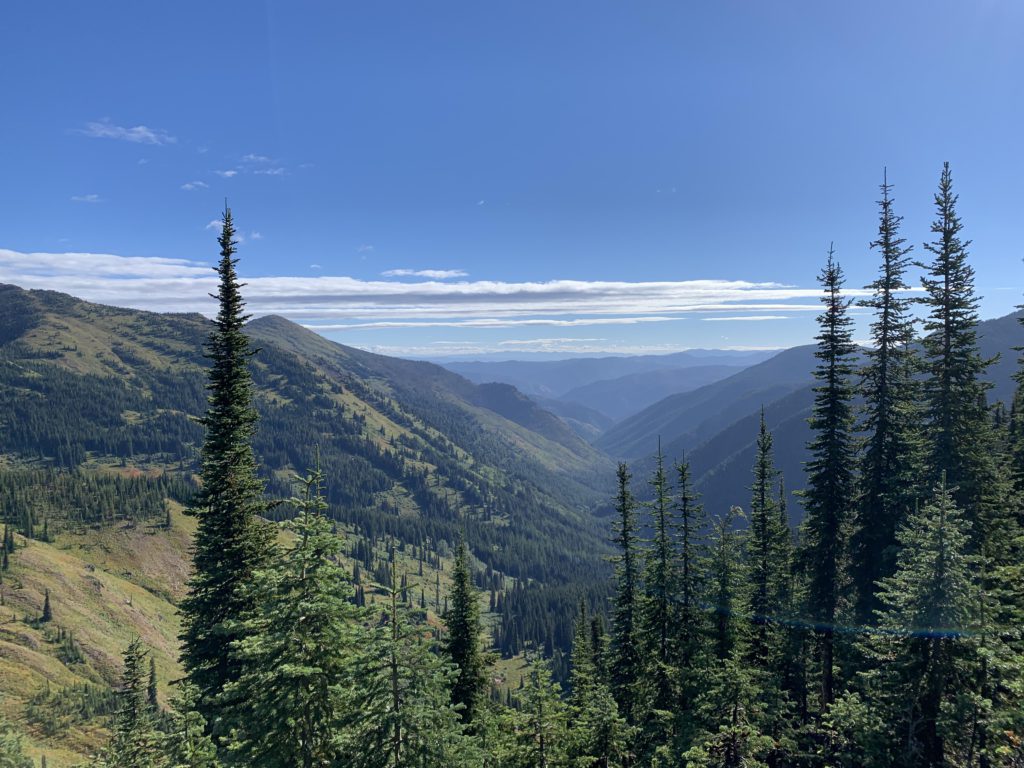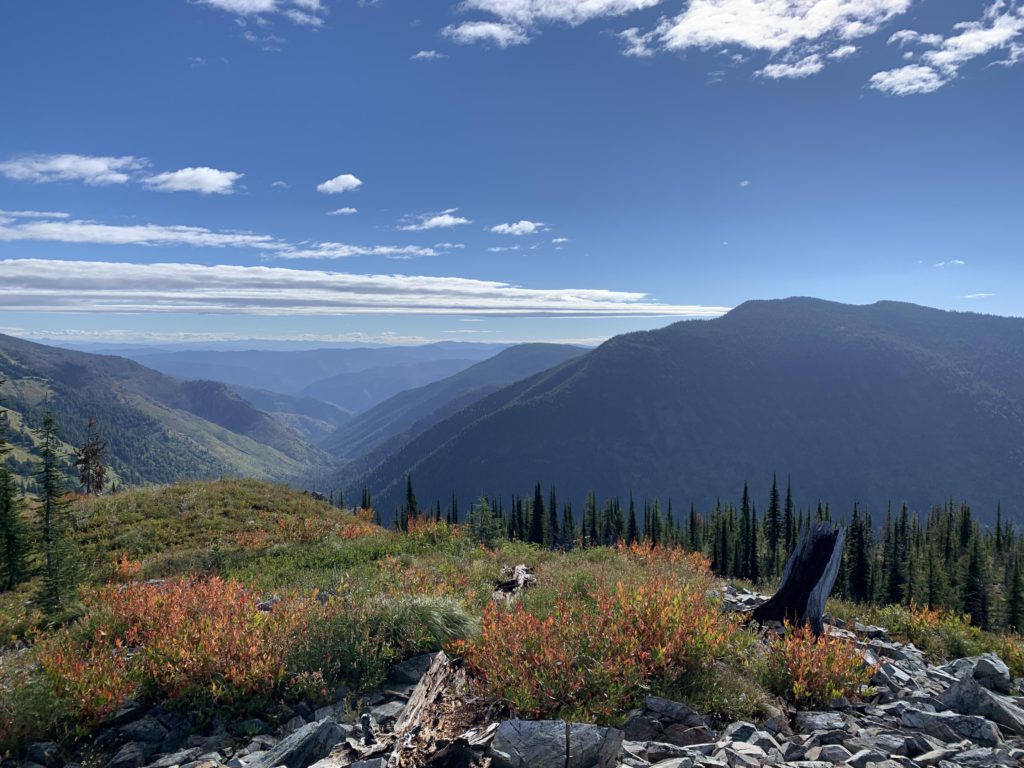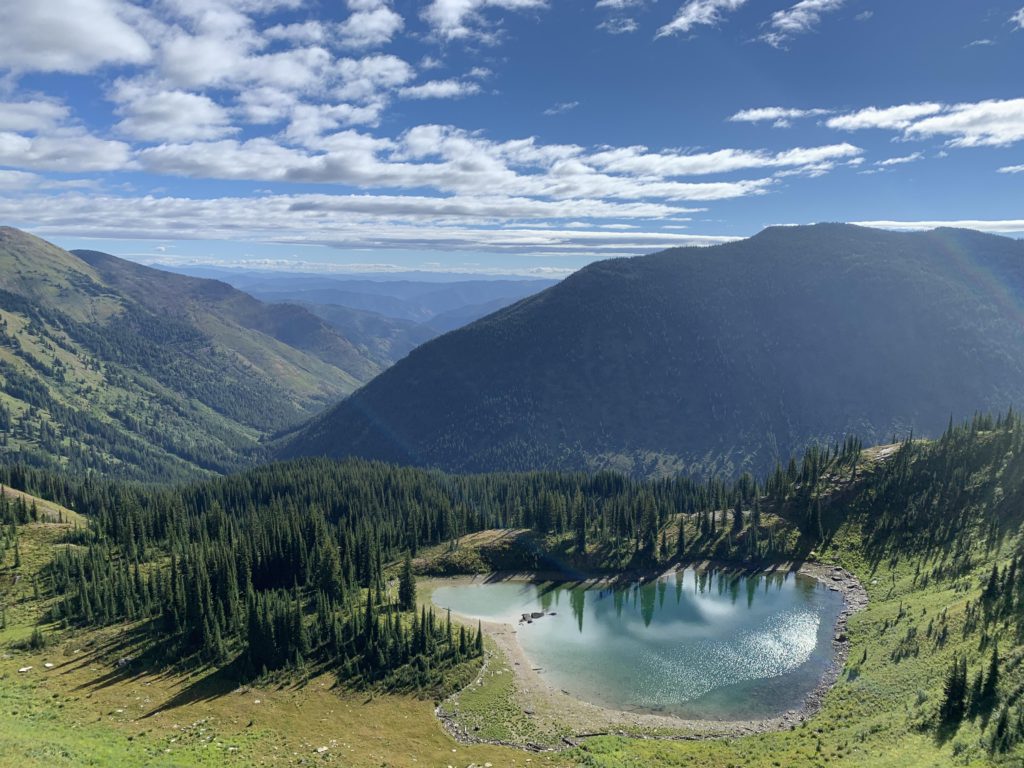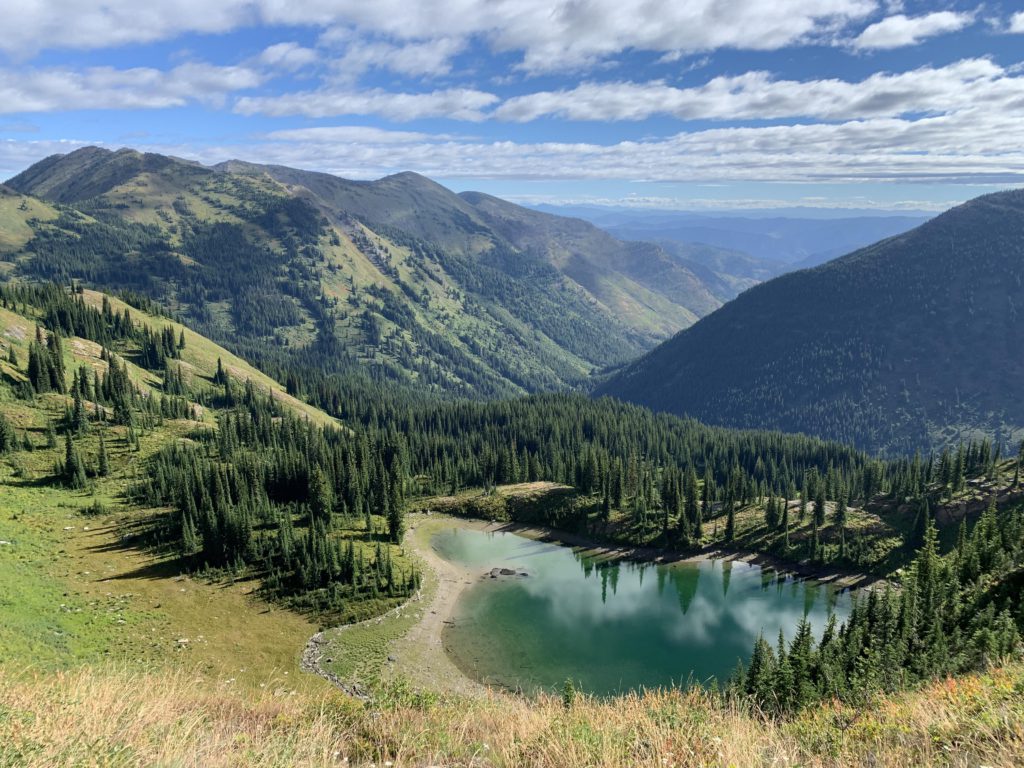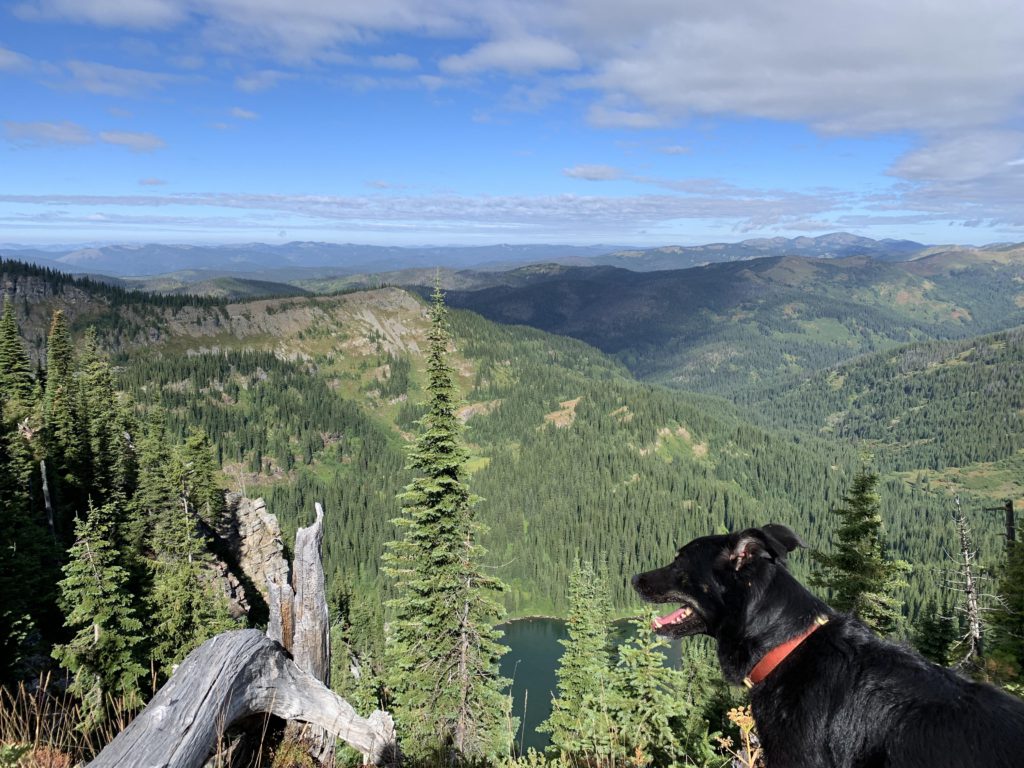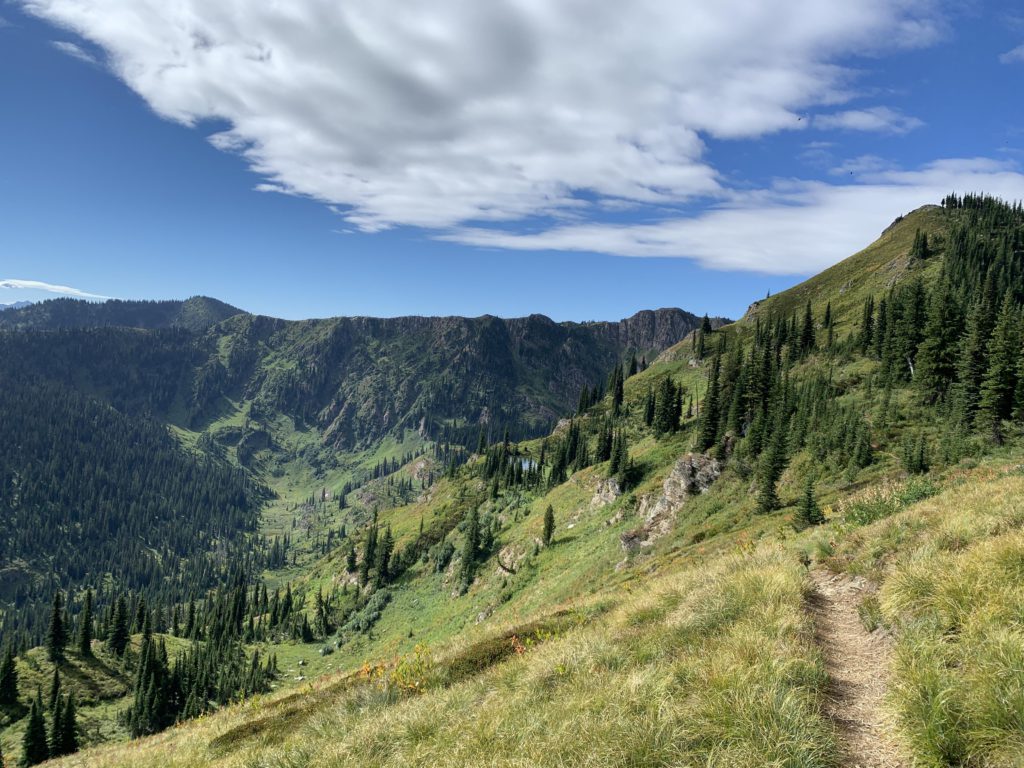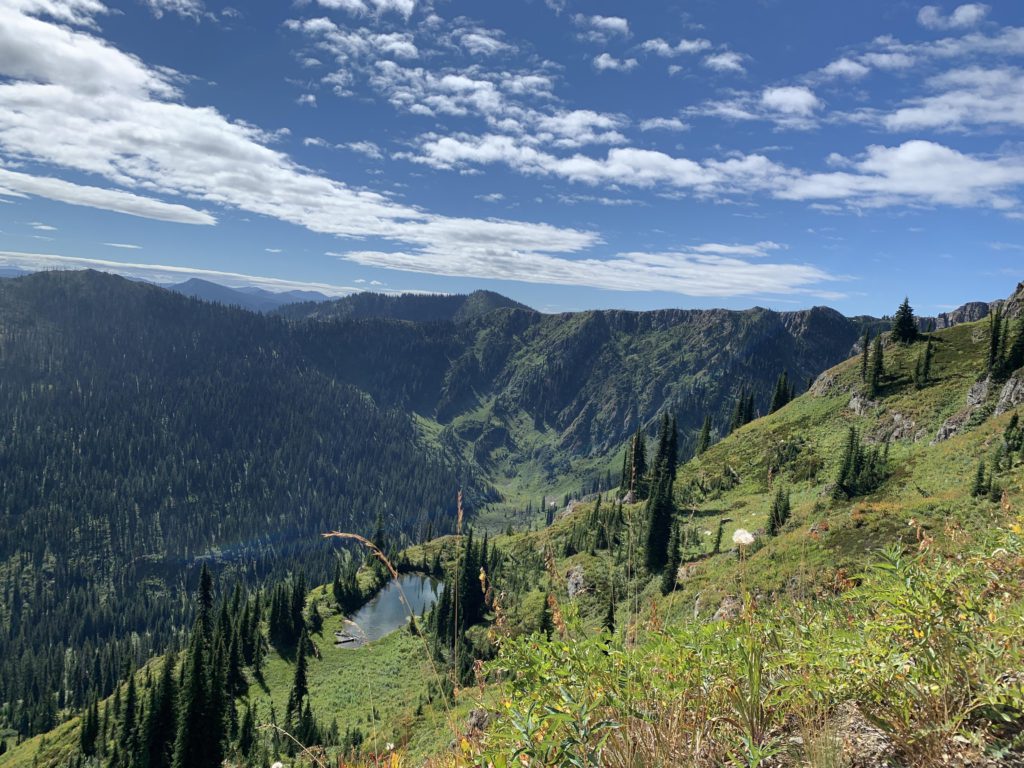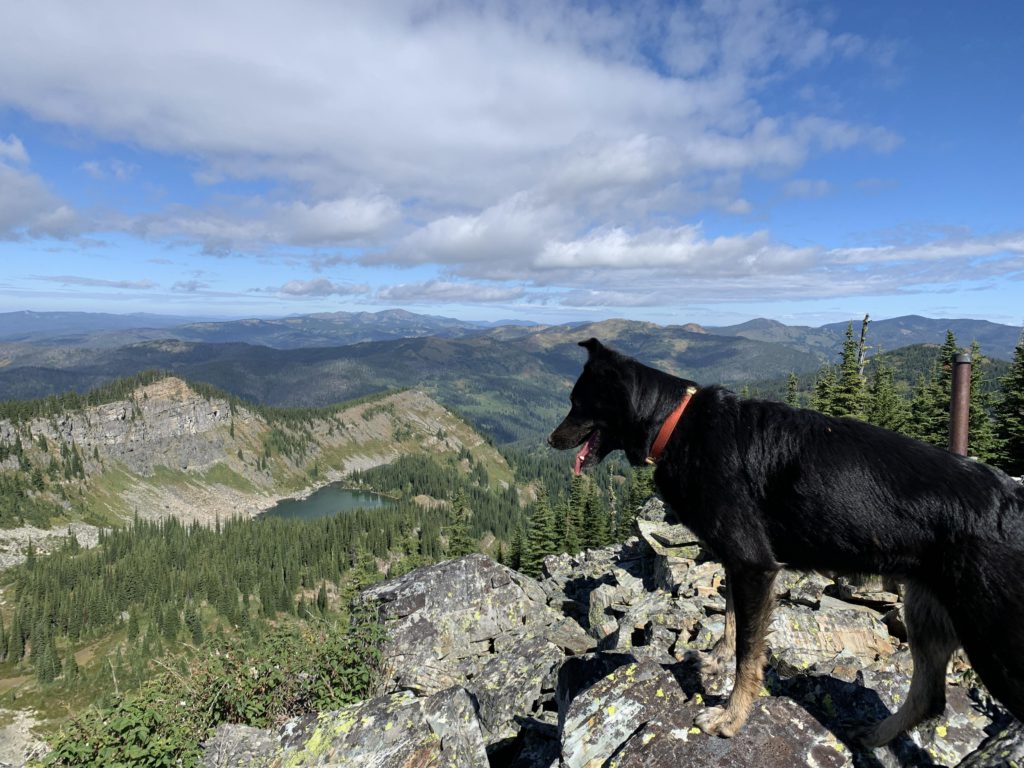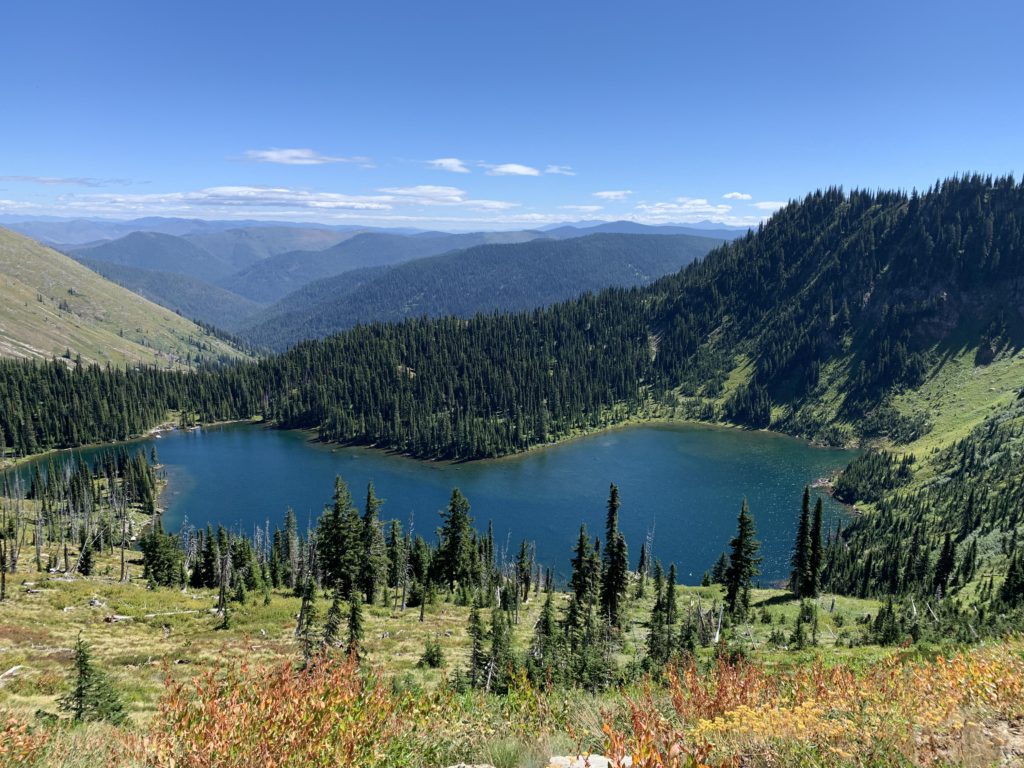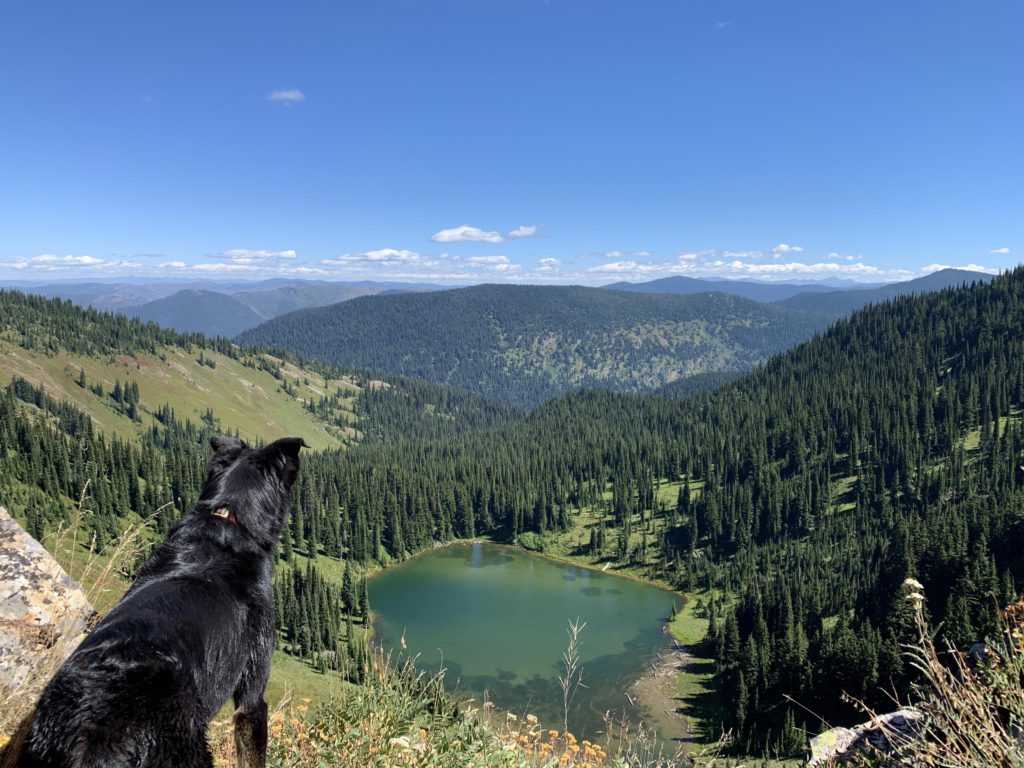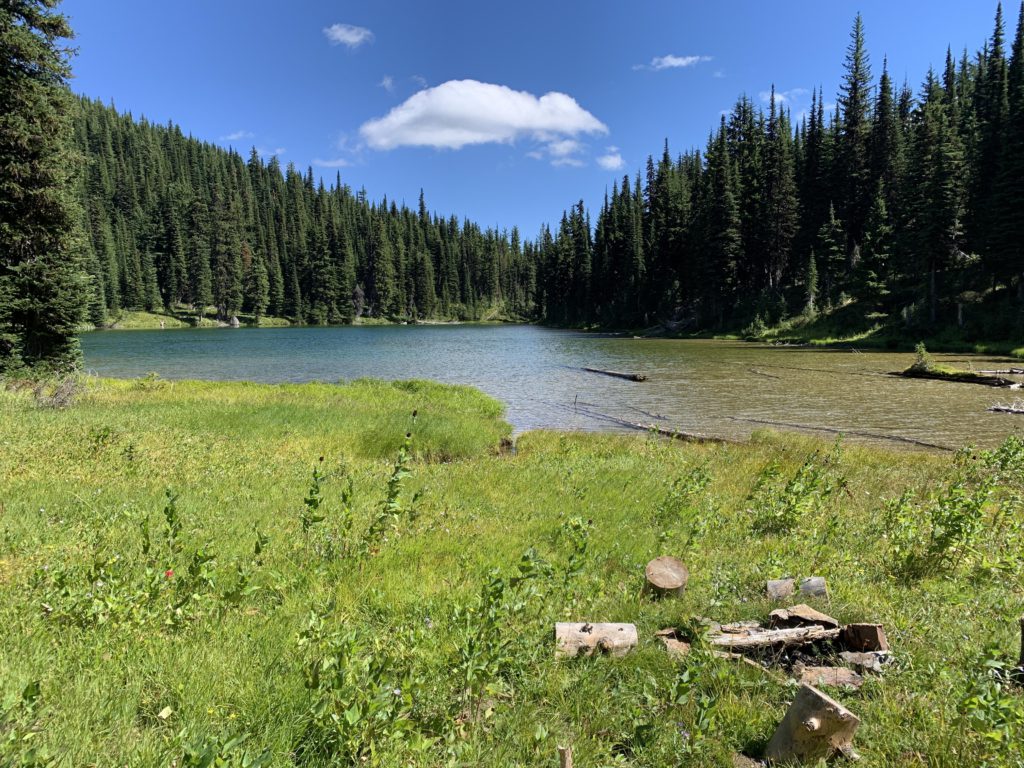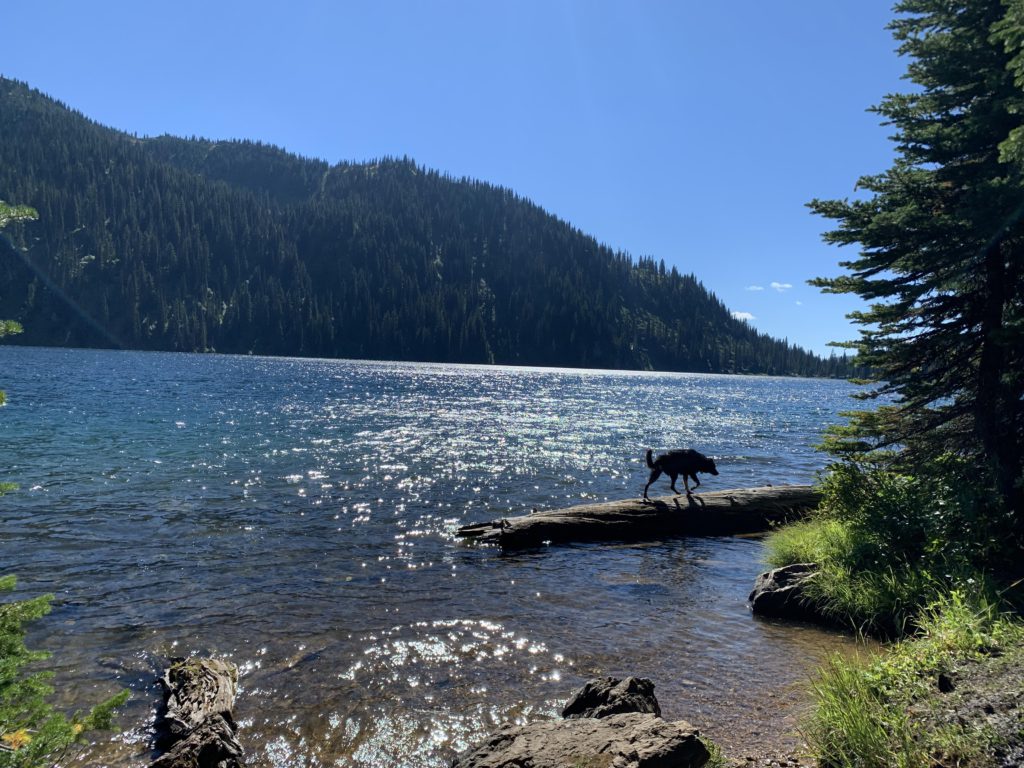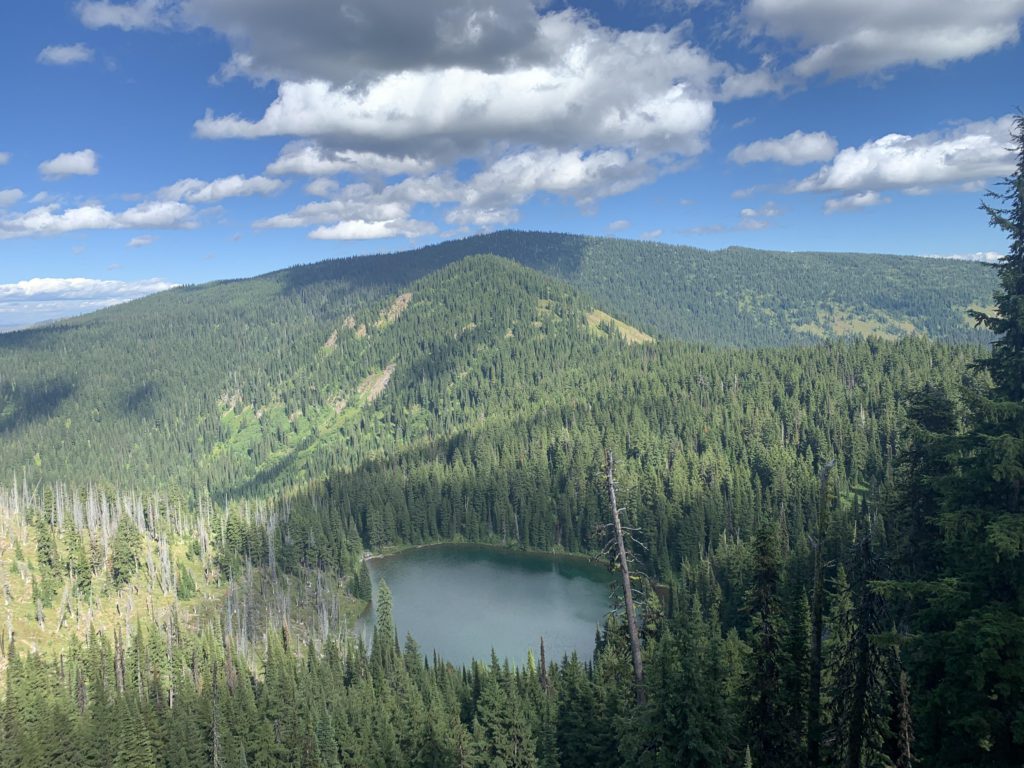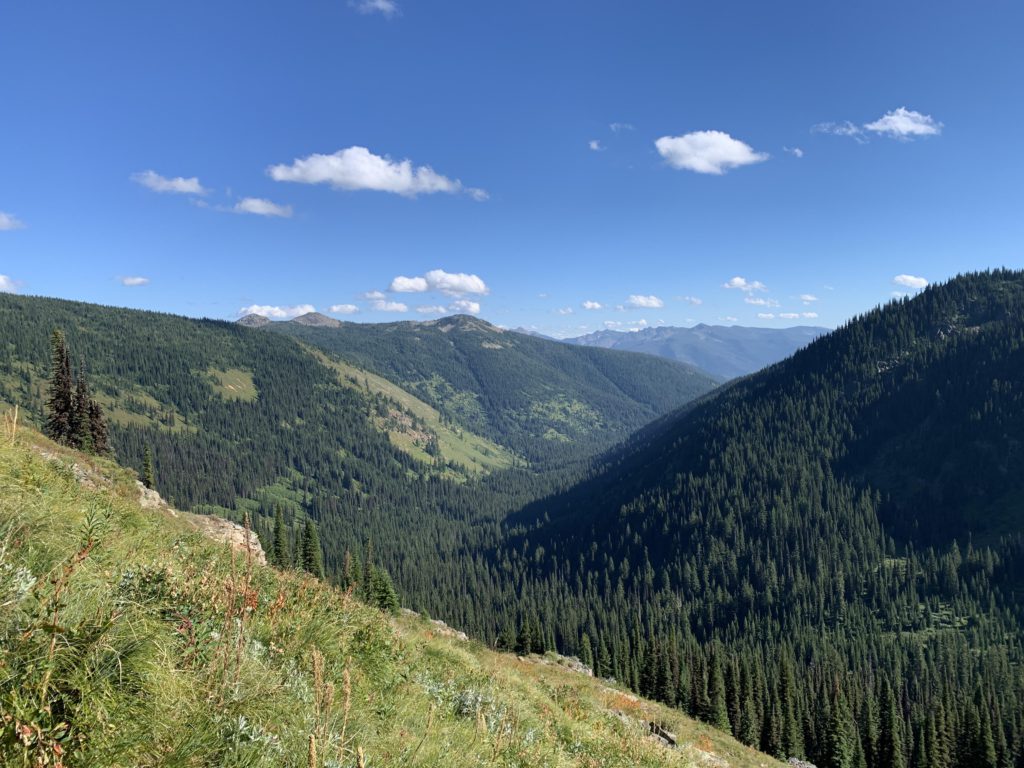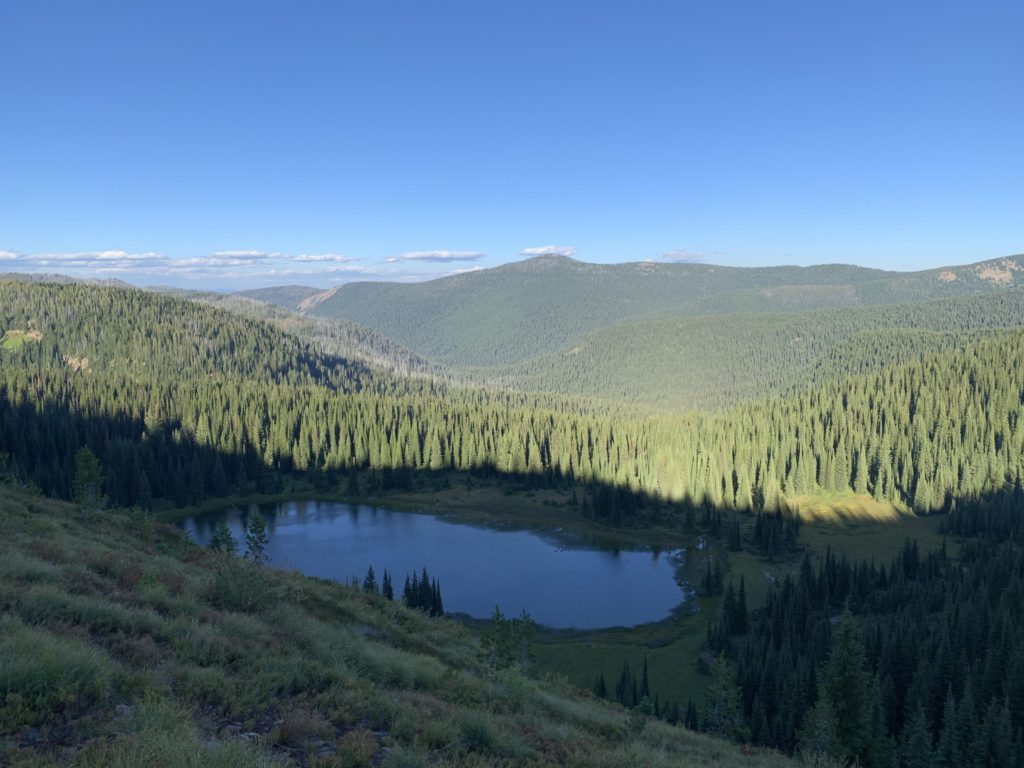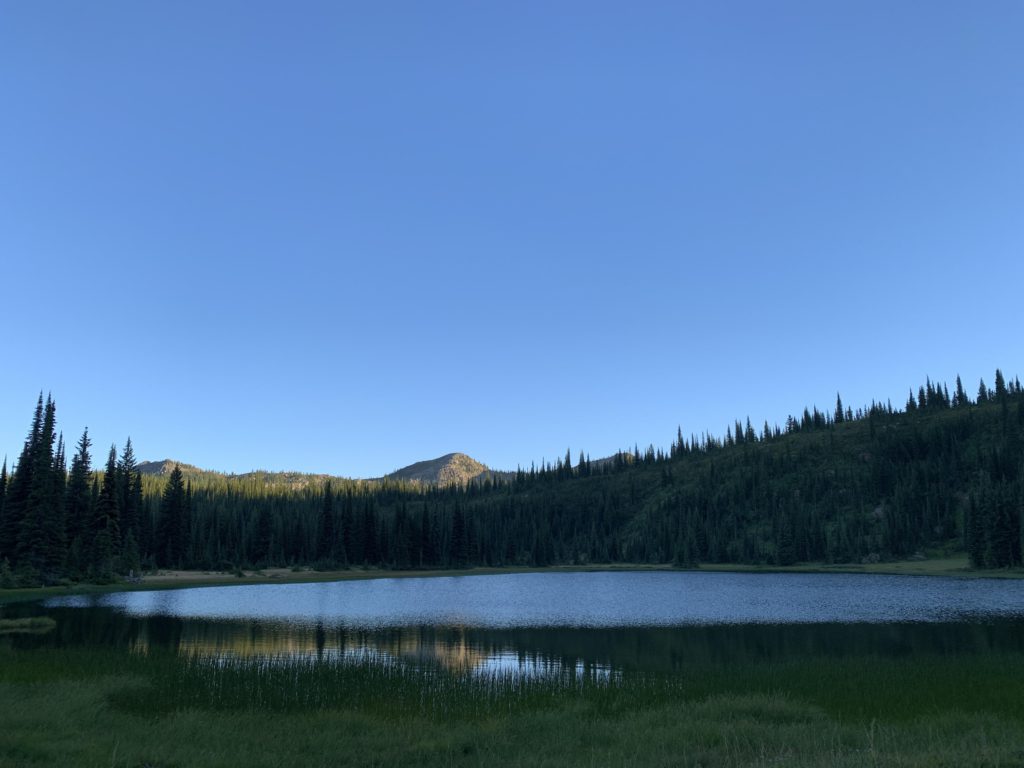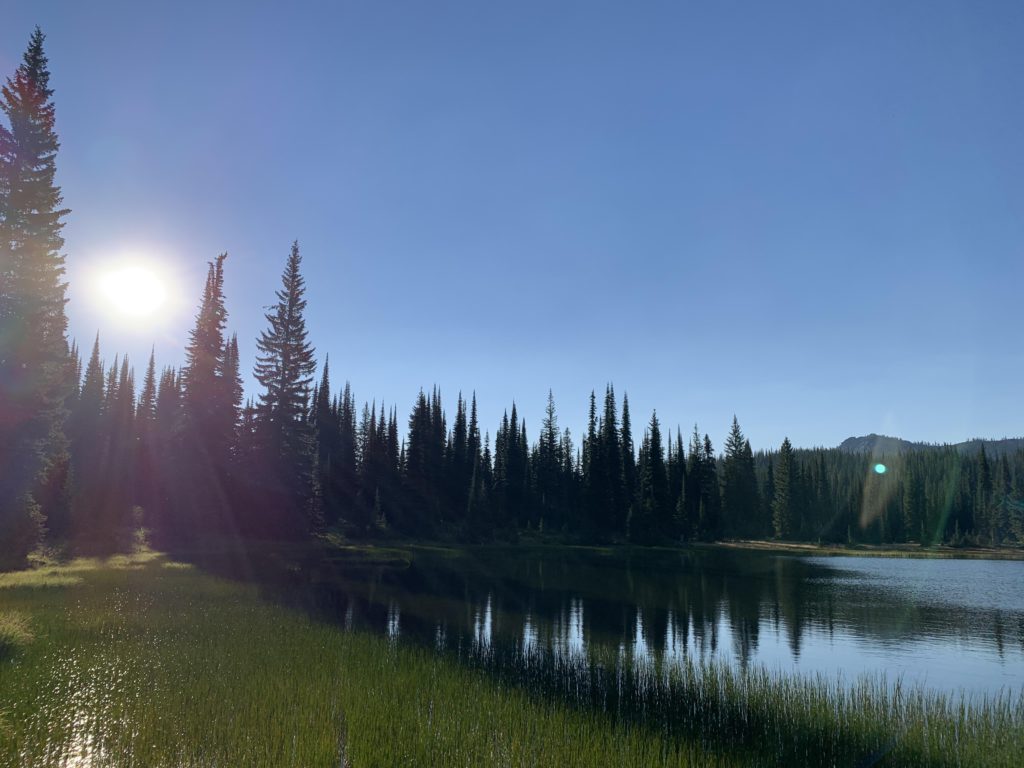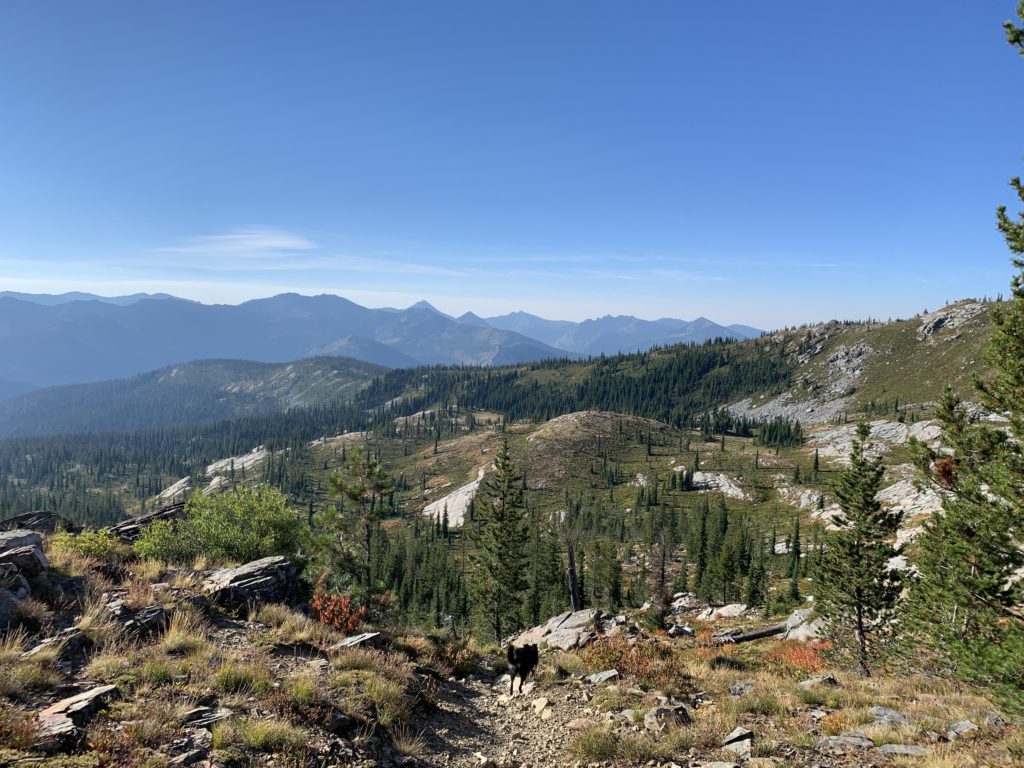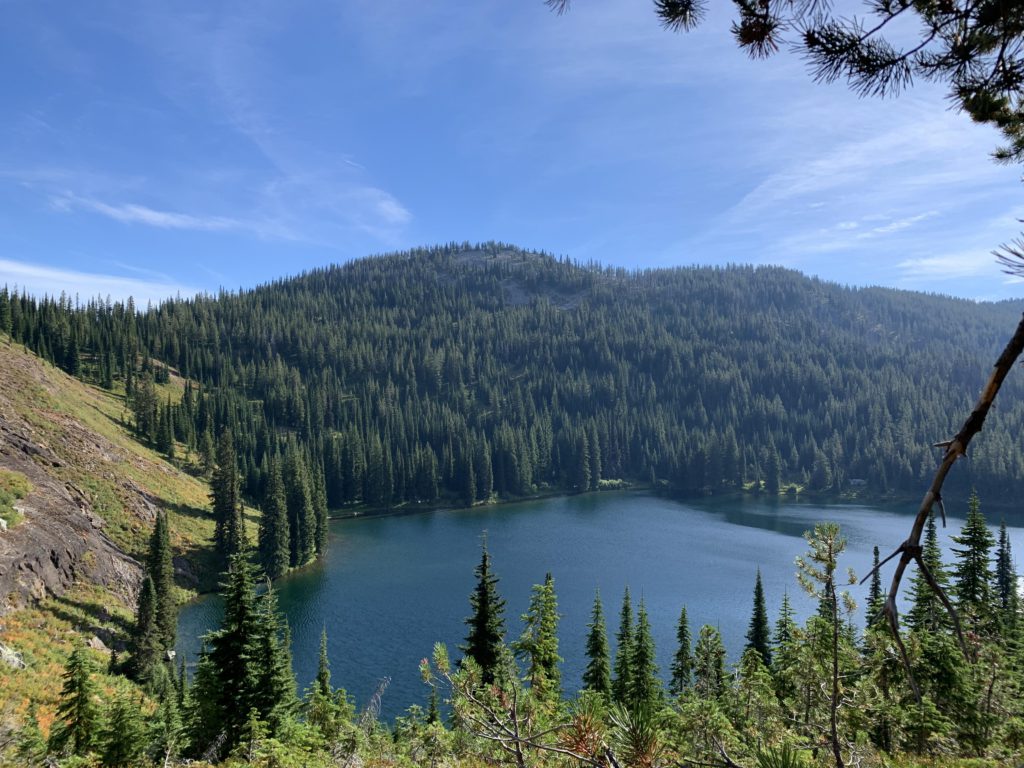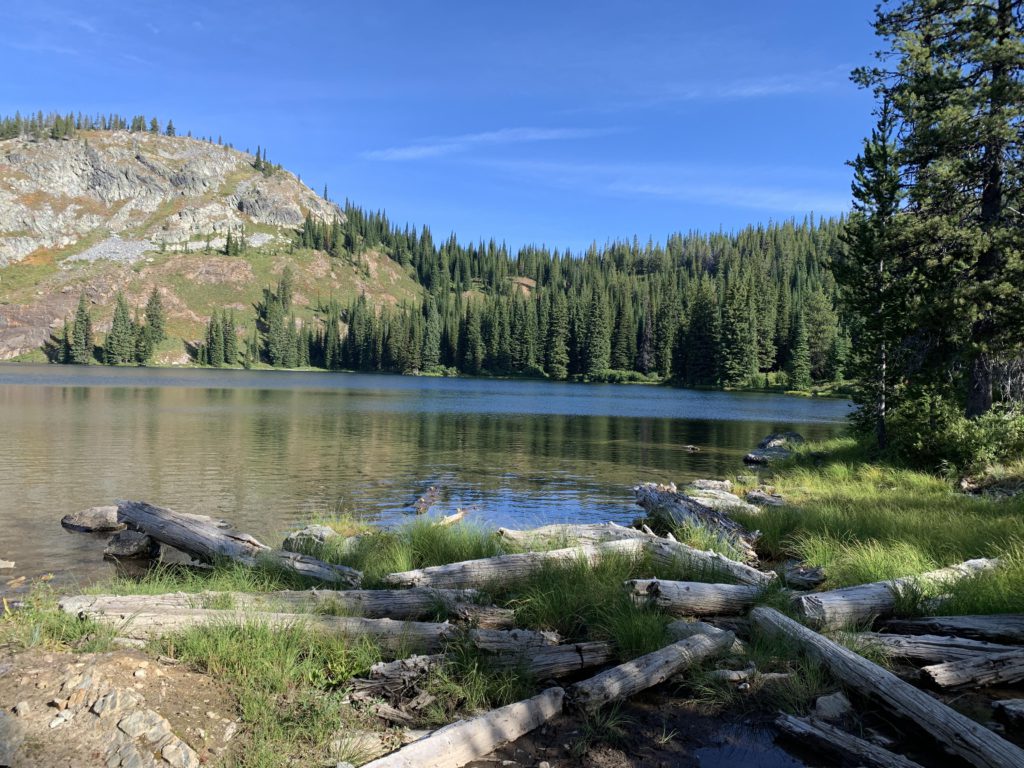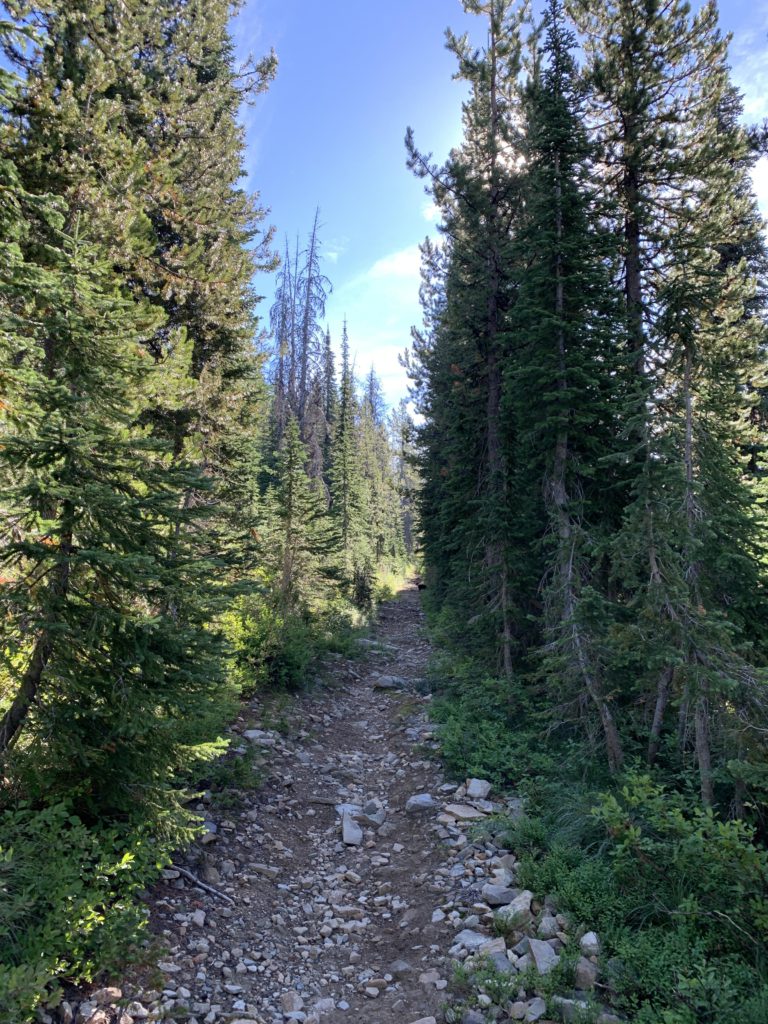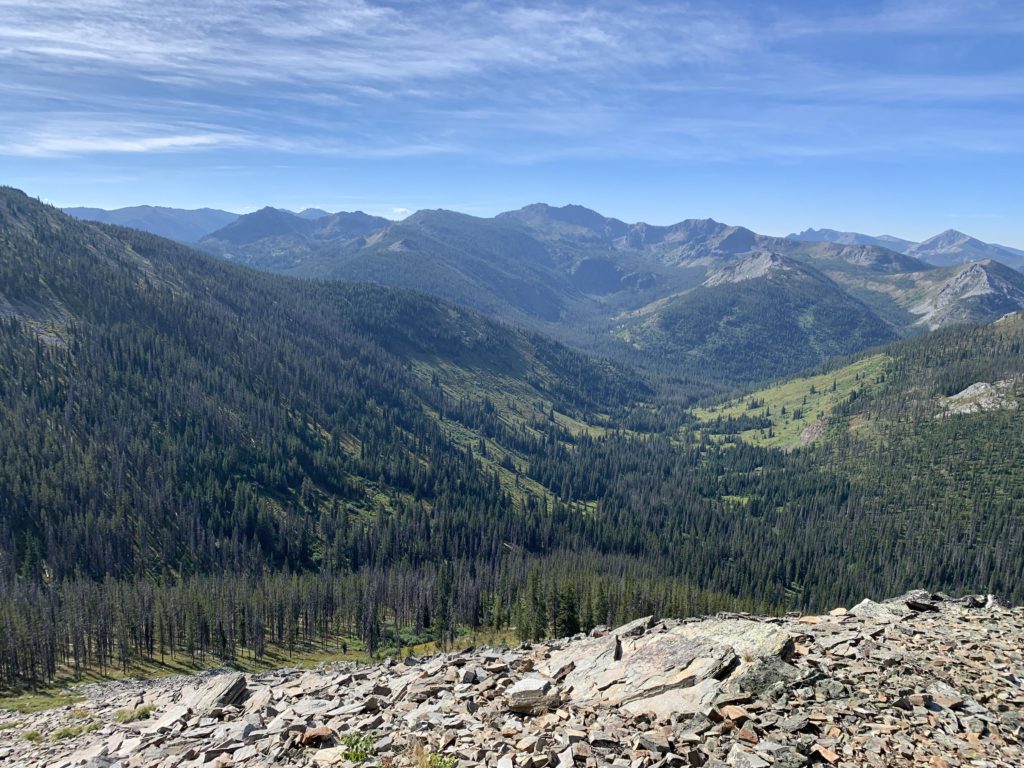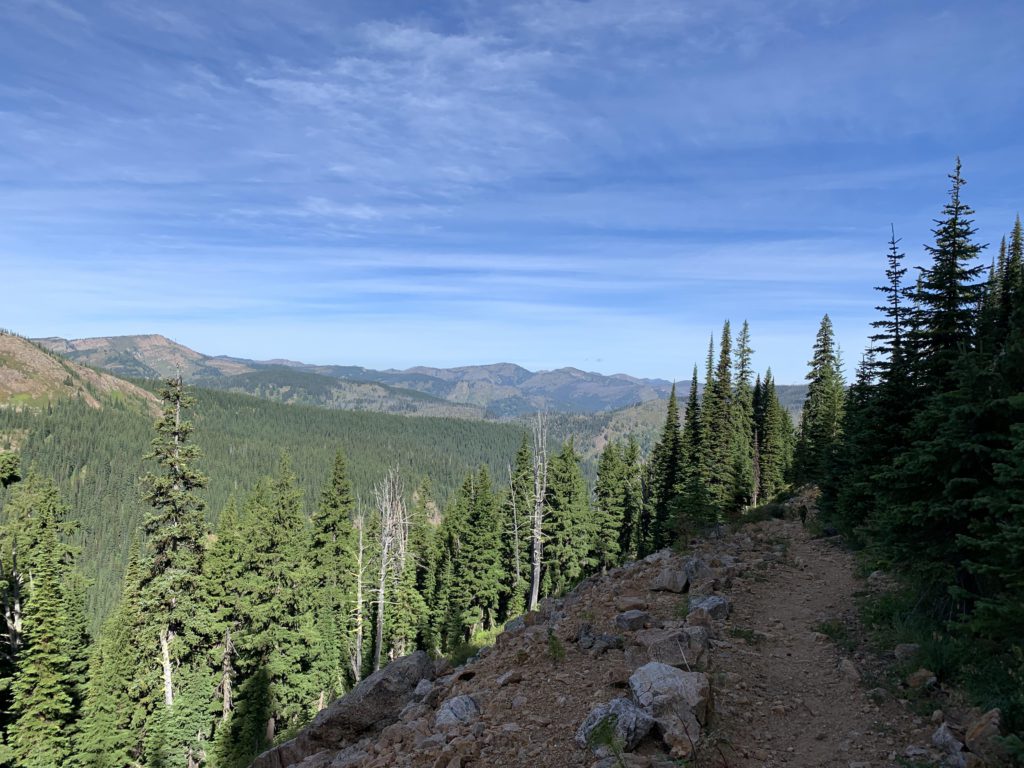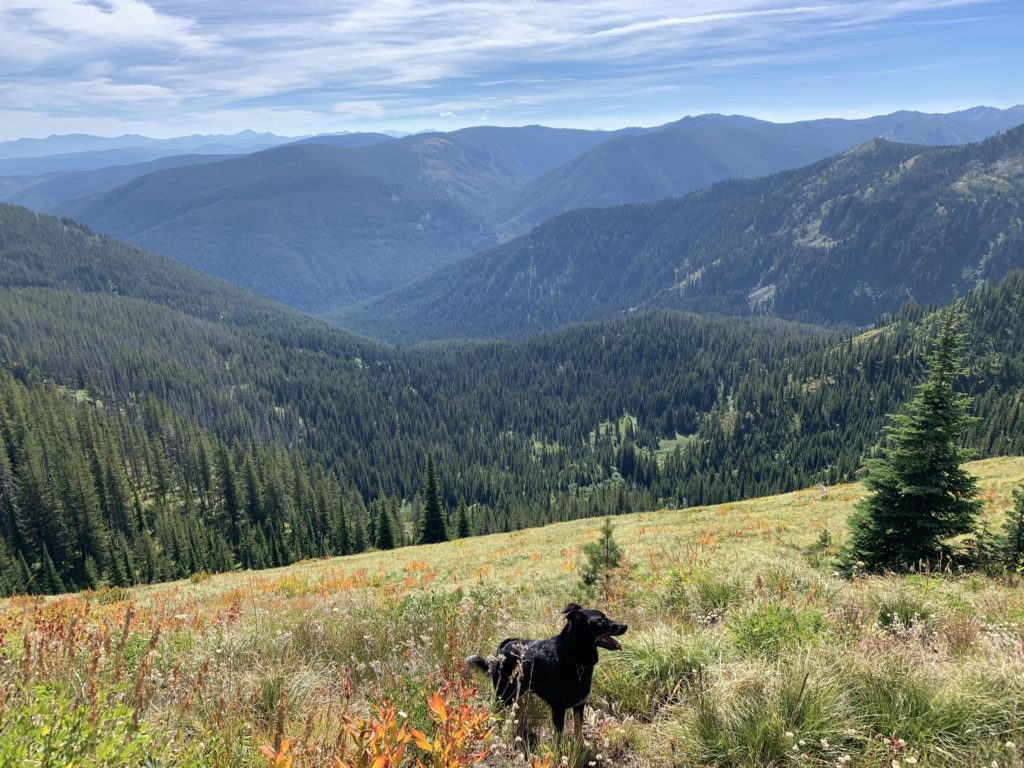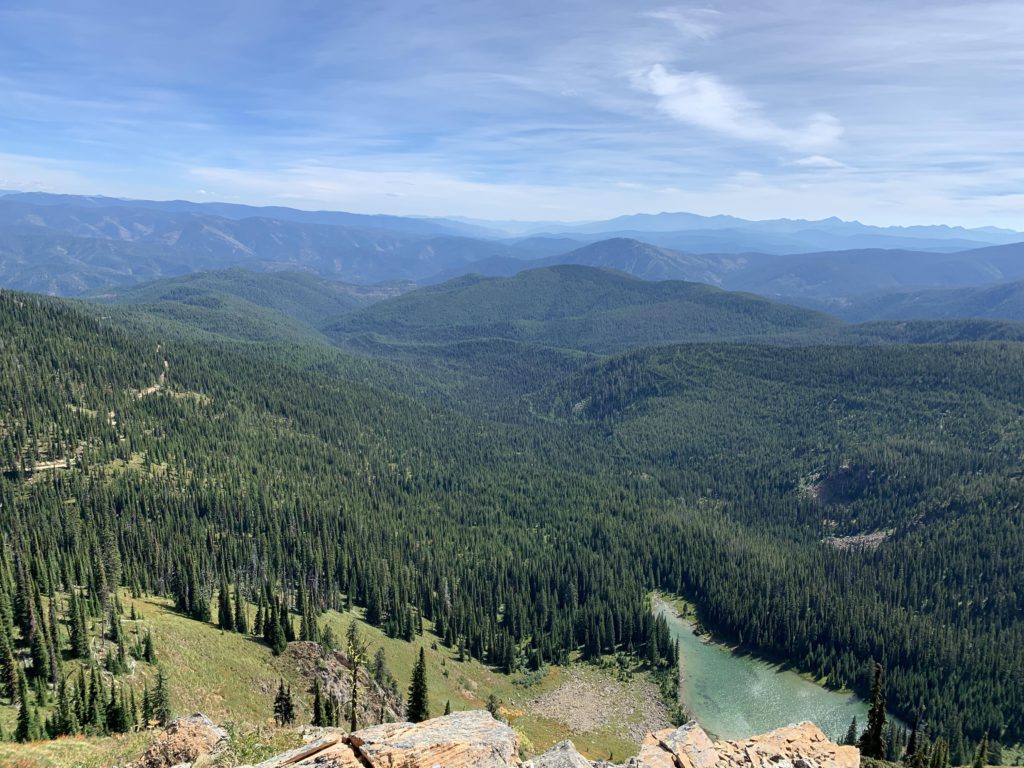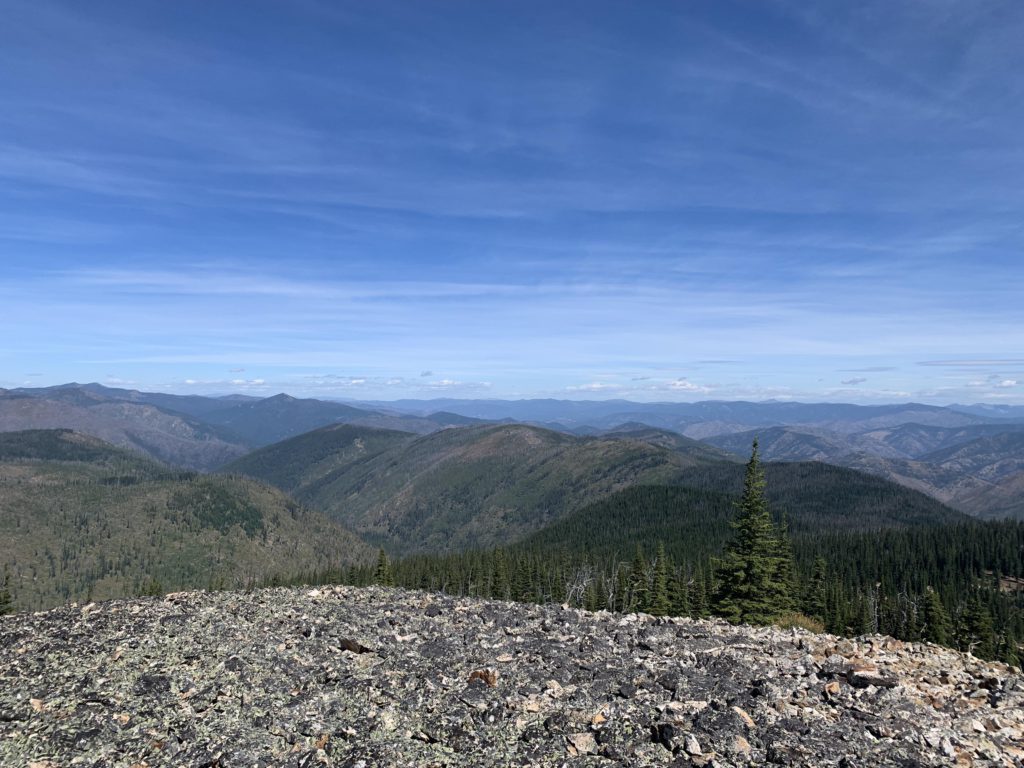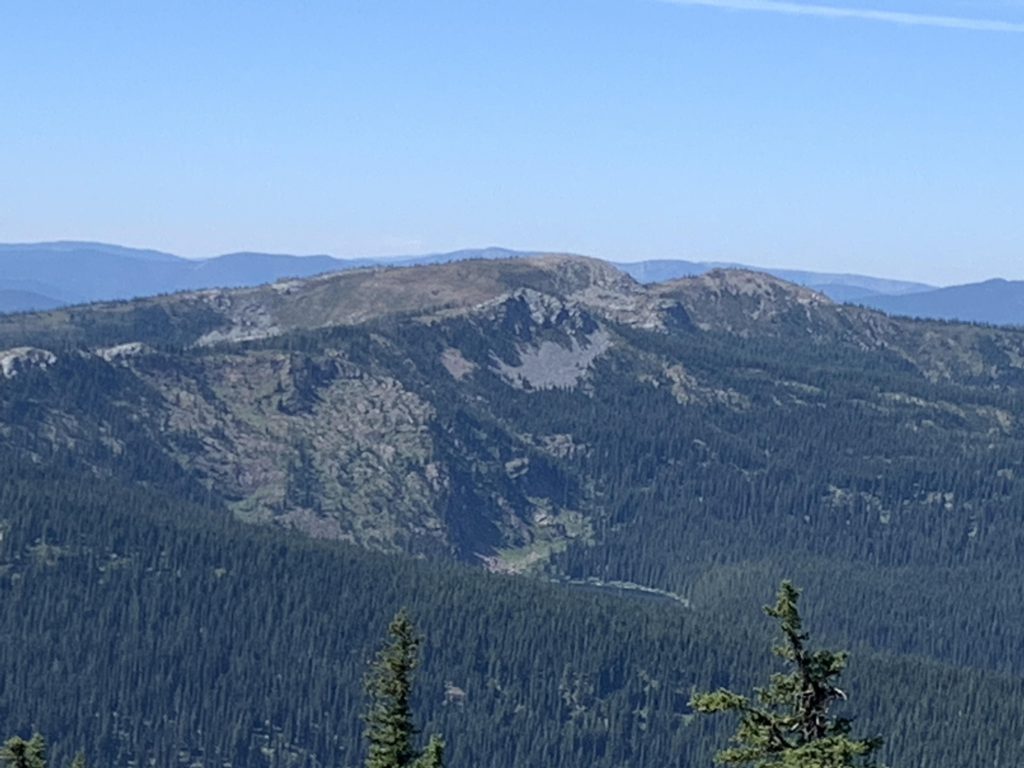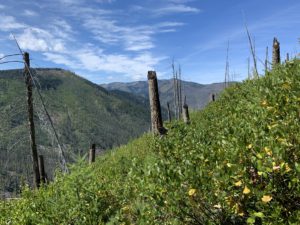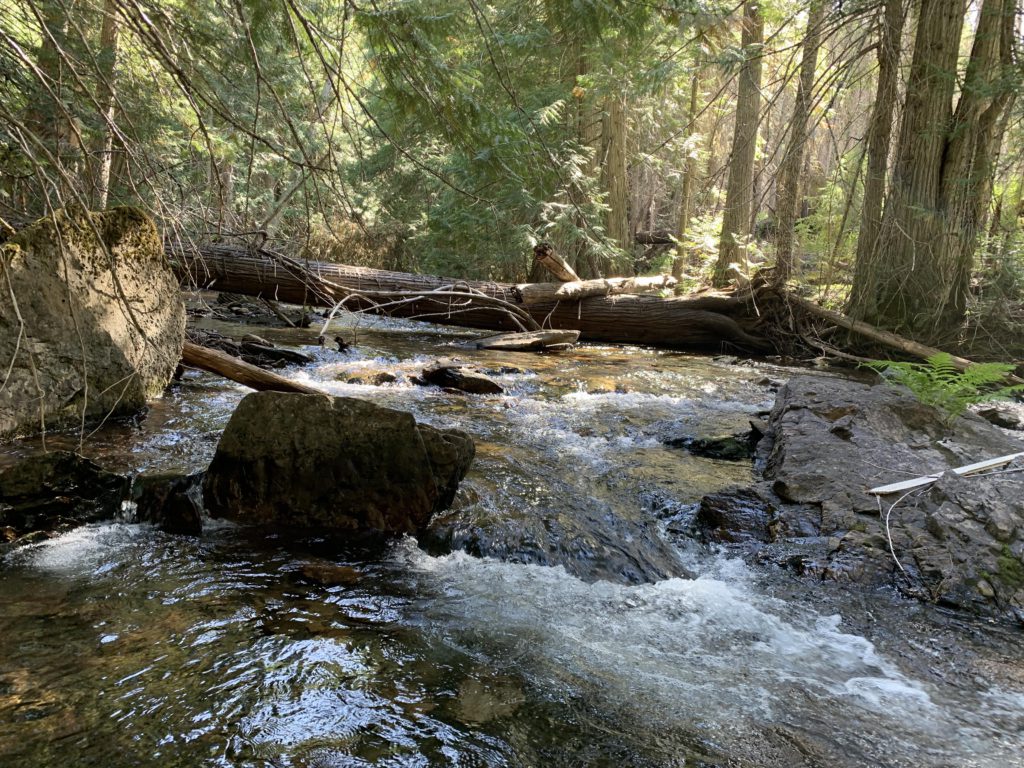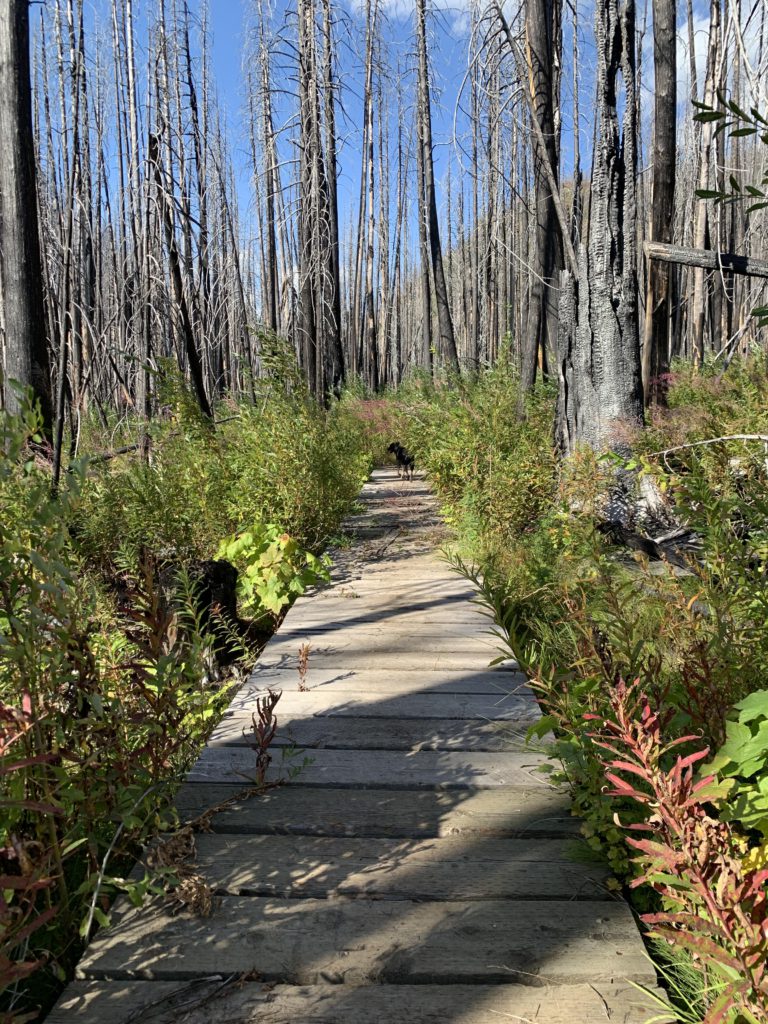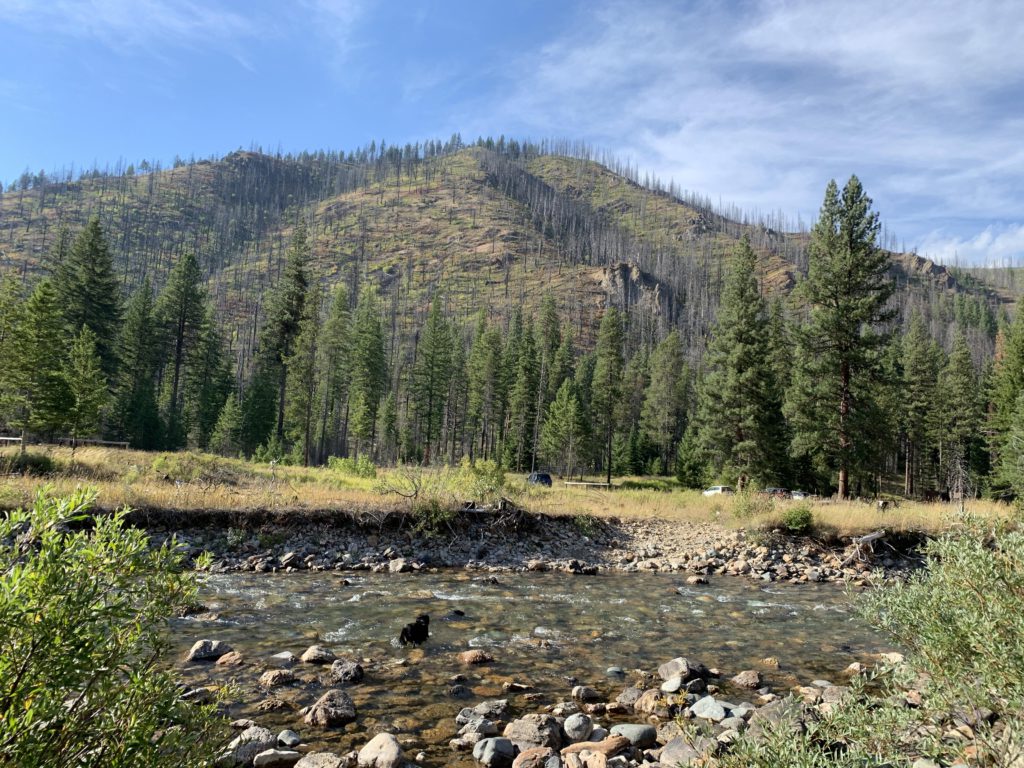 © 2016 – 2023 NaughtyHiker. All rights reserved. No duplication without permission.