At an elevation exceeding 4000 feet, Mount Spokane offers prime conditions for cross-country skiing. Groomed trails exceed 30 miles and include two warming huts. Grooming is typically exceptional and accommodates classic (track) as well as skate skiing. Plus, a patrol is on duty, just in case. In short, Mount Spokane offers some of the best cross-country skiing in the Inland Northwest.
Difficulty
Moderate (some uphill sections)
Duration
2:15 hours moving time (XC Skiing)
High Point
4,804 feet (shoulder below Horse Mtn)
Low Point
4,393 feet (Junction Mica & Linder Ridge)
Trailbed
Groomed for skate and track skiing
Camping
There are campgrounds in the state park. There are also two warming huts along the trail, Selkirk Lodge and Nova Hut
Conditions
Grooming is typically excellent
Administration
Washington Parks & Recreation
Fees & Permits
None required
(
Snow Park and Special Groomed permits are required for parking during winter months
)
Open To
Skiers
(
dogs not allowed on trails except on skijoring days
)
Directions
Take I-90 exit #287 and head north on Argonne Road for 8.5 miles (Argonne will turn into Bruce Road). At the roundabout turn right onto WA-206 Mount Spokane Park Drive and follow it to the trailhead (about 16 miles). Alternatively, take the I-90 Sullivan exit and head north via Sullivan, Wellesley, Progress and Forker to WA-206.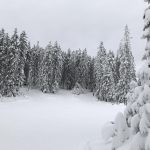 From the trailhead above Selkirk lodge you have four options, all of which lead to junction #1. The left and rightmost ones are the easiest and the inner ones more difficult. From junction #1 you also have several options, with all leading to junction #2 except the very leftmost one (Linder Ridge, where we'll return). For beginners or skate skiers the wide middle trail is recommended (the Larch trail on the far right can be very ice and debris-covered after storms). The middle trail (Alpine) steadily ascends and culminates in a short but steep downhill run to junction #2.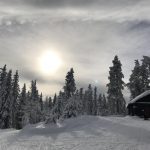 From junction #2 take any of the three right-hand options, preferably the third from the right (that's the widest and easiest one, called Lodgepole). All of these end up at or near Nova Hut. On Lodgepole you'll have nice hillside views as you ascend. At the first Y bear right and you'll almost immediately get to another Y. To the right a short spur trail leads to the Nova hut, featuring tables, a fireplace, and bathrooms. If you're not in need of rest, however, go straight (ie, leftish) for maybe a 100 yards, then turn sharply left (going straight leads up to Quartz Mountain, a project for another day!).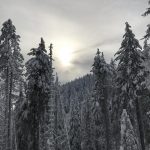 Now the trail (Shady Way) leads through fairly dense forest, slightly uphill and is then followed by a nice sweeping downhill run towards junction #5. Bear right (ie, straight) at the junction and right again about 100 yards uphill. Now follows a prolonged downhill run on Twin Lakes with pretty views to the right. At the bottom turn left (that's the second left) onto a connector to Mica Road. Mica Road is a broad larch-lined road that contours along the mountain, moving up and down along the way (this is a really easy stretch).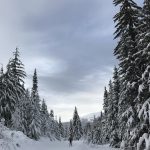 Eventually the road drops lower and crosses a bridge (the low point of this loop) at junction #9. Take a slight right (not a sharp right!) and it almost feels like you're staying on the same road, but the name changes to Linder Ridge. This road (through Inland Paper land) moves along the mountain flattish at first, then steadily ascends towards the Lodge. On approach to junction #1 bear right and you'll end up just below Selkirk Lodge.
Alternate Routes
Shorten the trail and turn it into a lollipop by circling around Shadow Mountain for excellent views
Refer to the trail map for alternative routes; there are miles and miles of groomed trails!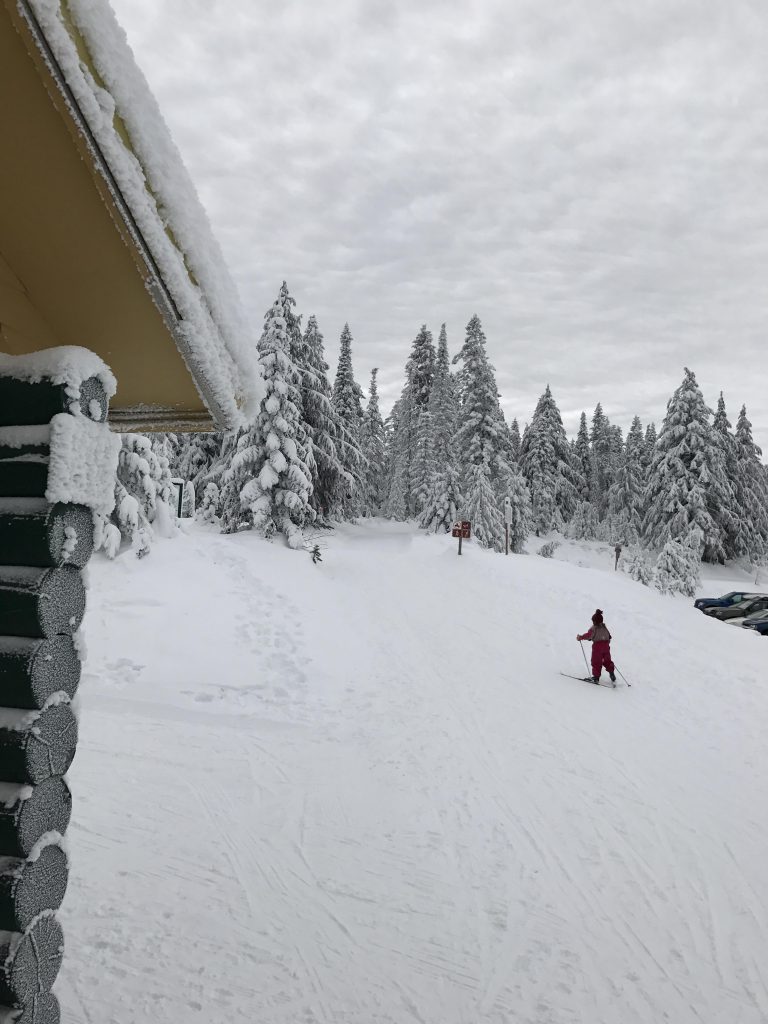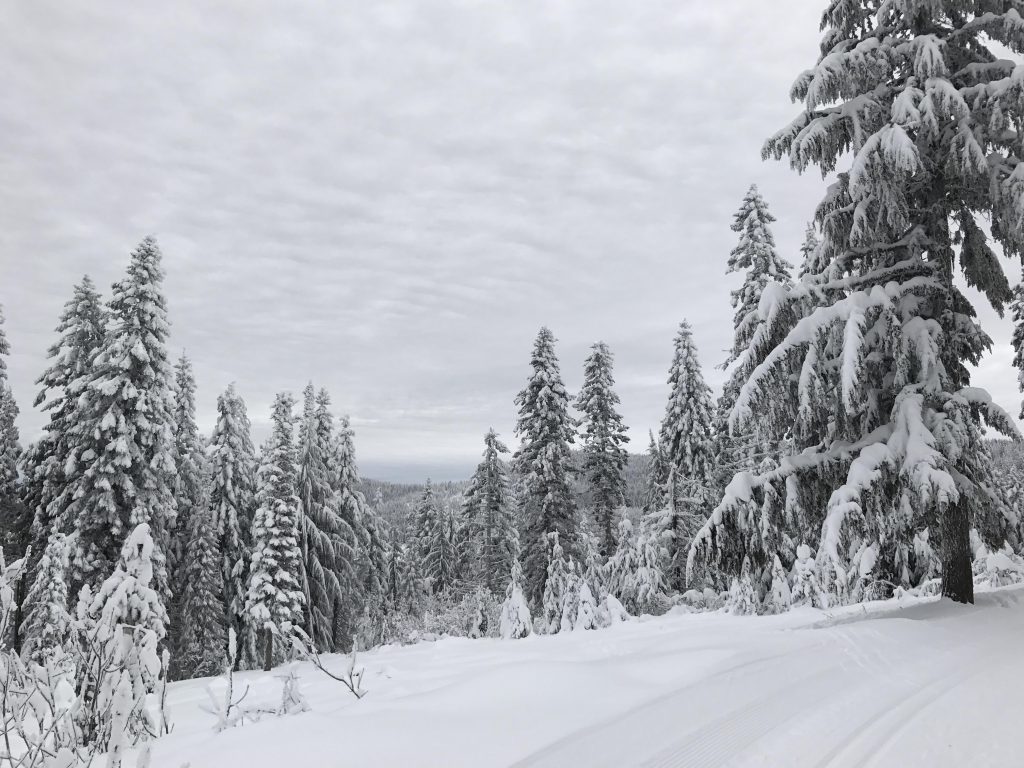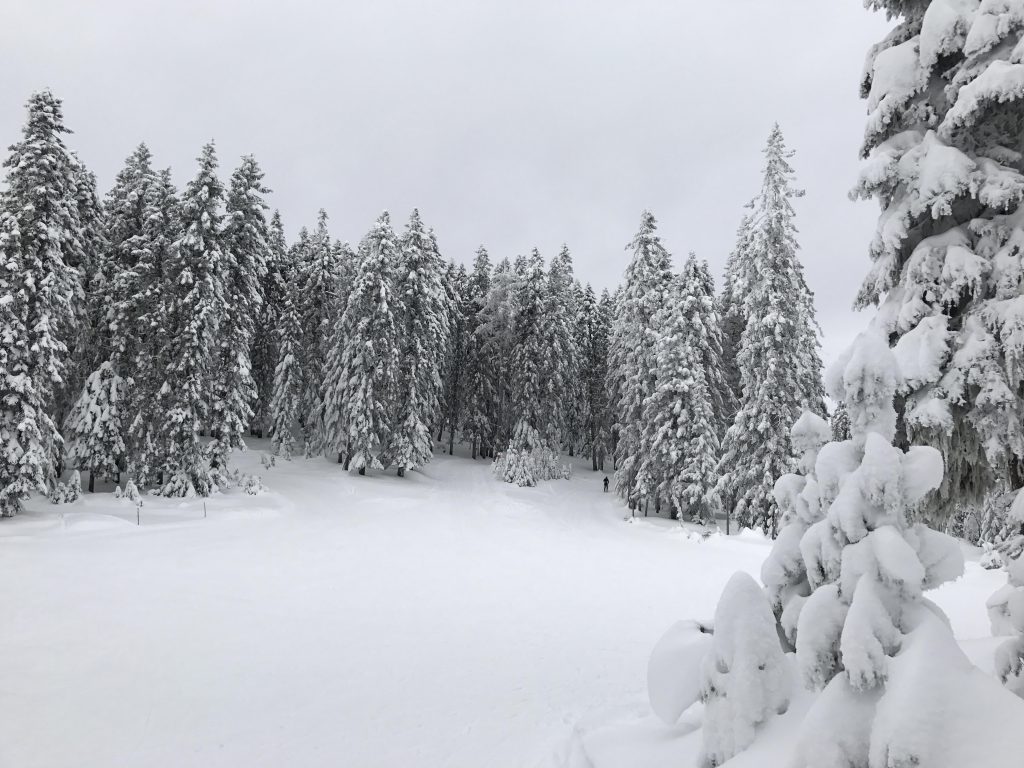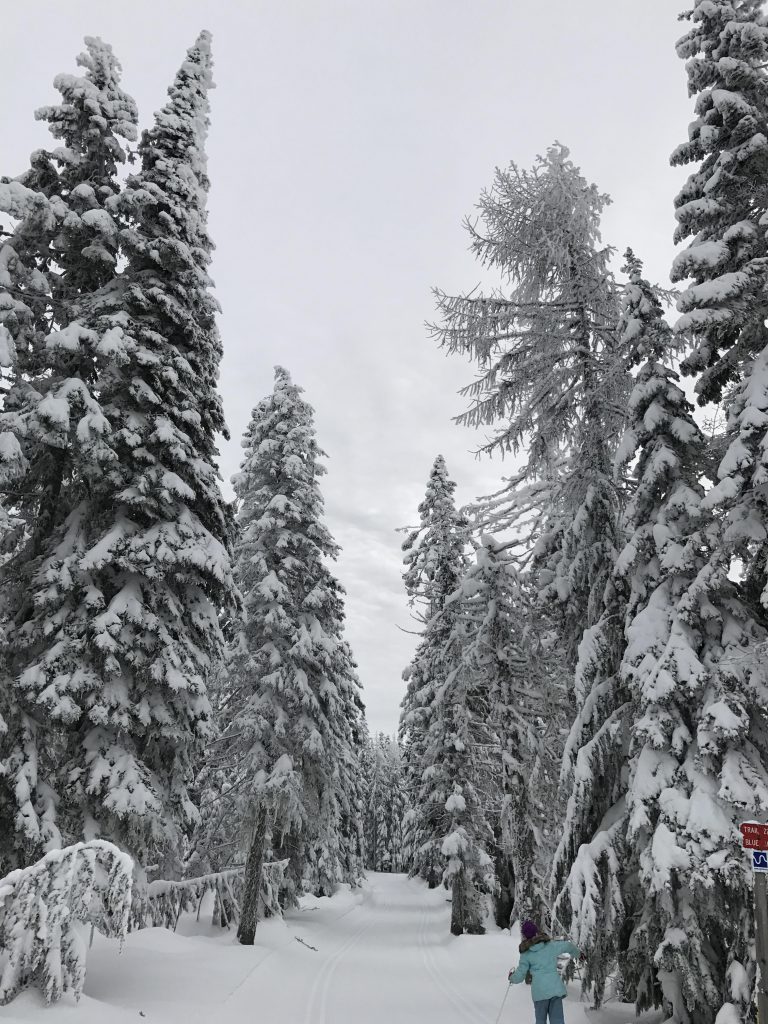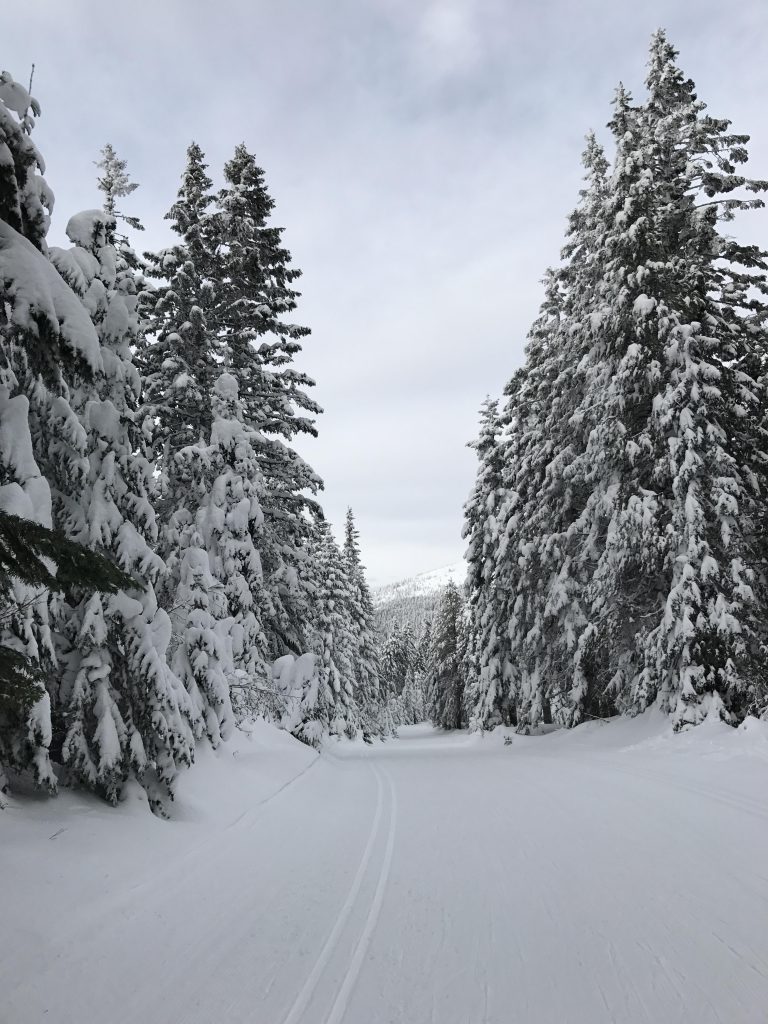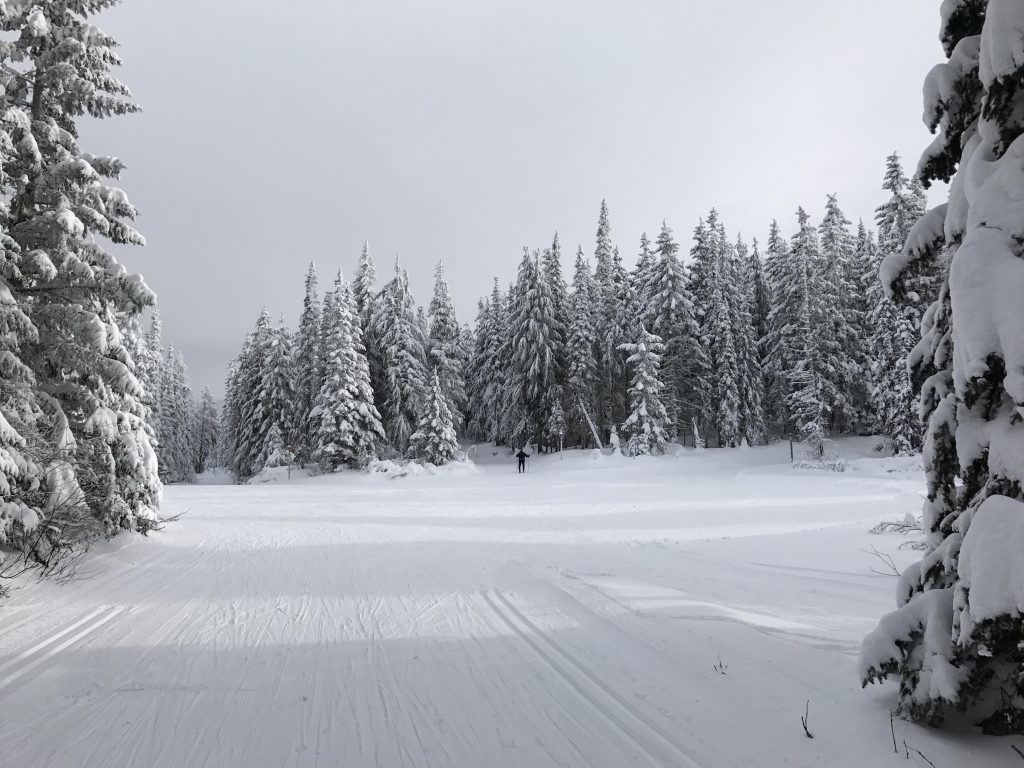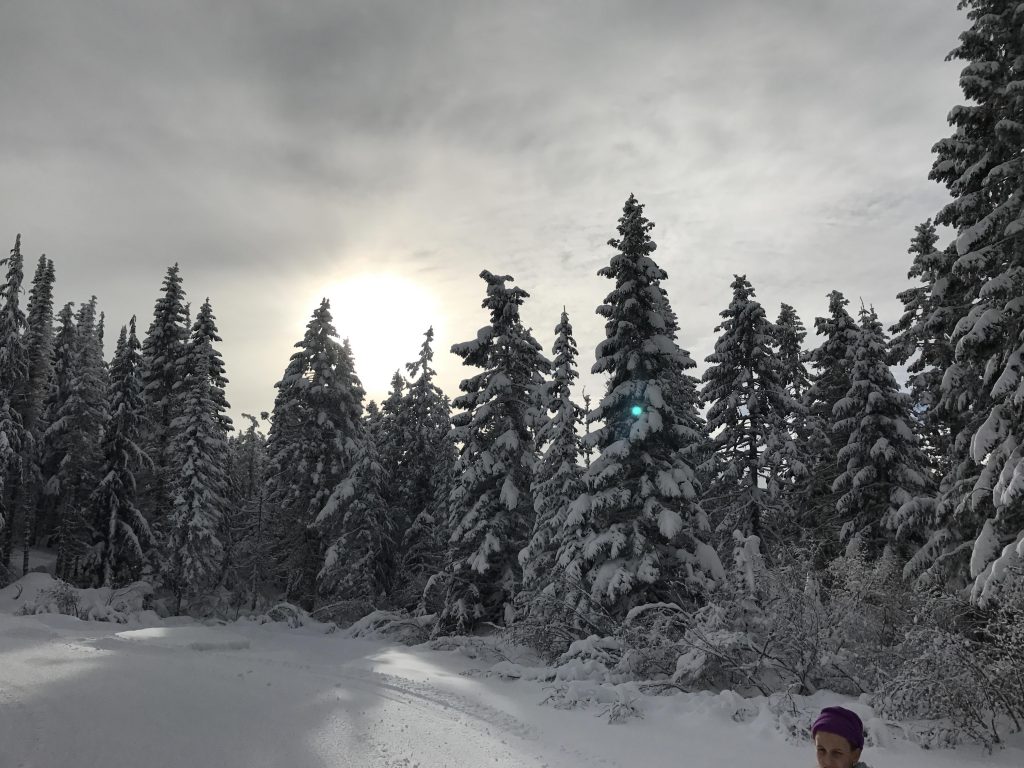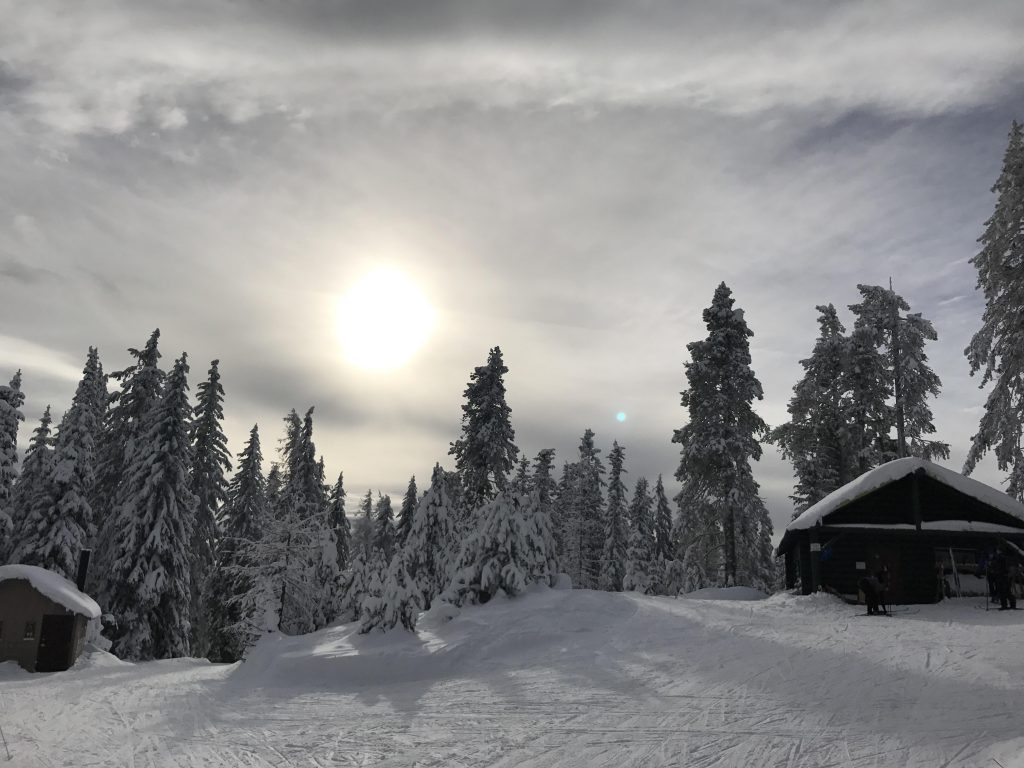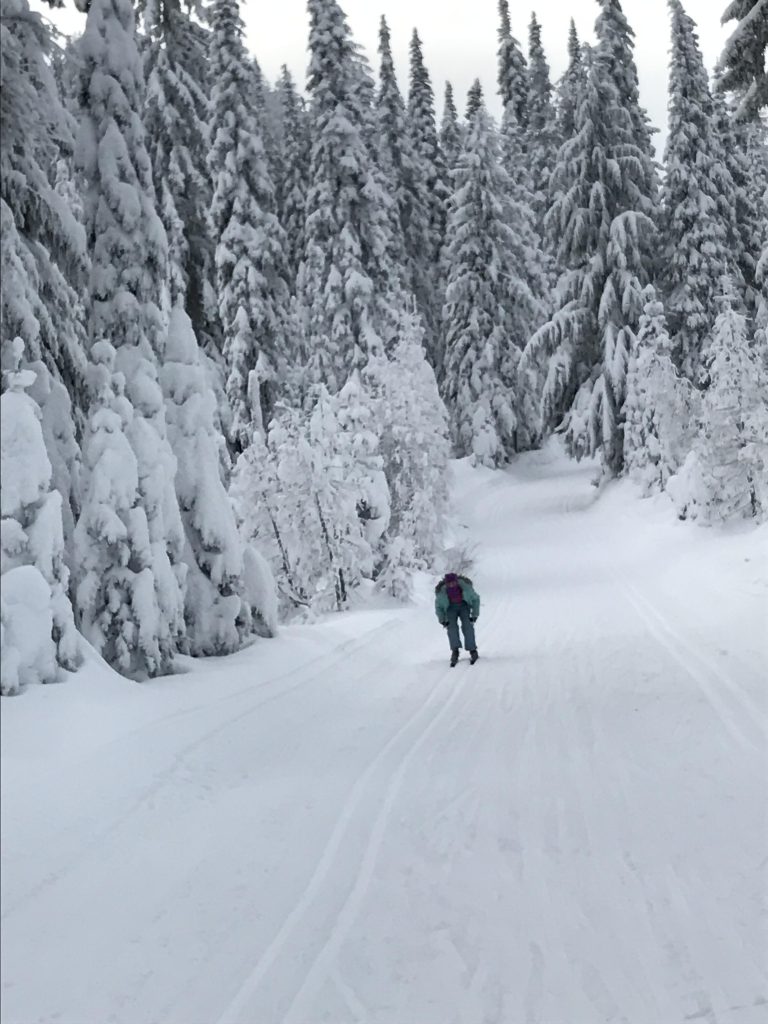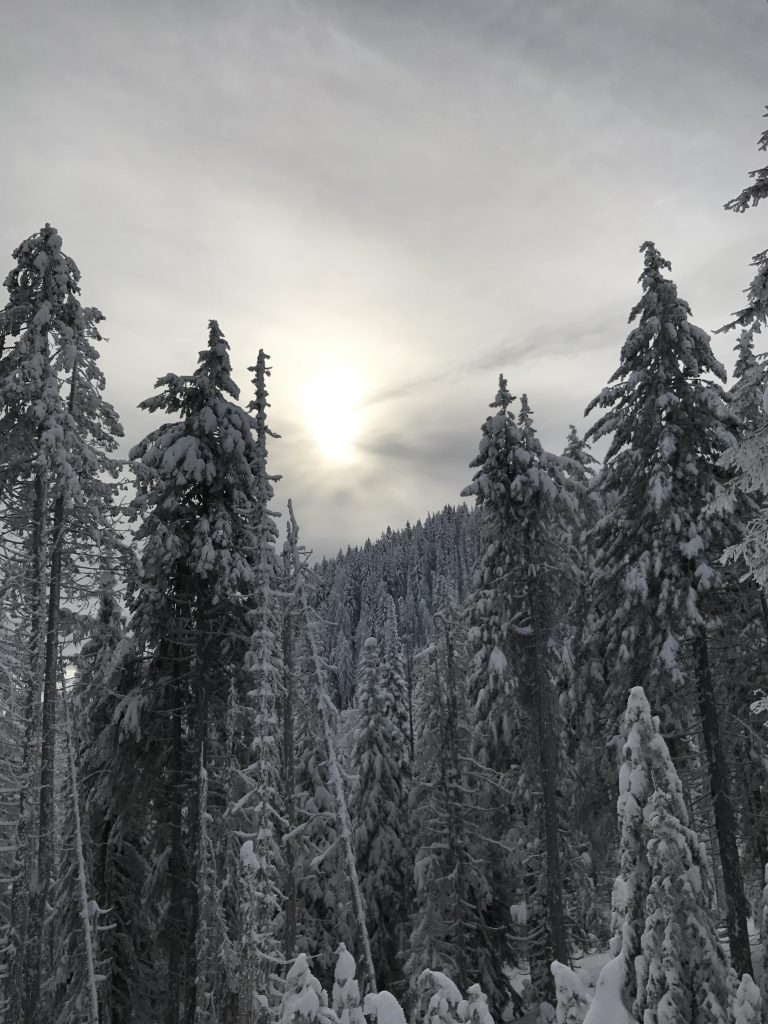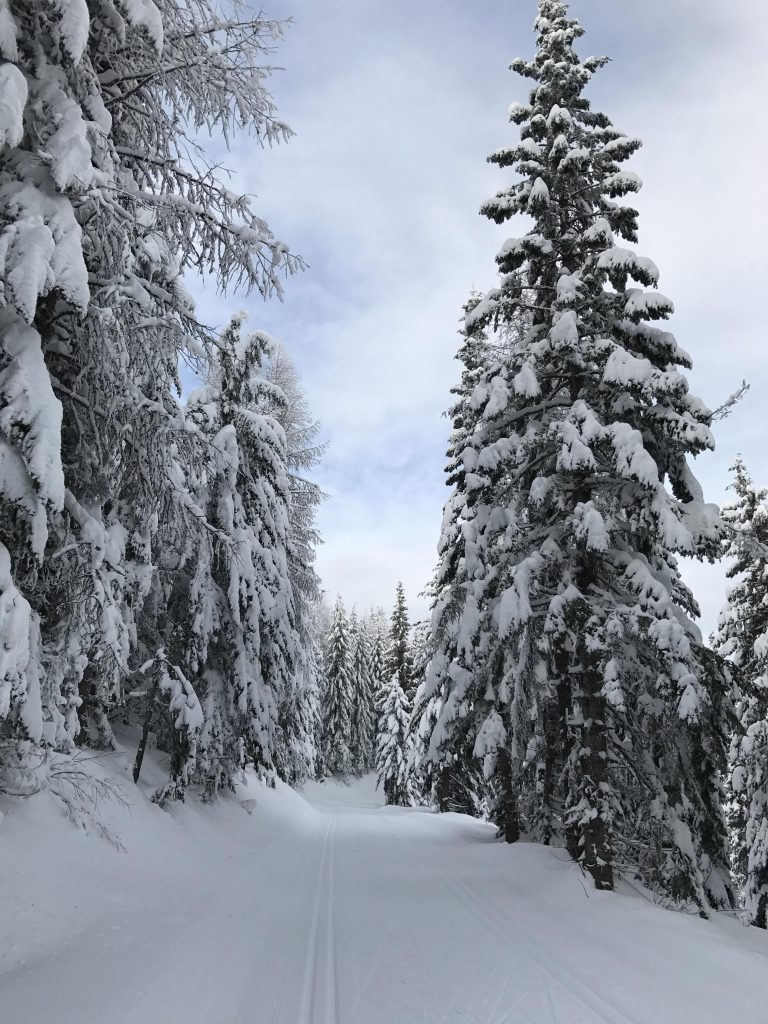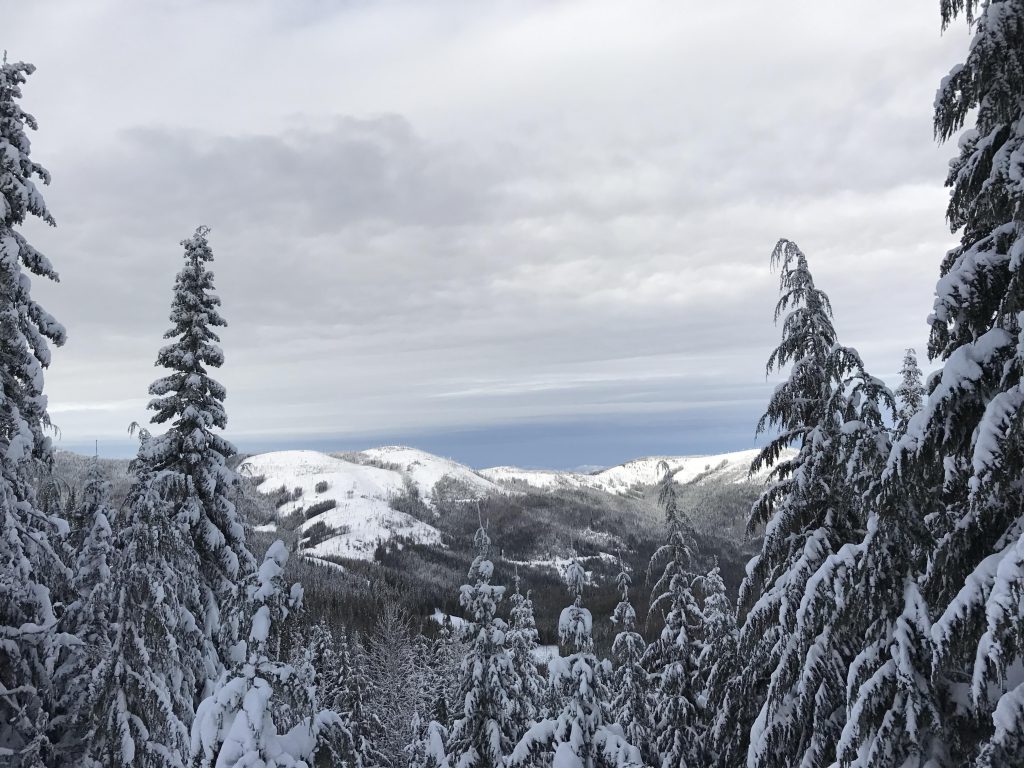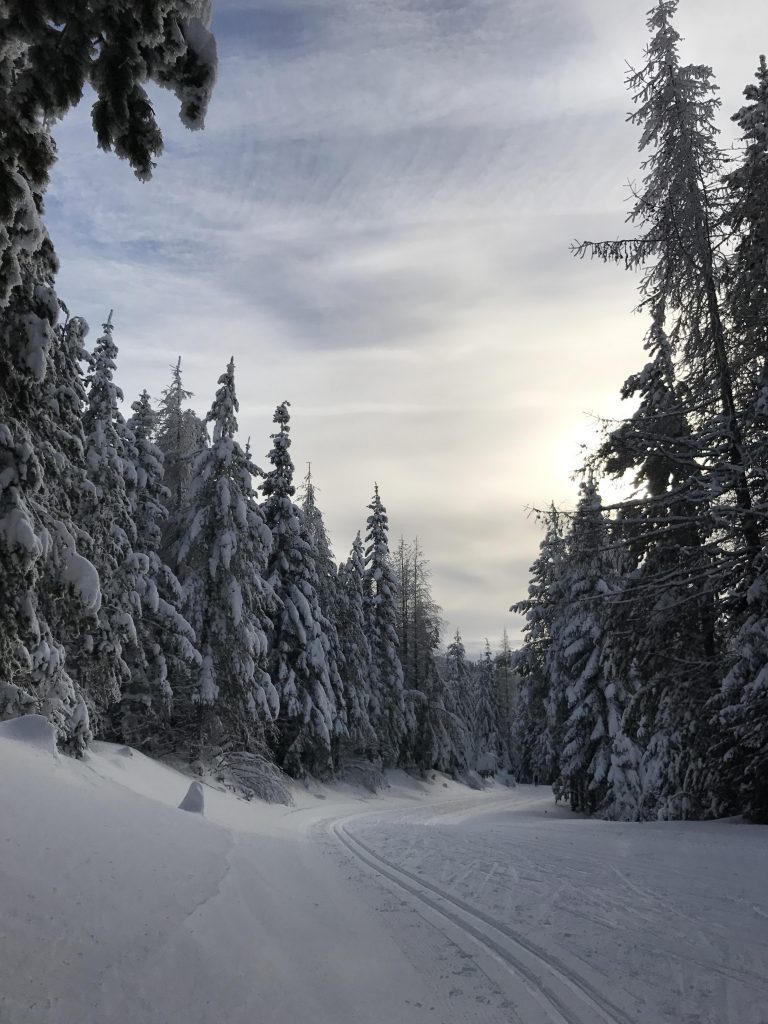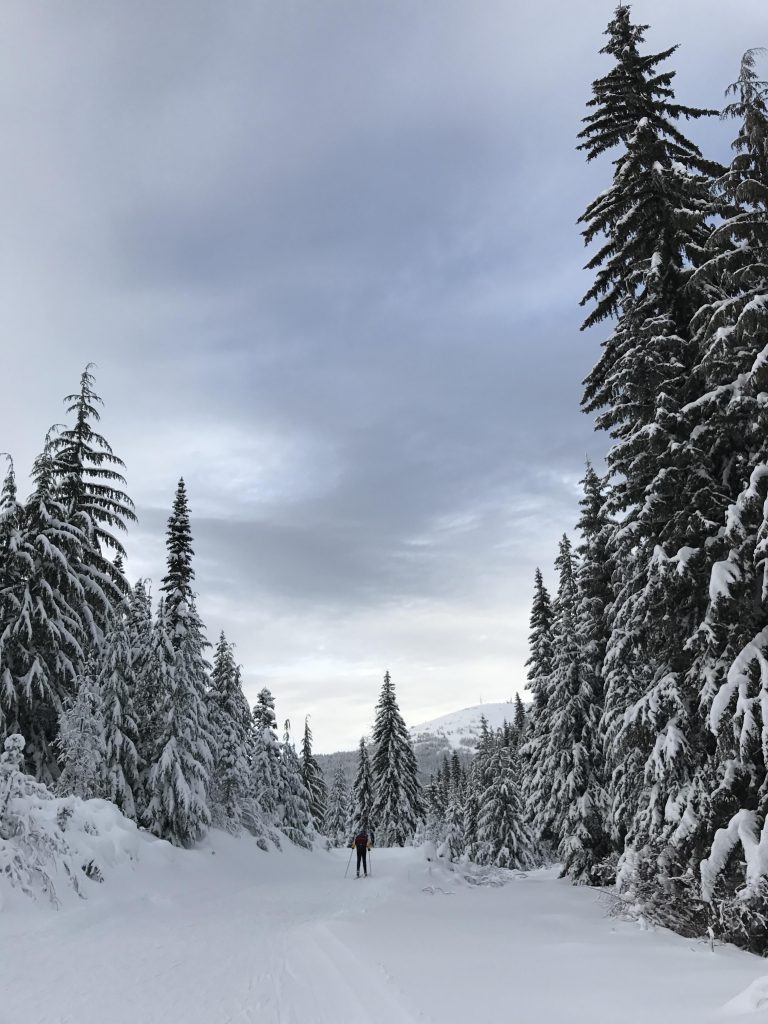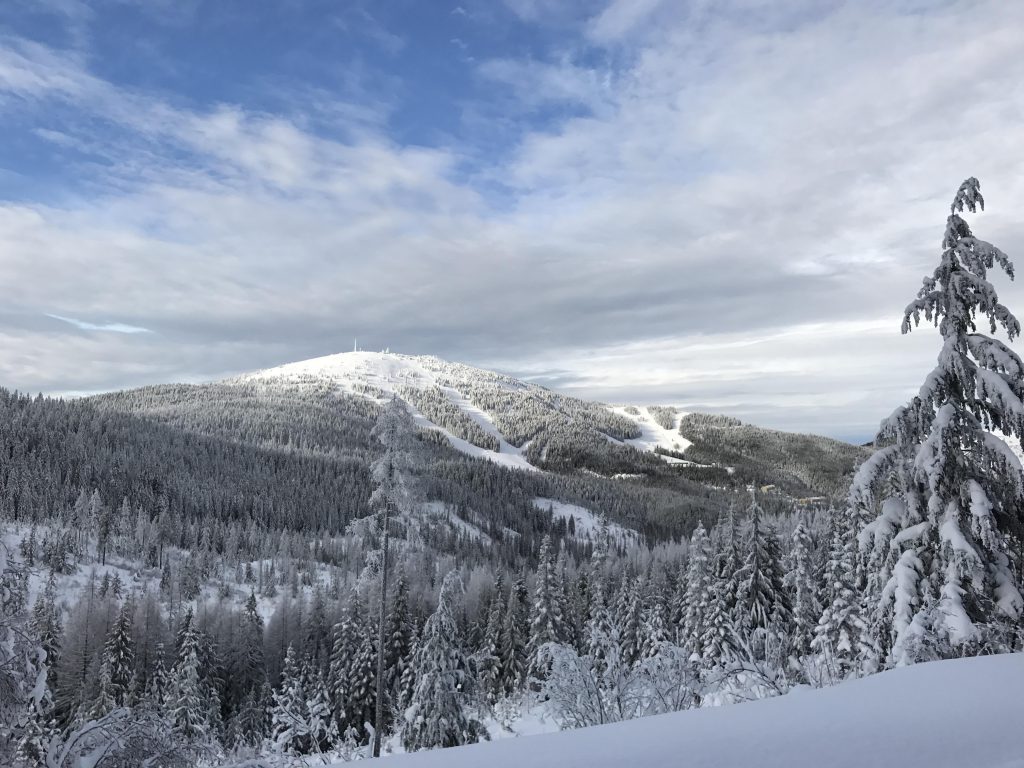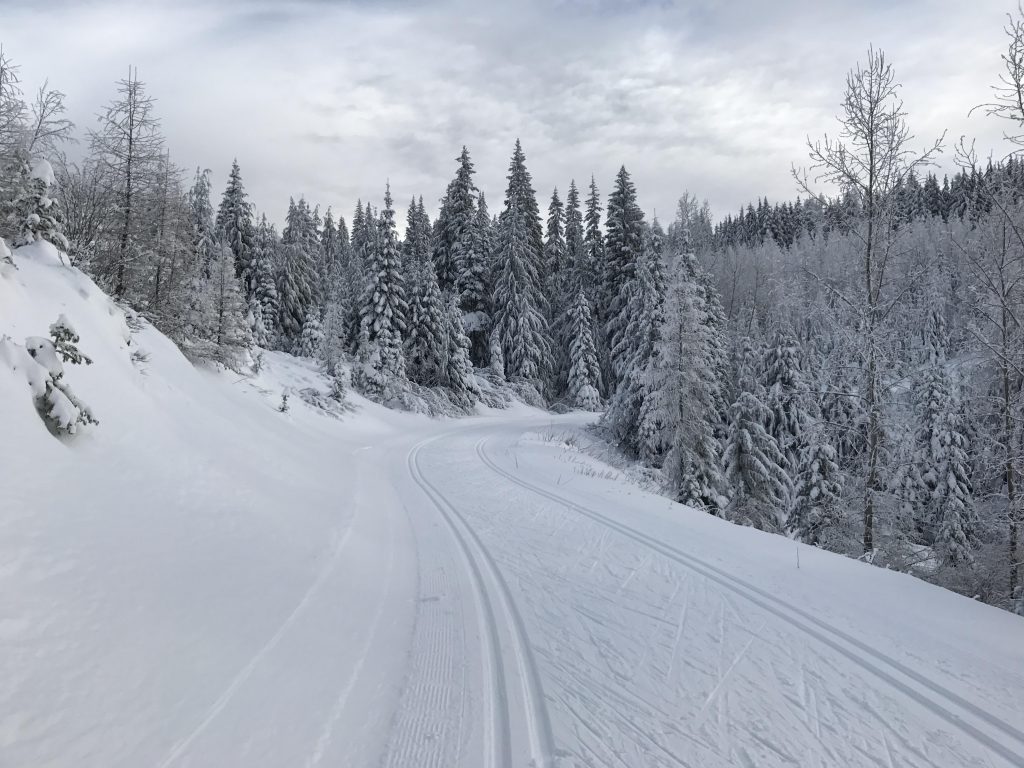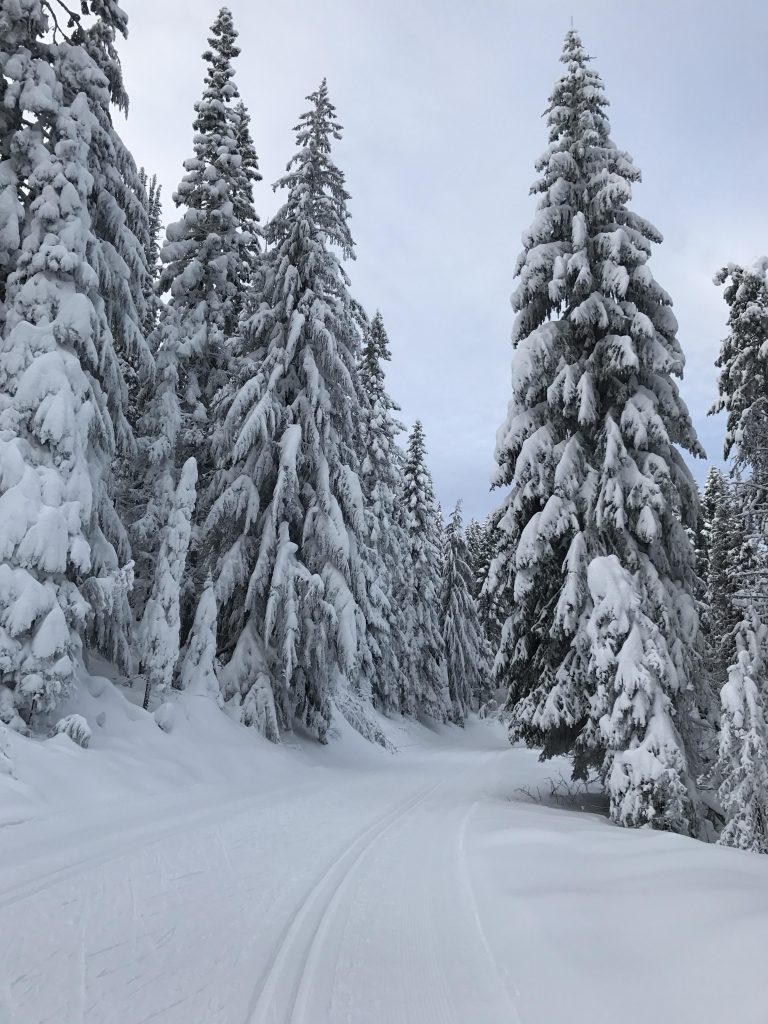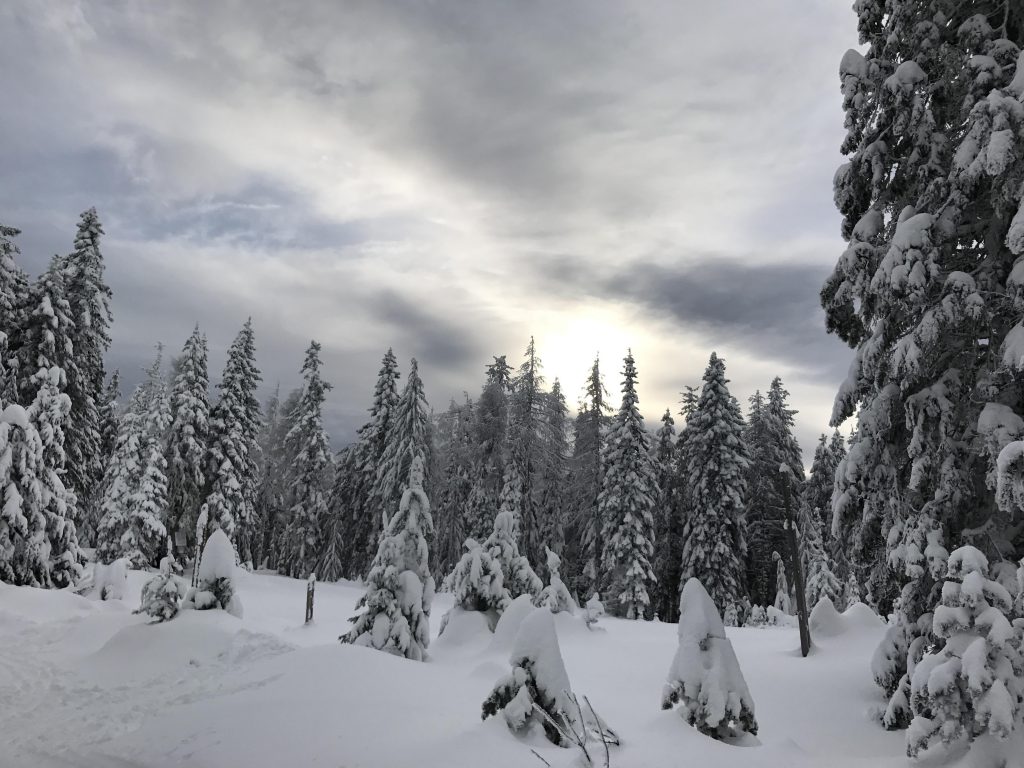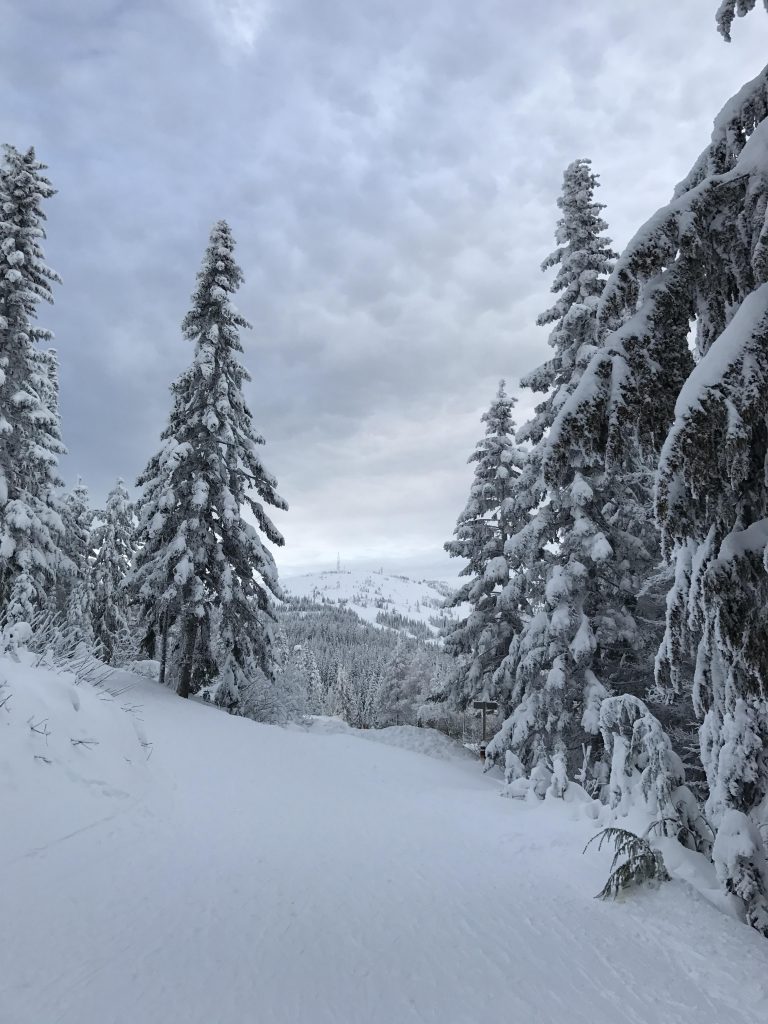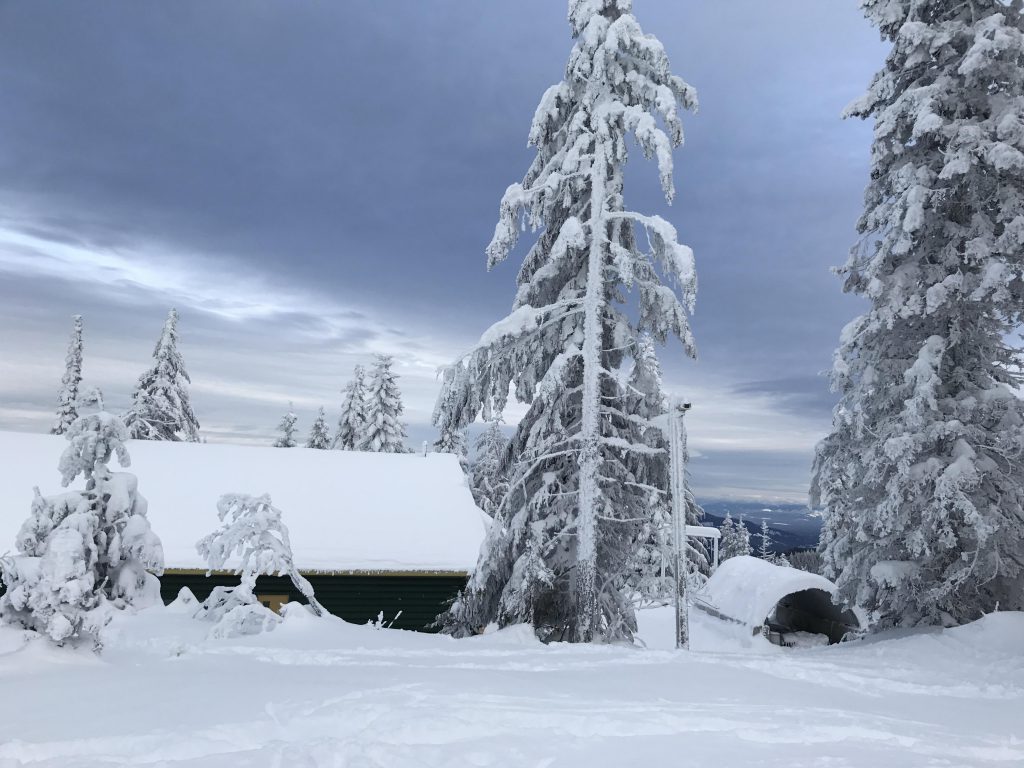 © 2016 – 2023 NaughtyHiker. All rights reserved. No duplication without permission.