This loop visits three picturesque mountain lakes in this northeastern corner of Idaho. It includes the "Moose Loop", which veers off to the south for a stop at Blacktail Lake, the smallest of the three, then ascends Moose Mountain, 6,500 ft, with commanding views across the cabinets. The trail then drops down the eastern slopes towards sprawling and marshy Moose Lake. From Moose Lake it's a just 3-mile sidetrip to the Lake Estelle cirque. 
Difficulty
Moderate (some uphill hiking)
Duration
5:39 hours moving time (Hiking)
High Point
6,543 feet (Moose Mountain)
Low Point
4,900 feet (Trailhead)
Features
Mountain
Lake
Meadow
Trailbed
Packed dirt, loose rocks
Water
The lakes and a few, likely seasonal, tributaries
Camping
At any of the three lakes. Moose Lake offers bear-proof storage; elsewhere you must hang your food. There is a vault toilet at the trailhead.
Conditions
Excellent. A few snags to climb over on Moose Mountain
Administration
Kaniksu National Forest
Maps
USGS
Mount Pend Oreille
Smith Mountain
Benning Mountain
Open To
Hikers
Dogs
Horses
Mountain Bikers
(
)
Directions
From Sandpoint take highway 200 east 12 miles to Trestle Creek Road 275 (around milepost 42); turn left onto FR 275 (this is a well-maintained gravel road) and go 16 miles to Lightning Creek Road 419; turn left onto FR 419 (a bumpy dirt road) and go approximately 1 mile, then take FR 1022 (a right turn) for an even bumpier 2 miles to the trailhead.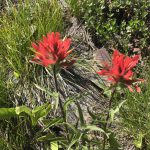 This was our kickoff backpacking trip for the year and with Gone-Away Pup back for the summer, and willing to come along, we were short on tent space. You see, we have 2 two-person tents, with one of them a bit larger to accommodate yours truly. The Scribe decided to bring along a 3-person car-camping tent instead of the small 2-person tent, which comes with an 8-pound weight penalty and the compactness of an elephant. To my dismay I caught him at an exceedingly perturbing study of an American-Indian-style dog-drawn travois. I tried to picture myself jerking said travois hither and thither through the brush in pursuit of squirrel. It didn't quite add up in my mind.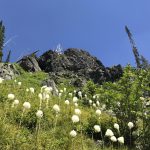 I offered to relinquish my "extra" space in the tent: I'd rather sleep under the stars than be tied to two poles. Not enough, the Scribe said dismissively. I offered to carry the car-camping tent in my panniers. This was entirely ridiculed (I cannot recall every comment in this regard, but distinctly remember the Scribe saying that my panniers barely have enough room for a mouse, not to speak of an elephant). At this point I gave up and left the Scribe to his reading and fantasizing.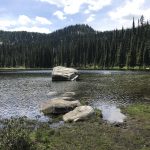 Luckily for me, however, the Scribe abandoned the travois solution. Instead, he changed our route so that we were supposed to head for Moose Lake first, a short 1.5-mile hike, set up camp, and then commence across Moose Mountain to Blacktail Lake and back to Moose Lake. I breathed a sigh of relieve (several, actually).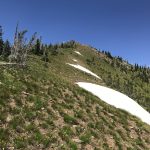 The trails very heavily in use during this Fourth of July weekend, and the trailhead parking area, which is generous, filled up quickly. The single-track trail was wide and easy going, leading through mixed coniferous forest to Moose Lake. Moose Lake occupies most of a broad meadow, rather than the cradled alpine cirque you'd expect, and much of the edge of the lake is boggy. In fact, we found only two good campsites, the first (which we used) right where the trail meets the lake and the second a hundred yards further along and swamped. The Scribe and I fully circumvented the lake and found nothing better, only worse (for the Scribe), as he waded through a knee-deep quagmire. We both felt this must be a heavenly place for moose, but in all the time at the lake we saw none.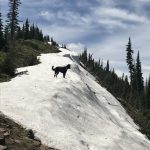 With camp set up, the pups started to play in the lake and decided the hike across Moose Mountain was off the menu. Hence, the Scribe and I set off alone, leaving the marshy lake behind and ascending the patchwork of remaining snowfields, talus slopes, and runoff-soaked bits of trail up the eastern flank of Moose Mountain. It was a fairly steep ascent of around 1,000 feet, at one point climbing near a sheer granite wall. Moose Mountain featured long snowy cornices, about three feet deep, which made for a great racetrack. I had a blast.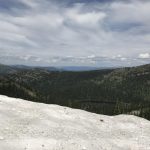 The views at the top were breathtaking. You can see Moose Lake far below and more distant ridges beyond. To the west we made out Blacktail Lake, our next destination. But first we had to descend Moose Mountain via its western flank, a nice ridge hike through open forest dotted with the occasional patch of snow. The fork to Blacktail Lake is around the 4-mile marker and it's just a half mile to the lake, most of that on a boardwalk. There was a nice campsite there with a ready pile of wood, but I was more interested in a cooling bath. The Scribe passed on the swim and so we headed back and continued along Blacktail trail #24, nicely forested and boasting a few thick stands of mountain ash and elder, to the junction with Moose Lake trail #237. Then it was back to the campground on ground already traveled.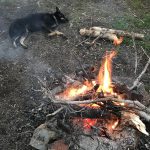 The rest of the day we spent at and in the lake, resorting to a smoky campfire when the mosquitoes, which were terrible, became unbearable. Despite the many cars at the trailhead we camped alone that night, woken up only once when a muledeer splashed around in the water.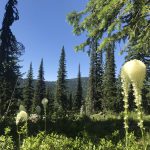 The next day we packed up our gear and headed for Lake Estelle, a short 3 miles away. The first mile was merely backtracking on Moose Lake trail #237, then taking the Estelle branch (#36) uphill. As we gained altitude views opened up across the valley towards Moose Mountain, framed majestically by tall stands of beargrass in full bloom. The trail eventually crosses the ridge and serves up views of the other side, the Lost Creek draw. As we continued on, the path moved steadily up among large boulders and sheer slabs of granite.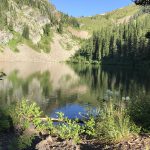 Having gone in a northerly direction for the most part, the trail turns sharply westwards as it climbs the last bit to the lake. Lake Estelle is a typical high-alpine lake nestled in its proper cirque. A large snowfield in a bowl above feeds the lake with ice-cold water. This didn't stop anyone from a swim, though, with Gone-Away Pup and Big Pup swimming clear across the lake! The Scribe and I, however, spent the rest of the afternoon bushwhacking across a saddle to Gem Lake–a tale for another report.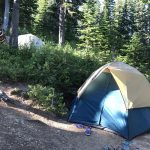 We spent the night at Lake Estelle (again we were the only campers) with far fewer mosquitoes, which suited everyone. The next day we hiked out to the trailhead, which is mostly downhill, just shy of 3 miles.
Alternate Routes
To break this up into smaller hikes: Moose Lake out-and-back 3 miles; Moose Loop 8 miles (deduct a mile if you don't do Blacktail Lake); Lake Estelle out-and-back 5 miles
Combine this trail with a bushwhack to Gem Lake and the Gem Lake trail (see separate trail guides)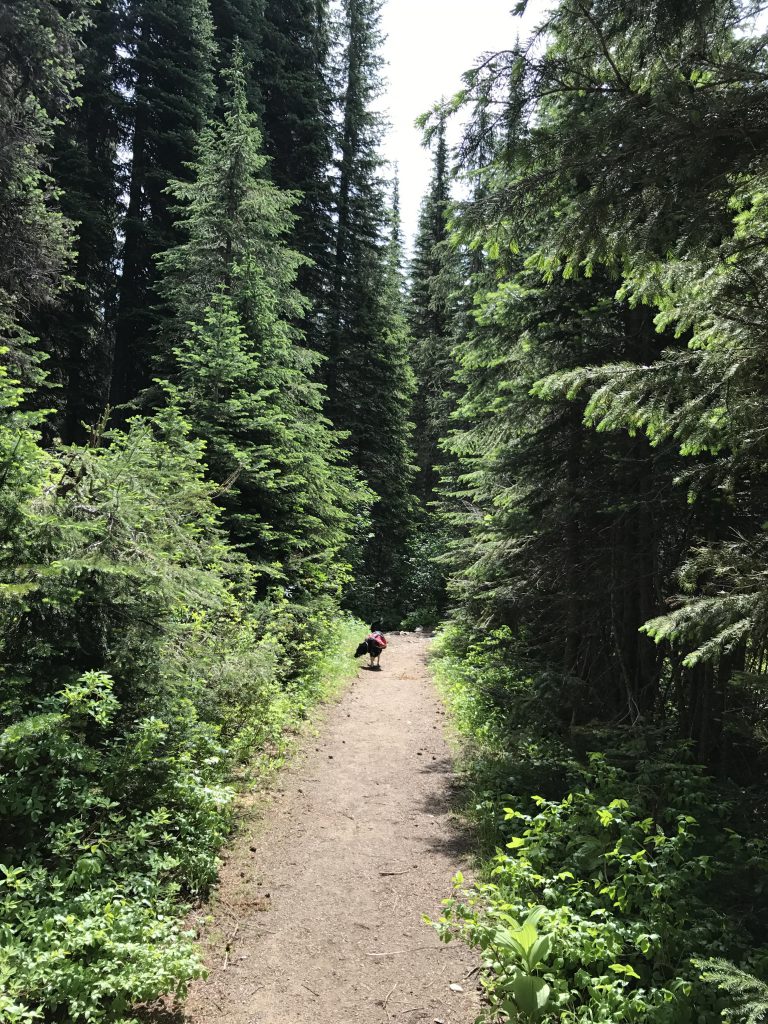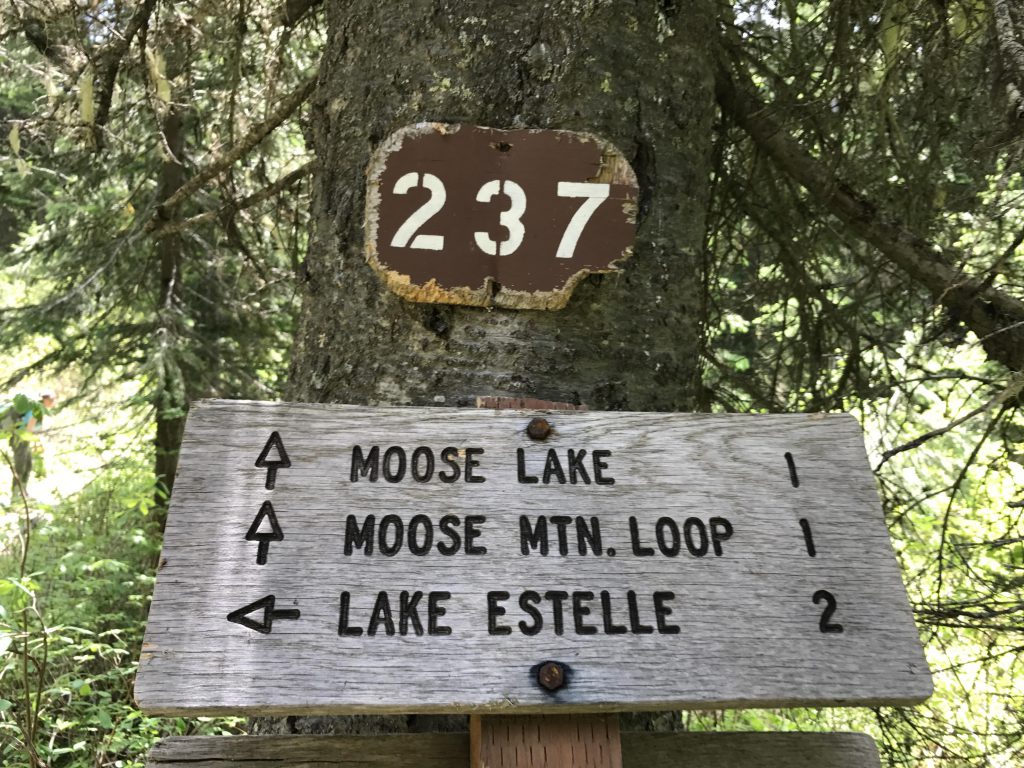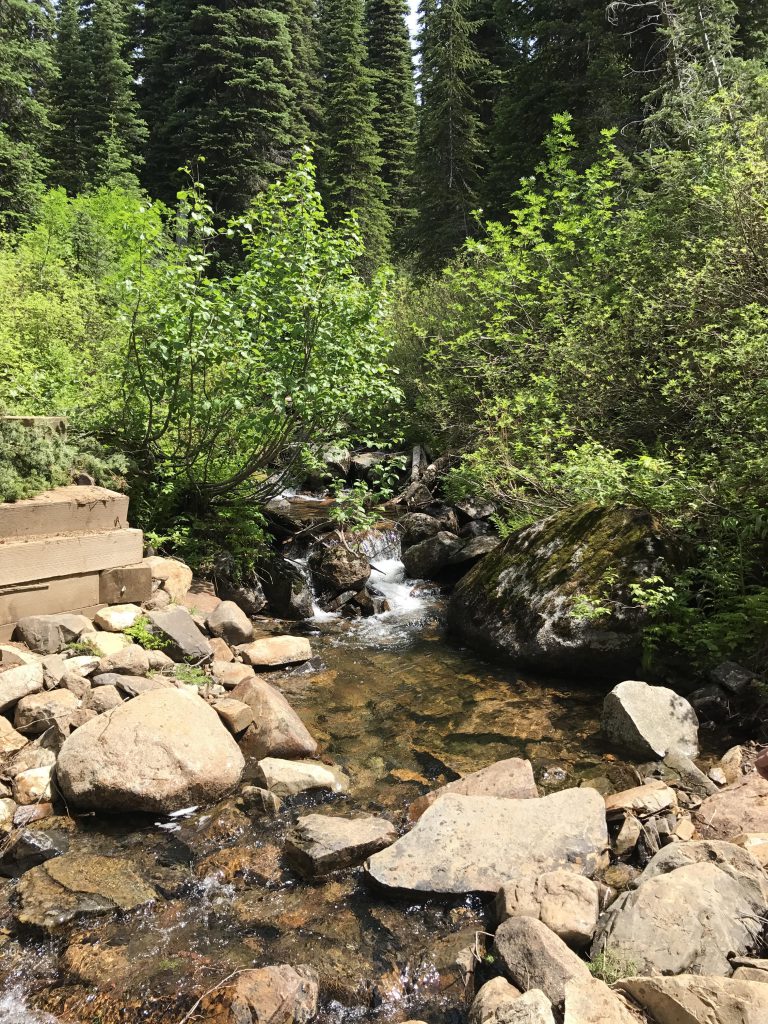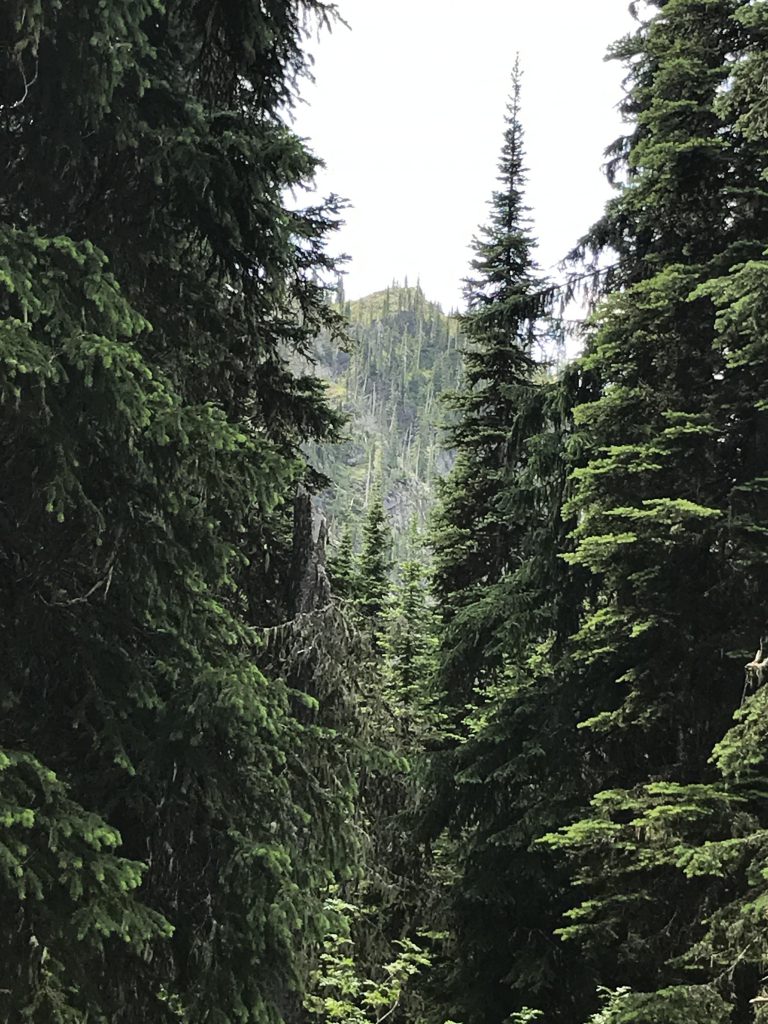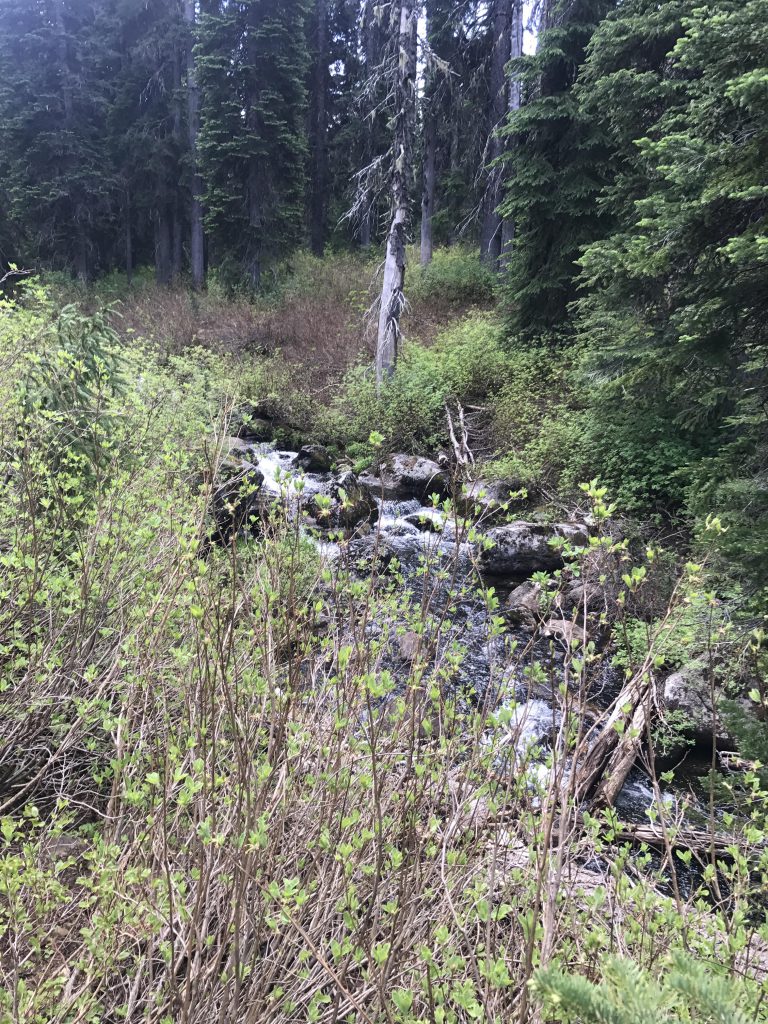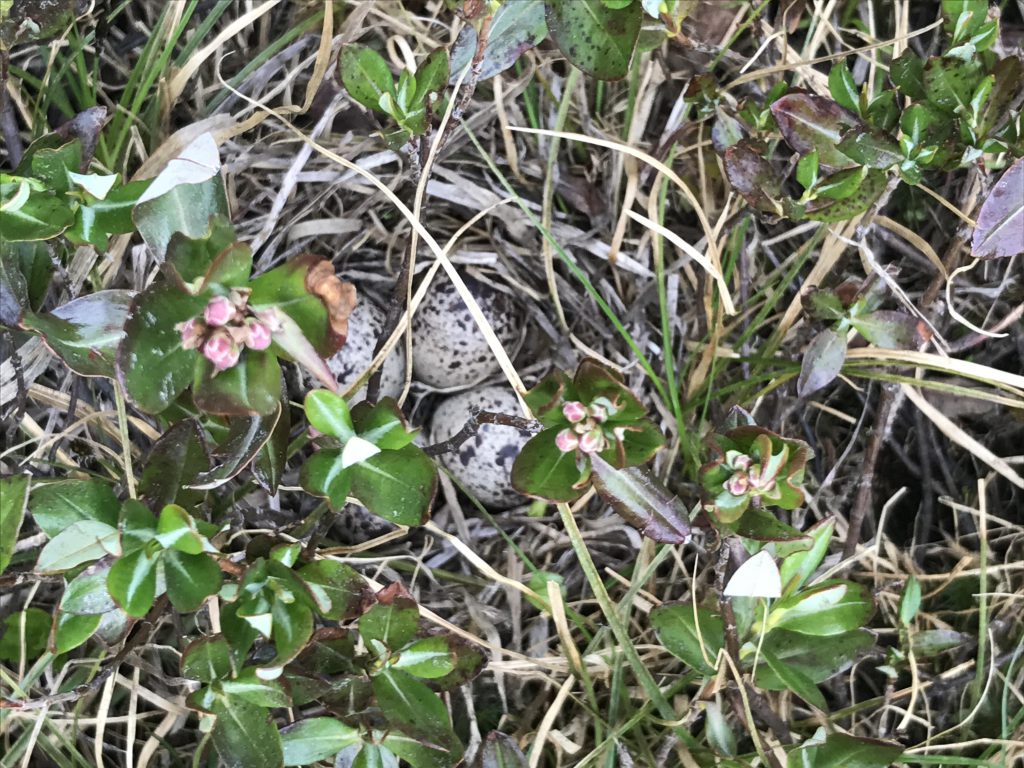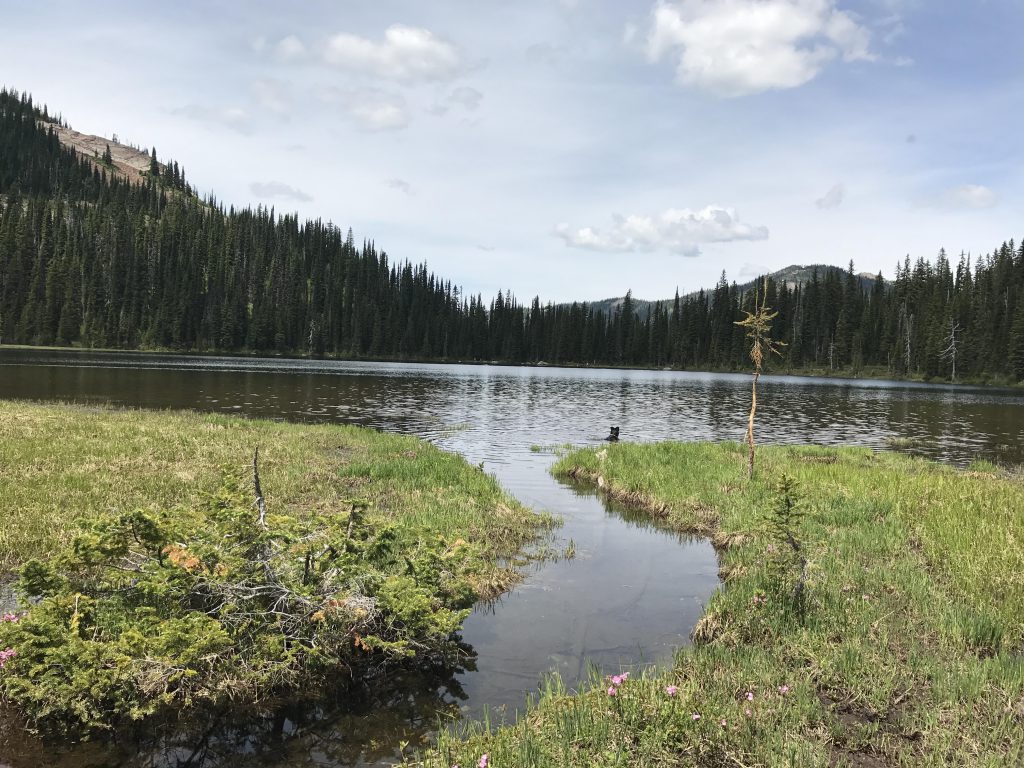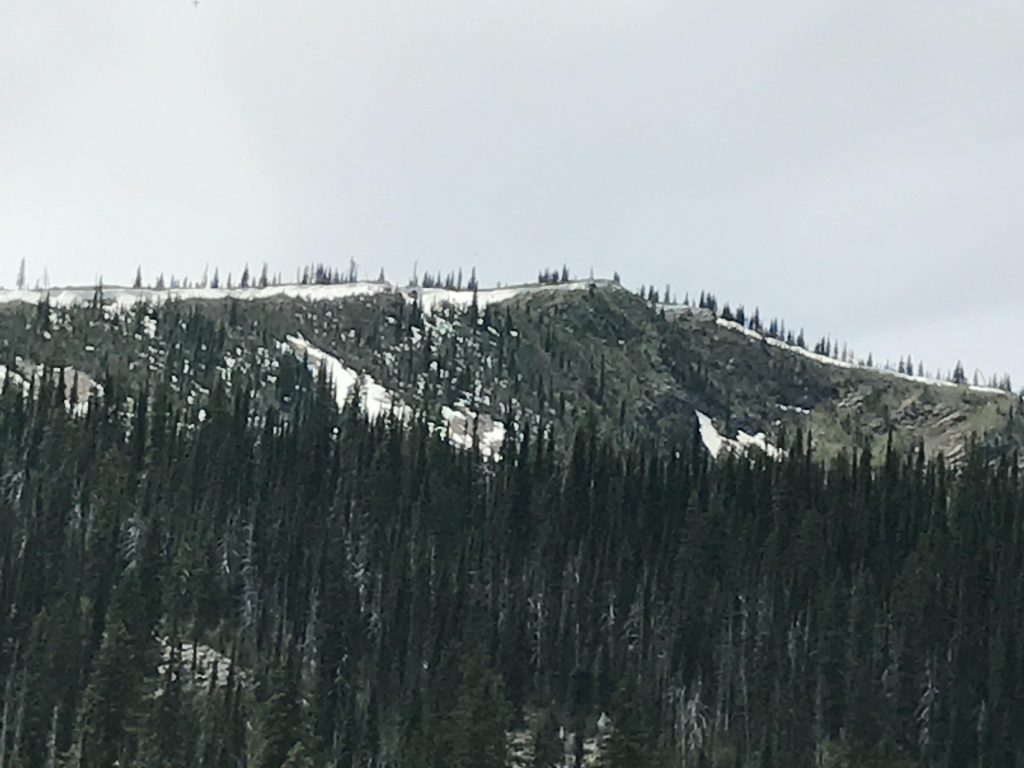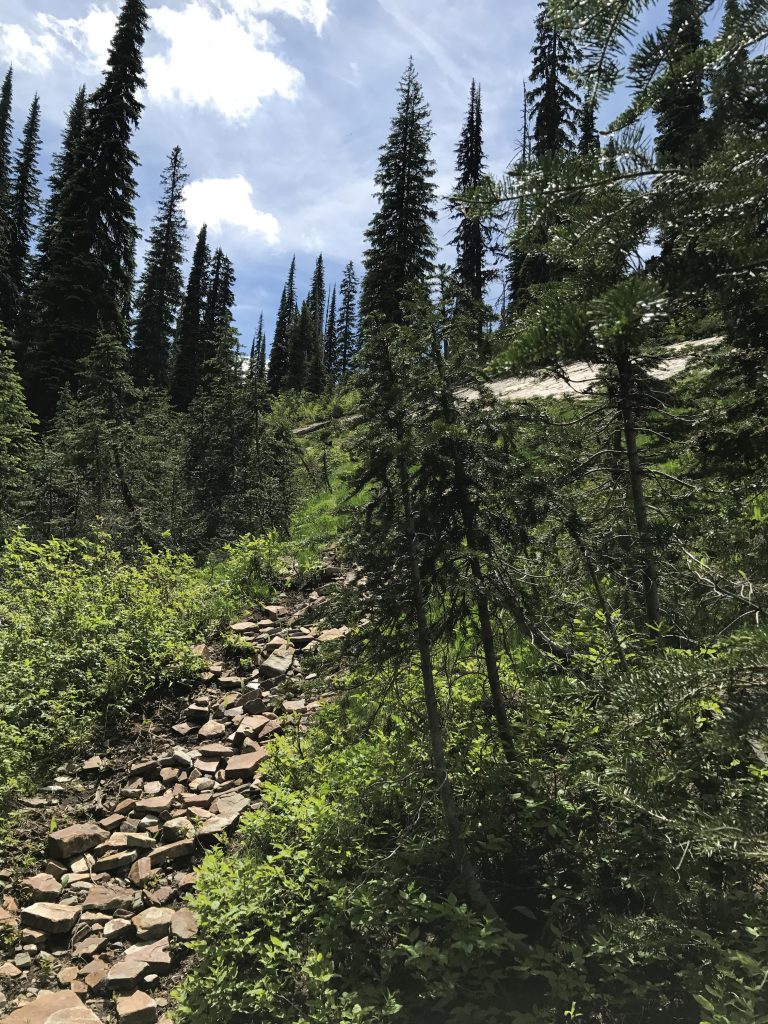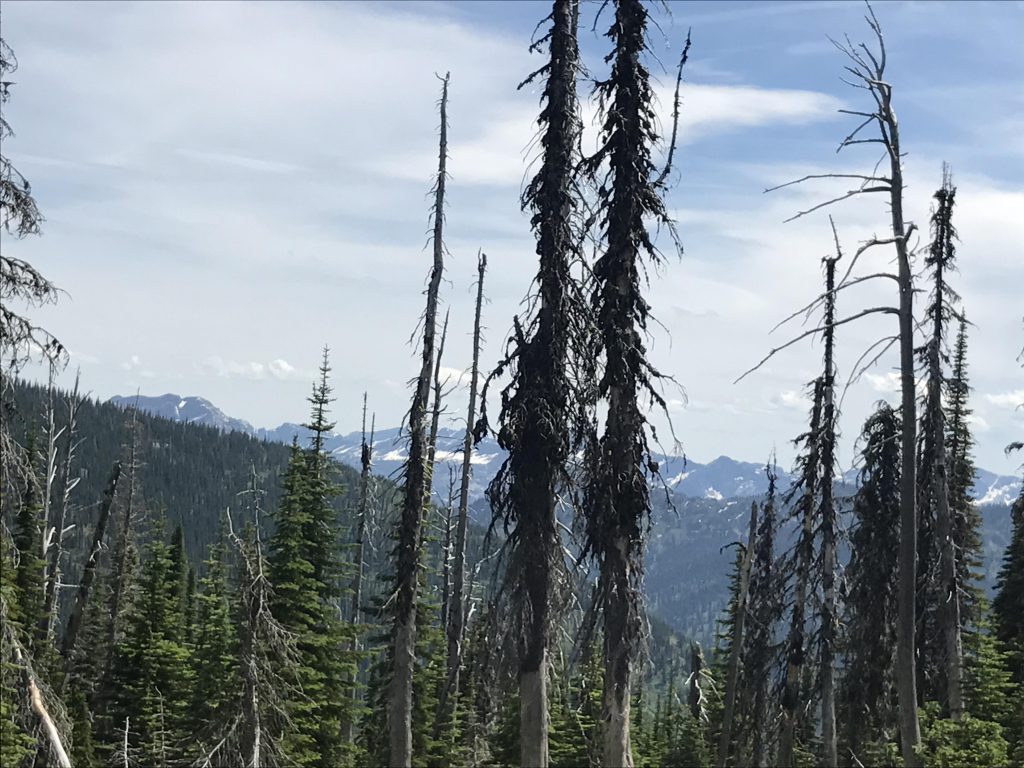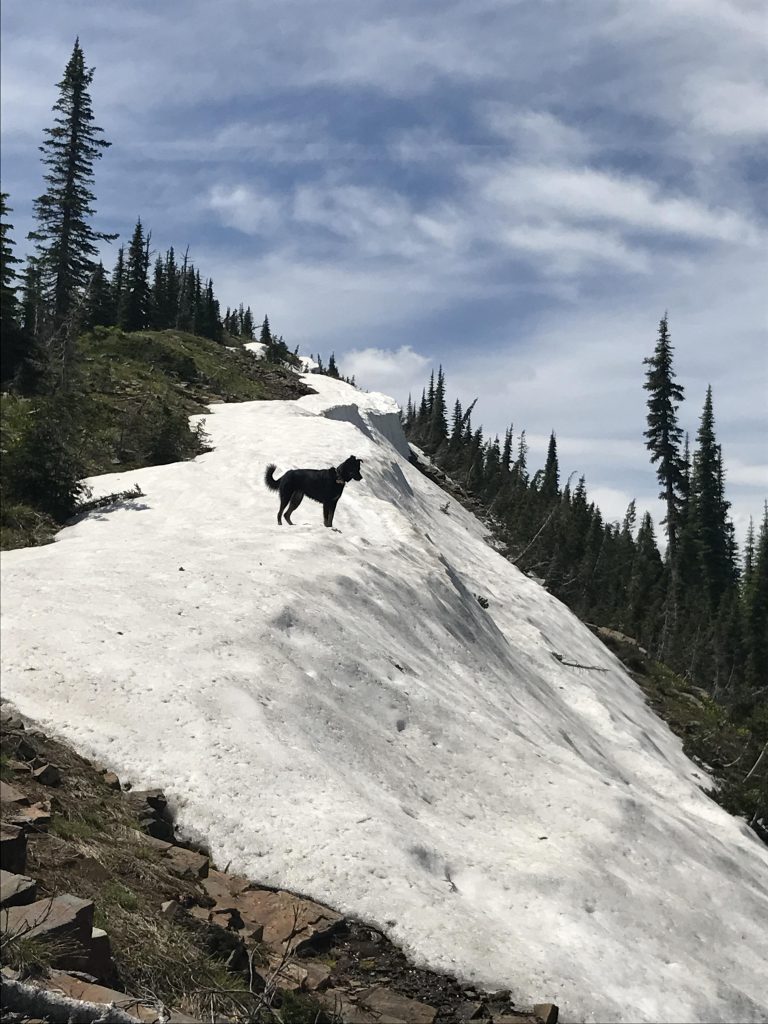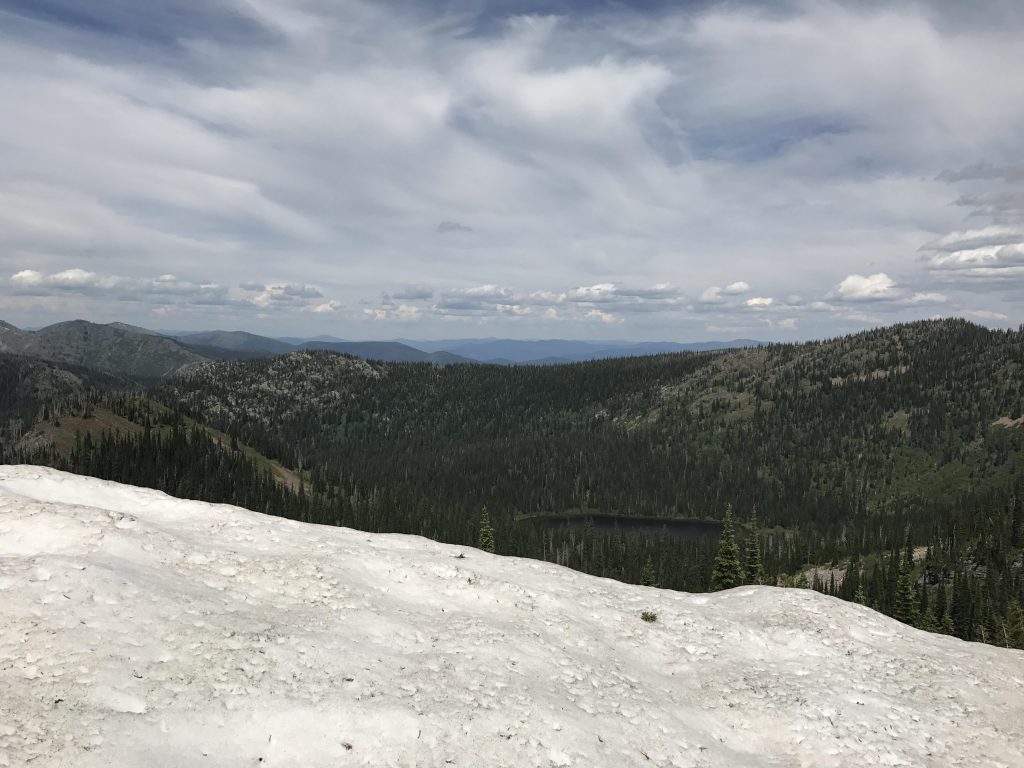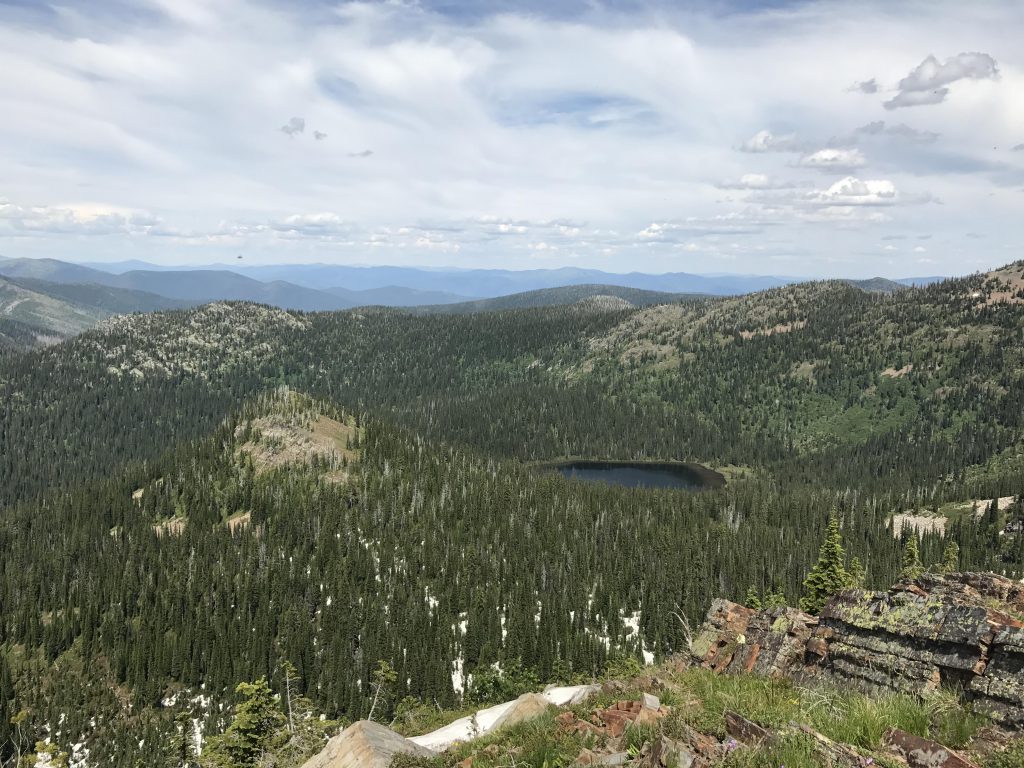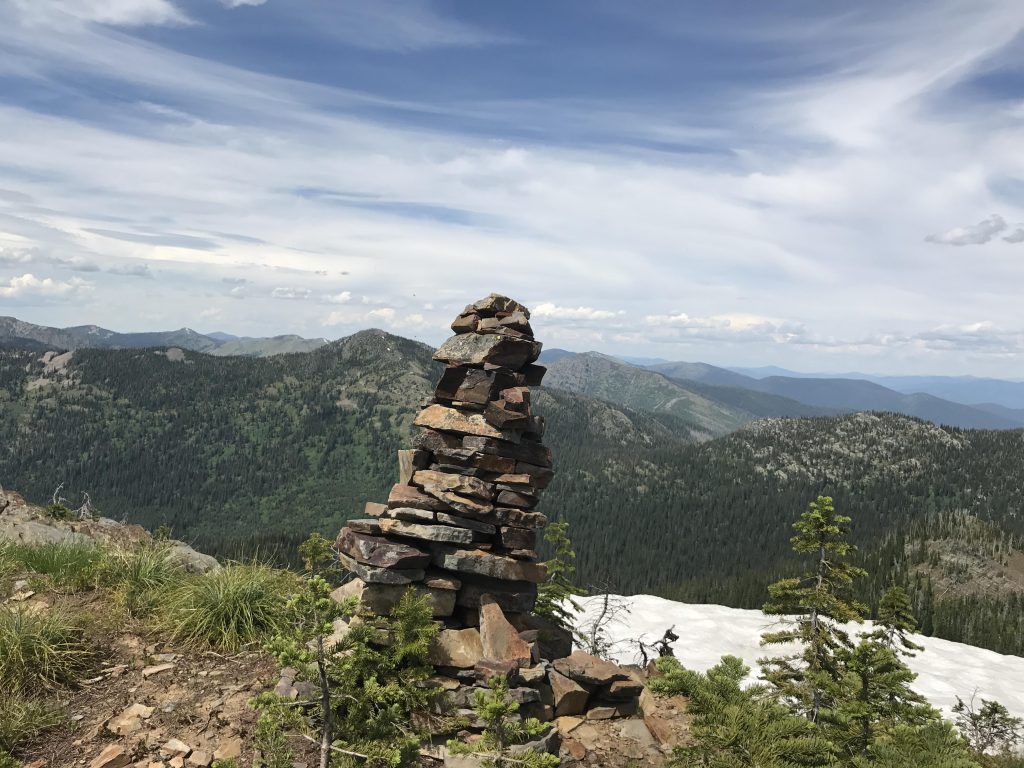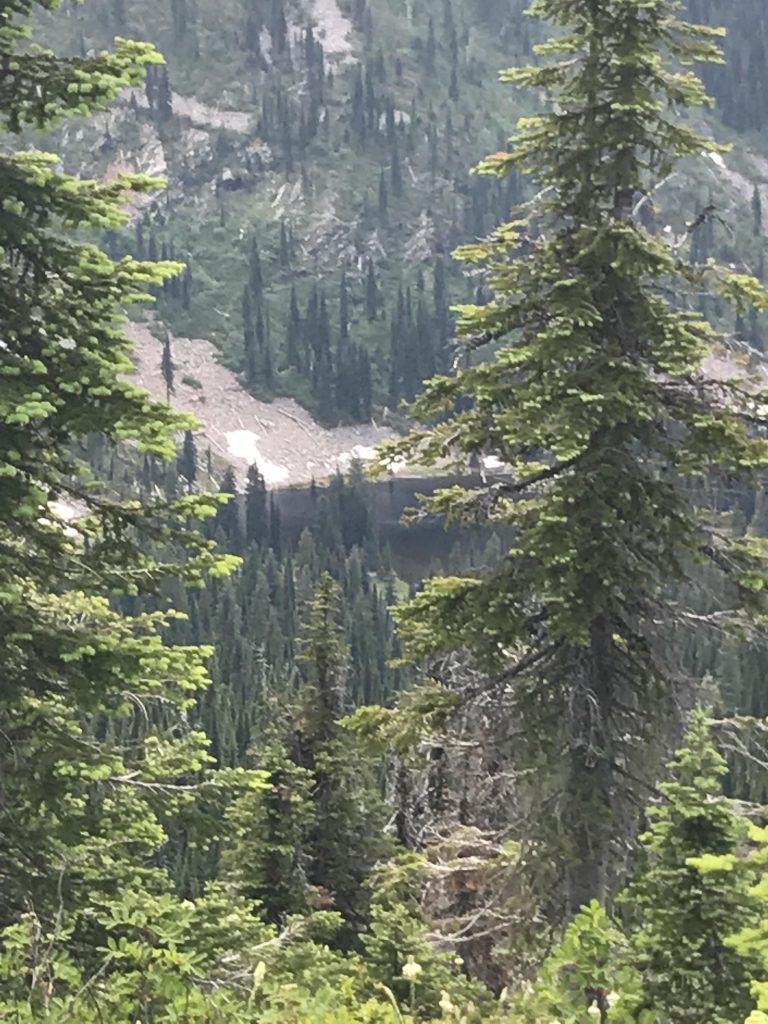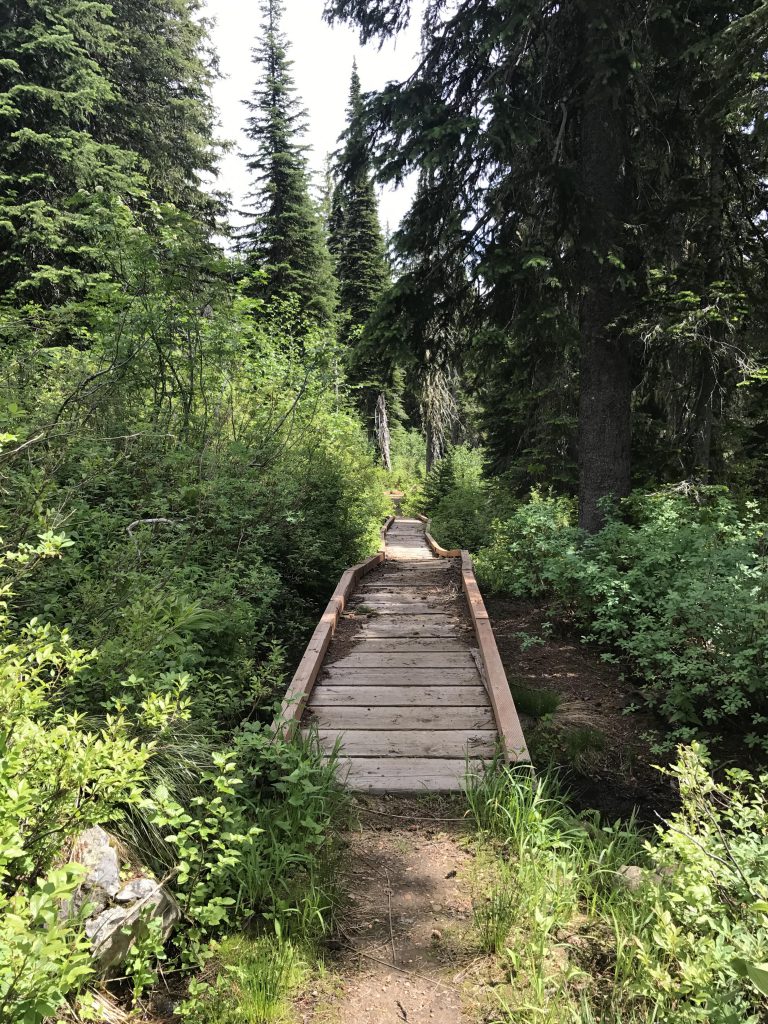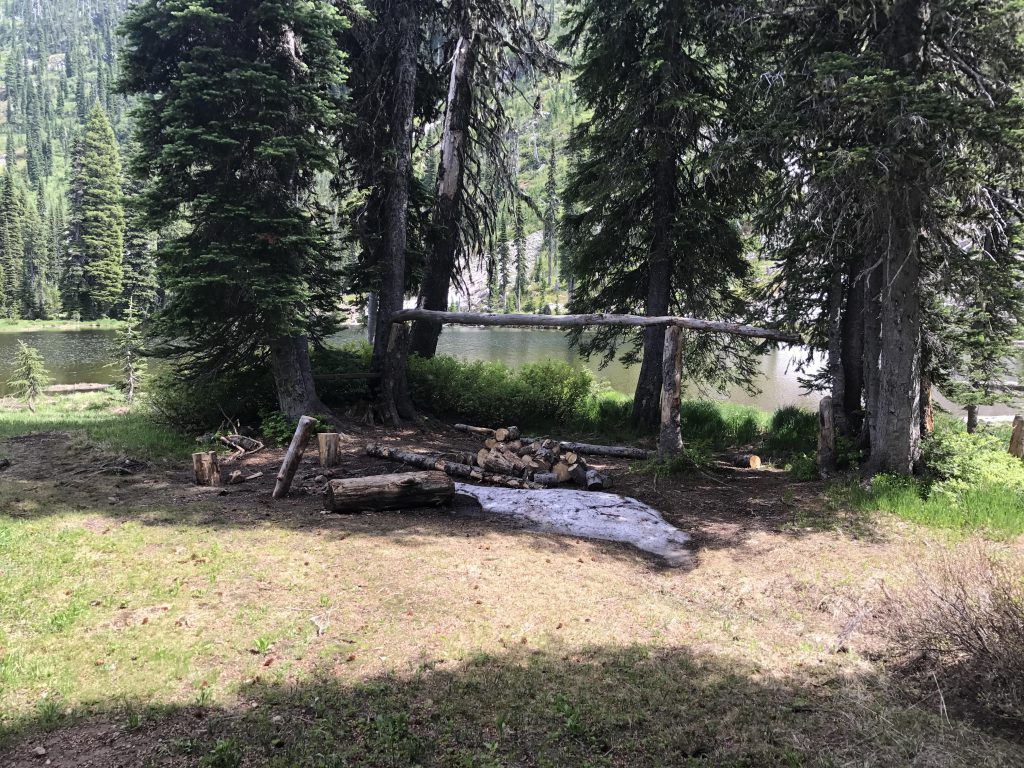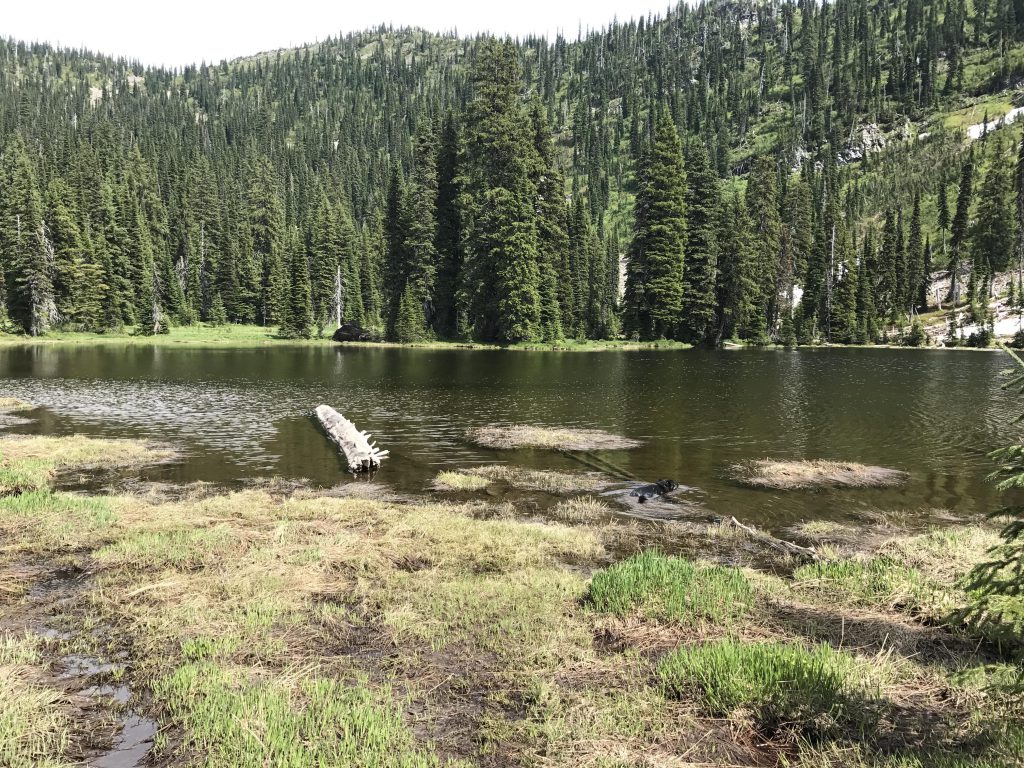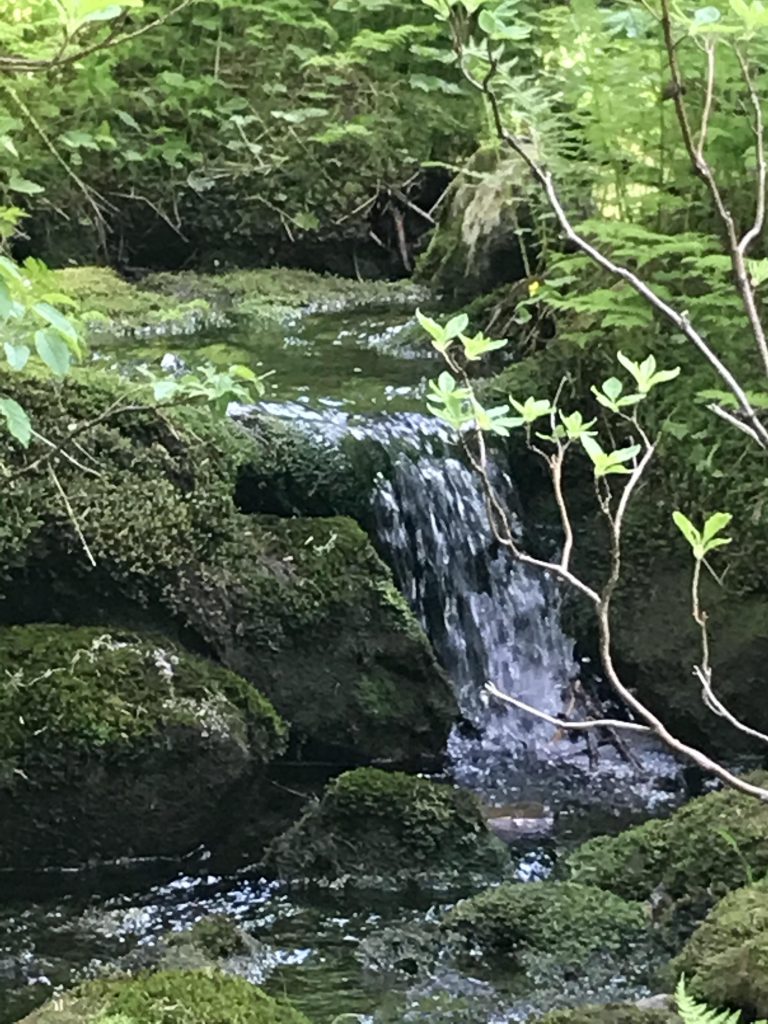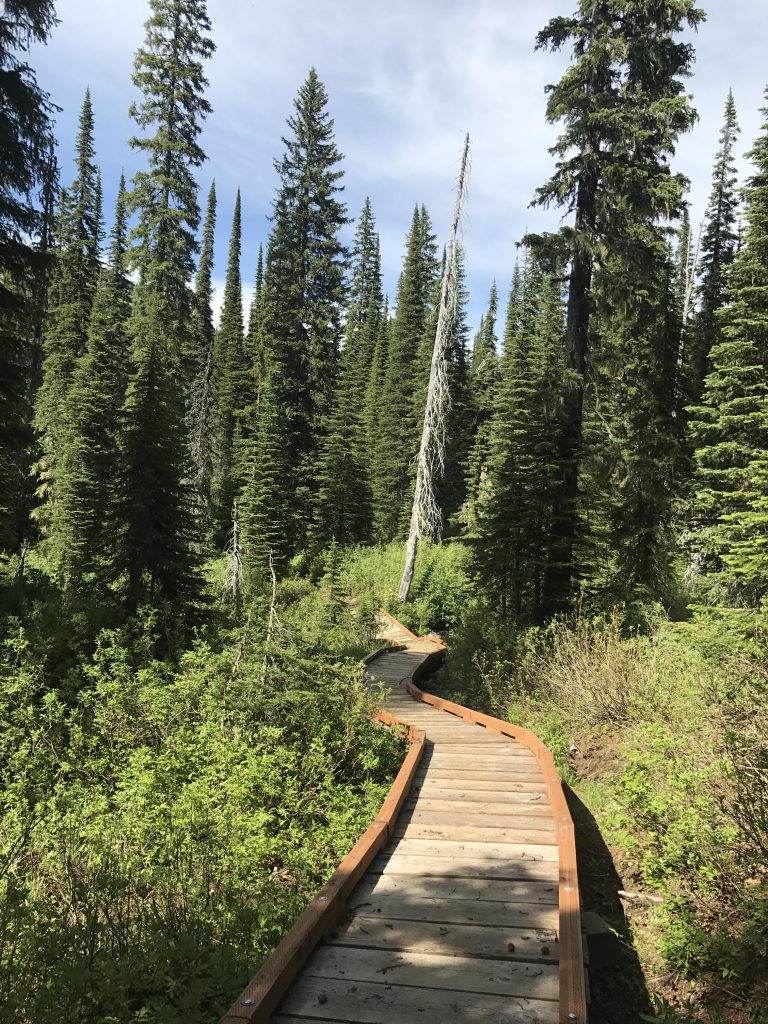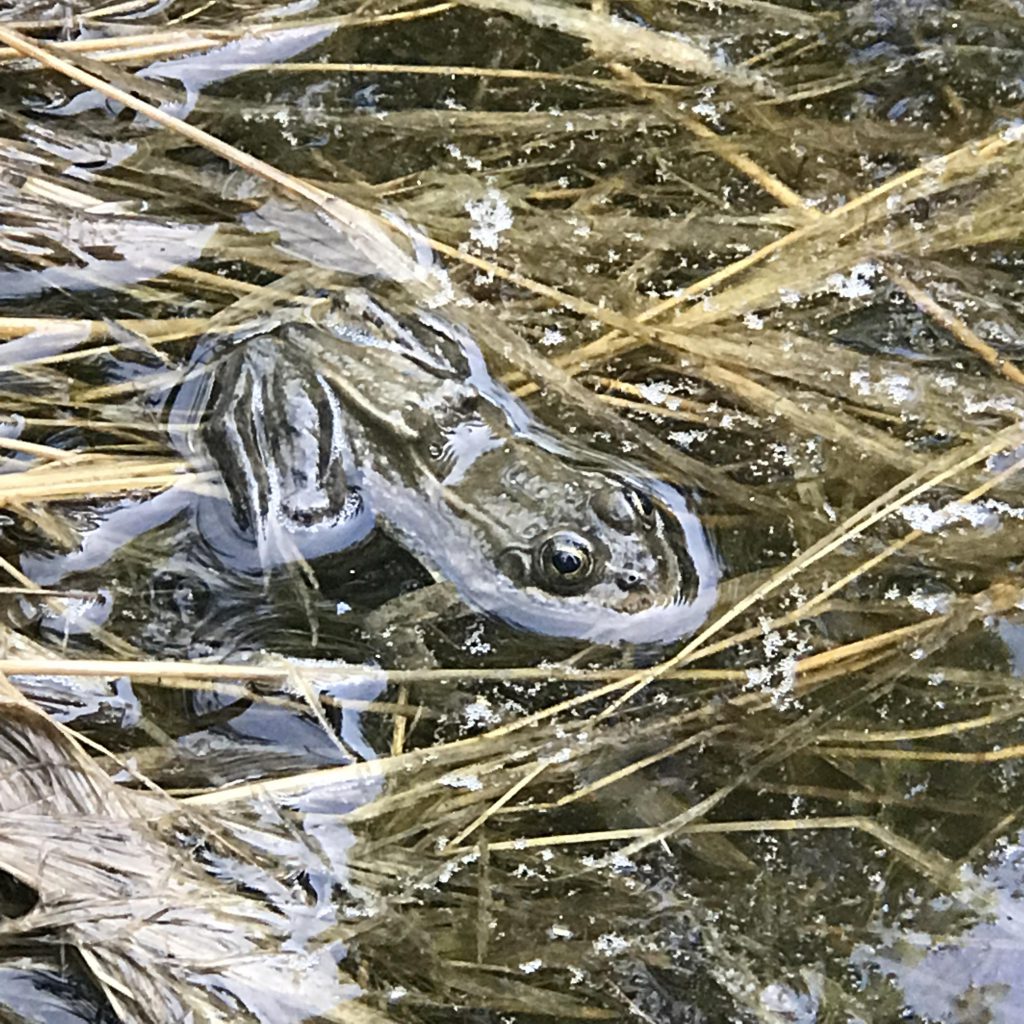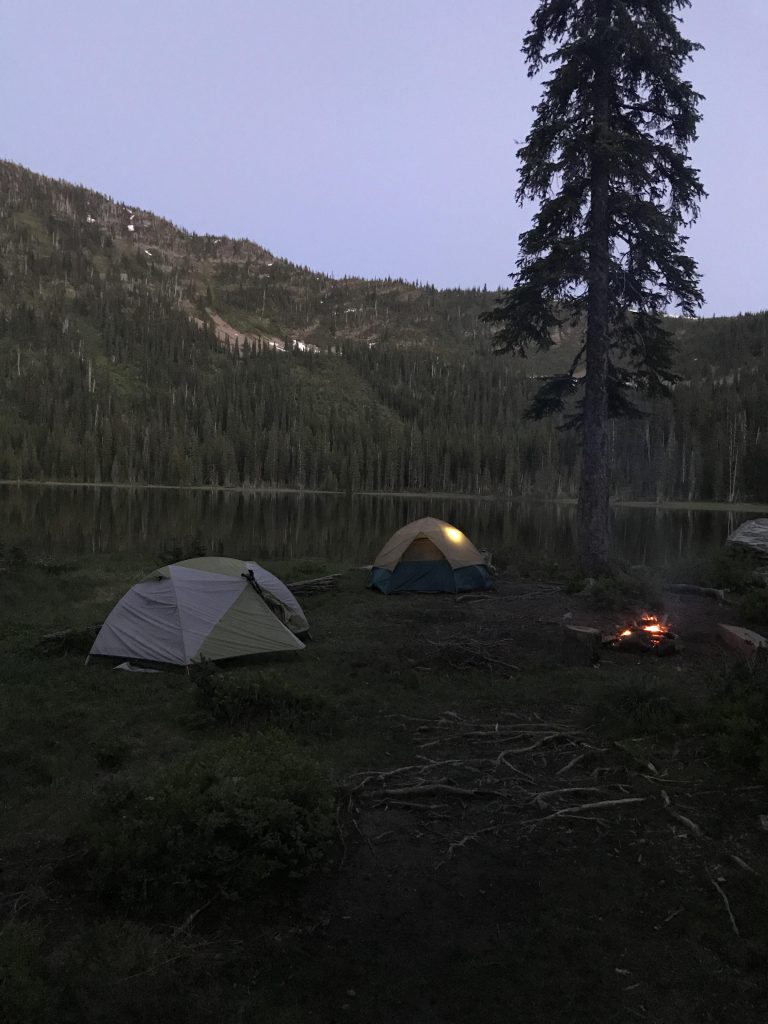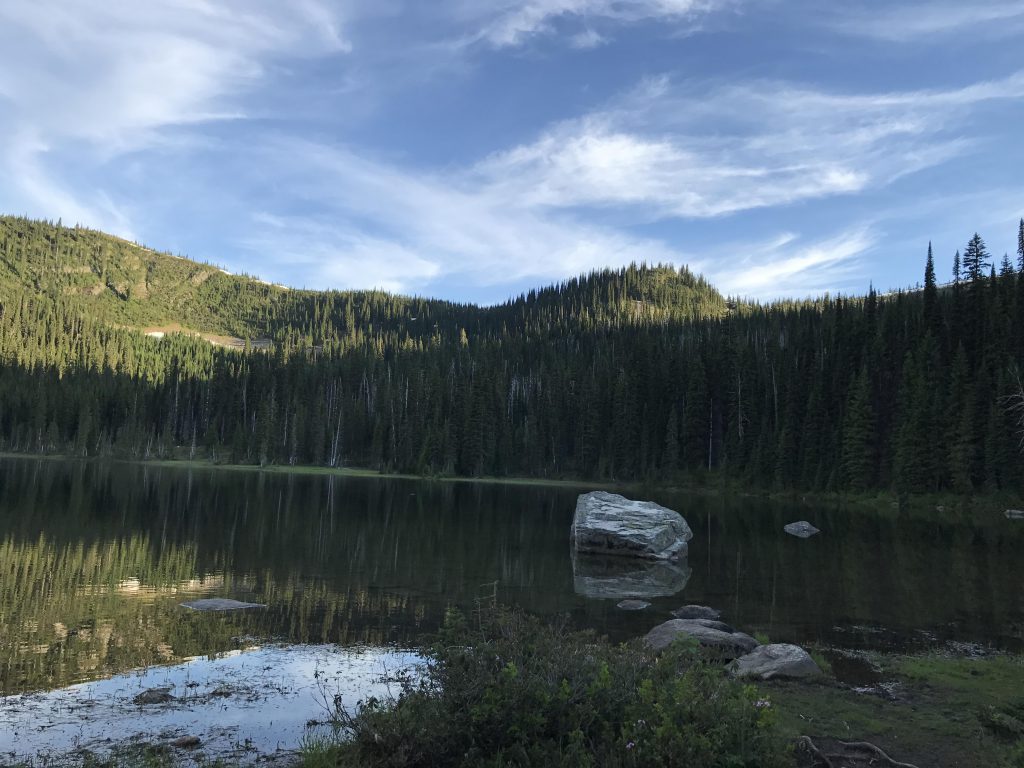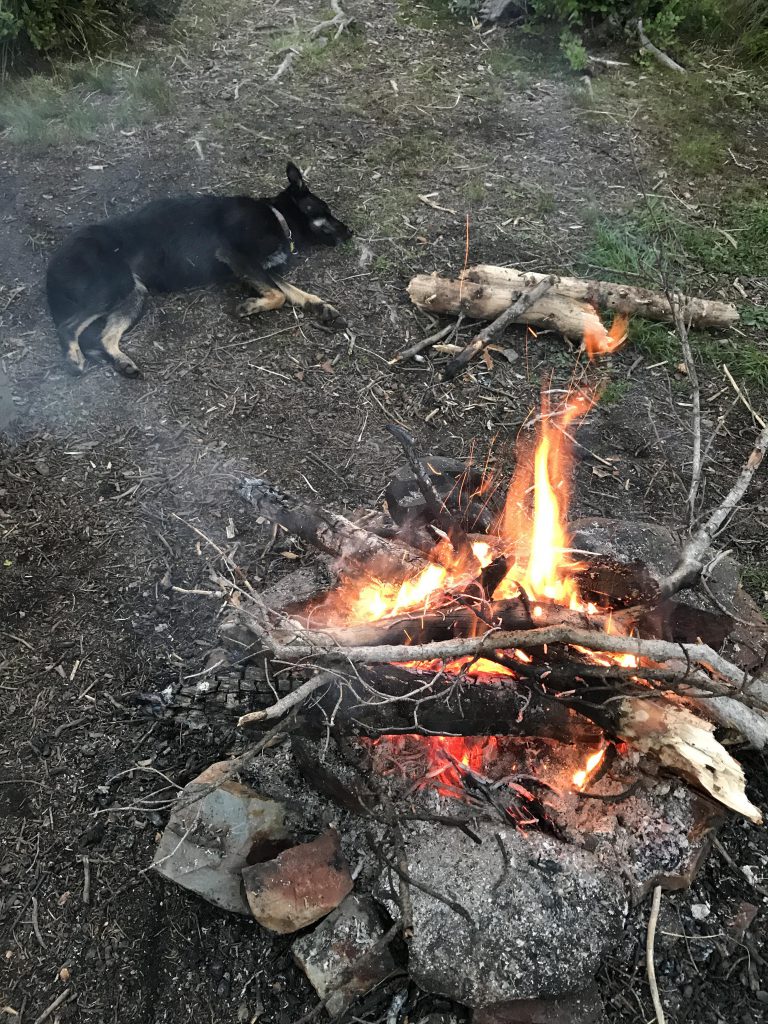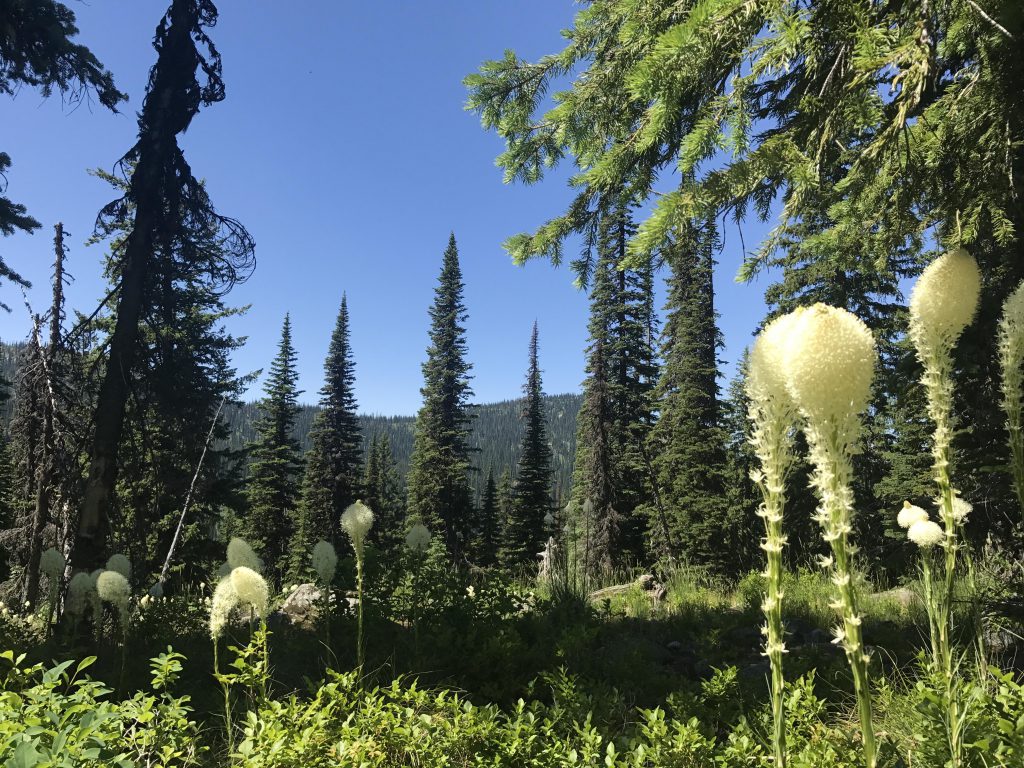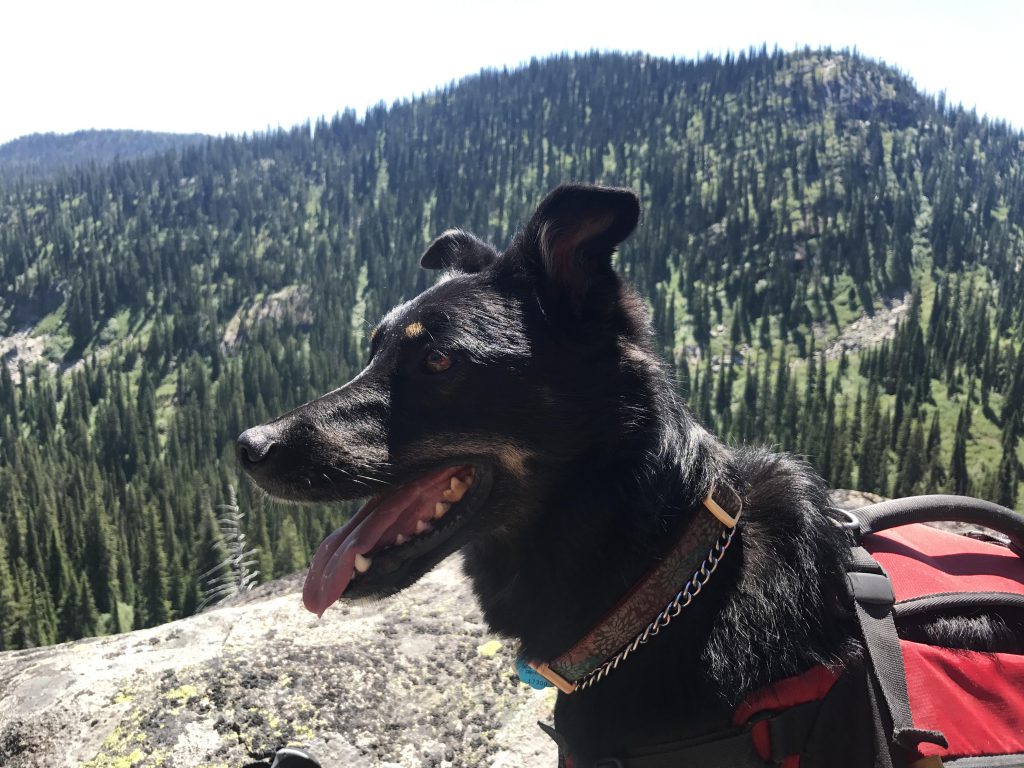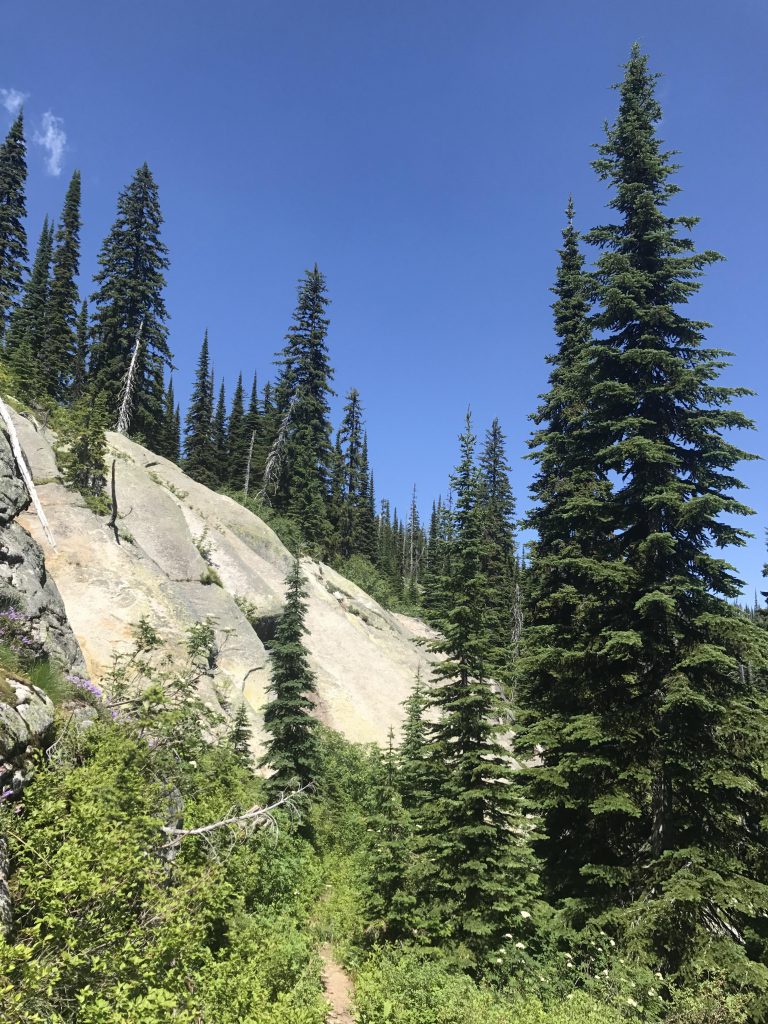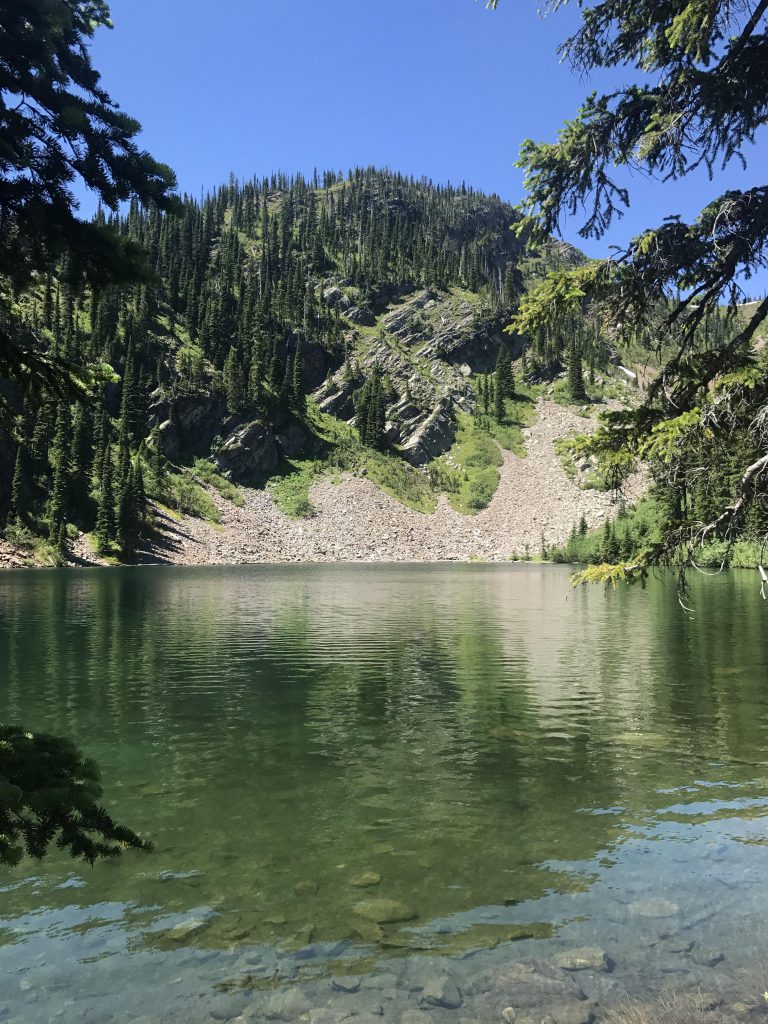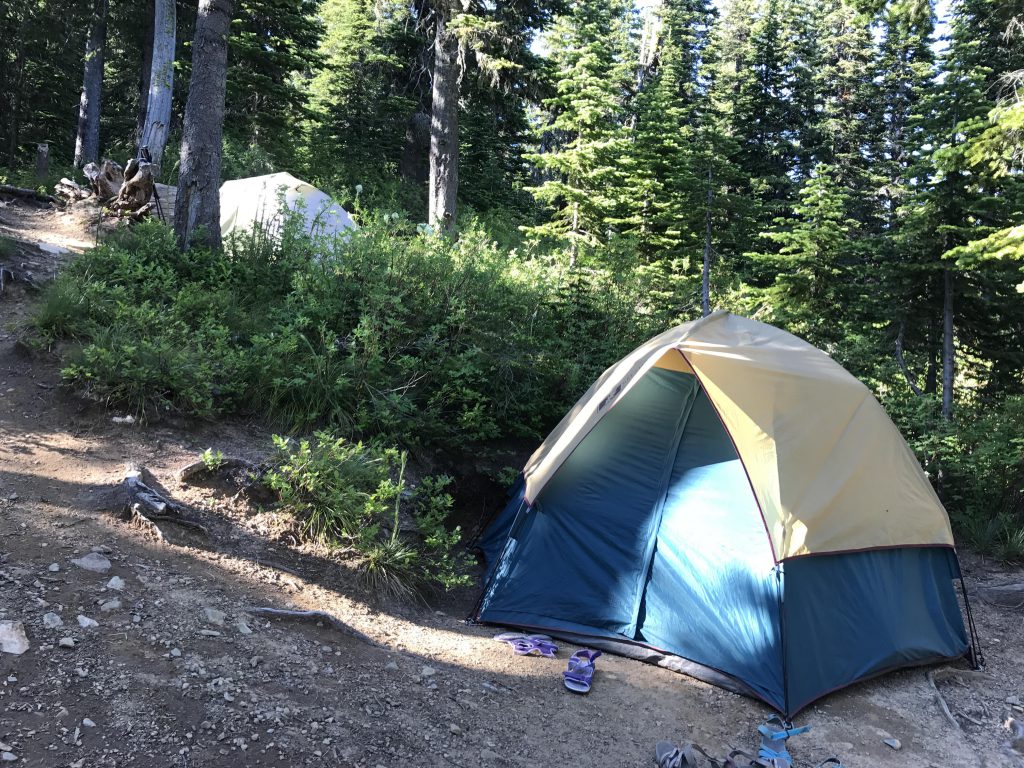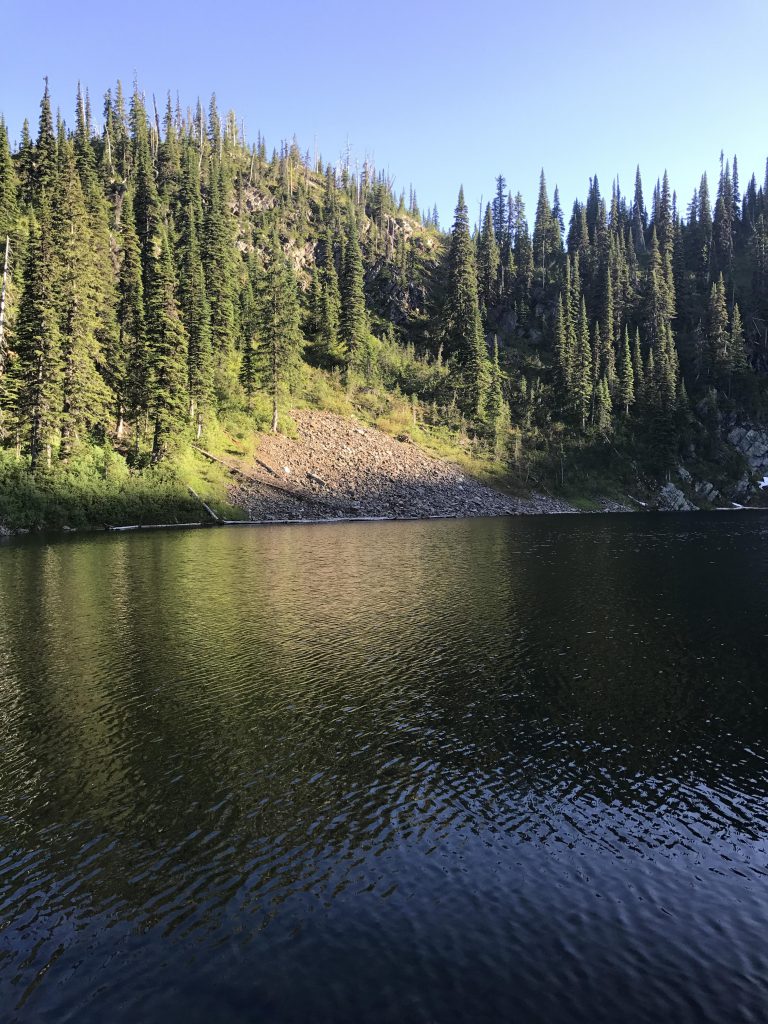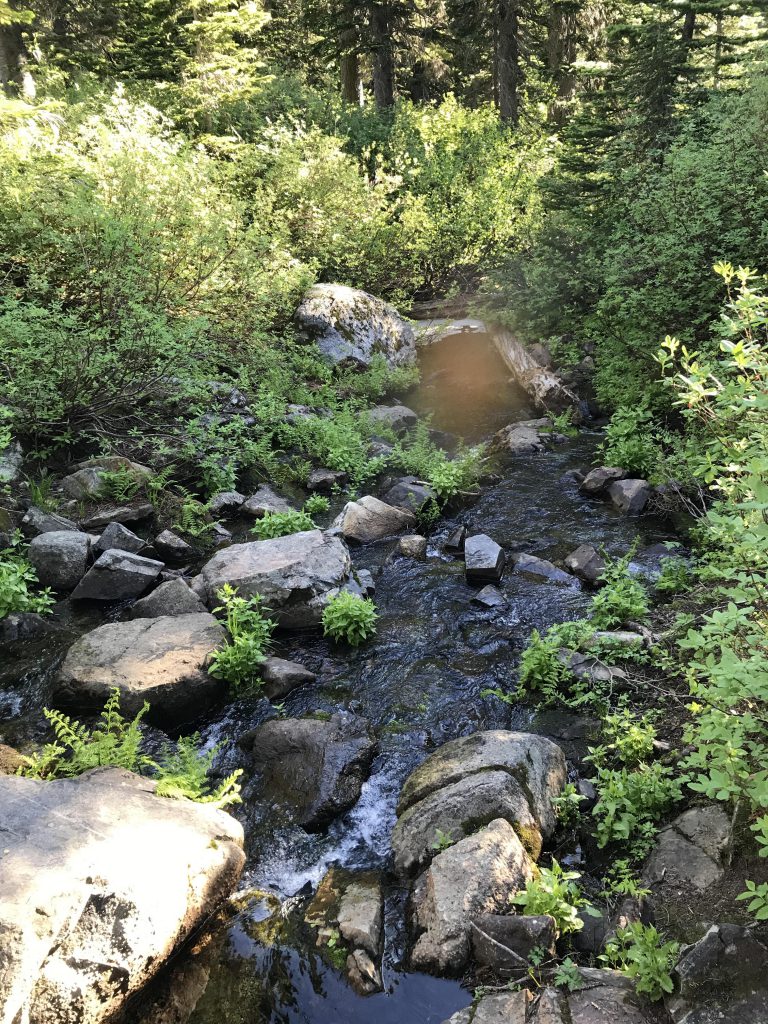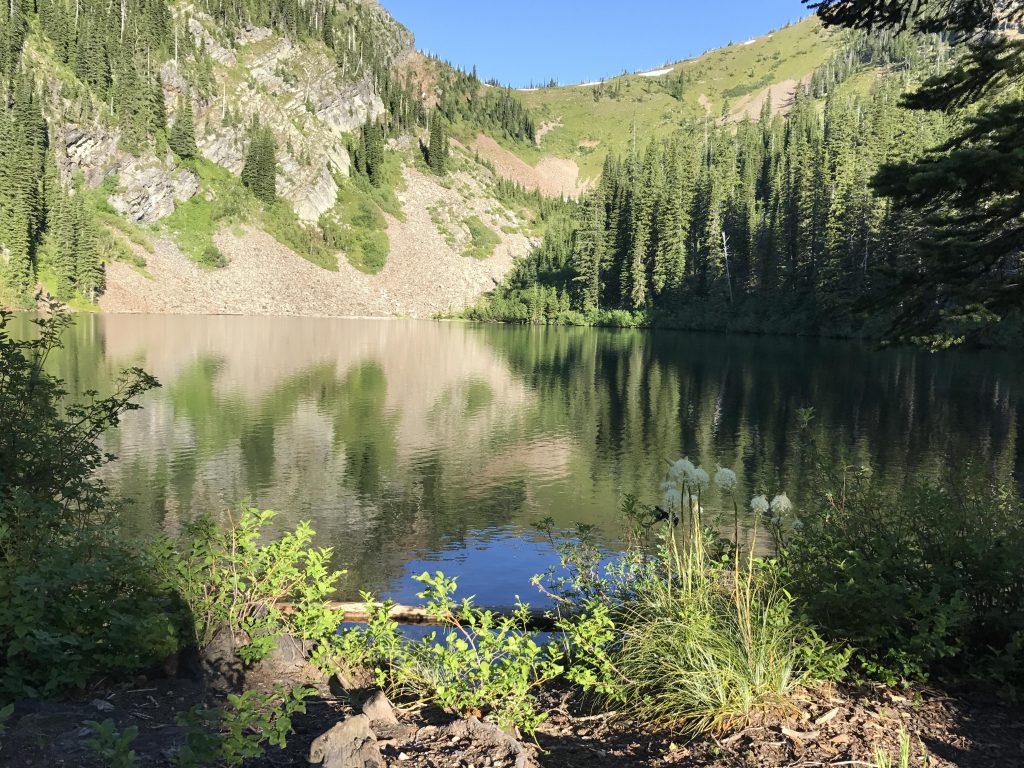 © 2016 – 2023 NaughtyHiker. All rights reserved. No duplication without permission.