If you're looking for grand views, a serious workout, a well-shaded trail, lots of wildlife, and a trailhead right in the city, then look no further than Canfield Mountain. Accessible from Mountain Vista Drive, the trail covers the 1,900-foot climb in just 1.8 miles and rewards you with views of Lake Coeur d'Alene, the Coeur d'Alene Mountains, and the Rathdrum Prairie all the way out to Spokane.
Difficulty
More Difficult (straight up)
Duration
1:22 hours moving time (Hiking)
High Point
4,099 feet (West Canfield Butte)
Low Point
2,229 feet (trailhead)
Water
None, puddles aside…
Camping
Not really, most of the trail is too steep
Administration
Coeur d'Alene National Forest
Canfield Mountain Natural Area
Maps
USGS
Fernan Lake
Coeur d'Alene
Fees & Permits
None required
(
None required
)
Open To
Hikers
Dogs
Horses
Mountain Bikers
(
)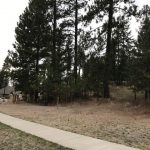 There are three ways to climb Canfield Mountain, via the North side (from Tottens Pond), the East flank (from Nettleton Gulch), or the South flank. The route via the South flank is the shortest and steepest, climbing about 1,000 feet per mile. There's no need to leave the city, since the trailhead is conveniently located on Mountain Vista Drive. The trail leads through the Canfield Mountain Natural Area, which additionally offers an upper and lower loop. Theoretically, trail selection could be difficult, due to those loops and the logging and motorcycle trails crisscrossing the upper sections of the mountain, but all you need to do is just stay on the ridge for the entire hike.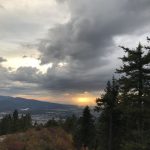 From the trailhead, the trail almost immediately kicks into high gear, grabbing the mountain head on and climbing steeply uphill over rocky terrain. Only a few minutes into the hike, glimpses of the surrounding cities (Coeur d'Alene, Dalton Gardens, Hayden Lake) filter through the trees. The trail continues higher, alternating between hard granite, cushioning beds of pine needles, and open meadows. There's even an occasional puddle, if a mud bath is to your liking!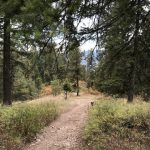 Straddling the ridge, the trail keeps climbing, up and up and up, to a giant overturned tree, indicating that three-quarters of the hike up is done, but the steepest part is still ahead. That steep part can be a bear, especially during the winter, in 2 feet of fresh snow…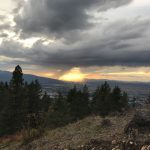 The television and cell towers on the mountaintop soon come into view, announcing the turn-around point. The views here are generous, including Lake Coeur d'Alene to the south, the Rathdrum Prairie and Spokane to the west, the Selkirk Mountains to the northwest, and the Coeur d'Alene Mountains to the east.
Alternate Routes
Check out the nearby hikes; there are many ways to climb Canfield Butte!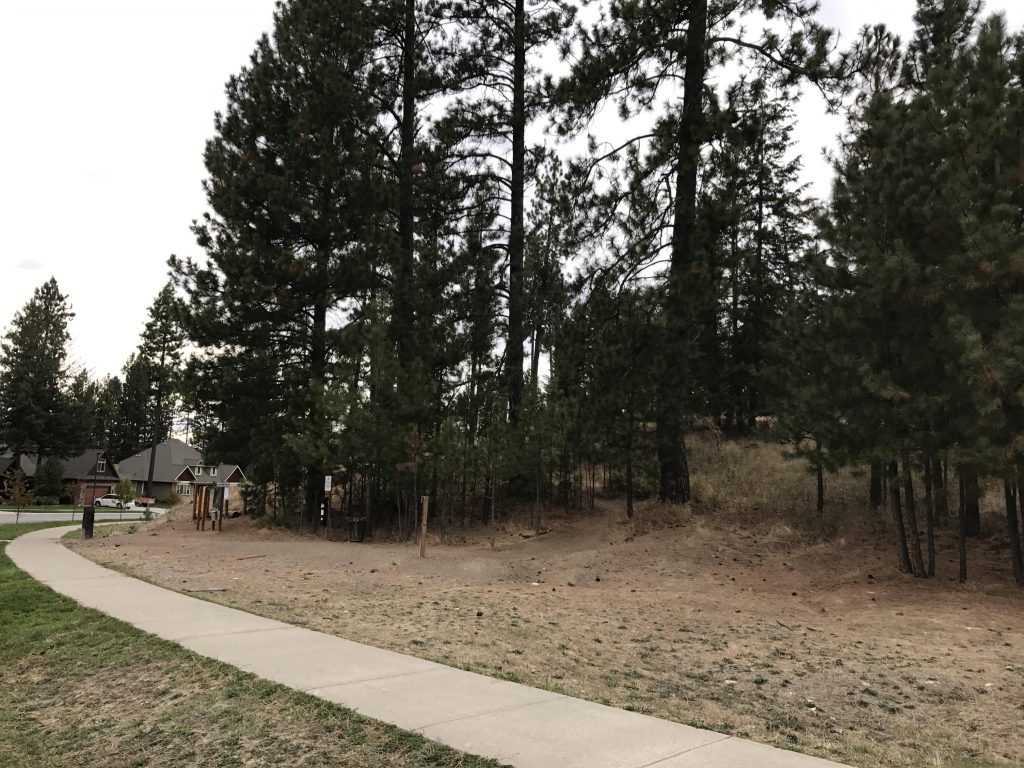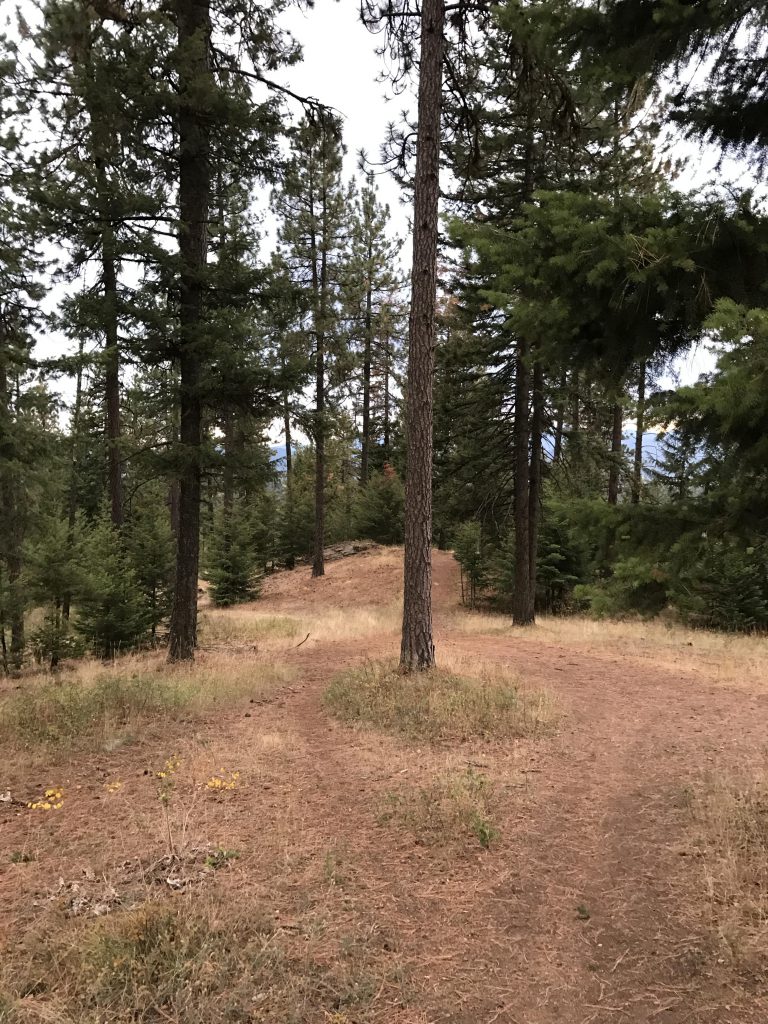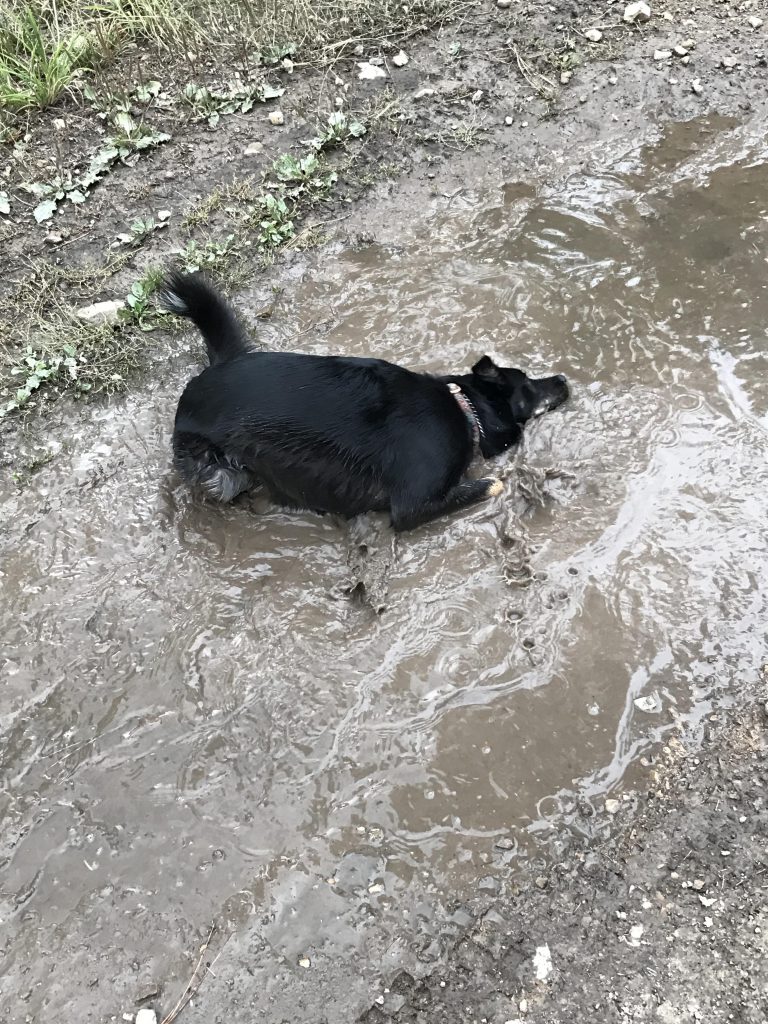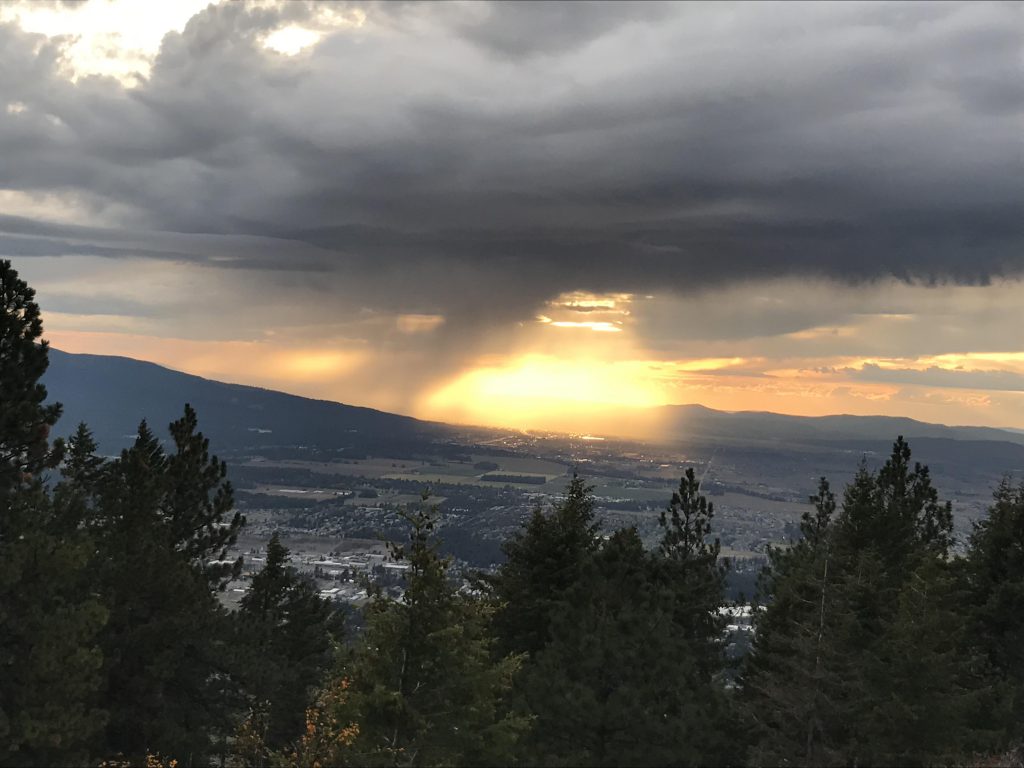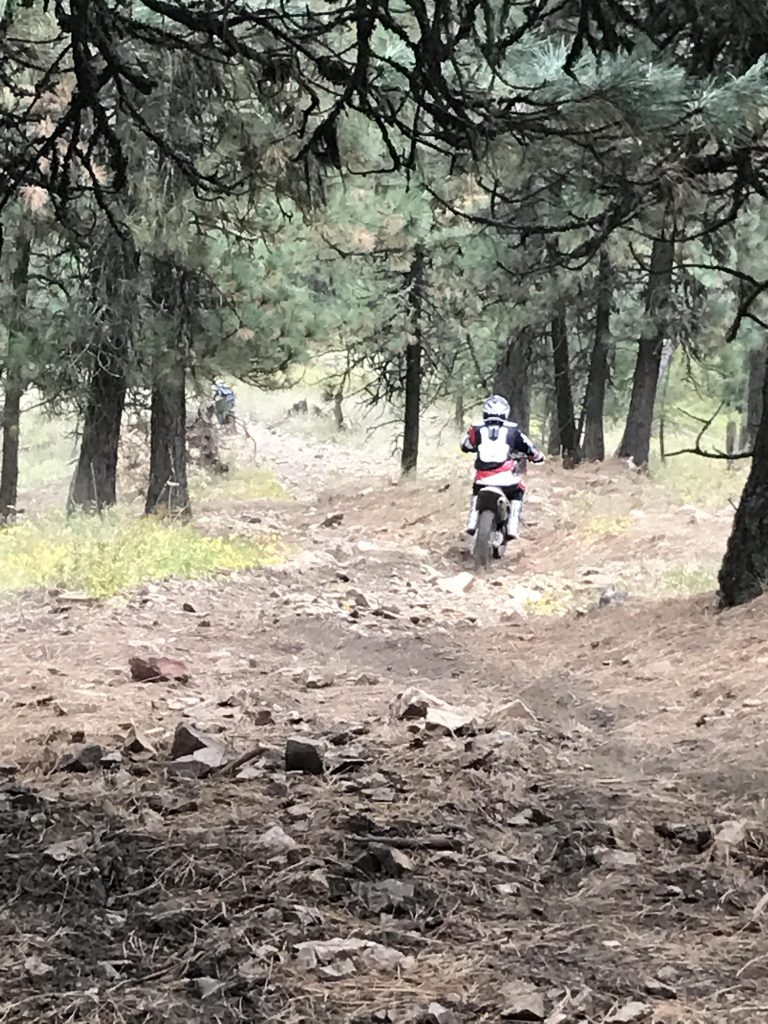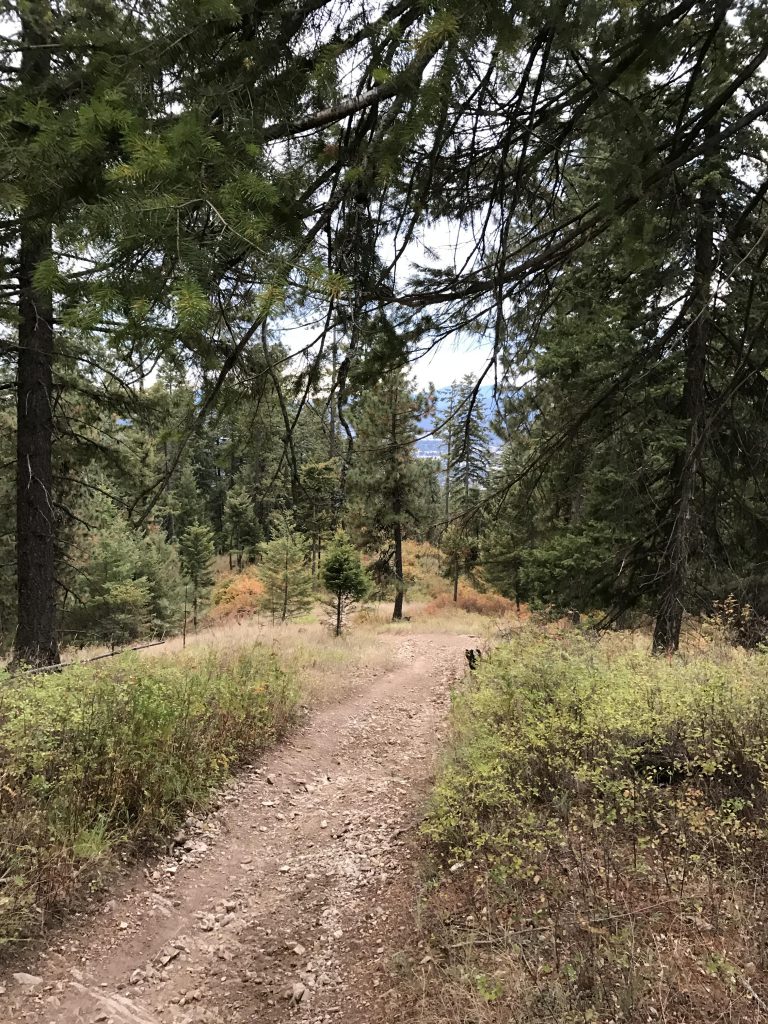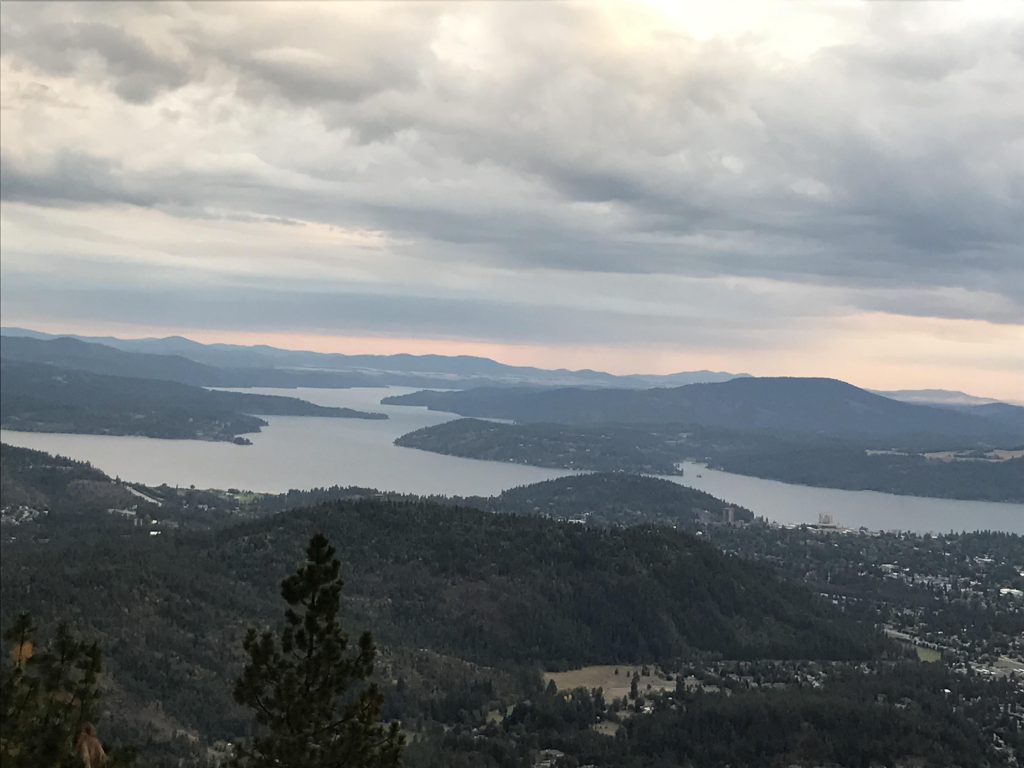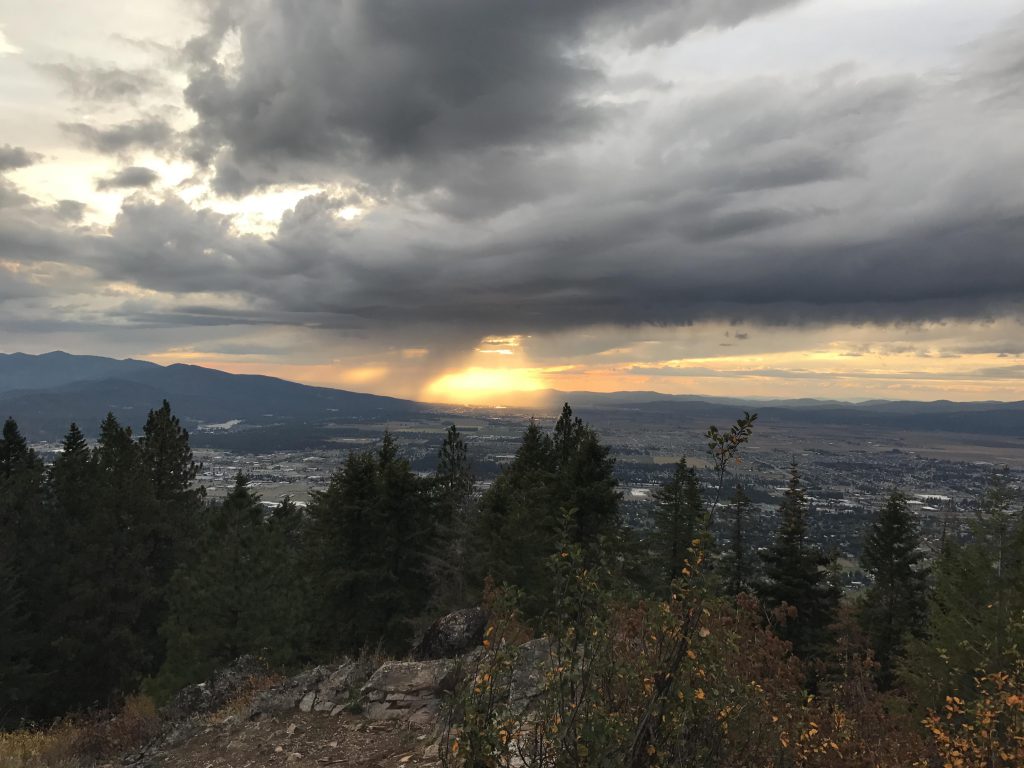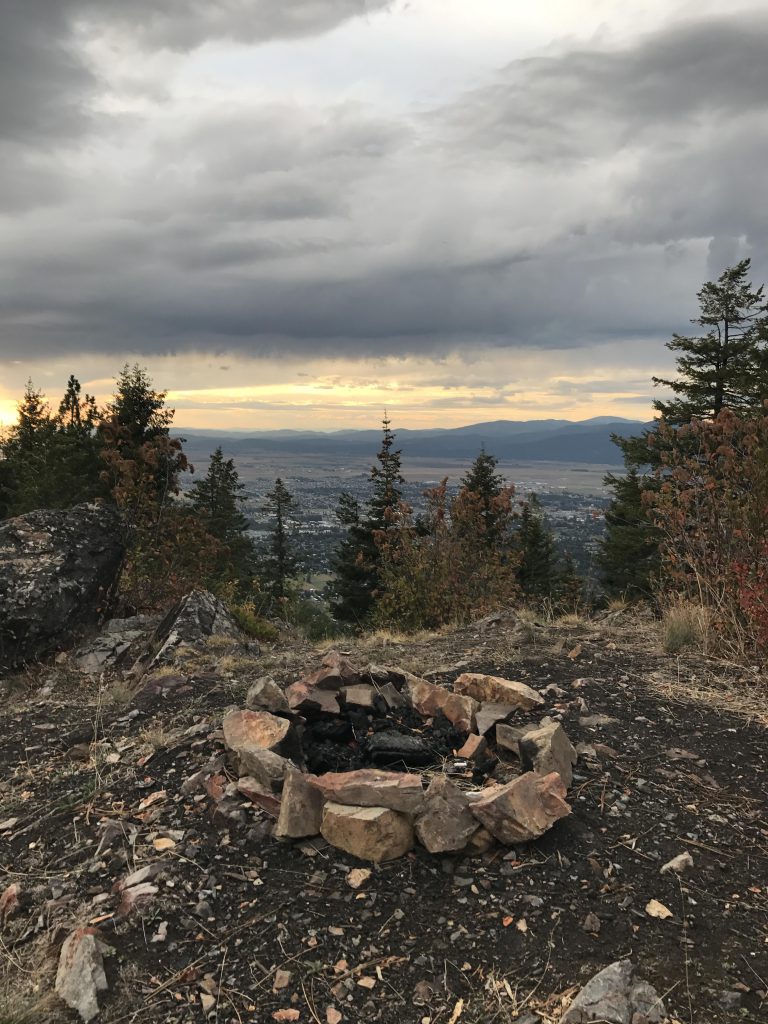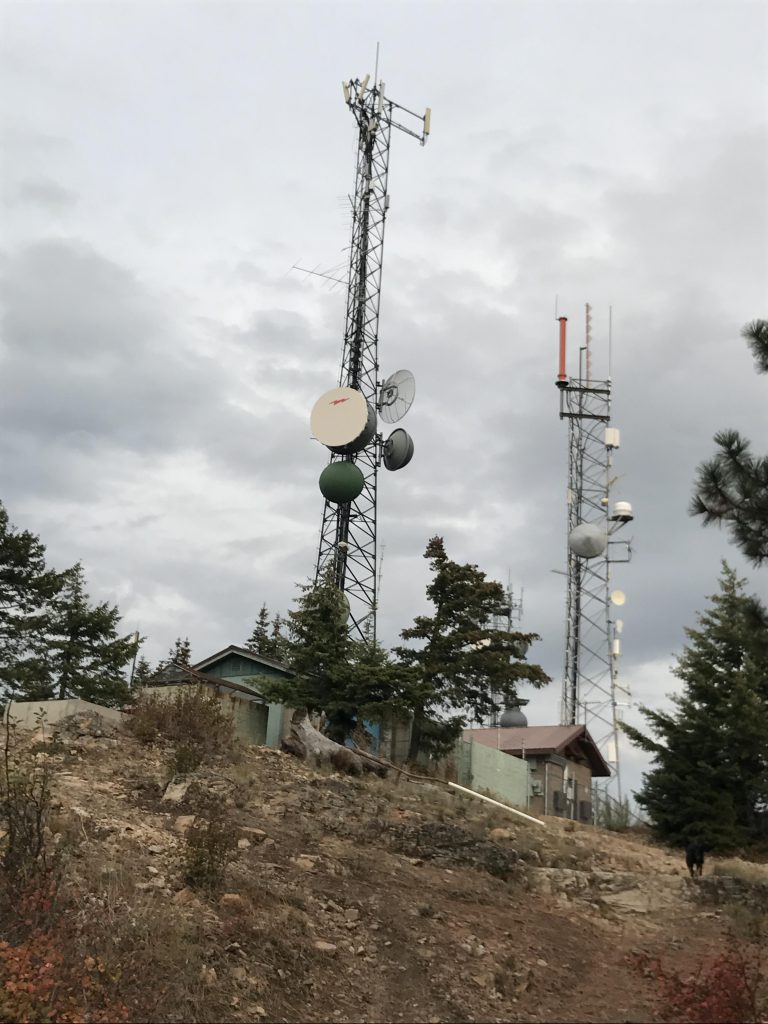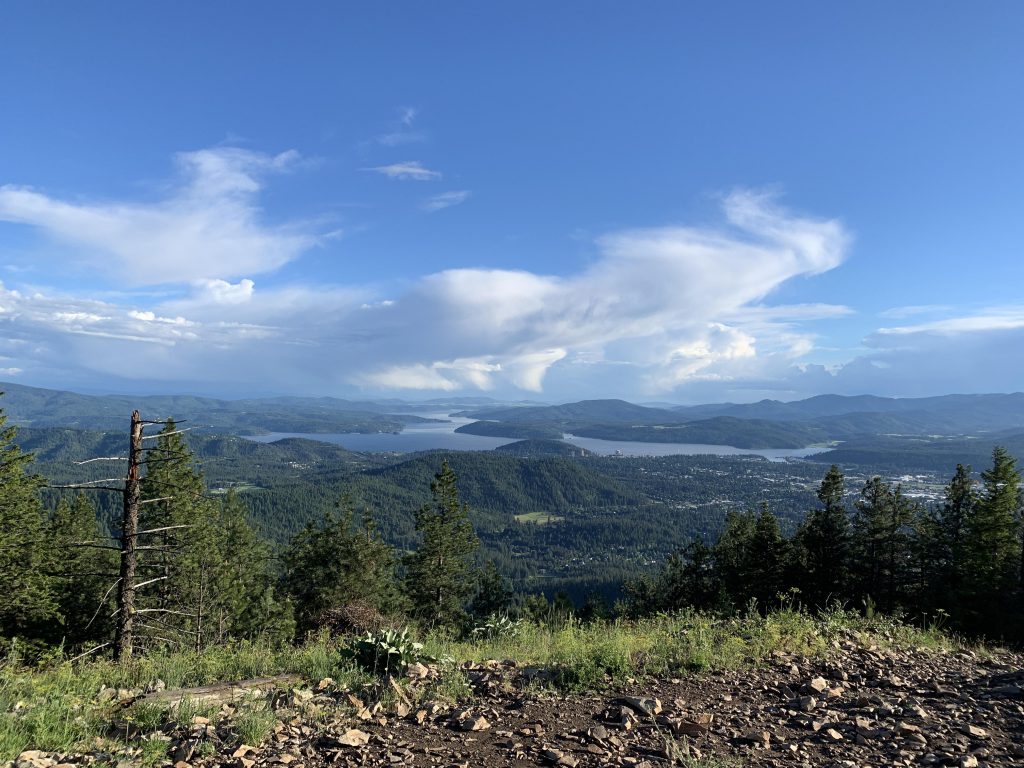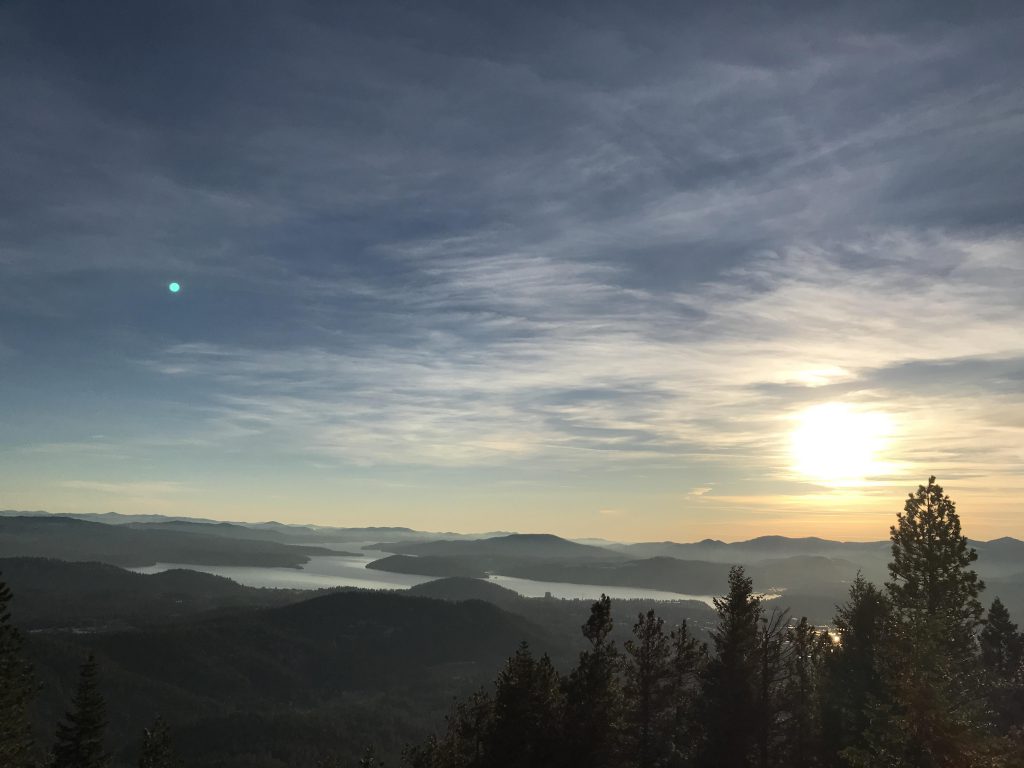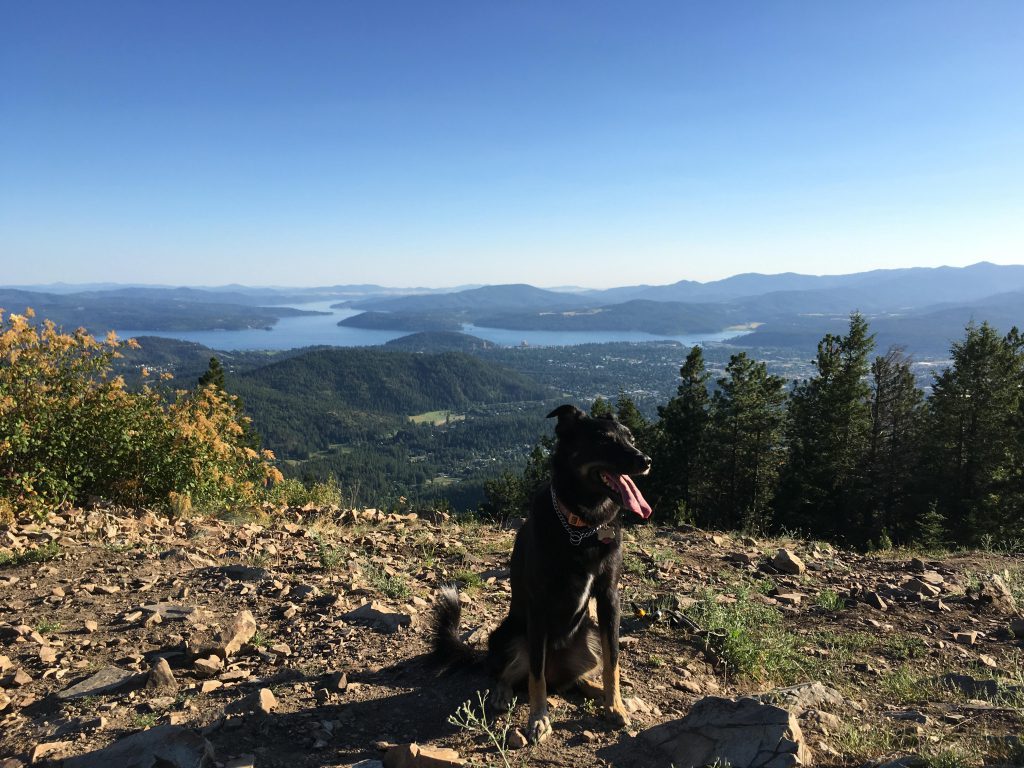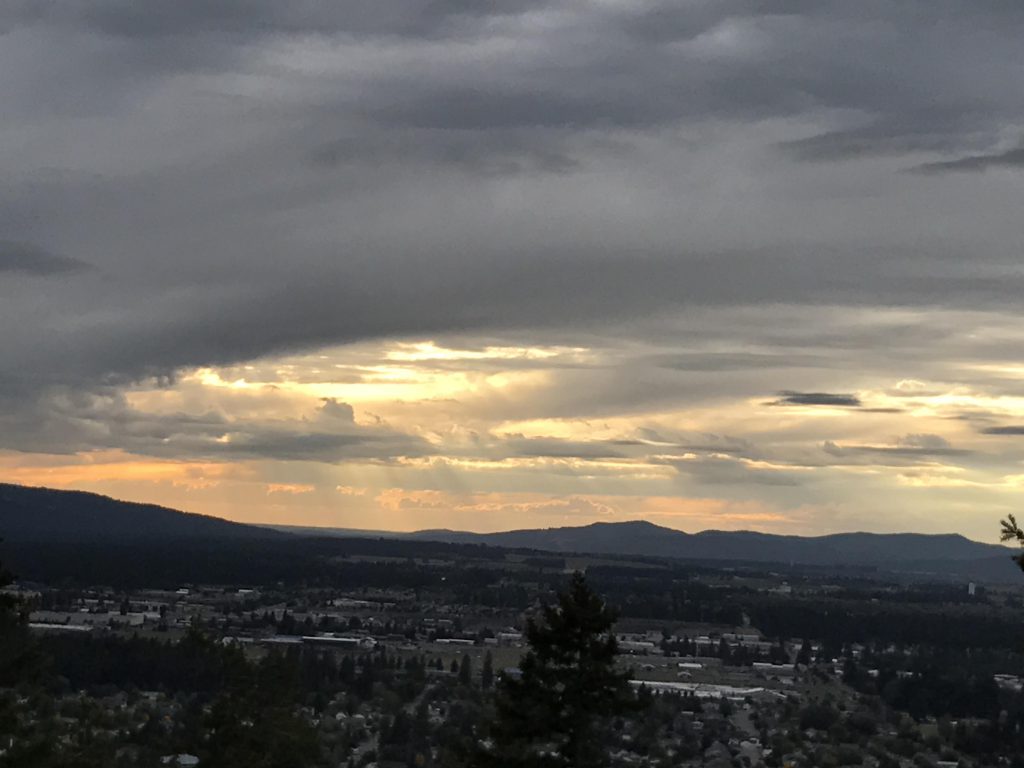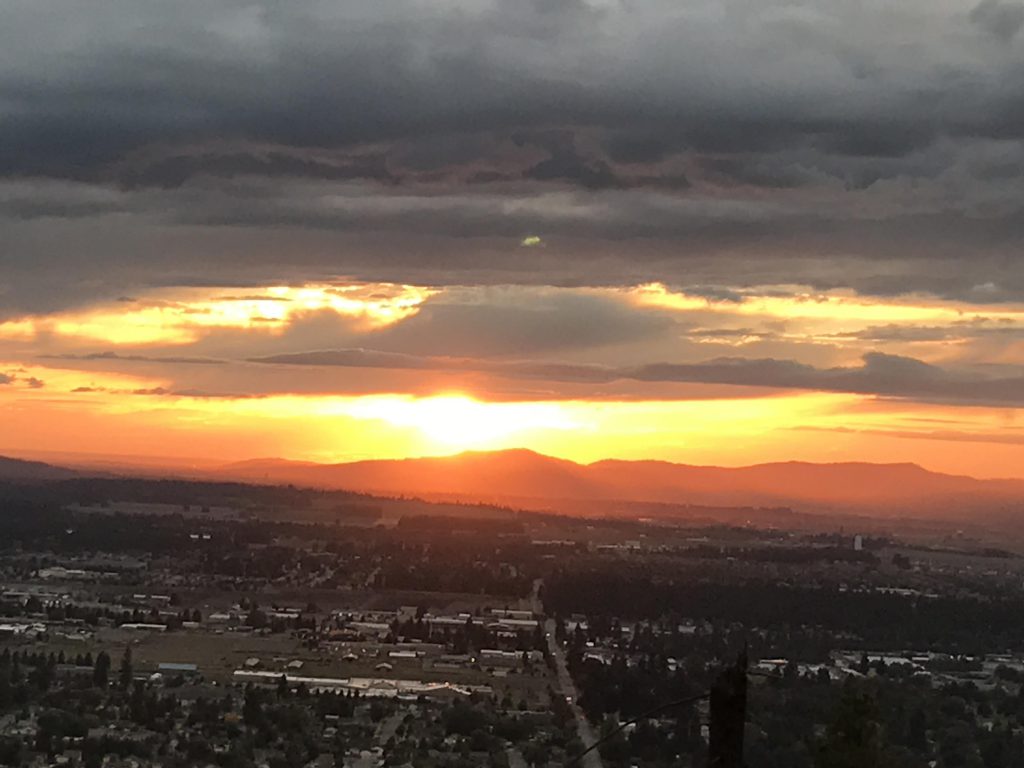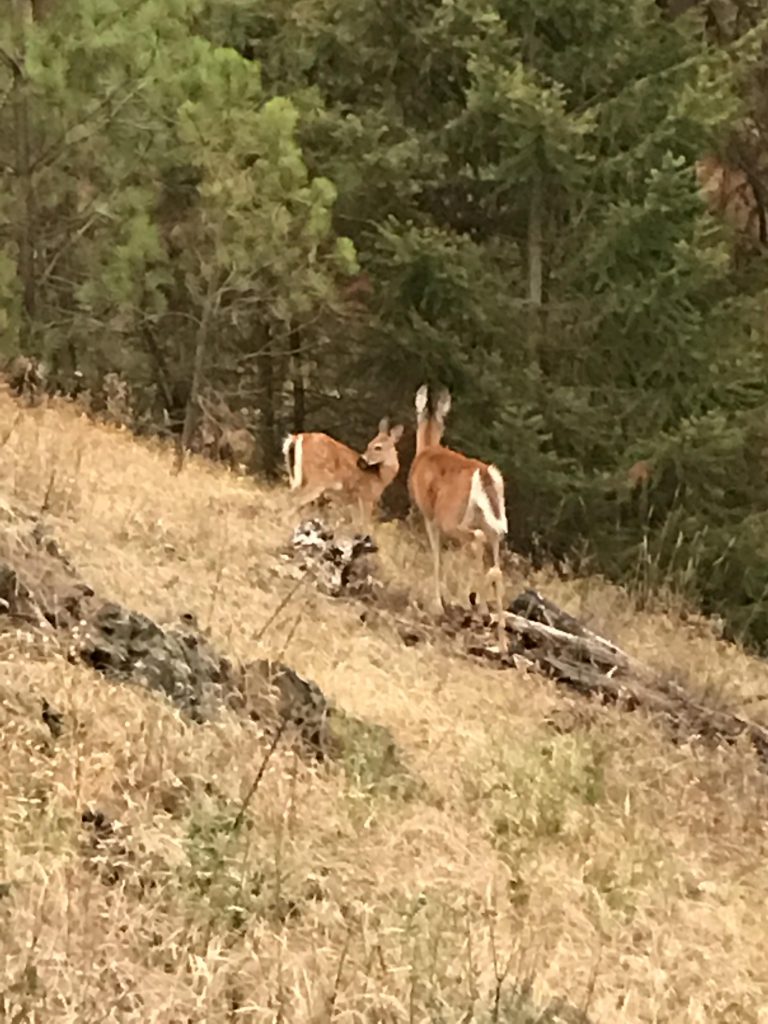 © 2016 – 2023 NaughtyHiker. All rights reserved. No duplication without permission.